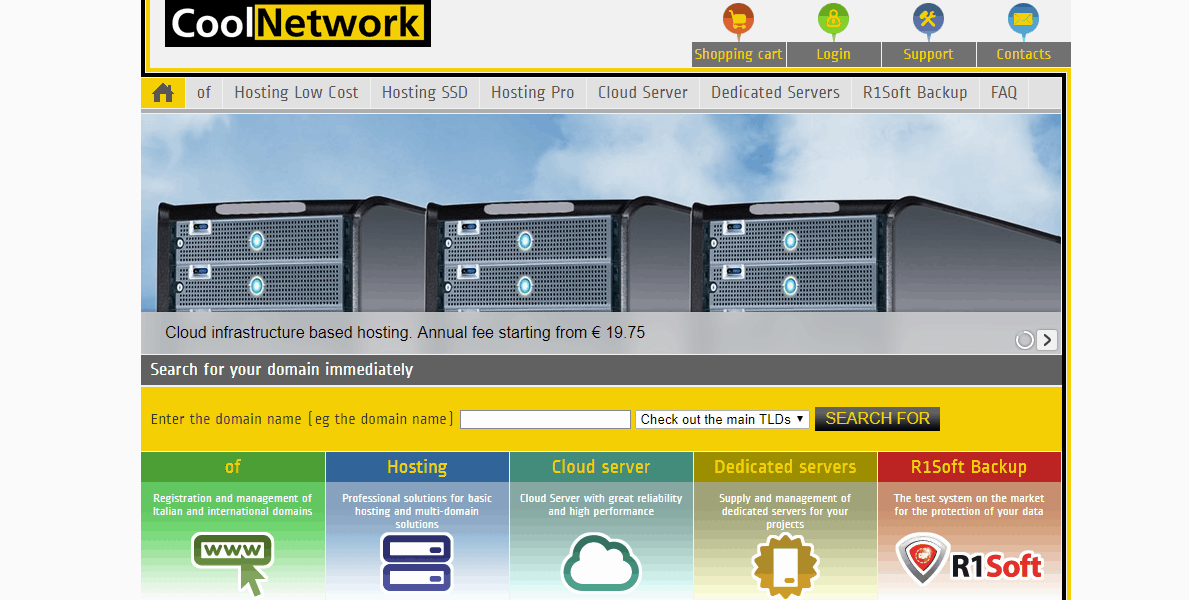 CoolNetwork is an Italy-based web hosting company. It provides shared hosting, dedicated servers, and cloud servers. The company's servers are located in data centers in Italy, France, the United Kingdom, Japan, Australia, Singapore, and Germany. Its website is available in Italian only.
Features and Ease of Use
CoolNetwork offers three categories of shared hosting; Low-cost hosting, SSD hosting, and Hosting pro. These are the shared hosting features:
Daily automatic backups
Let's Encrypt SSL certificate
Storage space starting at 100MB
Bandwidth starting from 5GB
Backups are done with R1Soft system and are kept in the system for 14 days. That means you have 14 days to restore a backup made two weeks ago. With the daily automatic backups, you shouldn't have issues with loss of files.
Low-cost hosting and Hosting pro are hosted in Italy, while SSD hosting is in Italy and the other hosting locations. Its servers are connected with 1 Gbit/s uplink speed. This is very useful if you have a busy download website or other traffic/bandwidth-intensive websites.
Its Hosting pro plans are on cloud technology coupled with the use of Litespeed web server. That makes these plans provide better performance than the other two hosting categories that don't use cloud and are on Apache.
CoolNetwork provides all shared hosting customers with the DirectAdmin control panel. You can create your MySQL databases on it, configure cron jobs, create subdomains, manage emails, FTP account, and more. It supports PHP programming.
If you want to use a web application, CoolNetwork supports WordPress, Joomla!, Drupal, Prestashop, and Magento, and you can install them in one-click through Installatron. Also, it has Zend optimizer, which will accelerate the performance of WordPress and other PHP applications.
Pricing and Support
CoolNetwork doesn't offer web hosting prices that are in any way cheap. Plus, they provide a free domain with Let's Encrypt, which is generally free already, but the company doesn't offer a free domain. You can find lower prices with similar features elsewhere.
It doesn't offer one month shared hosting subscription options. If you want to pay, you'll have to go for a minimum of one year. On the plus side, it has a 30-day money-back guarantee policy to mitigate your risk. You can pay with Visa, MasterCard, Visa Electron, or bank transfer.
If you think the prices are worthwhile, you'll be glad to know that CoolNetwork has a zero overselling policy where they limit the number of users on each shared server. That prevents overload on the server.
There's no live chat or phone support. There are some "quick" guides, but they don't provide in-depth tutorials. If you need a solution, it will be hard to find one there, so you might have to contact the support agents. The customer support is available through ticket and email.
I sent an email but didn't get any response, despite waiting for about two weeks.