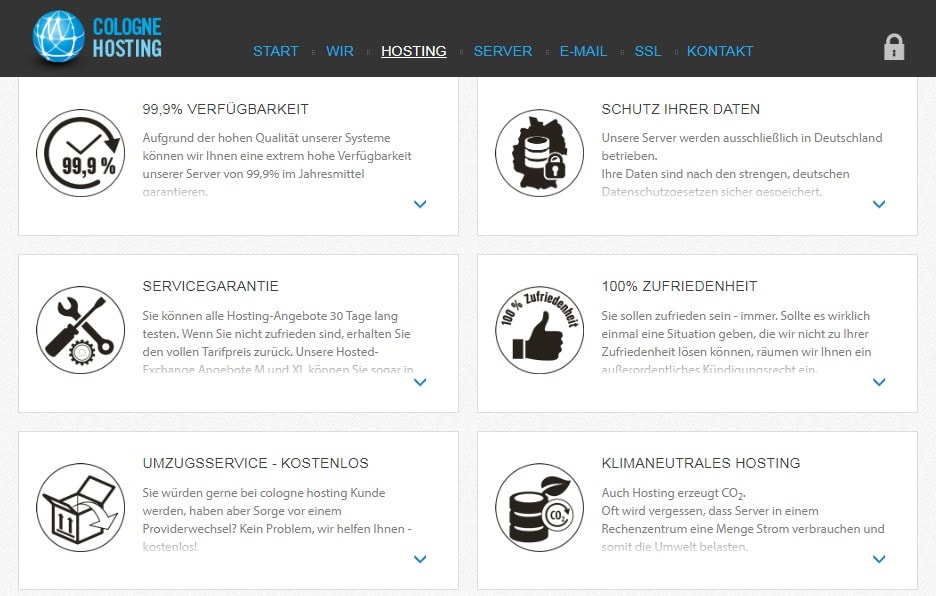 cologne hosting is a German internet service provider. The firm specializes in offering a variety of web hosting solutions such as server services, web hosting, SSL certificates, email, and domain name registration services. This vendor's servers are exclusively operated in Germany under strict German protection laws. It applies a Climate Neutral Hosting policy on its data center in an effort to conserve the environment. The cologne hosting website is only available in German.
Features and Ease of Use
These are some of the features available in cologne hosting packages:
SSD disks
FTP accounts
MySQL databases
Free setup
Cron jobs
Domains, subdomains
Spam, virus filter
SSL certificate
CMS, WordPress, Joomla
Free site migration
cologne hosting operates all its servers from Germany. It adheres to the strict German policy on data protection to secure and store clients' data. This policy provides clients with full control of their data where data is utterly removed from all servers and all backups within three to seven days after it has been deleted by the client.
The firm offers web hosting solutions for both private entities as well as organizations. It has three shared web hosting packages. The most basic plan is ideal for novice webmasters and comes with one domain, 5000MB SSD, 2,500MB mail space, five FTP accounts, five MySQL databases, and 100,000MB bandwidth.
Its advanced plan, which is suitable for tech-savvy individuals and sophisticated websites, comes with five domains, 50,000MB SSD, 20,000MB mail space, 500 FTP accounts, 500 MySQL databases, 500 cron jobs, 500 MB RAM, and flat rate bandwidth.
This hosting provider offers a free Let's Encrypt SSL certificate. Clients who prefer more advanced certificates can opt for SSL certificate purchase options which include alpha SSL and organization SSL.
Email hosting clients have access to daily backup services for up to seven days. The cologne hosting website is appealing, well detailed, and organized. All details are found on one page, which makes navigation extremely easy, even for inexperienced users.
Pricing and Support
cologne's hosting solutions are quite expensive, though it offers a flexible billing policy; clients can make monthly payments. Its prices are all listed in euros and include 19% German VAT.
The vendor offers the industry's standard 99.9% uptime guarantee, along with a 30-day money-back guarantee and a 100% SLA to its clients. You can also opt for its M and XL Hosted Exchange offer, which hosts you for free for the first 90 days. Moreover, the firm offers free setup and free website migration for each hosting plan.
cologne hosting does not commit to 24/7 technical support but it does promise to respond to clients' queries within the shortest time possible. The vendor has various ways in which you can get in touch with its support team: telephone, email, live chat, and social media. Unfortunately, it has no ticketing system.
The vendor's technical support team is helpful and professional, and the reps know their way around the hosting solutions provided. I sent them a support email and got a response in less than an hour.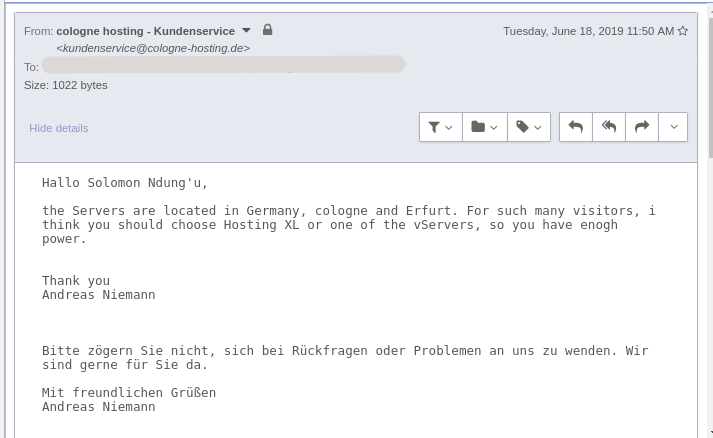 All the same, the hosting company has yet to fully set up its client support portal. It has a fairly detailed FAQ section, but its knowledge base is scanty. What's more, it has no blogs or video tutorials to further supplement its technical support team.