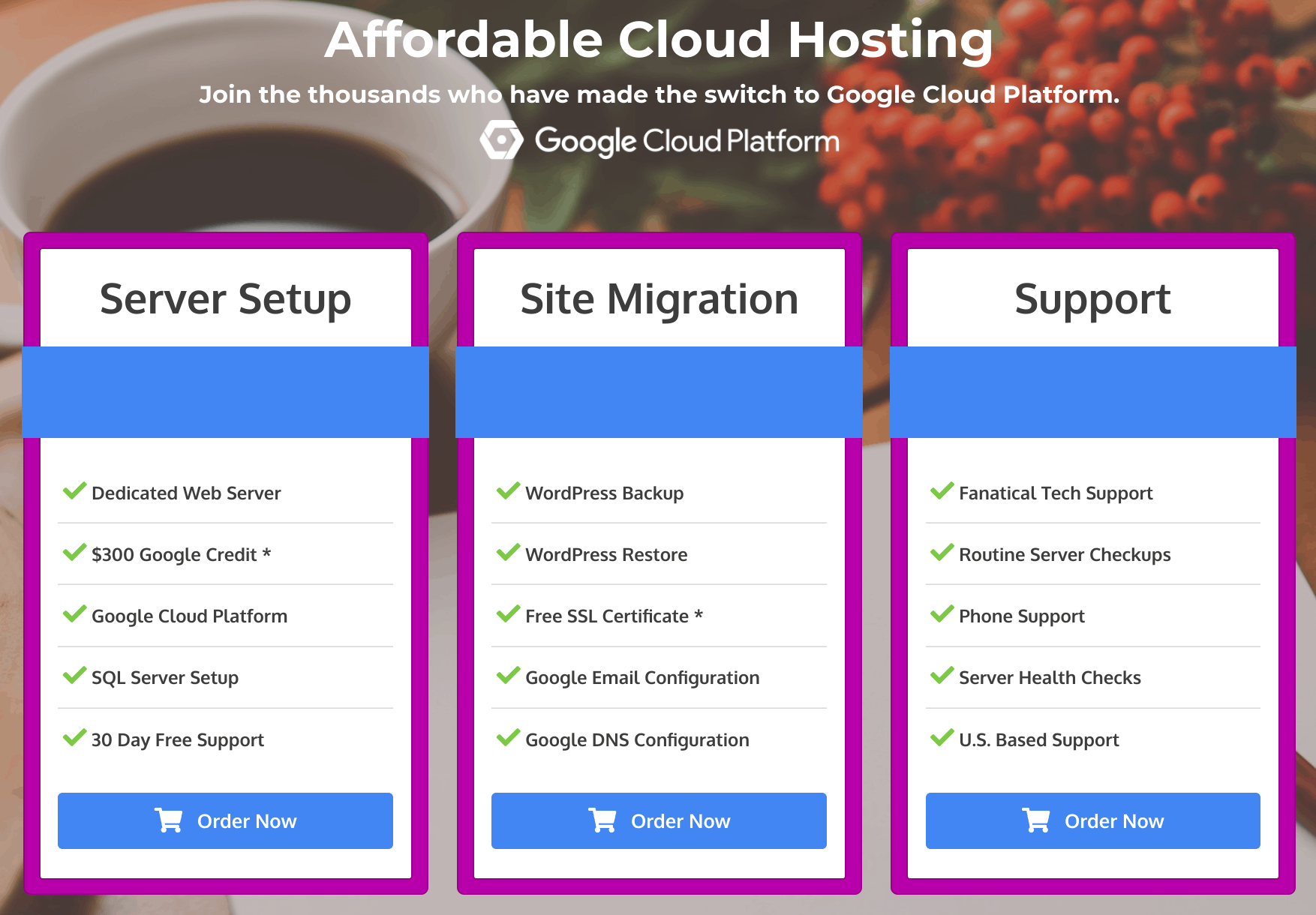 CloudHostingSetup is wholly owned by California-based Clickey Corporation, and it sells its services via an English-language website. This cloud host is in the business of migrating your WordPress website to a dedicated web server hosted on the Google Cloud Platform.
Features and Ease of Use
With CloudHostingSetup's server setup plan, you get:
A dedicated web server on the Google Cloud Platform
Promotional credit from Google (for new customers)
SQL Server setup
SSH support for complete server control
Because CloudHostingSetup is a setup service rather than a host, you'll need to create a Google Cloud Project using a Google email account before setting up your dedicated Google Cloud server (which is called a "VM Instance" by Google). CloudHostingSetup has a tutorial for how to do this, and for how to claim the credits towards your Google hosting fees.
The website migration package — with a one-time migration fee for every migrated website — includes WordPress backup and restoration, Google email configuration, a free SSL certificate, and Google DNS configuration. You can host multiple sites on your own dedicated web server that sits on the Google Cloud Platform, and you get a perpetual SSL certificate at no cost for every website you migrate.
Pricing and Support
Remember that CloudHostingSetup is a setup service rather than a host, so it charges competitive one-time setup fees rather than ongoing hosting subscriptions (which you pay to Google). You can pay the setup fees in U.S. dollars via Visa or other credit cards.
CloudHostingSetup provides on-call technical support services via telephone or email. You receive the first 30 days of support for free, and you have the option to subscribe to managed server support, which will monitor your web server and SQL server.
This vendor replied to my contact form submission after ten days to confirm that ongoing payments go to Google for its cloud hosting service.
Self-support is where CloudHostingSetup shines. It provides a well-stocked knowledge base, frequently asked questions, a Google Cloud Status Dashboard, and detailed support documents with links to additional informative posts: