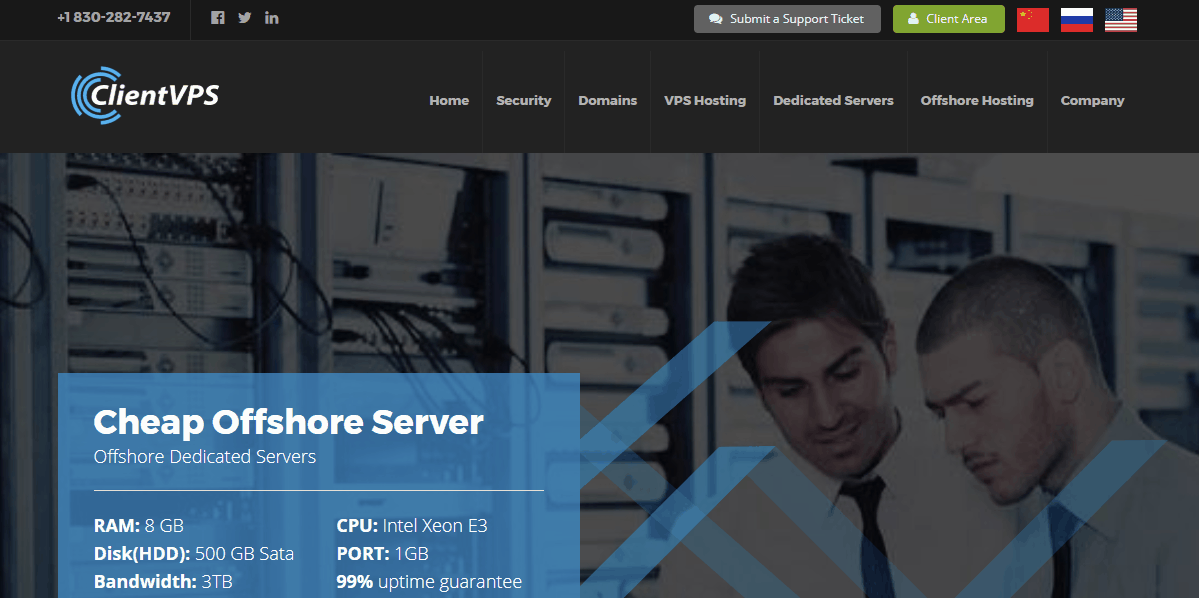 Since 2015, ClientVps has provided individuals and businesses with hosting products and other website products, including domains. As its name implies, it provides VPS, but you can also get dedicated servers from this company.
Its servers are located in cities in Germany, Russia, Singapore, Panama, Netherlands, Bahrain, United Kingdom, United States, Ukraine, Hong Kong, and France. Its website is available in English, Chinese, and Russian.
Features and Ease of Use
Although VPS is its main hosting product, it also offers shared and dedicated servers. Its shared servers are located in Bahrain. Customers on them get the following:
99.99% uptime guarantee
Free SSL
Anywhere from 1000MB to 5000MB SSD
Up to 400GB traffic
Weekly backups
Shared hosting customers are given cPanel for hosting management. In it, you can quickly install 300+ applications, including WordPress by using Softaculous auto-installer. You also get SSH access, MySQL databases, and PostgreSQL. Plus, free and easy access to Cloudflare CDN.
ClientVps offers VPS plans according to what you want to use the servers for. If it's regular VPS, it's categorized according to the location of the servers. You can choose between three of its server locations, and under each location, there are three plans to pick from that vary in the resources that you get from them.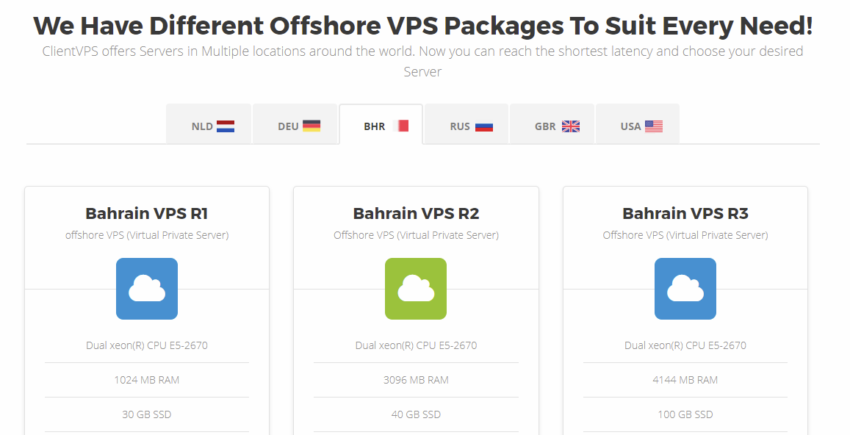 Aside from that, there are plans for hosting for warez content, spoofing, and Spamhaus.
Some of its servers use SSD and some HDD. If you order a shared server, you'll get SSD. However, with VPS, it depends on the location. Most are SSD, but the U.S. servers are HDD.
All of them are on RAID 10 monitoring and stripping, which provides low latency and superior throughput. Additionally, if there's a hardware issue with one of the disks, the rebuild time is fast and your data is not lost.
ClientVps provides protection against DDoS by filtering incoming attacks,the level of which depends on the plan selected.
Pricing and Support
ClientVps's shared hosting prices are a bit higher than what you'd usually see. However, if you have a large website with lots of traffic, the price shouldn't be an issue because the provided bandwidth does cover a lot. Most websites online use less than 5GB of bandwidth, so this is ample.
You can pay monthly or a yearly. At least in the beginning, it's always good to start out with the shorter commitment, in order to determine if the service is right for you or not. There are no refunds offered, so your money is not coming back to you regardless of whether or not you're happy with the service.
The pricing for VPS plans is also a bit varied. Some plans are in line with what the competition offers and are not expensive at all. However, there are a few plans that are a bit steep in terms of price.
You can pay with Bitcoin, Litecoin, Perfect Money, Payeer, credit/debit cards, and PayPal.
ClientVps promises a 15-minute response time 24/7. You can reach the support agents through live chat, email, phone, and ticket. I used the live chat to find out how to connect my domain to the servers. The agent I chatted with kept going back and forth on nameservers and upselling automatic backups to me.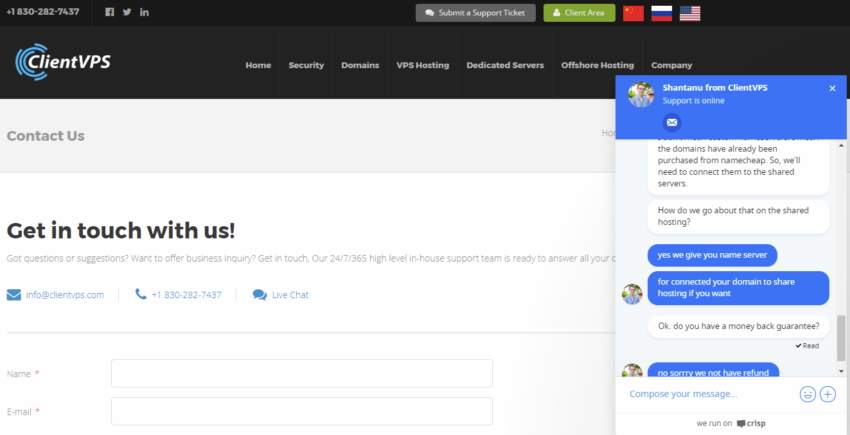 There's also a knowledge base with a few articles that you might find useful.
How much does ClientVps cost?
ClientVps offers plans from $19 to $29. The price depends on which type of hosting plan you choose. You can see the updated pricing table (updated weekly) below.

Which ClientVps plan should I get?
My recommendation is to start with a cheaper plan. You can always upgrade later on. ClientVps can help you with the migration to a more expensive plan. The increase in visitors many times takes longer than expected and you shouldn't pay a lot of money until the need arises. Of course, your needs may vary, and you can consult with a hosting expert from ClientVps here.

How good is ClientVps's customer support?
ClientVps is not ranked as one of our top web hosts. But that can also be a result of ClientVps being a small, under the radar, hosting provider. There are advantages to a small hosting company – as a customer, you are more important to them. You can also check out our comparison of the most popular web hosting services here.