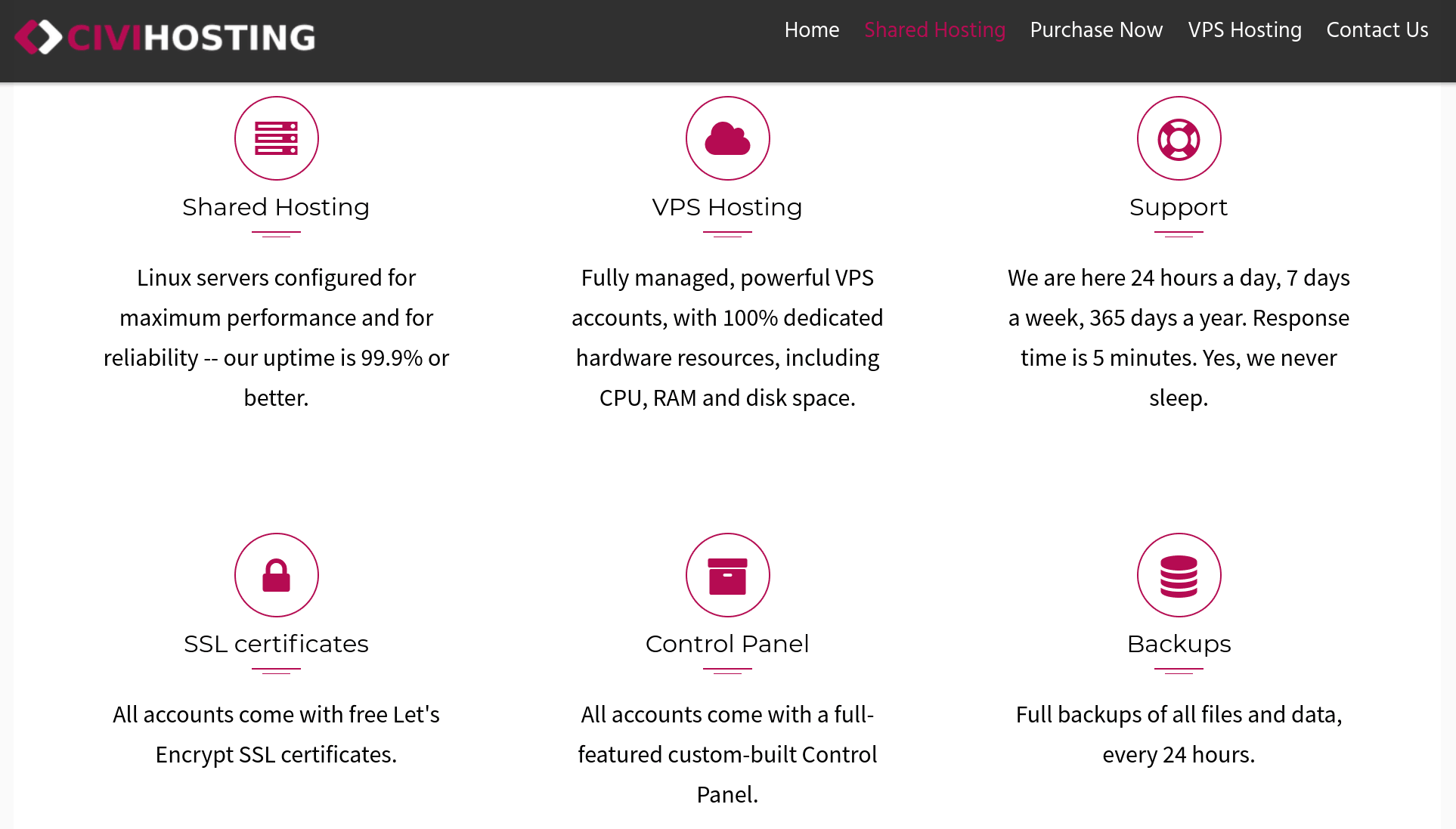 Established in 2006, small American firm CiviHosting specializes in high-quality shared Linux hosting. It takes pride in calling itself a CiviCRM specialist and guarantees that all CiviCRM features will work on its servers.
Since its inception, CiviHosting has migrated several clients from "big name" hosting providers, and these clients – who chose CiviHosting for its better service and support – have since stuck with the company because it delivers what it promises.
CiviHosting's website is in English.
Features and Ease of Use
CiviHosting offers two shared Linux hosting plans ("Regular" and "Extended") on its fully managed servers. It also provides an "Extended Plus" plan for sites requiring more resources. Some of the notable features of its shared Linux hosting plans are:
99.99% uptime
10 GB to 100 GB disk space
20 GB to 1000 GB monthly data transfer
Daily automatic backups
Free Let's Encrypt SSL certificates
Full-featured custom control panel
Daily backups
SSH access
CiviHosting supports most PHP- and Perl-based packages. It specializes in CiviCRM (whether inside of WordPress or Drupal), Nextcloud, and MediaWiki, and it also supports clients that use DokuWiki, ownCloud, Joomla, Mautic, and more.
Clients benefit from better performance and enhanced reliability with the use of SSD storage, and CiviHosting proudly maintains a perfect security record due to its world-class I.T. infrastructure. The company confidently claims that, to the best of its knowledge, it has never experienced a server security compromise or data breach.
Besides shared hosting, CiviHosting offers two VPS plans and three web app hosting plans.
Pricing and Support
Although CiviHostng's hosting plans are priced four or five times higher than other hosting providers' plans, they could be worth the cost for the data and server security features you get. You can pay on an annual basis via PayPal, 2CheckOut, or credit card.
CiviHosting offers an unconditional 60-day money-back guarantee for shared hosting services and a 15-day money-back guarantee for VPS plans.
You can get a three-day free trial of CiviTeacher.com (which organizes concise and clear videos into a portable, permanent, and searchable CiviCRM learning library), and the company also offers a CiviCRM demo (on Drupal) and a Nextcloud demo, each of which resets every 24 hours.
You can contact CiviHosting's 24/7 customer support team via telephone, support ticket, email, or online form. The company guarantees a 15 minute response time to support tickets and a 60 minute response time for emails. This must be for fully signed-up customers because my exploratory email was never answered.
Self-support resources (including an online manual) are provided by the Suresupport web hosting support network: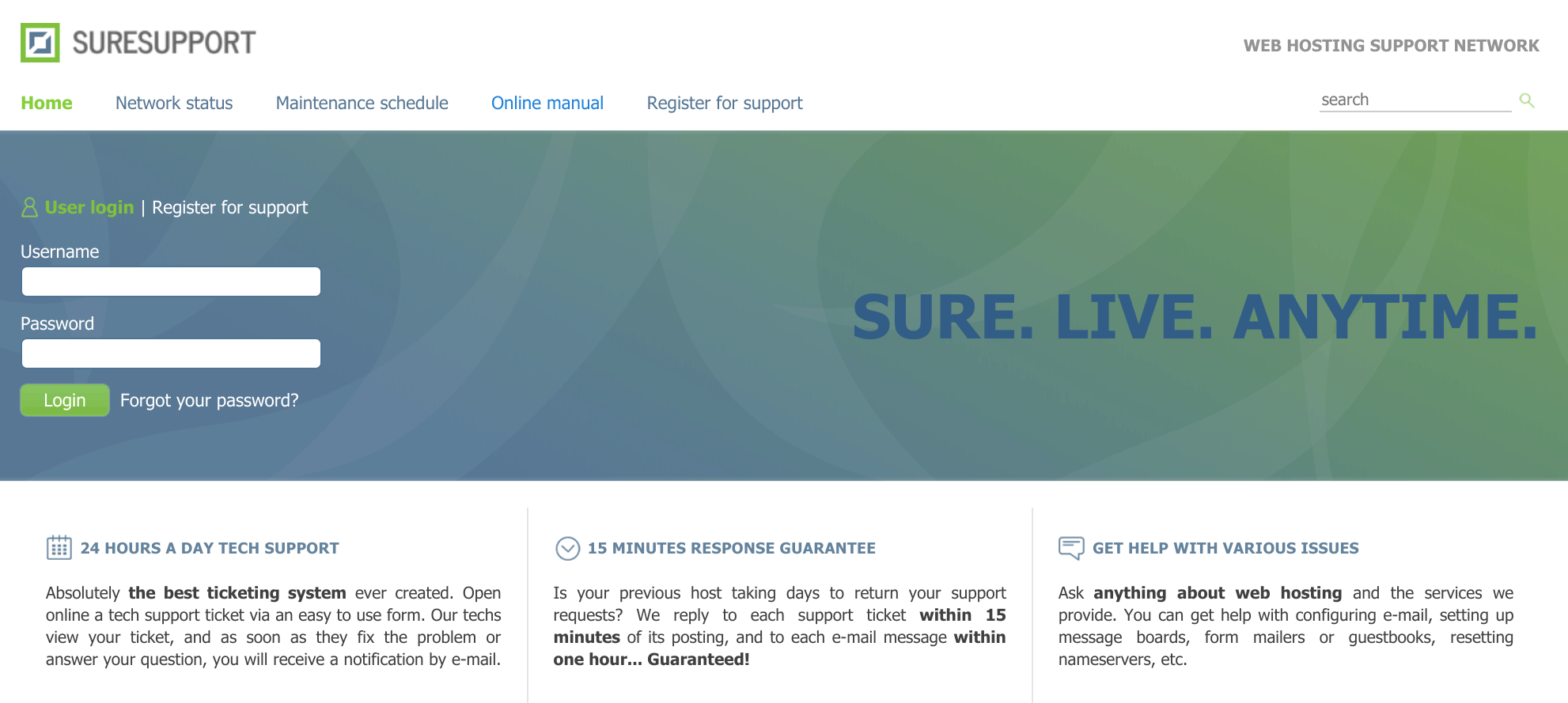 How much does CiviHosting cost?
CiviHosting offers plans from $15 to $50. The price depends on which type of hosting plan you choose. You can see the updated pricing table (updated weekly) below.

Which CiviHosting plan should I get?
My recommendation is to start with a cheaper plan. You can always upgrade later on. CiviHosting can help you with the migration to a more expensive plan. The increase in visitors many times takes longer than expected and you shouldn't pay a lot of money until the need arises. Of course, your needs may vary, and you can consult with a hosting expert from CiviHosting here.

How good is CiviHosting's customer support?
CiviHosting is not ranked as one of our top web hosts. But that can also be a result of CiviHosting being a small, under the radar, hosting provider. There are advantages to a small hosting company – as a customer, you are more important to them. You can also check out our comparison of the most popular web hosting services here.