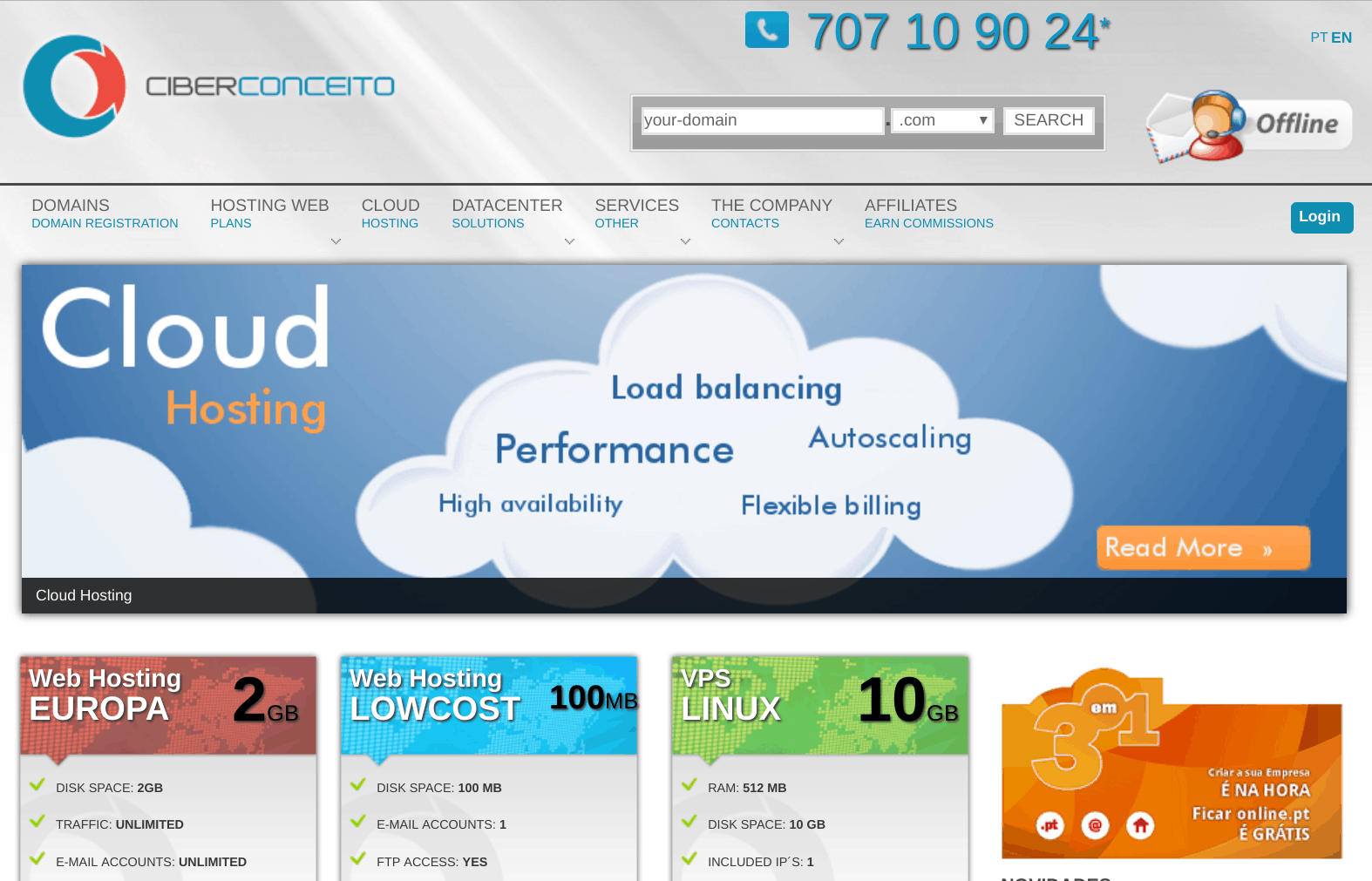 CiberConceito is a very well established website hosting company. Founded in 1996, they were
one of the first hosting companies in Portugal
. Whilst most of their services are related to hosting, they also offer website development, advertising, and other services. Their website is in Portuguese and English.
Features and Ease of Use
CiberConceito sells a wide range of hosting plans including shared hosting (with and without SSD), ASP.NET hosting, virtual private servers, and dedicated servers. To give you an idea of their offerings, here are some of the core features provided by the shared hosting plans:
Automatic daily backups
Free domain registration with some annual plans
From 100 MB to 40 GB disk space
From 2 GB to unlimited monthly bandwidth
Choice of SSD or HDD storage
Resource allocations depend on the type of hosting – LowCost Hosting, Europa Hosting, Europa Hosting with SSD, CiberPower, and Titan – and on the particular level within each type. Low Cost Hosting lets you choose from three levels, with between 100 MB and 1 GB of disk space and between 2 GB and 8 GB of traffic. Europa Hosting offers four levels of data between 5 GB and 40 GB and unlimited traffic. Europa Hosting with SSD plan affords you 2 GB to 20 GB data and unlimited traffic. CiberPower offers four plans with between 3 GB and 13 GB disk space and unlimited traffic.
Unlike many hosting companies that have moved wholly to SSD storage due to its increased reliability and faster disk read times, CiberConceito lets you choose between SSD and the more budget-friendly traditional HDD. Their servers are located in Portugal and they guarantee to back up all websites regularly, but they do not have an uptime guarantee.
All plans come with the Softaculous one-click installer (although it's not clear for how many programs) plus the easy-to-use cPanel control panel. While they do support some programming tools and technologies such as Flash, CGI, JavaScript, Perl, and PHP (up to version 5), there appears to be no support for additional advanced coding languages such as Python and Ruby on Rails.
Pricing and Support
CiberConceito offers a very wide range of prices across their packages. The LowCost range is obviously very cheap, but the resource caps (100 MB disk space and 2 GB monthly traffic) are high enough for most small starter websites. Domain registrations and SSL certificates cost extra.
The cheapest plans are available on one, two and three-year terms, whilst the higher priced packages are also available in six-month terms. Whilst it's a shame they don't offer a monthly plan, they do offer a 30-day money-back guarantee that should make you more confident about committing to at least a year.
They advertise support as available 24/7/365 through email, but you can also reach out to the company by telephone and live chat (which has always been offline whenever I've tried to access it).
There's a very small knowledge base, an FAQ page, and a client area that requires customers to log in.