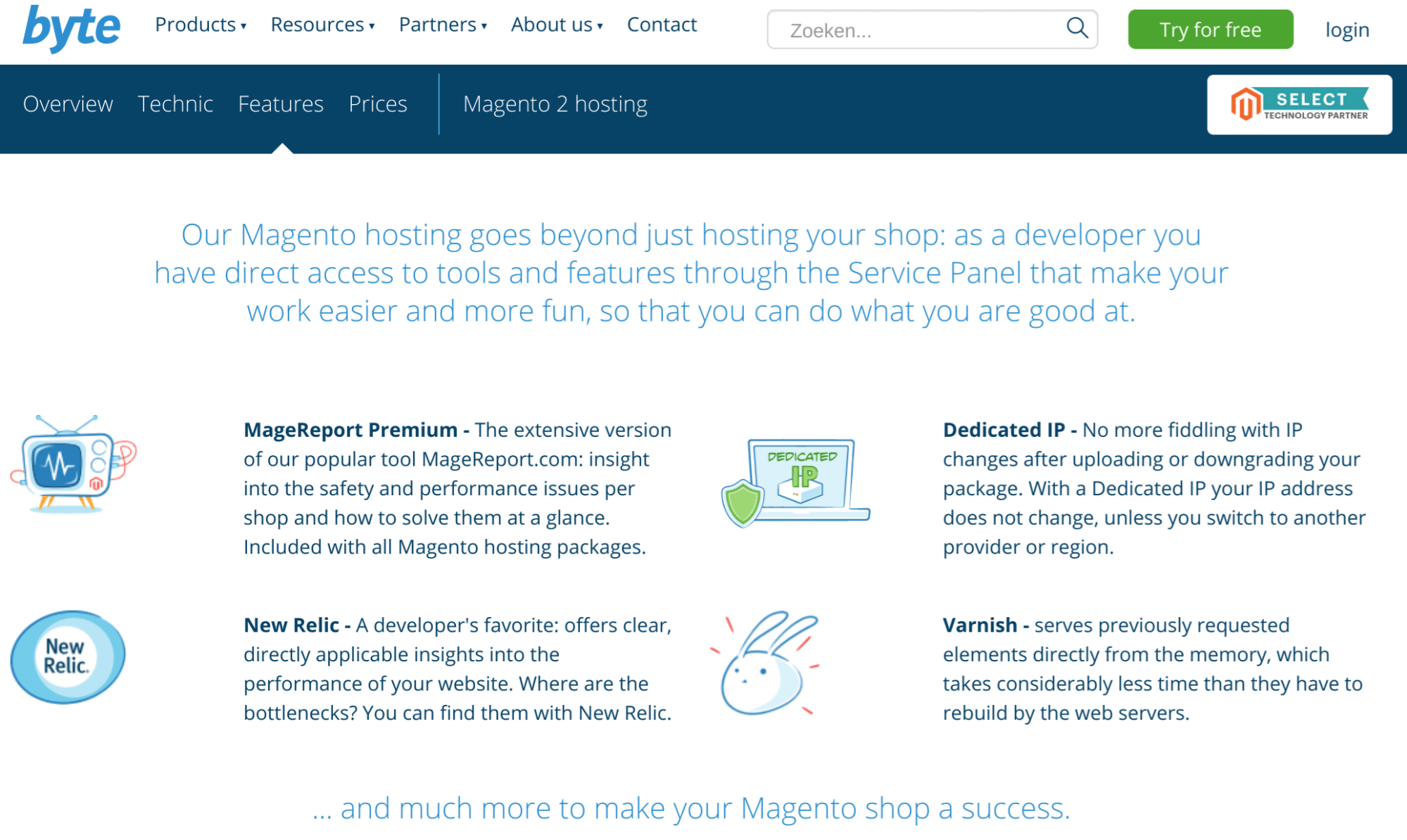 Byte has been providing hosting services since 1999, and it focuses mainly on Magento websites. This Netherlands-based business claims that more than 65% of the local Magento agencies use its "Hypernode" platform. Although I can't substantiate this claim, I can tell you that the company has more than a hundred positive customer testimonials on an independent review website. The Byte website is available in Dutch.
Features and Ease of Use
Since this company specializes in Magento website hosting, you won't find all of the usual services that large hosts provide. Instead, you get a small selection of services to compliment your Magento website, with the following core features:
5% to 99.95% guaranteed uptime, dependent on the plan
Daily backups retained for 7 days; weekly backups retained for 3 weeks
Domain registration available for additional fees
Managed SSL certificates
35 GB to 1 TB SSD storage
Byte focuses solely on managed Magento hosting and provides a branded 'Hypernode' platform. This virtual, isolated space is optimized for Magento, with all the tools a Magento developer needs along with automated tasks and management by Byte.
So, let's dig deeper into the available information to discover what else Byte has to offer.
Byte offers many of the usual features you'd expect from a premium hosting provider. For example, there is support for PHP version 7, FTP, MySQL, FTP, and SSH access. Overall, the generous features are geared toward experts.
There are also lots of features that are specifically designed for e-commerce stores. For example, plans come with a managed SSL certificate that Byte will apply for and then install for you.
Security features include a PCI compliance service and the NeoPI Python script to detect malicious code. Features to speed up your website include Brotli (to compress HTML/CSS and Javascript) and Redis caching to speed up your back-end by up to 300 times.
If all this is not enough, there are specific tools for Magento such as the MageReport Premium that provides insights into the performance and safety your Magento website(s), and the Service Panel that is designed specifically to manage multiple websites.
Pricing and Support
As you might expect of something so specialized, the prices are high. You're purchasing a premium hosting service that is fully managed and optimized for Magento. Byte is fundamentally for high-traffic and high-volume e-commerce stores that require speed, security, and the peace of mind that a solid host brings.
Contract lengths depend on which package you are purchasing. Magento hosting with Hypernode, and Magento Dedicated Cluster plans are only available on one-month terms, whereas the Presence package can be bought on an annual basis.
There are a 30-day free trial and a 14-day money-back guarantee, which is quite unusual for a managed service like this.
You can contact customer support by phone or email during regular business hours on Mondays through Fridays. There is also a 24/7 emergency service which you have to pay for on top of the already-premium price.
When I contacted this company by email on a Sunday evening, I received a response as soon as the office opened on Monday morning: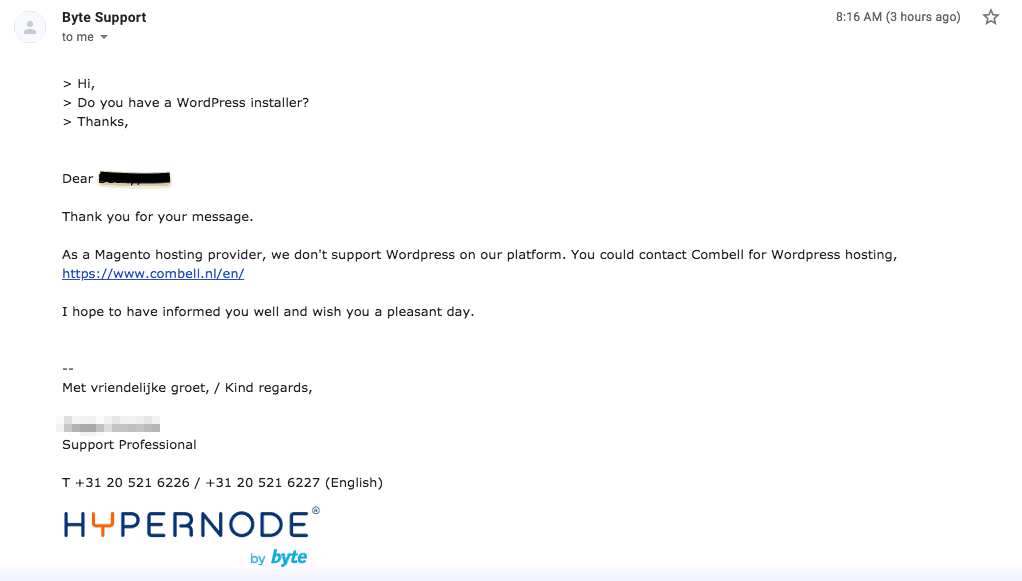 How much does Byte cost?
Byte offers multiple plans priced highest to lowest. The price depends on which type of hosting plan you choose. You can see the updated pricing table (updated weekly) below.

Which Byte plan should I get?
My recommendation is to start with a cheaper plan. You can always upgrade later on. Byte can help you with the migration to a more expensive plan. The increase in visitors many times takes longer than expected and you shouldn't pay a lot of money until the need arises. Of course, your needs may vary, and you can consult with a hosting expert from Byte here.

How good is Byte's customer support?
Byte is not ranked as one of our top web hosts. But that can also be a result of Byte being a small, under the radar, hosting provider. There are advantages to a small hosting company – as a customer, you are more important to them. You can also check out our comparison of the most popular web hosting services here.