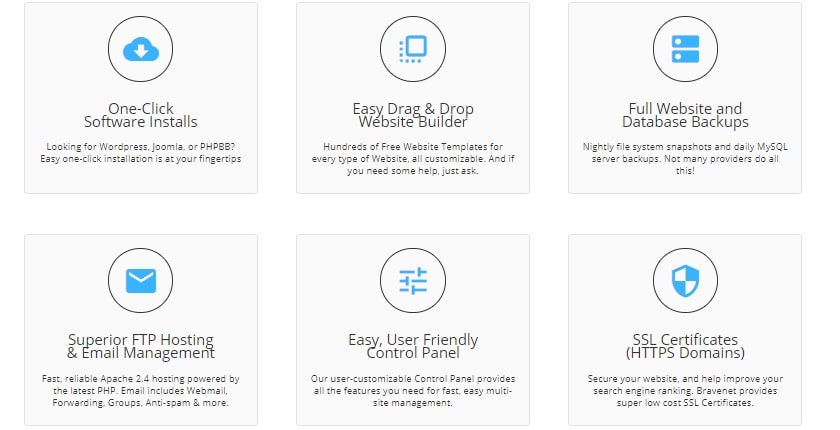 Founded in 1997, Bravenet is your one-stop-shop for domains, web hosting, and nifty website building tools online. Its cloud-based hosting service is fast, reliable, and secure. The company prides itself on having a world-class customer support team.
Features and Ease of Use
Under its user-friendly control panel, you will find an amazing selection of features that lets you build and manage your website or blogs easily. Here are some of them:
Custom domains
Up to 25GB bandwidth
Webmail with anti-spam
FTP/SSH accounts
Free stock photos
Php support
One-click installer
MySQL databases
Premium customer support
Every user has access to the Easy Hosting Manager, a suite of features and tools that lets them manage their domains, emails, websites, and FTP accounts. Tasks such as file management, database creation, and even SSL deployment are automated. From the dashboard, you will also be able to monitor traffic and usage stats. The simple email management is part of this ecosystem, and it's really going to be handy when you start creating and personalizing your emails.
Within minutes of joining Bravenet, you should be able to build a responsive modern website, blog, or even functional estore with little or no help all. You can use the simple website builder with a drag-and-drop interface or the power app installer with 100+ CMS scripts. Choose from hundreds of templates and customize them the way you want. Many extras are available for free and web app installations are automated, thanks to simple wizards with easy-to-follow steps.
I have no doubt about the speed or performance of Bravenet's hosting service as it comes with a 99.9% uptime guarantee. This means your web pages will load fast and be accessible round the clock.  Full website backups, nightly file snapshots, and daily database backups are available, so you shouldn't need to worry accidental loss of data.
Pricing and Support
Bravenet's starter package only hosts one website and is ideal for a person who wants to create a simple HTML website. To unlock more space, transfer bandwidth, and one-click installs, I'd advise you to upgrade to the Basic, Advanced, or Corporate plans. All packages include a 30-day money-back guarantee, so you get a full refund if you're not happy with your current package.
With over 20 years of hosting experience, Bravenet seems like a company that understands the needs and pain points of its customers. That's why it has assembled a friendly and helpful customer support team to provide answers and to tackle hosting problems. They're based in the U.S. and accessible via telephone, Facebook messenger, email, and online ticket. My only concern is that a user has to sign in to submit a ticket online, which isn't the case with many hosting services.
Bravent's wiki documents and resources are a treasure trove for starters who want to learn the ropes of emails, database management, web tools, SSLs, and web hosting at their own pace. Some of them will even answer your questions, so you may not need to contact support for help in some instances.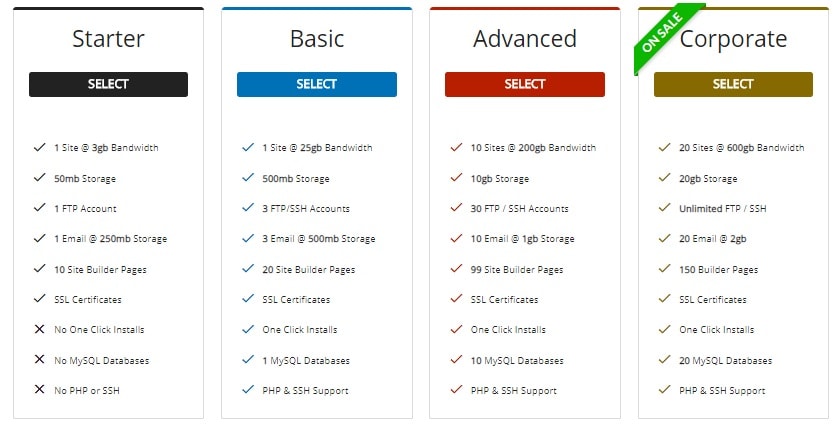 How much does Bravenet cost?Bravenet offers multiple plans priced highest to lowest. The price depends on which type of hosting plan you choose. You can see the updated pricing table (updated weekly) below.
Which Bravenet plan should I get?My recommendation is to start with a cheaper plan. You can always upgrade later on. Bravenet can help you with the migration to a more expensive plan. The increase in visitors many times takes longer than expected and you shouldn't pay a lot of money until the need arises. Of course, your needs may vary, and you can consult with a hosting expert fromBravenet here.
How good is Bravenet's customer support?Bravenet is not ranked as one of our top web hosts. But that can also be a result of Bravenet being a small, under the radar, hosting provider. There are advantages to a small hosting company – as a customer, you are more important to them. You can also check out our comparison of the most popular web hosting services here.