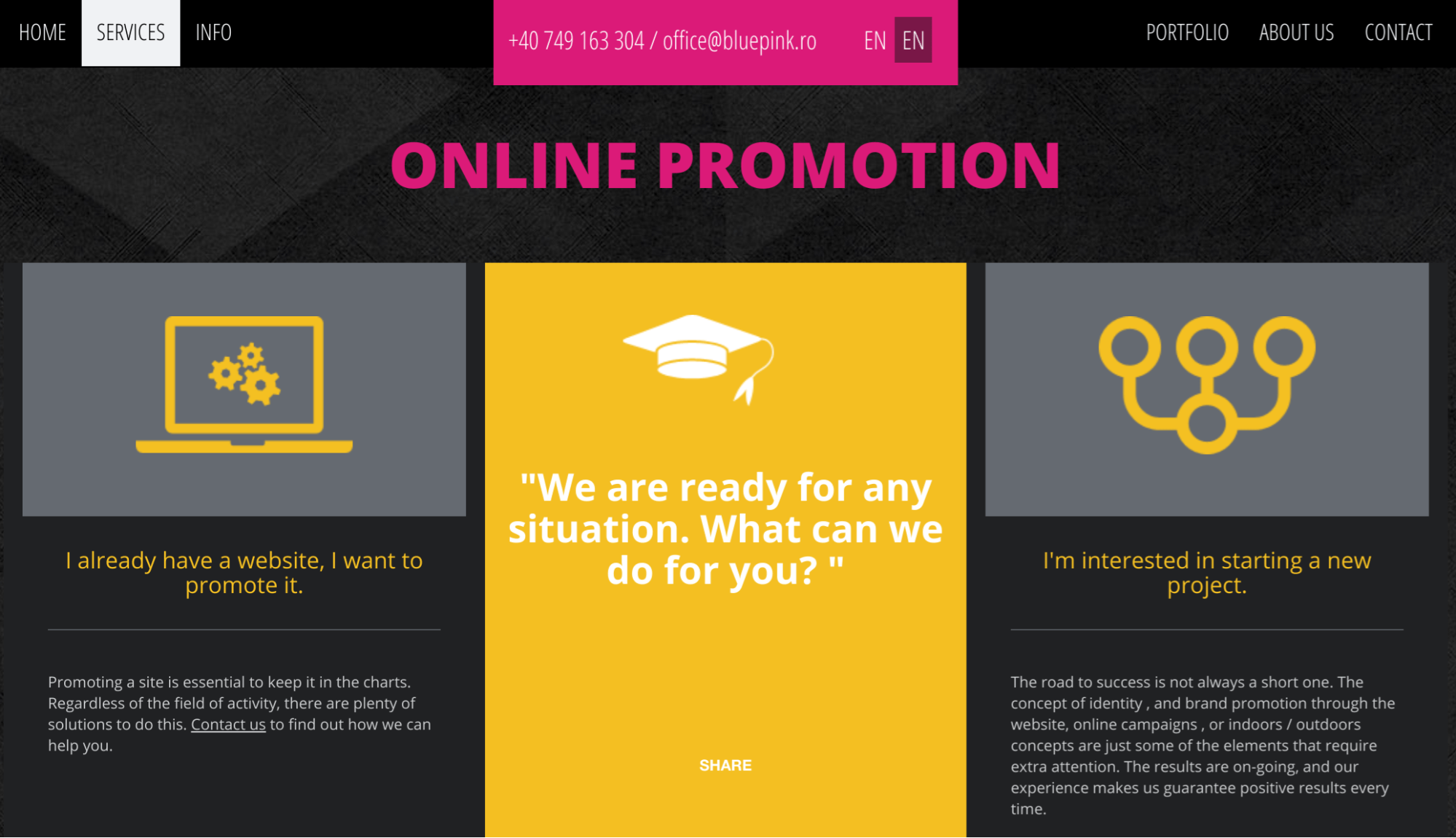 BluePink is a Romanian website hosting provider that was founded in 2007. According to its website, this business was operated by one person for several years but has now expanded to a team of six. BluePink's colorful website is written in Romanian, but with some English pages too.
Features and Ease of Use
BluePink sells much more than just website hosting, but its web hosting plans come with the following core features:
External backups with most plans
Two hosted domains
SSL encryption with higher-tier plans
Unlimited disk space and traffic
All of the plans come with unlimited hosting and unlimited traffic (subject to the usual "fair usage" caveats). Therefore, higher-priced plans include more features rather than higher resource allocations.
The three hosting plans support PHP, HTML, CGI, FTP accounts, MySQL databases, and PostgreSQL. There is no support for Cron jobs or SSH as far as I know, but I couldn't get hold of customer support to confirm.
Although there is no one-click installer as far as I can tell, on all but the lowest hosting plan, you can request installation assistance "on demand." But the lack of a website builder (again not confirmed by customer services) might be a deal-breaker for some beginner website owners.
While these hosting plans apparently don't include endless features (especially for non-experts), this is okay for a non-premium brand. Of more concern to me is the limit of only two domains per hosting account.
The good thing about BluePink is that a team of IT experts with years of web design and hosting experience operates it. That's why they offer a wide range of web-related services like web design and development, online advertising, and branding. It's quite reassuring to know that your data is being handled by knowledgeable professionals on a daily basis.
Pricing and Support
BluePink's hosting prices are lower than other Romanian and international hosting providers, but I feel that the pricing is fair for the level of features provided. Whilst SSL certificates are included in some plans, domain names always cost extra.
Plans are only available on one-year terms, which is quite normal for budget brands. Frustratingly, you cannot purchase hosting via the website, which is unusual for shared hosting providers but maybe not so unusual for a firm of this size.
There's no money back guarantee and no free trial, so signing up would be somewhat risky were it not for the incredibly low prices.
Customer services can be contacted by phone and email only, but it's unclear what constitutes business hours. When I contacted support by email on a weekday, I received no response for two business days… and counting.

It's not worth knowing about the knowledge base because it contains only one article.