Privately-held web hosting company BlastPort was founded in 2012 to provide low-cost web hosting and reseller options from their headquarters in the United States. The company prides themselves on serving customers with a fast and reliable hosting platform, and as such offers packages that are simple yet feature-packed for both experienced and beginner users. Their service is only available in English.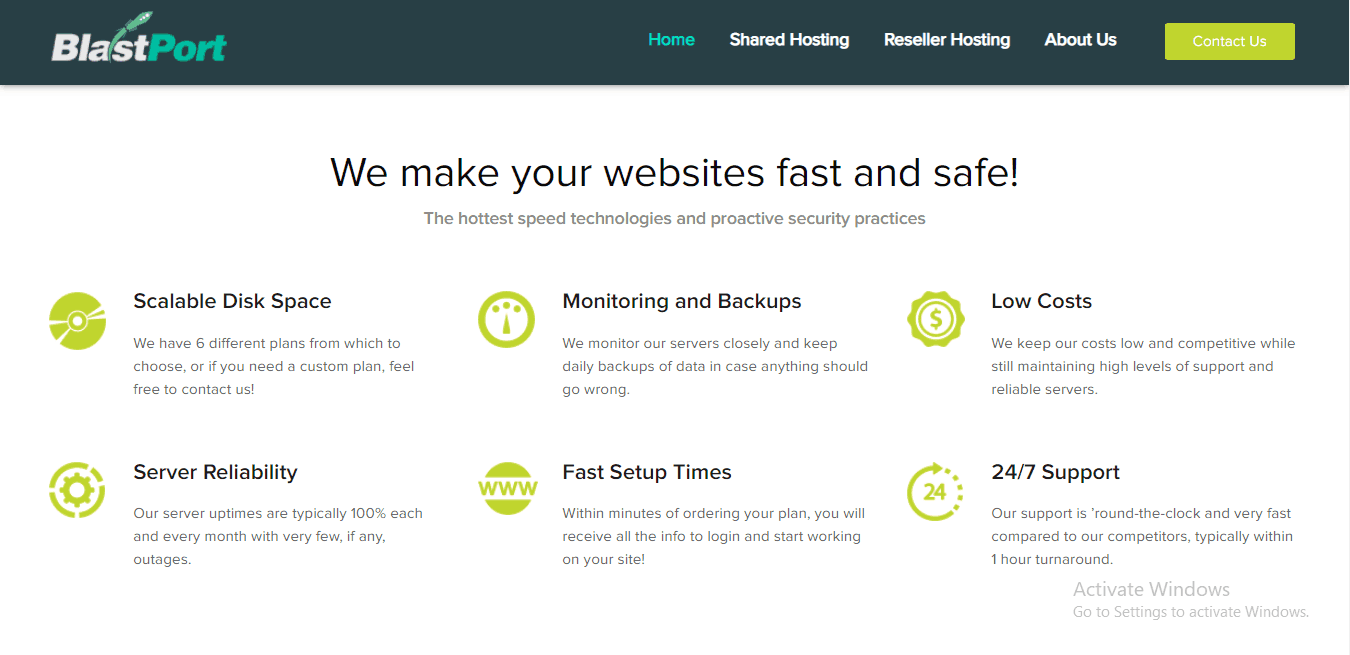 Features and Ease of Use
BlastPort sets themselves apart with the level of service they offer their customers. While they may not be the biggest or have the most capital, it's clear that they've invested a considerable amount of time and resources on improving their offerings. Therefore, it's no wonder that you get shared hosting plans packed with excellent features such as:
Up to 100 GB disk space
Anywhere from 25GB to unlimited bandwidth
Unlimited add-on domains with the two highest-tier plans
Domain registration free with an annual contract on the two highest-tier plans
Automated daily backups of websites and databases
99.9% uptime guarantee
Attracta SEO tools
Unfortunately, they don't offer SSL certificates, be it paid or free. You'll have to buy that elsewhere. They provide support for setting these up, though.
I especially like the inclusion of Incapsula and Cloudflare in their hosting packages. These are popular cloud-based utilities that provide content caching, web application firewalls, DDoS protection, and a variety of CDN services. These value-added features ensure fast website loading times regardless of where your visitors may be located relative to the servers your website is hosted on.
Furthermore, they use CloudLinux OS and CageFS on their shared servers. These improve server stability by placing each client in a secure and isolated environment. Every client has their own functional set of tools and system files in their "cage," ensuring that each user can fully utilize what they've paid for without overtaxing the entire server. Also, with this setup, a website that's been infected with malware won't affect other websites on the server.
BlastPort's shared hosting packages also come with Softaculous, a one-click installer for over 140 scripts and CMSes including WordPress, Drupal, and Joomla!. They also provide website building tools such as RVsitebuilder Pro and Trendy Site Builder, making it easy for beginners to set up a website.
Pricing and Support
Since BlastPort aims to provide low-cost hosting plans, it's not surprising that their packages come cheap despite their provision of Incapsula and Cloudflare with CageFS. The only thing they don't provide are SSL certificates, which is a definite drawback for what's otherwise a highly beginner-friendly service.
If you're on a very tight budget, opt for their Starter shared hosting plan. This is one of the cheapest packages available and allows you to host one website with 1GB disk space and 25 GB bandwidth — great for those just starting out. If you find this plan too small for your requirements, the Premium and Ultimate plans are excellent. You get a free domain registration when you pay upfront for one year. There aren't any free plans, but they do have a 14-day money back guarantee on all their hosting packages.
Their 24/7 customer support is reachable only through email. Although they respond within an hour or two, their support is rather limiting. Unfortunately, their knowledge base is completely empty, so you'll have to rely solely on their support team to resolve any issues.