BlackSun is a Canadian technology company that offers shared hosting services, VPS hosting, backup services, domain registration, SSL certificates, and custom web development solutions. The company's servers are centrally located in Saskatchewan.
Features and Ease of Use
Shared hosting accounts are powered by cPanel, one of the best hosting panels out there. Some of the key features you will find inside include:
Manual backup wizard
MySQL database manager
SSL certificates
Remote MySQL
Add-on domains
BSN zone editor
Selectable PHP
Malware cleanup
Website backup services
Visitor tracking tools
Every hosting plan comes with the free Softaculous installer. This one-click install software includes WordPress and Drupal, and lets you create content management systems, e-commerce stores, forums, and blogs. Thanks to the MySQL wizard, you can create data-driven websites within minutes. You can add domains and sub-domains to your account, create email accounts using your domain name, and set up web analytics to monitor site traffic. The company occasionally gives out free advertising credit for Google and Bing, so be on the lookout so you don't miss out!
If you're looking for risk-free hosting plans, you will be happy to know that BlackSun backs all their hosting plans with a 30-day full money-back guarantee – but you probably won't want to back out of their plans, considering that their web hosting also comes with a 99.99% uptime guarantee. Their secure, temperature-controlled data centers are powered by iTel's and Shaw Communications' redundant gigabit connections, in addition to offsite backup and storage facilities.
Pricing and Support
BlackSun offers five different shared hosting packages. The basic plan is referred to as Comet. It comes with 5GB disk space, five databases, one add-on domain, and 5GB monthly bandwidth. Crescent Plus is the second plan that they offer. With this plan, you get 25GB disk space, 50GB monthly bandwidth, and 5 add-on domains.
Halo Plus comes with twice the disk space and monthly bandwidth of Crescent Plus in addition to ten add-on domains. Nova Plan includes 75GB disk space, 150GB monthly bandwidth, and 15 add-on domains. If you need even more, you may want to try out the EclipsePlan which comes with 100GB disk space, 250GB monthly bandwidth, and 50 add-on domains. All five plans include free email services.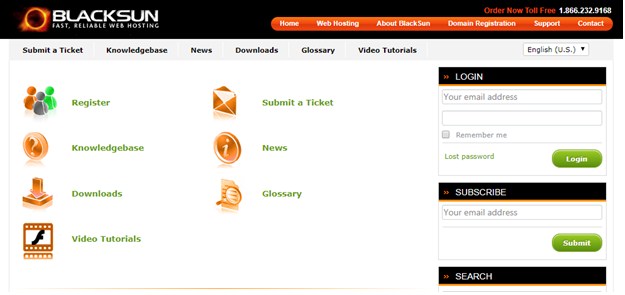 BlackSun's reliable sales team and technical support team are instrumental in addressing inquiries and resolving issues. They provide assistance through email and live chat with live operators. If you require immediate help, you can also reach them by calling their toll-free phone number from Monday to Friday, between 7am and 8pm (CST). Additionally, they offer ticket support. The in-house support team is available to answer your important questions and assist you with tasks such as domain registration, service deployment, and even website backups.
How much does BlackSun cost?
BlackSun offers plans from $10 to $50. The price depends on which type of hosting plan you choose. You can see the updated pricing table (updated weekly) below.

Which BlackSun plan should I get?
My recommendation is to start with a cheaper plan. You can always upgrade later on. BlackSun can help you with the migration to a more expensive plan. The increase in visitors many times takes longer than expected and you shouldn't pay a lot of money until the need arises. Of course, your needs may vary, and you can consult with a hosting expert from BlackSun here.

How good is BlackSun's customer support?
BlackSun is not ranked as one of our top web hosts. But that can also be a result of BlackSun being a small, under the radar, hosting provider. There are advantages to a small hosting company – as a customer, you are more important to them. You can also check out our comparison of the most popular web hosting services here.