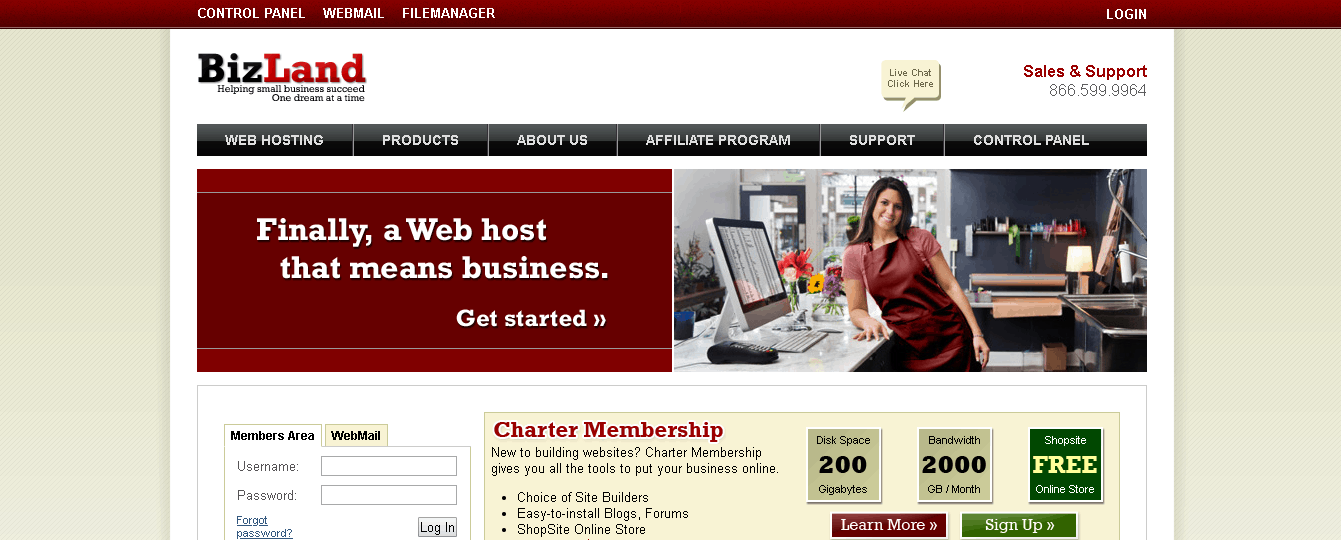 U.S.-based BizLand has two data centers (Waltham and Boston) and more than ten years' experience in the web hosting industry. It targets mainly individuals, startups, small businesses, and e-commerce websites.
BizLand's website and customer support are available in English.
Features and Ease of Use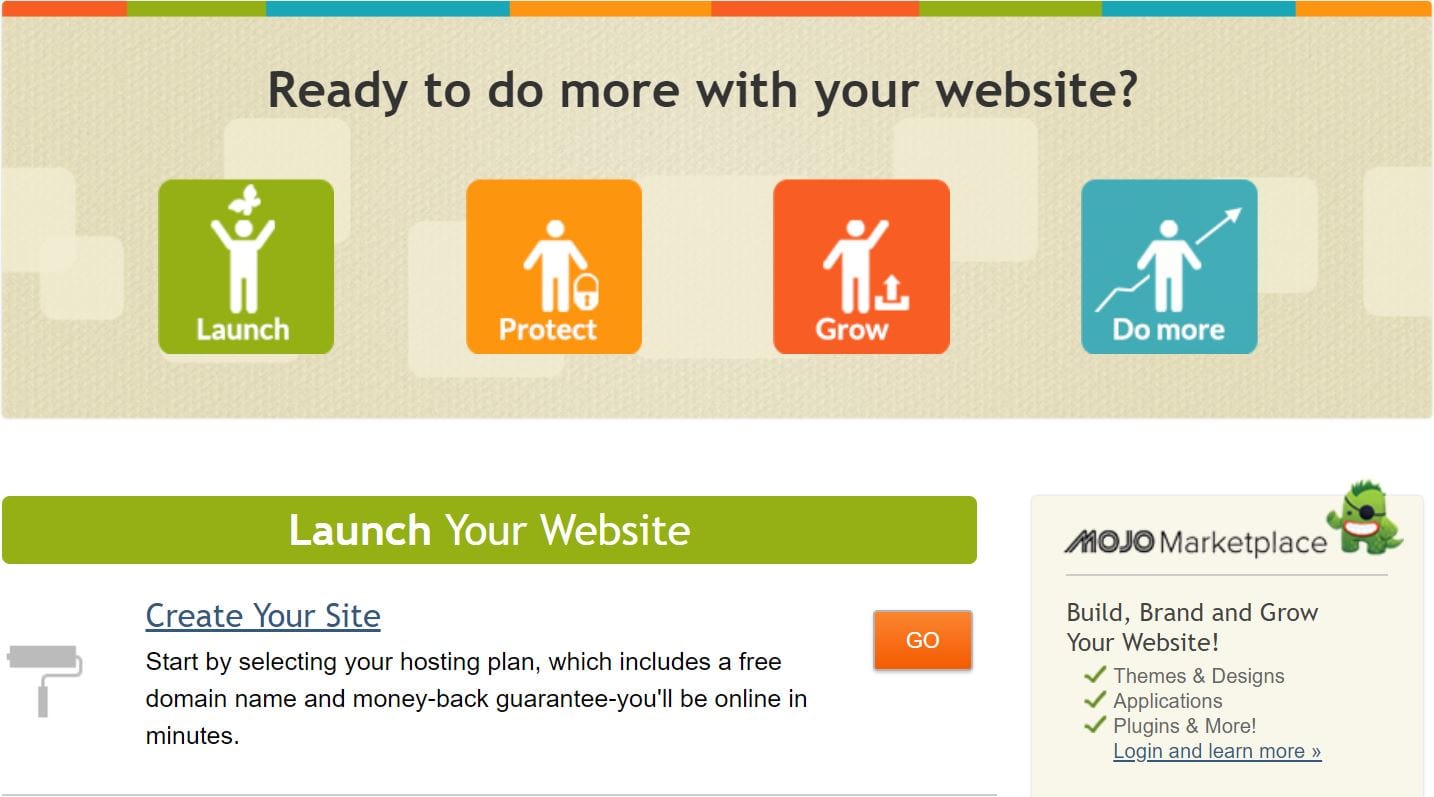 BizLand offers Linux and Windows web hosting packages which it calls "Memberships". The key hosting features include:
200 GB to 300 GB disk space

Free domain

Custom vDeck control panel

Free SSL certificate

Software auto-installer

SiteLock CDN

Free site builder
The Linux shared hosting packages come with lots of useful features and freebies, and they're backed by a 99.9% uptime guarantee. The "Charter Membership" basic package provides 200 GB web space, a 2000 GB bandwidth limit, FTP access, unlimited mailboxes, and site management tools; plus Perl, Python, PHP, SSI, Webalizer web statistics, and more. For a few dollars more, you can get a free domain and more storage space with higher packages.
Rather than providing the popular and easy-to-use cPanel control panel, BizLand provides a custom vDeck control panel that requires you to be a bit more tech-savvy.
On a brighter note, I like the freebies thrown in with BizLand's plans. You get marketing tools, a site builder, SSL certificates, SiteLock CDN, and MOJO Marketplace (which helps you to install WordPress easily). You also get Google Adwords and Bing advertising credits to help kickstart your web presence.
In terms of the technicals, BizLand provides MySQL databases with its Linux hosting plans and Microsoft SQL databases with its Windows hosting accounts, but you don't get remote MySQL connections. While you do get Cron jobs, you don't get SSH access.
BizLand keeps website backups for 14 days and database backups for three days, and your databases are stored on SSD.
Pricing and Support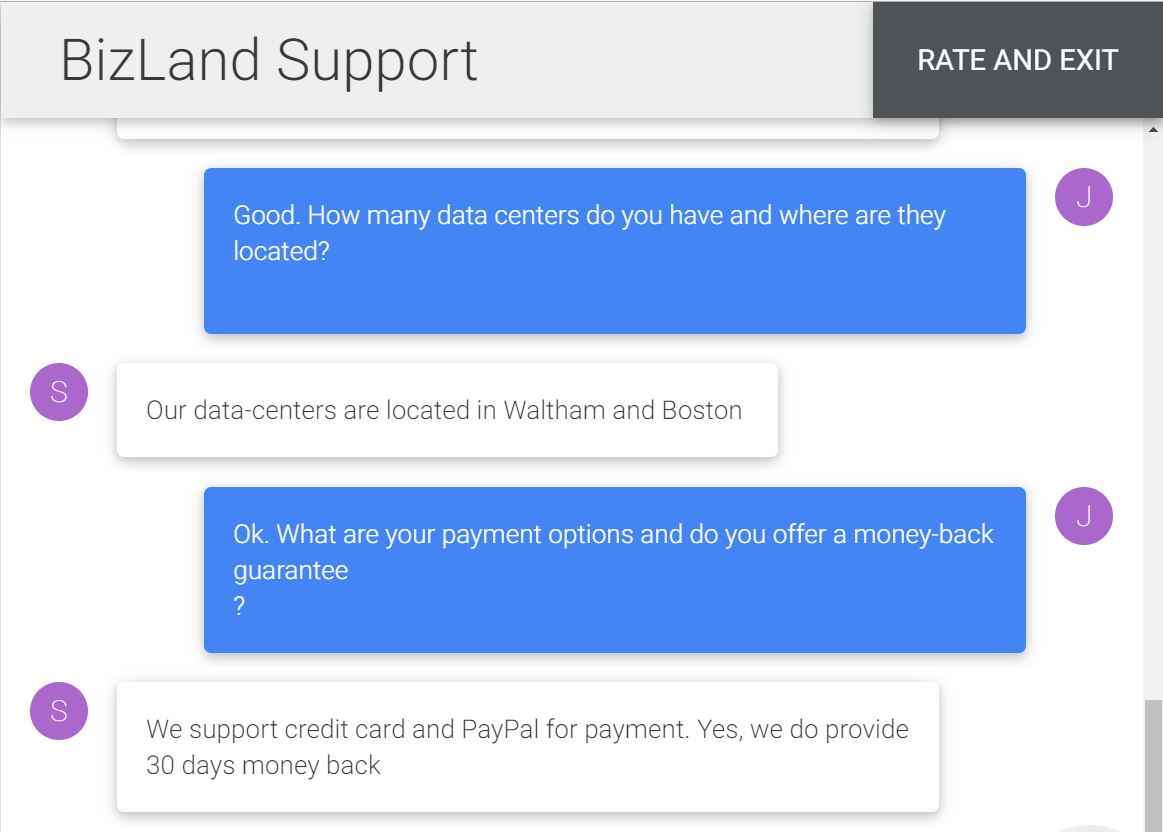 BizLand offers feature-packed plans at relatively low prices. For example, the cheapest "Charter" plan (or membership) provides lots of benefits and generous disk space. The higher plans include extras such as a free domain (with an annual subscription) plus more web space and a higher bandwidth limit. Note, however, that BizLand charges setup fees for its membership packages.
Since some customers have voiced complaints about BizLand's security measures and billing policy, I highly recommend that you pay attention to the 30-day money-back guarantee. This ensures that you can opt out if any issues arise within the first few weeks. You have the option to make payment for your preferred package through PayPal or credit card.
I enjoyed a superior experience with BizLand's customer support. A very polite, friendly and knowledgeable representative answered all my questions when I tested the live chat channel.
You can also summon support via telephone, or take advantage of the self-support knowledge base.
How much does BizLand cost?
BizLand offers plans from $6 to $35. The price depends on which type of hosting plan you choose. You can see the updated pricing table (updated weekly) below.

Which BizLand plan should I get?
My recommendation is to start with a cheaper plan. You can always upgrade later on. BizLand can help you with the migration to a more expensive plan. The increase in visitors many times takes longer than expected and you shouldn't pay a lot of money until the need arises. Of course, your needs may vary, and you can consult with a hosting expert from BizLand here.

How good is BizLand's customer support?
BizLand is not ranked as one of our top web hosts. But that can also be a result of BizLand being a small, under the radar, hosting provider. There are advantages to a small hosting company – as a customer, you are more important to them. You can also check out our comparison of the most popular web hosting services here.