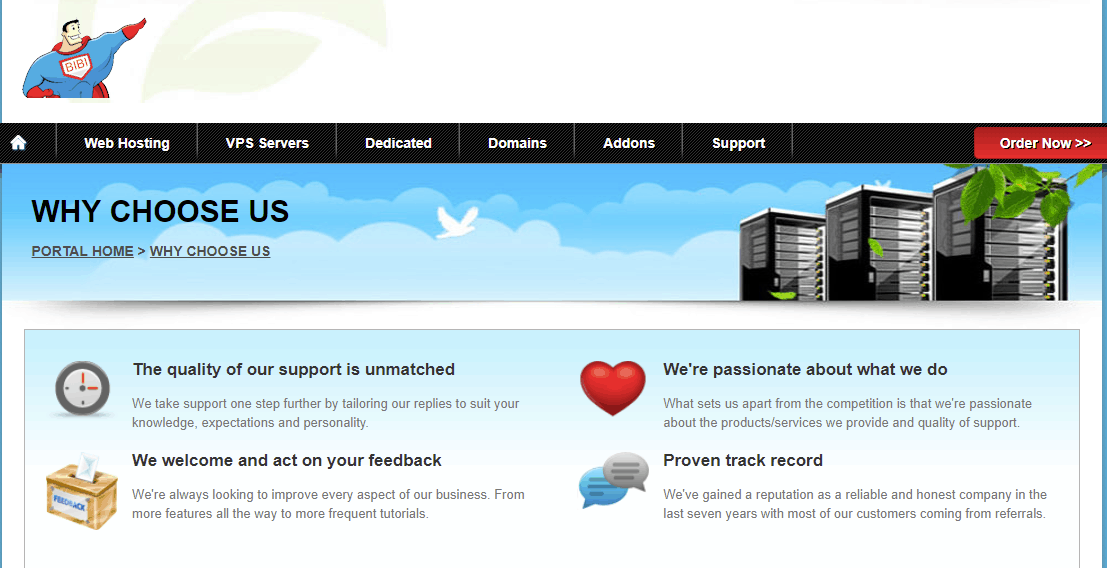 BiBihost is an Italian hosting company that offers shared hosting, Virtual Private Servers (VPS), dedicated servers, domain name, and a bunch of other web hosting add-ons. Its servers are located in Italy, and its website is available in English only.
Features and Ease of Use
BiBihost offers six shared hosting plans with three offering the same features and the other three doing the same. The difference is in the location in which they are hosted. These are the features that it offers:
99.9% uptime guarantee
Nightly automatic backups
Zero or unlimited add-on domains
Either 10GB or 25GB storage space
10GB or 500GB bandwidth
BiBihost offers a downtime warranty on its uptime. If you record uptime of 95% to 99.8%, your account will be credited with 10% of your fee. For 90% to 94.9%, you get 20%. For 89.9% and below, you'll get 50% credited.
Getting a hosting account without a control panel or one that isn't easy to use is terrible for someone that understands server configurations or how to go about operating in a pure OS server situation. BiBihost understands that and provides one of the easiest control panels for customers; cPanel.
Through the control panel, you can manage your files, email accounts, databases, and much more. After getting your panel, creating and publishing your website is another thing. If you are hoping to use a website builder, you're in the right place as this provider has a website builder for hosting customers that they can use without any coding experience.
It does, however, provide Softaculous. This is an application installer that takes the hard work out of installing CMSes like WordPress. It supports more than 300 applications and you don't need to know about servers or databases to use it.
BiBihost doesn't offer premium tools like CloudLinux. It would have been nice to have them so that you don't get affected by the actions of the other customers that you share your server with.
Pricing and Support
They don't provide a free domain, but you can snag yours from them at a reasonable cost. The catch is, they only register seven domain extensions.
BiBihost offers its reliable servers at a low cost. If you're on a low budget but still want enough space, you can get that from BiBihost. Given the low-cost of the first three plans, it's not surprising that there's no one-month subscription on offer. However, you can pay for one month at a time on the other three plans.
You can pay with PayPal or credit card. The company helps customers mitigate their risk by offering a full refund within 30 days of payment for hosting.
BiBihost offers 24/7 customer support through email and ticket. It doesn't have a phone number or live chat that you can use to contact it. I sent an email but never got a response.
However, there's a resource filled knowledge base that you can resort to and not have to wait for the agents to reply to you.