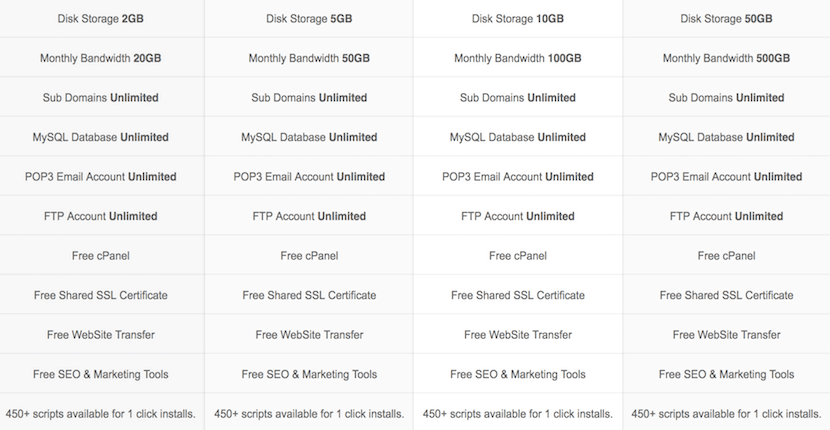 Founded in 2011, BDWEB IT offers shared, VPS, dedicated server, and reseller hosting as well as email, web design, software development, and online marketing services. It has served over 2,500 clients. Its shared hosting plans include a free SSL certificate, 100% uptime guarantee, and a 30-day money-back guarantee.
The company is based in Bangladesh with a data center in the United States. The website is in English but also includes a Google translate tab which allows for many more languages to be presented as well.
Features and Ease of Use
BDWEB IT's entry-level shared hosting plan is the Starter plan, which includes 2GB of storage and 20GB of monthly bandwidth. Stepping up two levels, the Mega plan includes 10GB of storage and 100GB of monthly bandwidth. For even more space, customers can choose the Ultimate plan, which includes unlimited storage and bandwidth.
All shared hosting plans include:
Support for WordPress
cPanel
Free shared SSL certificate
Auto-install software scripts
Unlimited MySQL databases
All shared hosting plans come with a free uninsured SSL certificate from Let's Encrypt, however, customers can also purchase upgraded SSL certificates that include insurance. SSL certificates from these different brands are available for purchase: RapidSSL, GeoTrust, Symantec, Thawte, and Comodo. The levels of service include: domain validated, organization validated, and extended validation.
Customers who would like a complete website created for them can choose one of BDWEB IT's website design and development packages. These are grouped as either static, dynamic, or e-commerce. Static website packages include between five to 30 web pages. Dynamic website packages include 10-40 web pages. The e-commerce package includes 50 web pages, a shopping cart, and payment integration. All website design and development packages come with domain registration and web hosting for one year.
Pricing and support
Pricing for BDWEB IT's hosting plans is very affordable, with the entry-level plan costing less than a cup of coffee per month. This level of service includes a relatively small amount of data and less features than more expensive competitor plans. Prices amongst Bangladeshi hosting providers varies considerably, but BDWEB IT's prices fall somewhere in the middle. It is cheaper than some hosts but much more expensive than others. However, for non-SSD hosting, it has higher than average prices.
Compared to international hosting providers, prices here are on the low end with plan costs averaging 40%-70% less than many hosts.
Plans are available in monthly, quarterly, semi-annual, and annual terms with a discount given for longer hosting agreements. Discounts over the monthly plan at the time of writing this review are as follows: 5% discount for quarterly, 11% discount semi-annual, and 33% discount for annual.
The company provides 24/7 telephone support, and you can also contact customer support through email, Skype, and the online contact form. When I contacted the sales support, they replied to me later the same day.