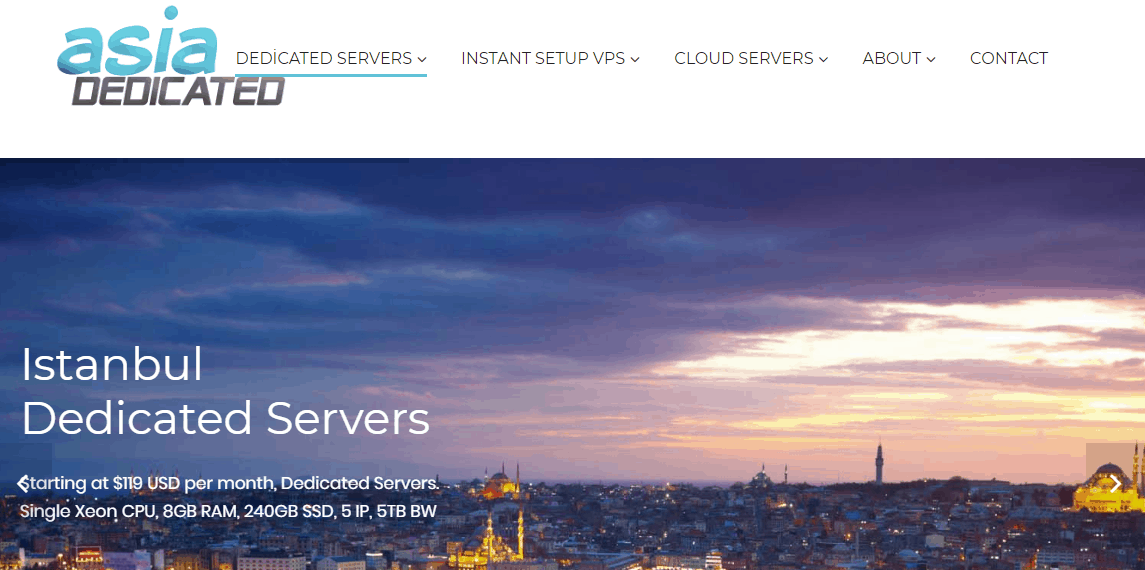 For over 25 years, AsiaDedicated has been offering data center services. Its customer base is comprised of individuals (70%) and organizations (30%). It offers dedicated servers, Virtual Private Servers (VPS), and cloud servers.
Its servers are located in Turkey, Thailand, Singapore, South Korea, Hong Kong, India, Australia, and Japan. The company's website is available in English only.
Features and Ease of Use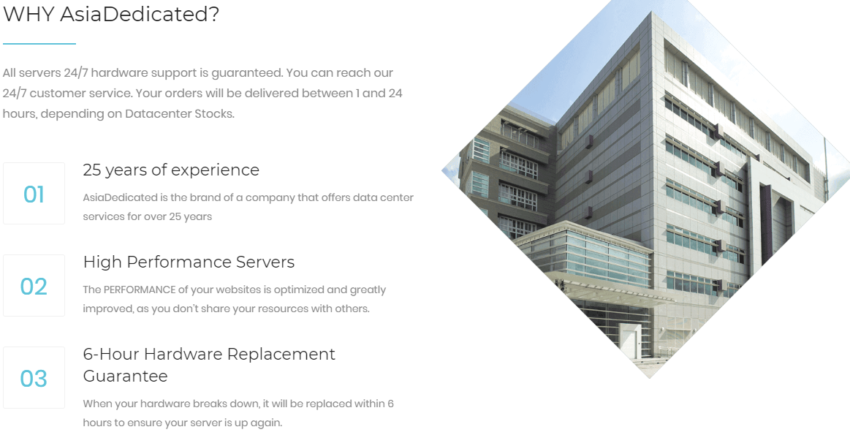 Its VPS is in its Istanbul location only. It offers ten plans that have varying features. Here are some of them:
Anywhere from one core to six core CPU
From 1GB to 64GB RAM
Up to 300GB SSD
AsiaDedicated offers up to 10TB bandwidth. The lowest on offer is 1TB on the base VPS plan with a 100Mbps port. Sure, that's not as much as 1Gbps, but it works as long as you don't have a heavy traffic download website.
The company provides one dedicated IP address to all VPS customers. If you want to access your website fast via FTP, especially while your DNS is still propagating, then a dedicated IP will come in handy. Also, if you send a large volume of emails, it's nice to have a dedicated IP because for emails, IPs have a reputation.
AsiaDedicated serves clients that understand server management. It doesn't provide a set operating system or control panel. If you want one and don't want to install it yourself, you can choose from the Linux and Windows distributions provided before checkout.
For control panel, you have the choice of no panel, cPanel, or Plesk at checkout. The latter two will cost an additional fee.
AsiaDedicated offers better performance and features with the dedicated server and cloud server plans. If your needs exceed what the VPS covers, you can go for either of those. Although VPS is instantly setup, dedicated servers might take up to 24 hours hours depending on the stocks available.
If, at any time, your hardware fails, the company promises a six-hour hardware replacement guarantee.
Pricing and Support
The prices of VPS, dedicated servers, and cloud servers are definitely not like shared hosting and you shouldn't expect such low prices. Nevertheless, AsiaDediated places its prices at a just level for the features that it provides. The VPS, especially, is affordable.
It offers one-month, three-month, six-month, and twelve-month subscription options. Be aware that it doesn't offer refunds or money-back guarantees. If you still have reservations concerning this provider, you can buy a one-month subscription and see how well it delivers during that period.
One feature that this company doesn't provide is a knowledge base. There are many times that I have had to use a knowledge base to solve one or two issues as many customers do, so that's disappointing. The support agents are available through email, ticket, Skype, and live chat.
During the time I tried, the live chat was always offline, so I sent an email but never got a response despite waiting for almost two weeks.