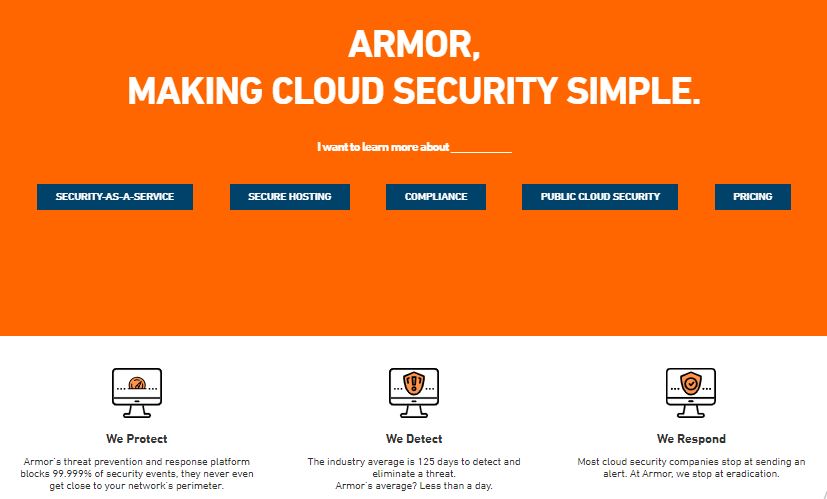 Armor was first launched in 2009 under the name FireHost by Chris Drake, but the name was later rebranded to Armor in 2015 as an expansion to provide secure cloud security solutions and resources to protect your data online. Based in Texas, U.S., Armor provides custom tailored cloud hosting services according to your personal needs and requests. Armor has a very clear and transparent website in English.
Features and Ease of Use
Armor has five data centers: two in the U.S., one in the U.K., one in Singapore, and one in Amsterdam. All servers include SSD storage for Linux and Windows together with an array of configurations, instant provisioning, and 99.99% network uptime SLA.
Armor offers two main services: Armor Complete and Armor Anywhere. Armor Complete is a fully managed all-inclusive cloud hosting platform for businesses and enterprises looking to secure their sensitive data from cyber threats through multiple layers of security. As for Armor Anywhere, it's designed mainly to provide cutting edge security solutions for customer-owned IT infrastructures and third-party cloud environments. Some of Armor Complete's features include:
DDoS and malware protection

Web application firewall (WAF)

Network intrusion detection (NIDS)

Patch management

99.99% SLA

10GB to 2TB storage

VPN

Private IP address

SSL certificates
Since Armor is application agnostic, it will provide you with virtual dedicated server(s) for your website, applications, and/or databases to reside within. Its virtual load balancer options are flexible and support up to 1 GBps enabling you to build and deploy horizontal scalability into the cloud.
Armor also helps you cut down costs as it provides licensed Microsoft SQL databases with different editions: Web, Standard, and Enterprise and if you have WAF rules requirements, you can easily deploy a dedicated virtual WAF in your cloud.
One of the best things about Armor is its Management Portal. It allows you to add and scale cloud resources like storage and virtual servers instantly, change firewall policy and self-service rules, manage your IP space, create and handle L2L VPN tunnels, and create and manage support tickets. You also get access to the environment by managing users, roles, and permissions, and have the option to shop for extra services such as IP addresses, data replication, backups, and encryption in the marketplace.
Pricing and Support
Armor takes a different approach when it comes to pricing. Instead of offering fixed price packages, it sells custom plans depending on your specific VDS requirements such as web space, RAM, CPU, and more. You can either follow a simple online process by filling in your requirements and answering a few questions to create your desired packages or you can contact customer support to help you design your package and provide you with a quote.
Once you've reached an agreement, you can pay via credit card. Unfortunately, Armor doesn't provide a clear refund policy or a money-back guarantee.
You can get a quote from Armor's customer support through several communication channels such as live chat, support ticket, or by phone. You can also request a callback from a specialist through any of these channels. I had a chat with one of their representatives and he offered give me a call to help me help me customize my package and provide me with a quote.
In addition, Armor is available via social media outlets like Facebook and Twitter. The website itself has a lot of information about their different products, briefs in PDF, FAQs, tutorials, and articles.