To compare the best web hosts, we hosted the same WordPress website on each one and tested performance, customer service, and value for money.
Check out the results here.
Arcustech was launched in 2013 to provide managed VPS hosting to customers looking to scale and optimize their projects. They have three data centers – two in the U.S.A. and one in the Netherlands – and they support several web applications, frameworks, and languages. Their website is in English.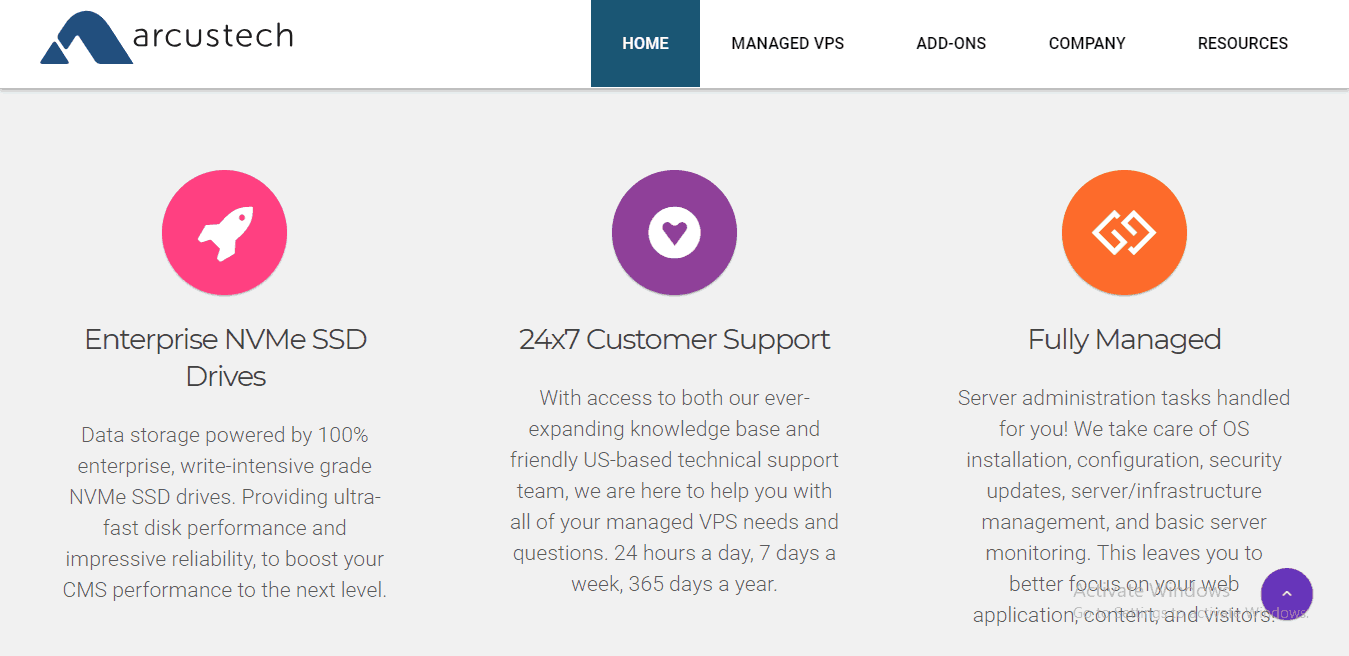 Features and Ease of Use
Arcustech offers more than ten single and multiple VPS plans that allow you to scale your business when required. The features include:
From 5 GB to 960 GB SSD storage, depending on your plan
RAM up to 64 GB on the top plan
From 1 to 16 CPU cores
Monthly bandwidth from 1 TB to 16 TB
Let's Encrypt SSL with options to purchase Comodo SSL
Four automatic backups per month
If your needs exceed one VPS, you can choose any of their multiple VPS plans that combine two of the standard VPS packages.
Arcustech provides three options for backup, the first of which is free and comes with every hosting package. It gives you a full disk snapshot four times a month, which takes between four and eight hours to restore. The other pay-for basic and advanced backup options give you daily backups of files and databases that you can restore within one to three hours. The archive lengths are 30 and 90 days respectively.
Python, Perl, PHP, and a plethora of CMS and MySQL web applications and frameworks are supported, including WordPress, Statamic, Laravel, and ExpressionEngine. They also have optimized plans for Craft CMS, which is great for developers and content managers who don't want to deal with breaking down and blocking unnecessary WordPress functions.
Arcustech configures MySQL to match your server resources as you scale your project up or down. Their plans also include the Nginx proxy server with Apache for faster SSL termination, full HTTP/2 support, and optimal RAM usage with caching.
While all the aforementioned advanced features are great for experts, beginners might find the initial steps a little confusing. There is no auto-installer and no control panel such as cPanel or Plesk.
Pricing and Support
Managed VPS is way cheaper with Arcustech than it is with many other providers. You can choose to either pay monthly or yearly, and their seven-day money-back guarantee gives you at least a little time to try before you buy. If that's not sufficient reassurance then you might want to sign up on a monthly plan until you're sure.
I like the fact that you can upgrade or downgrade your plan at any time, with any unused time being saved as an account credit against your next billing.
24/7 customer support can be obtained via email or ticket, even during the U.S. holidays. I got a rapid and relevant response when I submitted a test ticket. If you like to support yourself, you will find a knowledge base within the account portal that might help you with CMS installation.