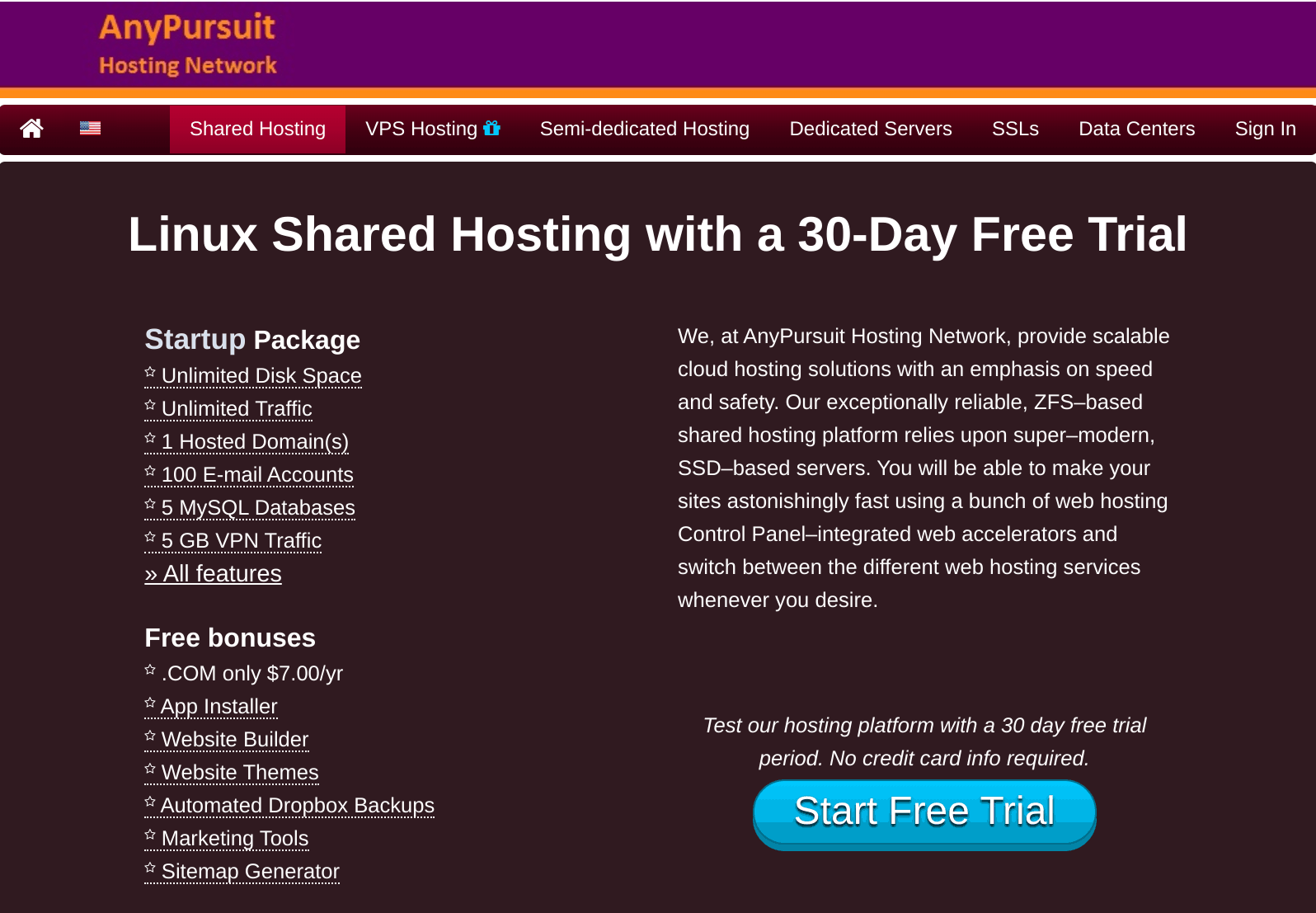 AnyPursuit Hosting Network's website doesn't say when it was established, but since the copyright notice runs from 2003, it must be at least this old. This company claims to have built a unique, virus-free cloud hosting platform, deployed a custom internal network across multiple data centers that use enterprise-grade hardware.
AnyPursuit Hosting Network's website supports English, Spanish, French, Portuguese, and two versions of Chinese.
Features and Ease of Use
AnyPursuit Hosting Network offers four Linux shared hosting plans, two semi-dedicated plans, ten OpenVZ VPS plans, four KVM VPS plans, and 12 dedicated server plans. The shared hosting plans provide you with:
One to unlimited hosted domains
Linux plus Apache
Multilingual control panel
99.9% server and network uptime guarantee
Unlimited disk space and bandwidth
100 to unlimited email accounts
5 to unlimited MySQL databases
Support for PHP 4-7, Perl, and Python
Zend Optimizer and IonCube
SSL certificate generator
Daily data backups
5 to 50 GB VPN traffic
SpamAssassin mail filter, SPF spam protection, and antivirus
Making your website is easy, thanks to the user-friendly website builder. Alternatively, you can create a CMS-backed website (or install other applications) using the one-click all installer.
SSDs are used both for storage and caching, and additional performance improvements are achieved with web accelerators such as Node.js, Varnish, and Memcached.
The Linux KVM VPS plans use SSDs in RAID 10 configuration to help guard against disk data disasters. Also, the OpenVZ  and KVM VPS plans (and the dedicated servers) allow root access for complete control of your hosting environment.
Pricing and Support
AnyPursuit Hosting Network's shared hosting plans are competitively priced, and you can pay for them annually in various currencies (U.S. dollars, British pounds, euros, Canadian dollars, or Australian dollars) via various methods (PayPal, credit cards, or Skrill). Shared hosting, semi-dedicated, and cloud hosting plans come with a 30-day money-back guarantee.
This host offers 24/7 technical support with a guaranteed one-hour response time (though the average support ticket response time is less than twenty minutes). You can make contact via telephone, support ticket, live chat, or email. However, the support response times must not apply to pre-sales prospect customers since my exploratory email seems to have fallen on deaf ears.
If you have to resort to self-support, you will find several self-help resources, including frequently asked questions and video guides: