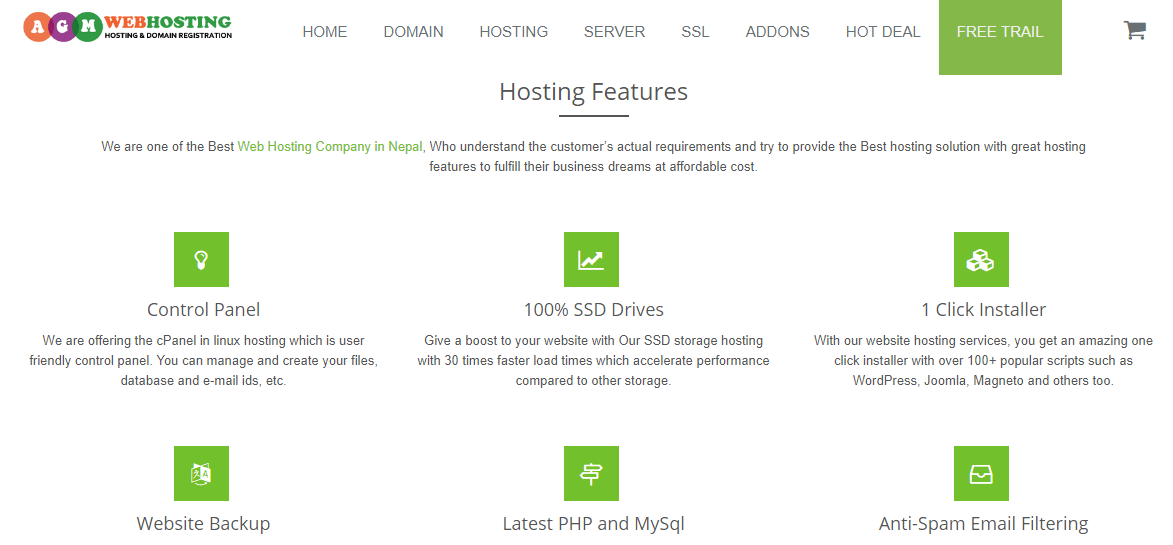 To compare the best web hosts, we hosted the same WordPress website on each one and tested performance, customer service, and value for money.
Check out the results here.
AGM Web Hosting is a brand under A.G.M. Infotech Pvt. Ltd. that was founded way back in 2013. It's name – AGM – stands for Astute, Gregarious, and Matchless. It provides domain registration, website hosting, dedicated servers, SSL, and a host of other services.
Over the years, it has served more than 10,000 customers. It's based in India, the United States, and Nepal, and uses servers located in the U.S. and India. The website is in English only.
Features and Ease of Use
AGM Web Hosting offers many shared Linux and Windows hosting plans. They are categorized based on single domain users, multi-domain, and startups. If you need more than resources, there are cloud hosting plans, VPS, and dedicated servers on offer as well.
Shared hosting customers enjoy the following:
99.99% uptime
Free Auto SSL on some plans
Backups with R1Soft
From 5,000MB to unlimited bandwidth
AGM Web Hosting uses SSD to ensure faster and longer-lasting performance. Also, it reduces load times up to 30X. It also uses the CloudLinux virtualization environment to separate the resources of each tenant in a shared server to ensure full maximization of resources without so much influence from bandwidth or storage over-use by another tenant.
I like its use of RAID 10 mirroring. With this, your data is safe to a large degree, given that if one disk fails, there are more to step up and continue delivering your website to visitors.
Also, its servers are connected to the networks of DigitalOcean and CloudFlare. Both own networks in many countries. This means that your load time is enhanced given that your website visitors get static content delivered from the one closest to them.
AGM Web Hosting provides support for a plethora of programming tools and also supports beginners with a website builder and the Softaculous app installer.
Pricing and Support
AGM Web Hosting gets it right with the shared hosting prices. They are reasonable, bordering on being quite cheap for the resources on offer. The VPS plans aren't expensive, as well. Feature-wise, the plans are solid, so depending on what you're on the lookout for, this might be very worthwhile for you.
However, note that there's no free domain registration from this web host. You'll have to purchase that for a separate fee.
After your account is created, you have 30 days to test-drive the servers and get a full refund if you are not satisfied. If you are not happy after the first 30 days have passed, you'll be given a refund based on your unused time/resources.
There's a one-year trial plan as well, offering 100MB storage space which you can also use to test the service before you commit your money to it.
The support options are excellent with a variety of choices available. You can call, submit a ticket, send an email, or use the live chat. I personally tried the live chat at different times and was connected to a representative who promptly addressed my inquiries.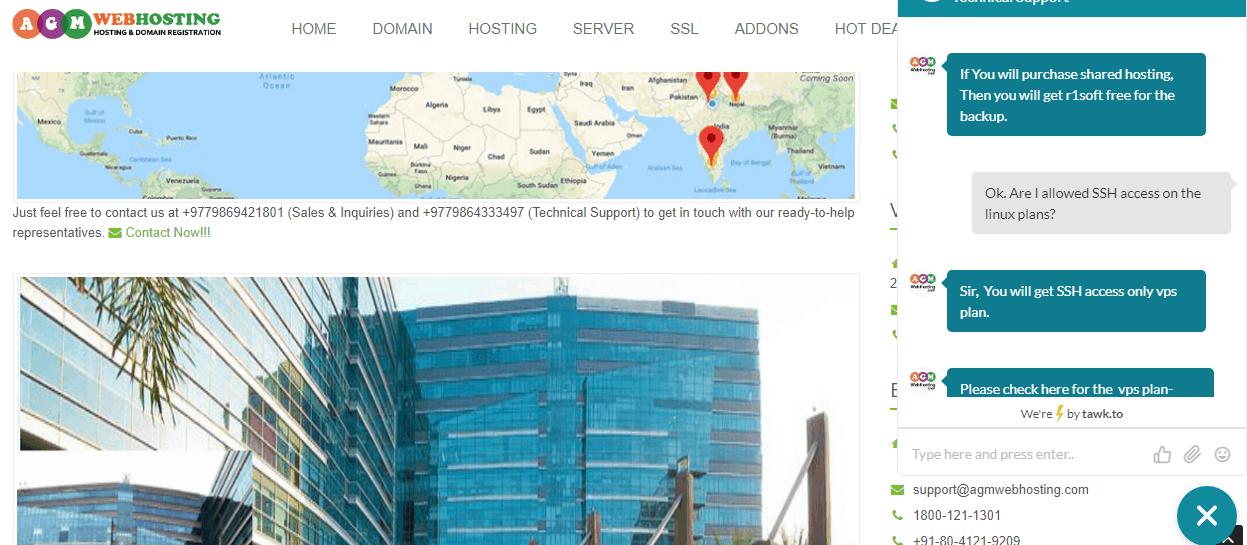 For self-support, there's a knowledge base with tutorials. It also provides links to its YouTube channel where there are some tutorials as well.
How much does AGM Web Hosting cost?
AGM Web Hosting offers plans from $0.40 to $12. The price depends on which type of hosting plan you choose. You can see the updated pricing table (updated weekly) below.

Which AGM Web Hosting plan should I get?
My recommendation is to start with a cheaper plan. You can always upgrade later on. AGM Web Hosting can help you with the migration to a more expensive plan. The increase in visitors many times takes longer than expected and you shouldn't pay a lot of money until the need arises. Of course, your needs may vary, and you can consult with a hosting expert from AGM Web Hosting here.

How good is AGM Web Hosting's customer support?
AGM Web Hosting is not ranked as one of our top web hosts. But that can also be a result of AGM Web Hosting being a small, under the radar, hosting provider. There are advantages to a small hosting company – as a customer, you are more important to them. You can also check out our comparison of the most popular web hosting services here.