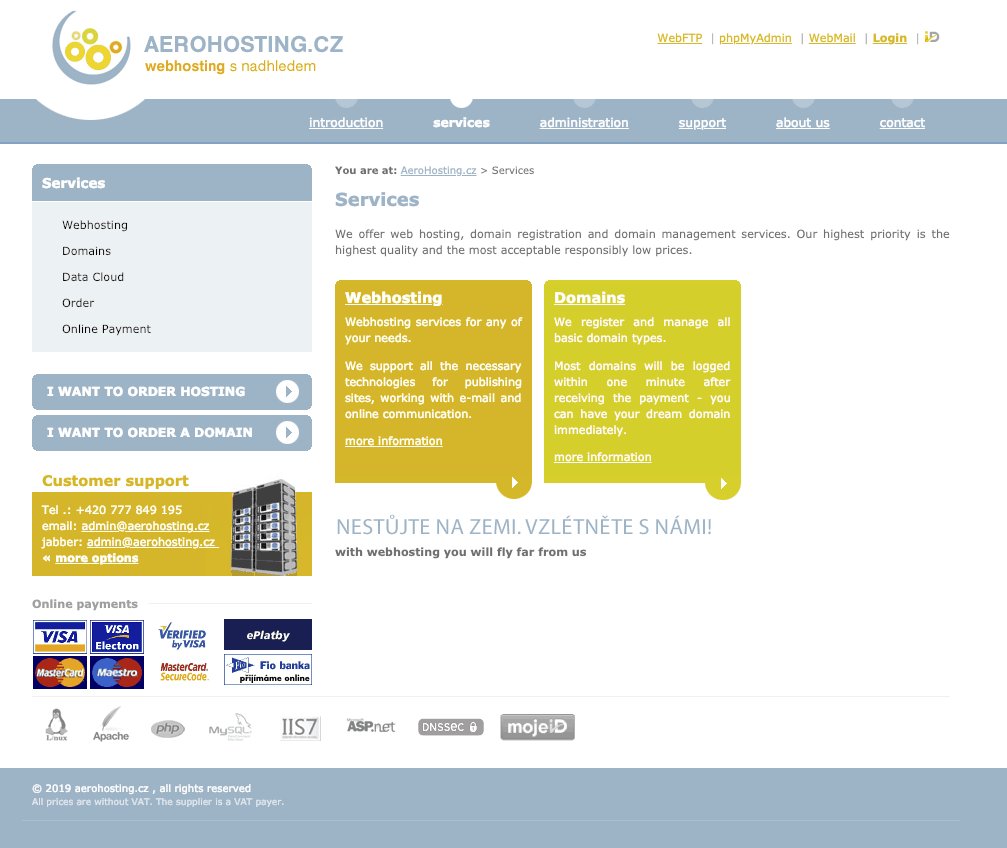 AeroHosting is a web hosting company founded in 2003 and based in the Czech Republic. It provides a solid and flexible service at a very low cost, albeit without many of the features you typically see with hosting services. However, it backs its services up with decent support and has seemingly managed to build a solid reputation in its local market. Services and support are available in Czech only.
Features and Ease of Use
AeroHosting offers shared hosting plans at six levels, each named with an aeronautical theme (hence the name). Its plans have minimal features, however. For example, the basic plan would serve for little more than a website with a few static pages, with only 20MB of disk space (not a typo – that's megabytes) and no databases.
The other plans include at least one database and are a bit better in terms of storage space. As you move up the different tiers, you get a few extras like additional websites and email accounts.
AeroHosting's platform supports various CMSes, including WordPress, Joomla, and Drupal among others. There does not appear to be auto-install support, however, so beginners will have to figure out how to install these on their own.
There's no uptime guarantee, which may be cause for concern if you're running a business website. SSL certificates are also an additional cost, and you won't be able to host more than one domain unless you're going with the Glider plan at minimum. On the upside, however, AeroHosting does provide an automated daily backup system.
AeroHosting isn't the best choice for non-technical users, as it doesn't have what's now an industry-standard web-based control panel. If you prefer using FTP and phpMyAdmin to manage your website, you won't find this challenging. But for marketing types and business managers, it's probably best to select another hosting company.
Pricing and Support
AeroHosting's base shared hosting package is about as low-cost and no-frills as hosting gets. If your business is located in the EU and you just want to post an online brochure or a portfolio, it could be your best option.
In general, pricing is at the extreme low end, but with many plans the cost is commensurate with a lack of features. In other words, you get what you pay for. Still, for some users this will be a great option.
You get one free domain with all but the entry-level plan, so you'll save a bit of money there as well.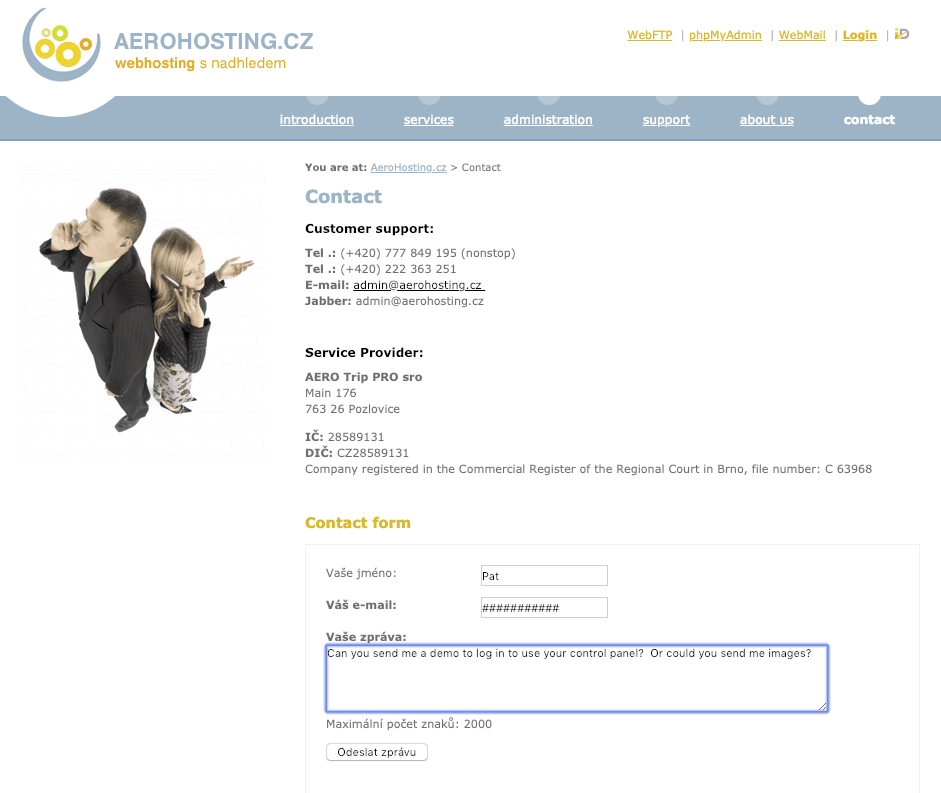 Phone support is available 24/7. They also offer email support and a chat service through Jabber. However, it's worth noting that the website is only available in Czech, and the support staff have different levels of proficiency in English, which could be challenging for many users. When I contacted them via email, it took four days to receive a response, which I suspect was due to the language barrier.