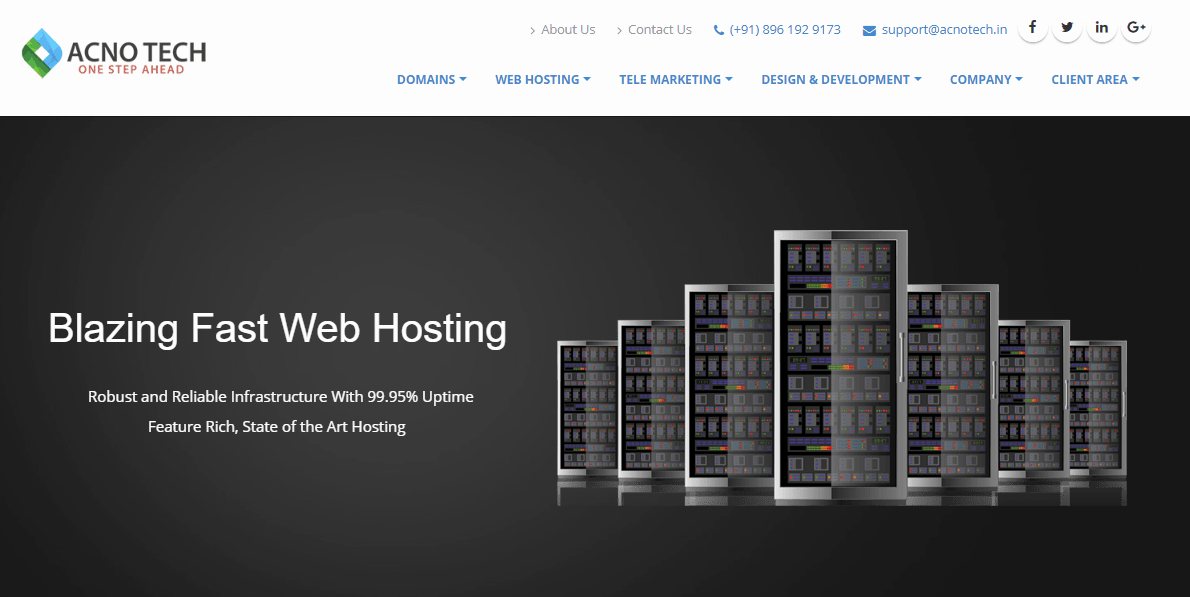 In business since 2015, Acno Tech offers a wide range of products and services, including hosting, servers, SSL certificates, web and mobile development, and telemarketing tools such as Bulk SMS. Its website is available in English only. The company uses servers that are located in the United States to serve customers.
When it comes to hosting, Acno Tech offers a variety of solutions, including Linux shared hosting, Windows shared hosting, reseller hosting (Linux and Windows), Cloud hosting, Java hosting, FFMPEG Hosting, Virtual Private Servers (VPS), and dedicated servers.
Features and Ease of Use
For the sake of this review, I'll focus more on the shared hosting on offer. You can choose any Linux shared hosting plan if you plan on using WordPress (or any PHP-based application), or PHP, Python, etc. If you're going to use ASP.Net, Windows works better. These are some of the features that you get:
99.95% uptime guarantee
Free SSL
One, three, five, ten, or unlimited websites per account
Anywhere from 1GB to unlimited storage
10GB, 100GB, or unlimited bandwidth.
Acno Tech runs CentOS on Linux hosting. It reduces the risk of system crashes and operates faster than similar Linux-based OS. The company also uses CloudLinux which assigns shared servers to separate resources per user and ensures that no one overloads the server and affects others.
This hosting company also provides some other security features on both Windows and Linux hosting. One of them is a firewall and IP blocking, which keeps out malicious requests and minimizes the chances of an attack on your website. With those is malware protection, as well.
For hosting management, Linux customers get cPanel, while Windows customers get Plesk. Both get a web application installer that can be used to install applications like WordPress and Joomla!. There's also a free website builder, so you don't have to write any HTML.
Pricing and Support
Acno Tech's prices are some of the lowest you'll find in the industry for the features on offer. Even then, it still offers free SSL certificates. Given the importance of SSL to search engine ranking and security, it is essential and the free SSL certificate will cut down on your costs even more.
The subscription periods start from 12 months, which is quite lengthy. Most people prefer to either be able to test something before purchasing or pay for a shorter length of time, at least to start with. Unfortunately, there's no free trial, so you're stuck with the 12 months. Thankfully, there is a 30-day money-back guarantee, so if it doesn't satisfy your needs, you can get your money back.
The other hosting services, especially the VPS, are low cost as well with the subscription period starting from one month.
I had a few questions concerning the uptime and connecting my domain to its servers. I started by checking for a knowledge base and found none, so my only resort was to contact customer support. This is an issue for me because you may not get an immediate response from support sometimes, so it's better to have tutorials in place as well.
I was able to get through to a support agent through the live chat and the agent helped me with the nameservers to updating my domain.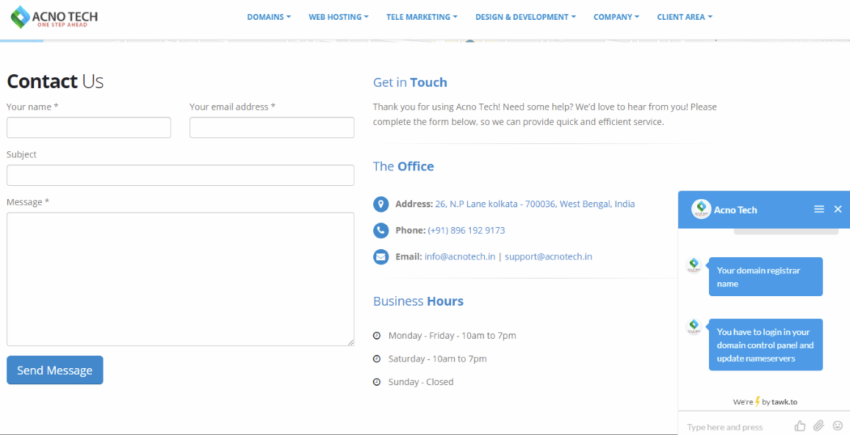 In addition to the live chat, you can reach support agents 24/7 via phone, email, and the ticketing system.