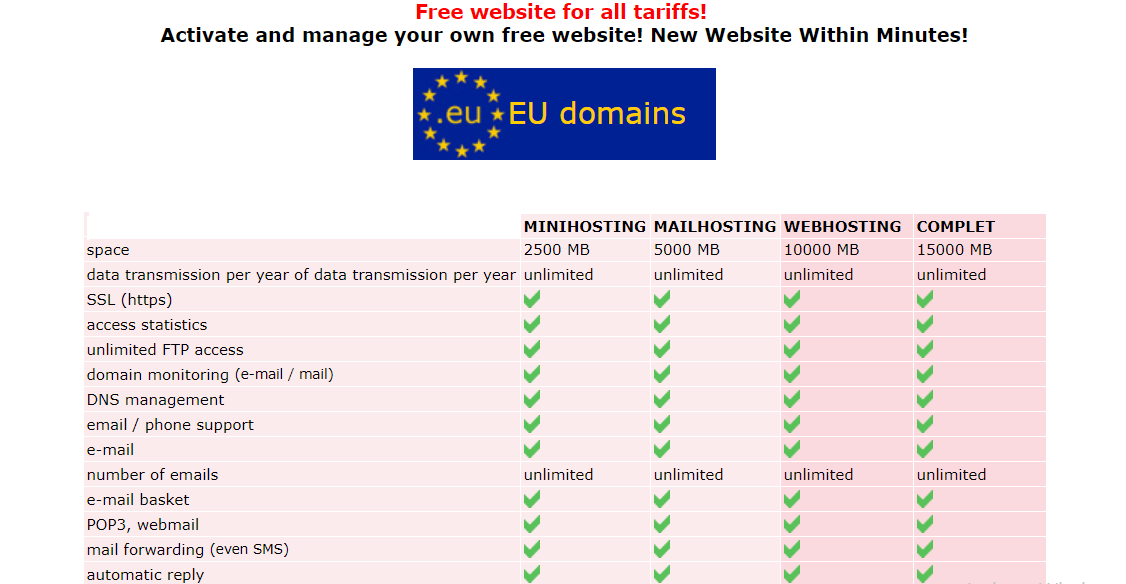 ABzone doesn't mention who it caters to but it appears that the company primarily targets customers in the Czech Republic. From hosting plans to suit individuals, small websites, and startups to those meant for bigger companies and e-commerce stores, ABzone offers it all. In addition, it offers web design and domain (registration and transfer) solutions. The company's website is available in Czech.
Features and Ease of Use
ABzone offers four hosting plans – Minihosting, Mailhosting, Webhosting, and Complete. They differ mainly in terms of disk space (2500MB to 15000MB). Except for Minihosting, all three plans support PHP. MySQL database is available with the two higher plans, while e-shop is supported only by the highest plan (Complete). All four plans come with:
Unlimited data transmission
Free SSL
DNS management
Unlimited FTP access
Domain monitoring (mail/e-mail)
Access statistics
Unlimited number of emails
POP3, webmail
Email basket
Mail forwarding (also includes SMS)
Online administration
Backup
If you plan to order a domain from ABzone but would like to test your site for free on the company's server (for functionality, speed, etc.), you can contact the company and request test access rights. This usually involves testing the application of an editorial system or an online store. However, the duration of this test period isn't clearly mentioned on ABzone's website.
If you want to open an online store but don't want to pay for expensive software to operate it, you can use ABzone's own system, which can be ordered directly with the domain. By paying a yearly application cost (with no setup fees), you can run your internet presentations, which includes emails on your own domain.
ABzone's pricing page (for hosting) also mentions that all tariffs come with a free website but no further details are given.
It appears you can easily upgrade your hosting plan with ABzone as the company mentions how you can do it and the way your payment will be adjusted. However, I didn't find any similar details in case someone wants to downgrade their chosen plan.
Pricing and Support
ABzone's hosting plans are pricey. Its entry-level plan is almost three to four times more than the industry average. In addition, ABzone doesn't offer any uptime guarantee, and has no money-back guarantee, user-friendly cPanel, or one-click app installer, etc. So, there's a bit of a question as to why anyone would pay such a steep price and not get these when other providers are offering them all at a fraction of the cost.
You can reach ABzone's support staff via phone, email, or fax but I am not sure what the response time is. An exploratory email I sent them went unanswered. I think a live chat option would have been a nice addition to help customers get quick answers to their queries.
ABzone has an FAQ section called "Your questions" that provides detailed answers to many of your questions. They also have an advice/technical support section with detailed tutorial-type posts. So, if you're looking for self-help, you'll find both of these sections quite useful.