To compare the best web hosts, we hosted the same WordPress website on each one and tested performance, customer service, and value for money.
Check out the results here.
Launched in 2004, the U.K.-based 50Webs is like the little brother to LiquidNet, a well-established corporate web hosting service provider. They're a budget-friendly option for professionals and startups,also offering a no-riskfree hosting plan for companies to test out their network.
Features & Ease of Use
50Webs offers a range of cloud-based shared hosting plans, which means they're ideal for individuals or small to mid-sized businesses. High-traffic e-commerce websites may be better served elsewhere, however, as the 50Webs servers may not be able to handle extreme loads.
Their lowest-tier paid plan comes with 2.5GB storage, 25GB monthly traffic, and 100 email accounts, which is more than sufficient for a professional or startup looking to set up a basic website. Do note that domain registration will have to be purchased separately, and the plan doesn't come with PHP or mySQL support – though oddly enough, it does include an SSL certificate generator and fairly decked-out email security features.
On the other end of the spectrum is their Advanced Web Hosting package, which comes with unlimited storage and traffic, 1000 email accounts, free domain registration, and full scripting and database support.
Given their target market, 50Webs has taken great care to make themselves beginner-friendly. From their Starter Web Hosting packages onwards, their plans come with free access to their user-friendly website builder, which makes it easy for novices to get a website up and running. The plans also feature one-click application installers, an in-house control panel, and an advanced email manager.
Pricing & Support
All 50Webs hosting packages are budget-friendly. Also, aside from the somewhat limited Mini plan, their packages carry a healthy range of features that are more than enough for professionals or startups to establish a solid online presence.
One caveat is that the minimum contract length for all their plans is one year, which may prove challenging for startups that require a fair bit more flexibility and scalability. Then again, this is understandable given the low rates they're charging.
If you're unsure about 50Webs, they offer a free web hosting plan. It provides 500MB of storage, 5GB of traffic, allows you to have up to 10 domains, and grants FTP access without any banners or ads on your free website. However, if these features feel too limited for your needs, all of their paid hosting plans also include a 30-day free trial.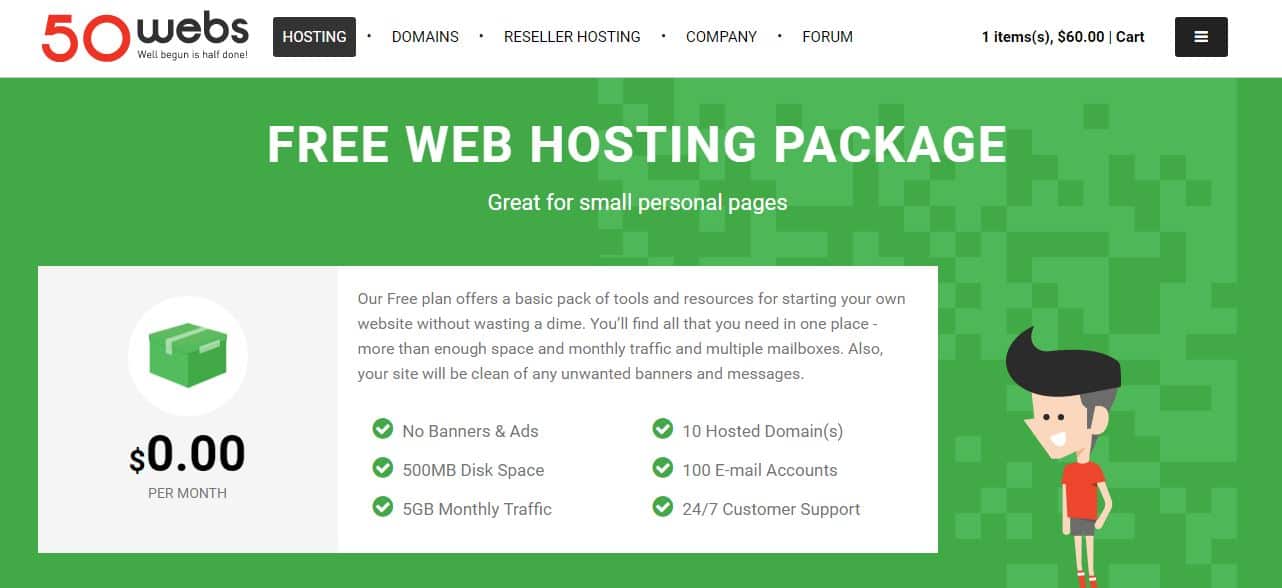 Customer support is available around the clock via email, the 50Webs forums, or the integrated ticketing system in their control panel. No phone support is available, which may prove disappointing to some.
If you're content with just their online support portals, though, they've got pretty impressive response times given the number of queries they must get, especially as a free hosting provider. When I emailed them a number of technical and non-technical questions, they got back to me with answers within a couple hours – and this is before I'd purchased any hosting plan from them!