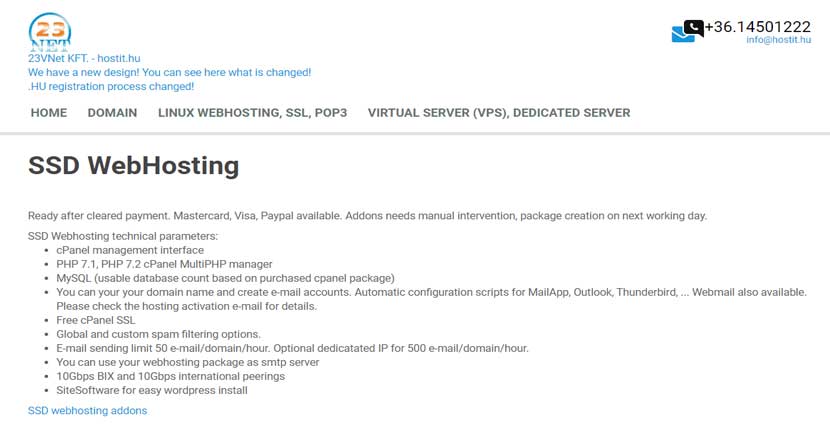 23VNet is a Hungarian company that's been offering web hosting services since 1997. Customers are hosted on servers based in Hungary. Support is offered in both Hungarian and English.
Features and Ease of Use
23VNet offers a large feature list for servers located in Central Europe. Beginning and advanced webmasters can benefit from that functionality while also getting relatively close proximity to the European and Russian markets.
There are two kinds of shared hosting plans offered: regular Linux shared hosting and SSD shared hosting. The feature list includes:
FTP access
PHP 7.1 and 7.2
MySQL databases (except with entry-level shared hosting plan)
cPanel
Cron jobs
phpMyAdmin
E-commerce websites can benefit from a free SSL certificate with all SSD shared hosting plans. Beginning webmasters will also benefit from the Portal Wizard website builder. Some plans offer free domains for .EU addresses.
Softaculous is also available, providing access to hundreds of online applications including WordPress, Joomla, Drupal, and Magento.
There are also website backups conducted every four days, although there is no mention of where the data is stored or how long it is kept. Unfortunately, there's also no mention of the specific MySQL versions available.
If you outgrow your shared hosting package, there are also VMWare VPS plans for Linux and Windows available. Here are some of the features included:
Hardware firewall
cPanel
Storage and RAM scalability
Activation in ten minutes
Unfortunately, all plans use HDD storage and there are no managed server plans. In addition, there's no information about whether or not full root access is provided.
Pricing and Support
There are small discounts offered on many plans if you purchase three years of service upfront. However, there's no money back guarantee available.
The performance-to-price ratio for the Linux plans is good relative to competitors. In addition, there are attractive plans for both beginning and advanced webmasters.
You can start with an entry-level plan that offers 20% of one CPU core, 1GB of memory, and 200MB of disk space for very small websites. However, if you want to upgrade to the highest-tier shared hosting plan, you'll get a boost to 190% of one CPU core, 8GB of memory, and 60GB of disk space.
The ratio of increases in price to value is also just average — consistently 1:1 across all plans. But on the downside, no plan offers unlimited bandwidth, so e-commerce stores with extremely high traffic may need to look elsewhere.
The price-to-value ratio on these plans is excellent — double the performance for less than a 100% increase in price. However, the value is somewhat undercut by the fact that the number of entry processes maxes out at 40, which may pose a problem for larger e-commerce stores.
Support options are average. An email I sent was unanswered even after one business day. Phone support is available, but there's no live chat option. A knowledge base is also available, but it only answers a few basic questions.