Overview
| | |
| --- | --- |
| Free plan (plus state fees)? | ✔ |
| LLC filing time on entry-level plan | 14 days |
| Expedited option? | ✔ |
| One-off fees, annual subscription-based, or both? | Both |
| Customer support | Chatbot, email, phone |
LLC Formation in 4 Simple Steps

Tailor Brands is quick and easy to use with helpful features and simple interactive forms
. Using its questionnaire-based setup wizard, small-to-medium-sized businesses can quickly set up both their LLC and online operations. I evaluated the website claims thoroughly and analyzed hundreds of personal reviews.
The majority of client comments are positive,
and Tailor Brands has a satisfactory online reputation. Its customer support is adequate, but it can be difficult to contact a living person. Tailor Brands' free LLC plan offers the most basic features, and there are a plethora of individual add-ons to fit your needs. Alternatively, you can choose a paid subscription plan packed with additional perks.
Either way, Tailor Brands is a good fit if you need help launching your business
.
Plans & Pricing
Competitive Pricing With Lots of Extras in the Top-Tier Plans
You need to complete the signup process to determine the total cost of your chosen plan plus add-ons, but once you have, the pricing is clearly itemized. Tailor Brands has two paid plans: Essential, and Elite.
There is also the free plan that gives you the LLC formation basics you'll need to get registered.
The Essential plan includes assistance with annual compliance requirements in your chosen state, as well as expedited filing – 2 days as opposed to 14 days.
You also get a draft of an Operating Agreement, which is mandatory in some states, and which is recommended if you're launching a partnership. Keep in mind that for a slightly higher investment,
the Elite plan will give you a much wider range of
 LLC business compliance services.
Some add-ons are a little pricey, like the $199/year fee for a Registered Agent. But if you're looking to get all your business and creative services from a single source, Tailor Brands offers very good value for money.
Features: What Makes Tailor Brands Special?
Efficient LLC Services
Tailor Brands' LLC formation plans are affordable and user-friendly.
There is a step-by-step setup process on the website, and the instructions are straightforward. Do note however, that some LLC-related services – like an EIN application or a Registered Agent – are only included as add-ons, so you may want to add those to your account as well. Overall, you might pay a little more for extra LLC-related services from Tailor Brands, but the time and energy you'll save will be more than worth it.
Expedited Filing in as Little as 2 Days
The standard filing time for the free plan is 14 days, but you can add fast filing for a fee. On the mid-range and premium plans, Essential and Elite,
your LLC documents will be filed with your Secretary of State within two days of the receipt of your request.
A Huge Range of Add-On Services
There are loads of useful services on the subscription plans beyond simply registering an LLC. As mentioned previously,
you can pay extra to have Tailor Brands obtain an Employer Identification Number (EIN) or act as your Registered Agent
if you don't want to deal with these tasks yourself. There are also additional options like tax filing, trademark registration, and permit applications.
Obtaining permits can be a hassle as the requirements vary from state to state
, so it may be worth the extra cost to have them researched and handled for you. Finally, you can get nearly every business document you'll need as an add-on or included in the upper-tier plans.
This can save you a significant amount of time.
Ease of Use
A User-Friendly & Interactive Website
It's no surprise that Tailor Brands' website is so easy to use – they do specialize in business design services after all. You'll get a guided sign-up process to help you choose the LLC features most relevant to your business. There are also several easy-to-find links to learn more as you go.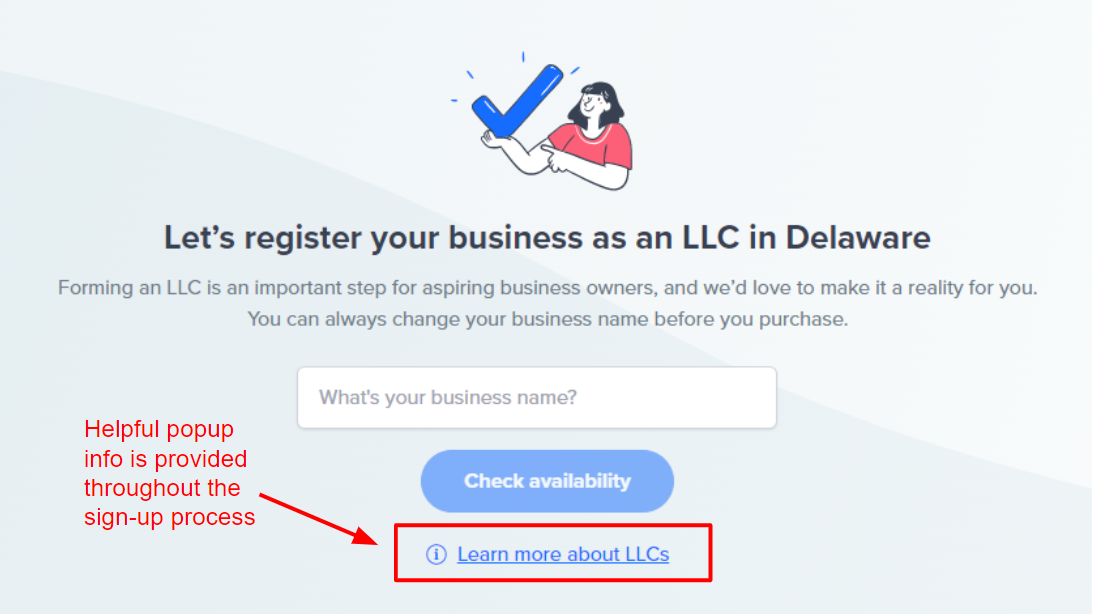 It only takes 10 minutes to answer the LLC setup questionnaire and sign-up.
The buttons are clearly labeled, and unlike many other LLC formation services, information is offered throughout for those who need more details on specific subjects, such as general info on LLCs, or the purpose of an Operating Agreement.
Getting Started With Tailor Brands
After choosing my state and clicking
Get Started
on its
Form an LLC
page,
Tailor Brands asked for my business name to check if it was available.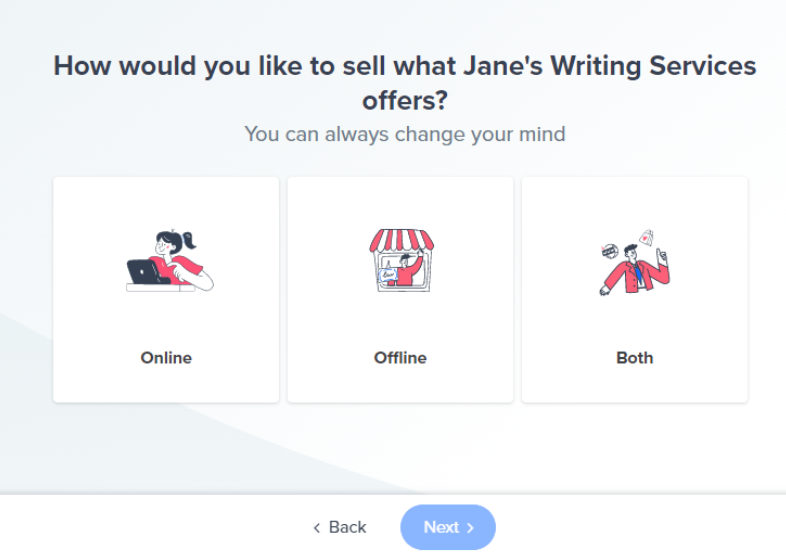 I was then brought to a series of pages with some easy-to-answer questions.
I went on to select the type of business I'm starting, and at what stage of planning it is at. Additional questions were asked about my business needs, such as if I plan on opening a business bank account, and whether I was going to hire employees – and if so, how many.

Finally, I was informed about the importance of a Registered Agent, an EIN, and business compliance.
I was given the option to engage Tailor Brands for these services or to handle this on my own.
At one point, I accidentally closed the website while I was completing the signup form. But luckily, when I opened the website again, it had saved my place in the form, and all of my info. This was a nice little bonus.
Support
Helpful and Responsive (Human) Support Agents
My experience getting customer support from Tailor Brands was mixed, but decent. Live chat support was not an option at the time, but
it does have chatbot support available 24/7.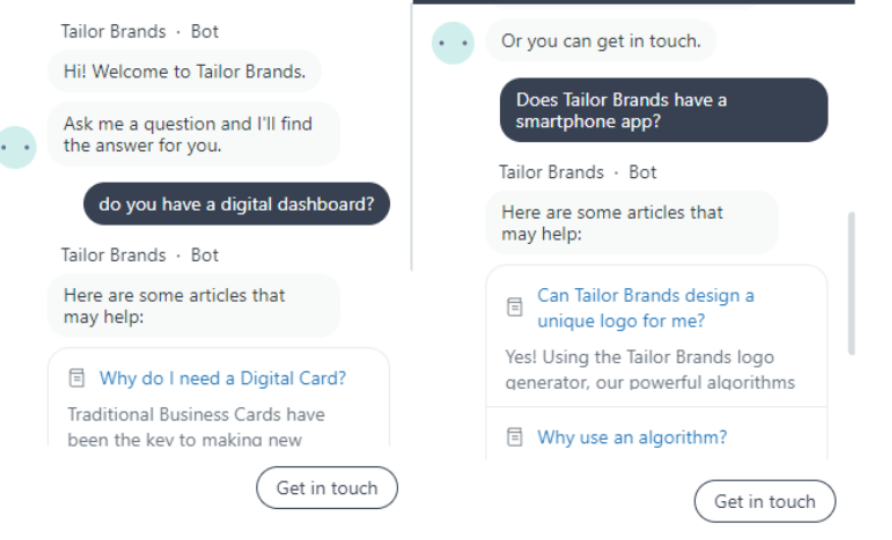 I didn't find the chatbot to be especially helpful
, as it simply kept redirecting me to the blog, which did not help to answer my questions in this instance.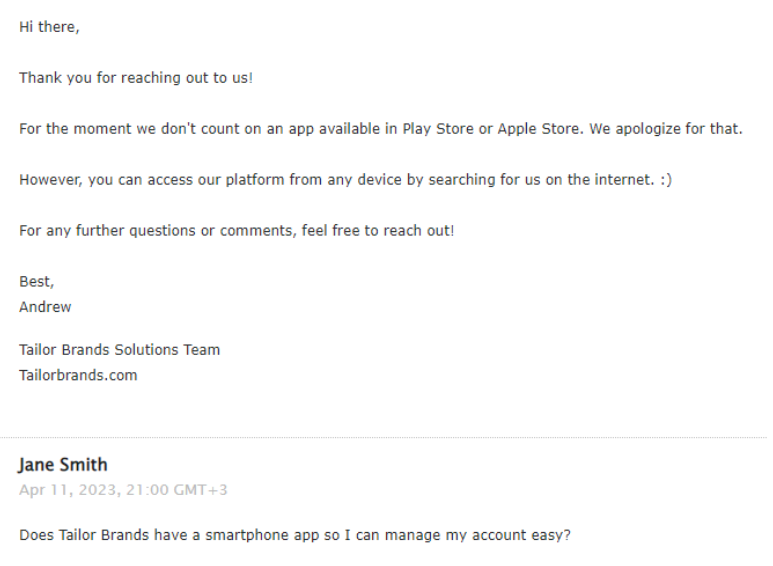 You can connect directly to email support from the chatbot widget. Tailor Brands promises to respond to email queries within 24 to 48 hours, but
an agent answered my question thoroughly in less than one hour.
In addition, the email support team followed up with me to ensure that all my questions had been answered. I was also provided a toll-free phone number, which was helpful as I hadn't noticed it on the website previously. After some searching, I found it in the top-right corner of the sign-up section. This tells me that Tailor Brands wants to use phone-based support to acquire new customers, which is understandable, but
I would have liked the phone number to have been more prominent on the Contact Us page of the website.
T
here are many blog posts and FAQs on a wealth of business-related topics, from general LLC-related questions to help with very specific goals:
how to market to Gen Z, how to open a hair salon or a catering business, how to generate bookings on social media, and loads more. These sometimes include short descriptive videos to help you with a step-by-step approach.
Bottom Line
If you want to launch an LLC with a complete branding, design, and digital marketing package, then Tailor Brands' paid plans are an ideal choice.
The application process is easy and intuitive, with guidance every step of the way, and the (human) customer support is on point. However, if you're just looking for LLC formation and nothing else, then you can use the free plan offered here. Keep in mind that you'll still have to pay state fees, though. Check out the pros and cons of Tailor Brands' LLC formation and creative services:
Pros
Cons

Low-cost LLC formation
One-stop shop for all startup business needs
Get logo, branding, design, marketing, and merchandise
Simple, interactive signup process

EIN and Registered Agent are add-on costs
FAQ
I need to form an LLC quickly, can Tailor Brands do that for me?
Yes. Tailor Brands can set up your LLC within a couple of days of receiving your information. Bear in mind the length of time for processing the documents at the state level varies.
Do I really need a Registered Agent?
Yes, all businesses must have a Registered Agent who is designated to receive legal documents and be available during regular business hours. However, you can designate yourself or a partner as the Registered Agent. If you don't want to take this on, you can pay Tailor Brands an annual fee to do this for you.
Is Tailor Brands the best LLC formation service?
The best LLC formation company really depends on your business's specific needs. Business owners who need an LLC with professional branding and marketing may want to choose Tailor Brands.
What is the cheapest way to set up an LLC?
You can do all the preparation and legwork to set up an LLC on your own, but you'll still have to pay state fees. If you want to save time to focus on the fundamentals of your business, especially if it is service-related, then you should choose one of our top LLC formation services to help you.