Sure, some website builders initially seem to be free (or cheap)… until all the hidden costs start to add up. The builders on this list are actually budget-friendly, and they each offer something extra for your wedding website: event calendars, beautiful gallery layouts, and other small tools that make all the difference.
I'm married myself, so I know what pre-wedding stress feels like – and I'm going to share a few secrets to finding a simple, genuinely cheap wedding website builder. Without having to waste any of your very limited time, you'll be able to find a website builder that makes you both want to say, "I do."
The wedding countdown clock is already ticking, so let's dive right into our top three picks!
Our Top Picks for Free Wedding Website Builders
Wix – The all-around winner for free, custom wedding sites and integrated event management
SITE123 – Free, multi-language site building, great for multilingual couples
Squarespace – Not free, but the small cost is worth it if you want a gorgeous, stylish, and modern-looking wedding site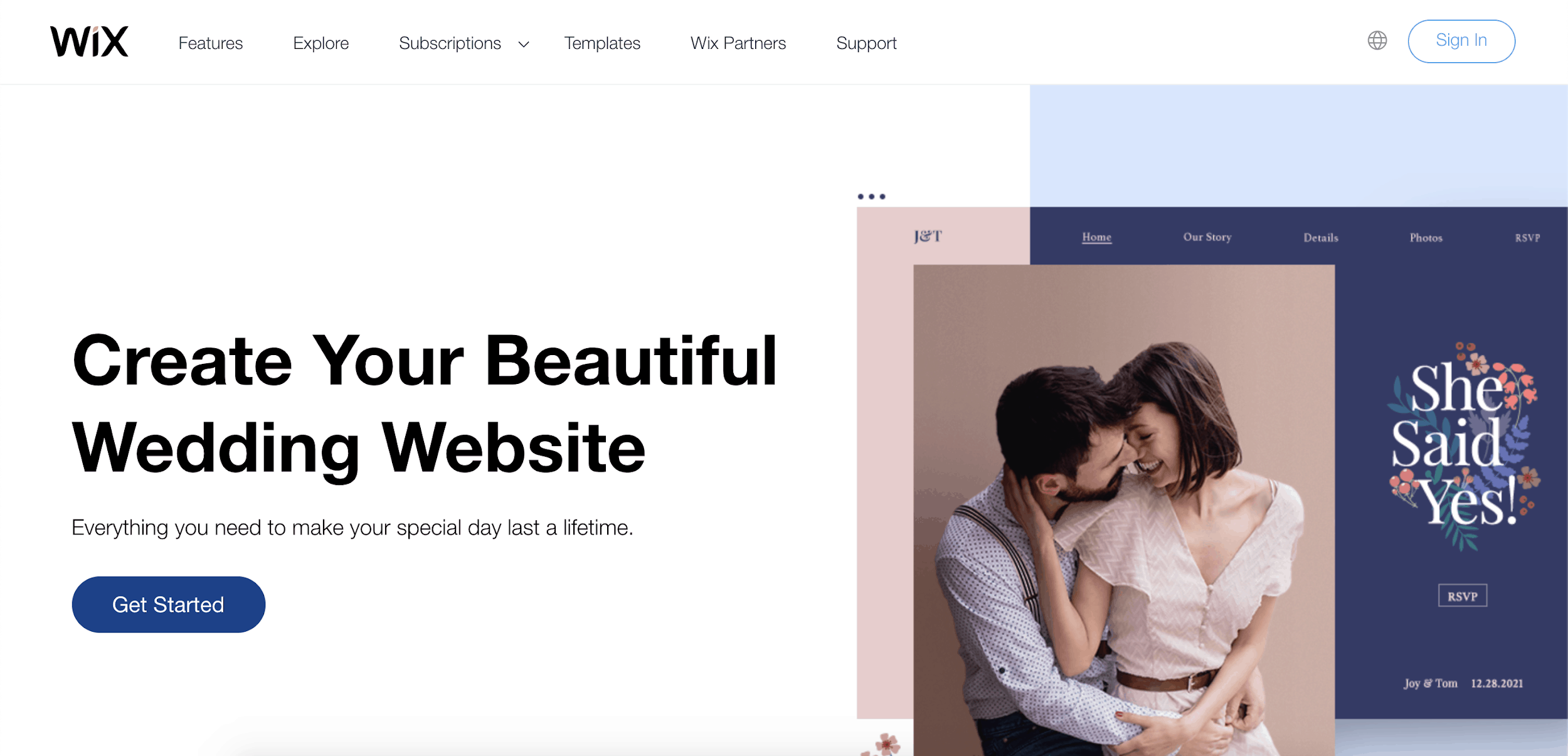 Wix is one of the biggest names in website builders, so it's no surprise that it's popular for wedding websites. With 25+ free wedding templates available, you'll definitely be able to find one that suits your "couple vibe" – whether that's lux, elegant, low-key, or fun.
Once you've selected a template, you can use Wix's easy drag-and-drop editor to personalize each and every element of your site. You can:
Choose from hundreds of fonts for any title, paragraph, or button.
Change the color palette to match your wedding theme colors
Pick your favorite gallery layout to showcase the best moments of your relationship.
Share your favorite videos with your wedding guests.
If you want a little more help, you can let Wix ADI (Artificial Design Intelligence) generate a website for you, based on your answers to a series of questions. This does mean less design freedom –  you won't be able to place the different elements wherever you want on the page – but you will be able to personalize your site within a professionally designed structure.
Wix ADI also lets you automatically import images from your social media accounts. This awesome feature can save you a lot of time, letting you immediately feature the photos you love.
Features
Awesome galleries. Showcase your photos as a happy couple with dozens of image gallery styles: grids, geometric shapes, spheres, or sliders.
Free logo maker. Use the Wix Logo Maker to create a memorable wedding logo and seamlessly upload it to your site.
Built-in functionality for weddings. Create a button to link to your gift registry, and add a contact form to collect RSVPs and guest questions.
Password protection. Only invited guests can view your wedding website.
Wix's free plan includes 500 MB of storage and 500 MB of bandwidth – more than enough for most wedding announcement websites. However, if you want to remove Wix ads, get a custom domain, and have enough space to upload videos from your big day, you'll have to pay a small fee to upgrade your plan. (Get the latest info about Wix pricing here.)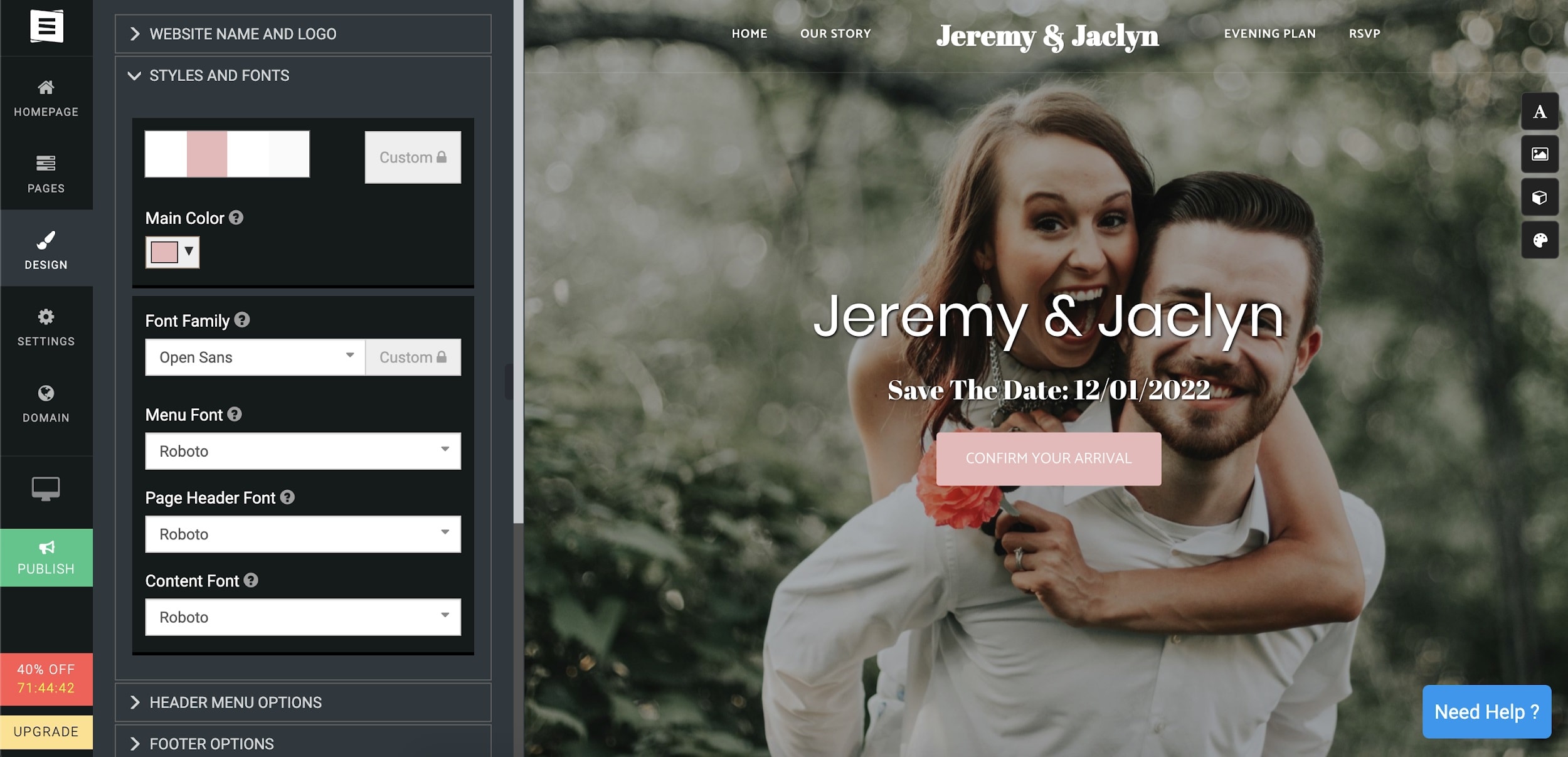 SITE123 has more than 100 website templates, though only a few are specifically wedding-themed.
With its clean, uncluttered interface, SITE123 is especially beginner-friendly. As soon as you open the editor, you'll get a mini "guided tour" that shows you exactly how to use the editing tools. Unlike Wix, however, SITE123 does not have a drag-and-drop interface. Instead, you can add different elements to the page by clicking them on the sidebar on the left of the editor.
Just keep in mind that many of the finer editing options are reserved for paid users. For example, you'll have to pay in order to apply a custom color palette or access the full font library. Fortunately, the free templates do look good out of the box, so if there's one that really works for you as is, you won't have to pay a penny.
Features
Single- or multi-page sites. Choose between a single-page website to conveniently display all your information in one place, or a multi-page website that includes special features and surprises for your guests.
Gallery page. Share your engagement/event photos using attractive grids or sliding carousels. You can choose if you want to display square or rounded images.
Customizable forms. Use the contact form to collect RSVPs and have them sent directly to your email address.
Multi-language support. Set your website to auto-translate to any language.
SITE123's free plan includes 500MB storage and 1GB bandwidth, which should be plenty for a classy and stylish wedding announcement site.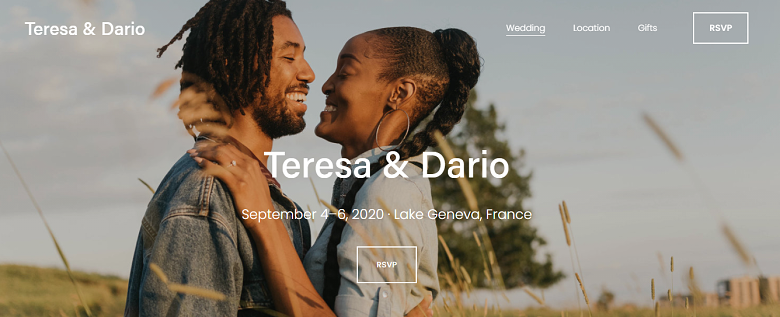 Squarespace is often praised for its striking templates, and its wedding template category is no exception. These designs come with the space to present your couple pics in the best possible light, but you can pick any template – even if it's not specifically built for weddings – and make it yours with a few tweaks.
The block editor lets you choose from a series of page layouts and gives you plenty of freedom to customize the look of your site.
The page elements (buttons, headers, etc.) snap to a grid, so you can't place them anywhere you'd like – but there's an upside to this limitation. Squarespace's layouts are well-thought-out, and when you work according to the grid, everything stays neat and aligned, without distracting visitors from the real star of the show – you.
Squarespace has a series of eight different gallery layouts to display photos, in addition to layouts for contact forms, RSVP forms, and more.
Unfortunately, there isn't a free forever plan, but Squarespace does offer a 14-day free trial.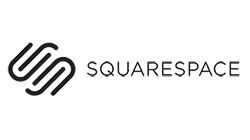 Save up to 30 % off your Squarespace plan today!
Don't miss out on this great deal!
1031 users used this coupon!
Features
Built-in image editing. Squarespace boasts the most image editing options, allowing you to make a range of adjustments (e.g., brightness, contrast, saturation, sharpness, shadows) so your pictures look their best.
Integrated social media. When it comes to spreading the word about your wedding, few other builders offer as many tools as Squarespace: all social media platforms are integrated, and you can manage your posts from your account dashboard.
Unlimited bandwidth and storage. Squarespace doesn't put a cap on your bandwidth or storage, which is particularly useful for media-heavy websites.
Free plan available?
14 – day free trial
Starting price:

$

12.00

Wedding-friendly templates?
Yes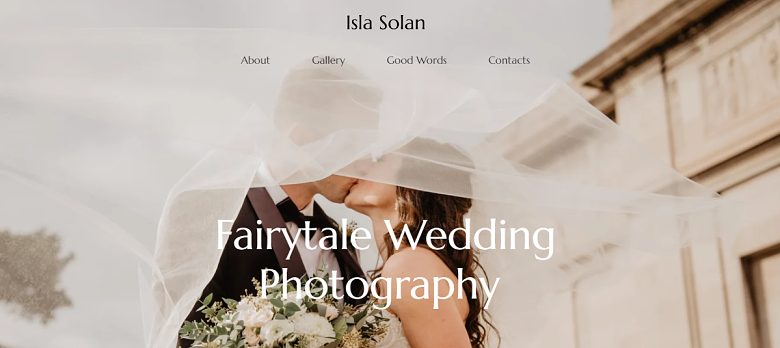 Zyro is a user-friendly website builder with built-in artificial intelligence (AI) tools that can enrich your wedding site by generating the content, and tracking how site visitors navigate each page. You focus on the look, and Zyro handles the words – teamwork!
The builder is tailor-made for people who have zero coding skills and has the usual built-in features that any beginner would need. There's a large library of mobile-responsive templates, an easy-to-use editor, free hosting, a free SSL certificate, and a 30-day money-back guarantee for the "just in case".
Zyro has around 70 templates to choose from, including several that would be perfect for a wedding site. The templates have been designed with aesthetics in mind, so they are clean, sleek, and built to highlight your pictures.


Save Up to 72 % on Zyro's Unleashed Plan
Sign up for a yearly plan and get a free domain plus hosting!
44 users used this coupon!
Features
AI writer for the content. Zyro has a built-in AI Writer that analyses copy from other wedding sites, and then generates text for yours. Just in case you need a little inspiration to get started.
AI Heatmap to track your site visitors. This tool shows you how your visitors are navigating through your pages so that you can rearrange your elements to maximize engagement.
Unlimited bandwidth and storage. The very reasonably-priced paid plans for Zyro (besides the Basic plan) come with unlimited bandwidth and storage so that you can upload as many files to your site as you need to. Currently, you can't upload videos – you can only embed them from other third-party sites.
Free plan available?

30-day

money-back
Starting price:

$

14.00

Wedding-friendly templates?
Yes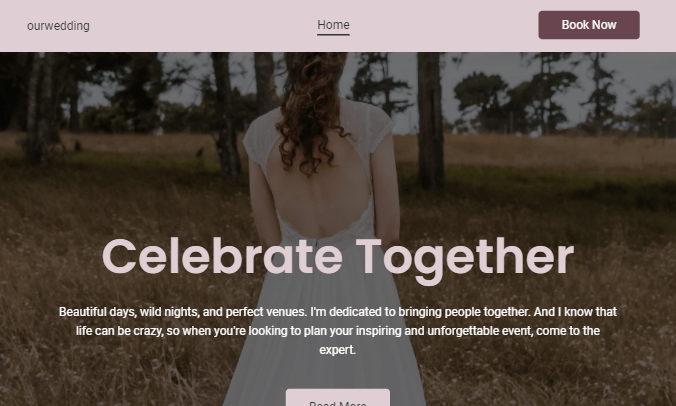 Thanks to its AI technology, Jimdo can take you from sign-up to finished website in a swift three minutes. 
The AI feature is called Jimdo Dolphin, and it works by asking you a few questions about your interests and design preferences. The result is a very basic website, but you can have it up and running in no time.
If you don't want to use the AI tool, you can manually select a template to get started. Jimdo's templates look good, though I wouldn't say they're quite as nice as the ones you'll find on other website builders like Wix or Squarespace. On the plus side, Jimdo's templates are mobile-responsive, so that's one less thing your kid has to worry about.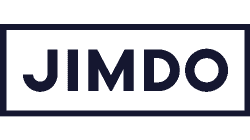 Jimdo Start plan for just $9.00 per month
Don't miss out on this great deal!
365 users used this coupon!
Features
Simple photo galleries to showcase the happy couple. Jimdo allows you to easily design the photo gallery you want. Select one of the layouts for a horizontal, vertical, grid, or slideshow display, then size and space your images, and enable a lightbox effect for improved image quality.
Create your own logo. If you need a wedding logo, you're in luck. We tested out the Jimdo Logo Creator, and it's super easy to use.
Keep visitors engaged with a blog. Start a free blog to share tips and stories about your big day. You can embed videos and photo galleries in every post.
Free plan available?
Yes, free-forever plan
Starting price:

$

9.00

Wedding-friendly templates?
Yes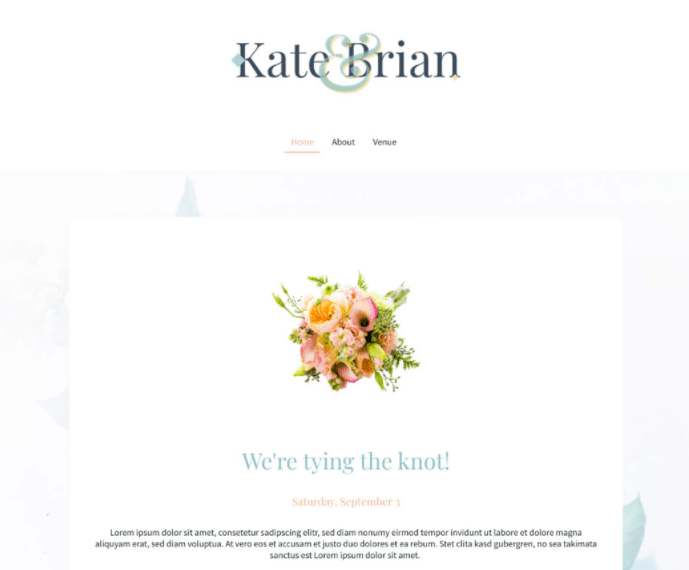 IONOS (by 1&1) is a versatile website builder with a massive library of well-designed templates, including dozens of options for weddings. The Starter plan (MyWebsite Now) is fairly inexpensive compared to the other options on this list, and it includes everything you could possibly need to create a gorgeous and functional website for kids.
The editor itself is pretty basic, but if you ever need help implementing a new feature for your site, you can rely on your personal consultant – provided by IONOS for free, as part of your plan. This will come in handy if you've never built a website before.
There's no forever-free plan, but for $1.00 per month, the Starter plan is almost free. Plus, you have 30 days to change your mind and get a full refund.
Features
Fully-responsive designs. All IONOS templates are pre-optimized to look good across multiple devices.
Built-in analytics. Curious to see how your visitors spend time on your website? IONOS' simple analytics tool can tell you just that, and more.
Simple customization. IONOS doesn't let you make too many changes to your template, but sometimes, that's a good thing. You can keep things clean and simple.
Free plan available?
No, but there is a 30-day money-back guarantee
Starting price:

$

1.00

Wedding-friendly templates?
Yes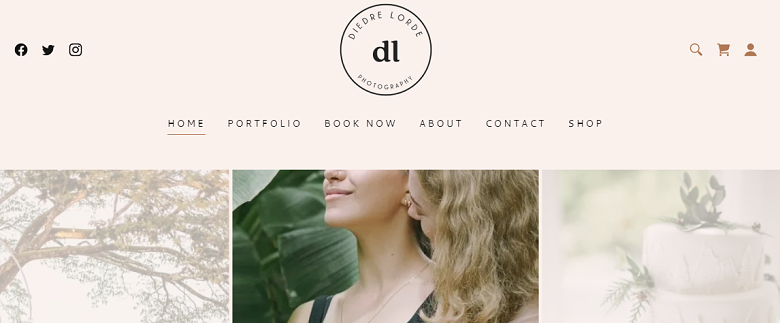 GoDaddy Website Builder is one of the few options on this list that doesn't strictly limit your storage or bandwidth – even on the free plan. This means it's great if you plan to upload lots of files (and gorgeous pictures), or you have lots of users accessing your site.
GoDaddy has several templates built specifically for weddings, and its AI tools can help you get a website up and running in no time. When you sign up, GoDaddy will generate a base template with roughly 20 different variations. The templates come with large headers, plenty of room for visuals, and more.
Free users can only access a limited number of page templates. But on the bright side, there's a lot of useful content you can add to any given page, like snazzy welcome messages, or a countdown timer for the big day. Note that GoDaddy's free plan is only available in certain countries (like the US and the UK).
Features
Social media tools. GoDaddy's content creator tool lets you build posts for Instagram or Twitter with templates, customizable text, and graphics. You can also manage multiple social media accounts and post to them from within your GoDaddy dashboard.
Email lists. You can collect readers' email addresses and send out newsletters to them. Free accounts allow up to 100 emails per month, so if you expect to have lots of followers, you'll want to upgrade.
Pop-ups. You can create a message that pops up for visitors when they land on your site, or a certain page. You can edit everything, from the text font and background color to the pop-up's animation.
File sharing. You can add a list of downloadable files (including PDFs, Microsoft Word documents, and zip files), so visitors can check out the schedule, restaurant menu, and more.
Free plan available?
Yes, free-forever plan (in some regions) or 15-day free trial
Starting price:

$

6.99

Wedding-friendly templates?
Yes
Start Building Your Perfect Wedding Website Today
So there you have them – my top five recommendations for free website builders to create your perfect wedding announcement site. Whether you're looking for a basic online wedding announcement or a more dynamic site to help with event planning, you'll find the right website builder for you somewhere on this list.
As long as you're okay with ads and generic domains, most of these website builders are 100% free to use. On the other hand, the prices for premium plans start so low that you might want to go ahead and upgrade. Removing website builder ads will definitely class up your site, and it's great to have a unique, memorable domain for your one-of-a-kind day.
Whether free or paid, here's what I would recommend:
If you want a website builder that's great for novices but also offers handy features that can take off some of the stress off planning your big day, go with Wix. The beautiful templates, drag-and-drop builder, and Wix App Market make this platform both easy and powerful, a winning combination any day.
If you want the most robust customizations (and are willing to spend some time perfecting your wedding site), you really can't beat Squarespace.
If you do decide to purchase a premium plan, all of these website builders offer monthly, annual, or biennial subscriptions, with at least a 14-day money-back guarantee.
I've thrown a lot of information at you, so here's a quick summary of the pros and cons of each plan.
Your to-do list will only get longer as the big day approaches…so the sooner you check "announcement website" off that list, the better! Use any website builder on this list, and your site can be publish-ready today.