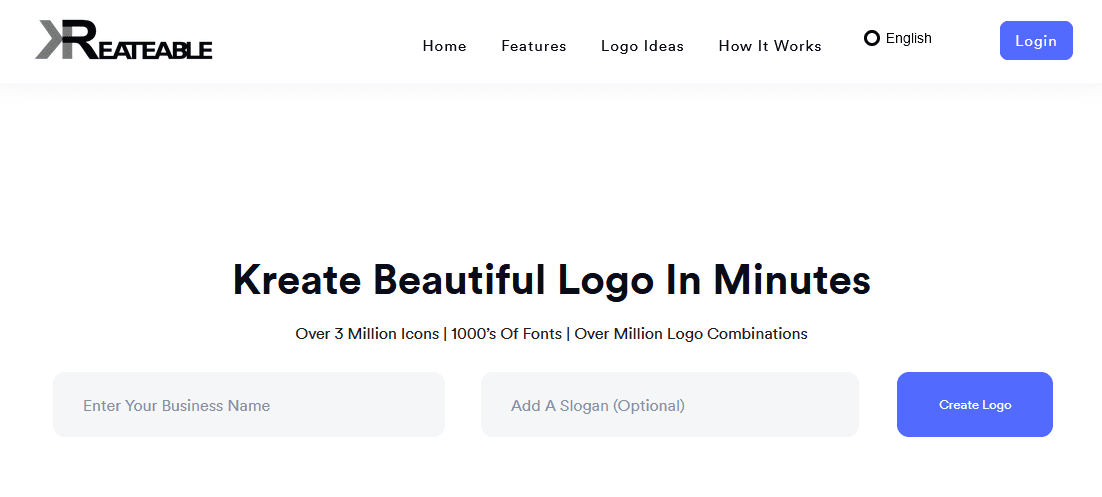 Kreateable is a pretty mysterious company: Its website doesn't even have an 'About Us' page. But don't worry. I tested Kreateable through and through to make sure it's legit. And honestly, I was pleasantly surprised with what I found.
Kreateable offers an extensive selection of ready-made templates, which are organized by industry. Template categories range from broad (for example, 'art') to very specific ('coffee shop').
The editing interface is only available in English and Spanish, but you can use any language in the logo maker – for example, I was able to make a logo using Serbian Cyrillic just fine.
All in all, I'd say that Kreateable can help you design a professional logo in minutes, but the question is: Is it really the best choice for you? Read on to find out.
Features and Ease of Use
Getting started with Kreateable is easy: you just need to provide the name of your business, a slogan (optional), choose your industry, and let the logo generator handle the rest. The name of your brand can't exceed 20 characters, which is limiting, but should still be enough for most businesses.
You'll get dozens of professional-looking logo ideas based on the information you provided. The logos aren't mind-blowing, but they don't look generic either. Below are some of the logos generated for my dream bookstore (inspired by my favorite book, The Little Prince).

After you pick an option, you're taken to a canvas that lets you customize the design.
You can customize the background color and the colors of individual elements (like the icon, company name, and slogan), plus you can resize the elements. If you want to swap something out, you can choose from a library of over 3 million icons and 1,000 fonts.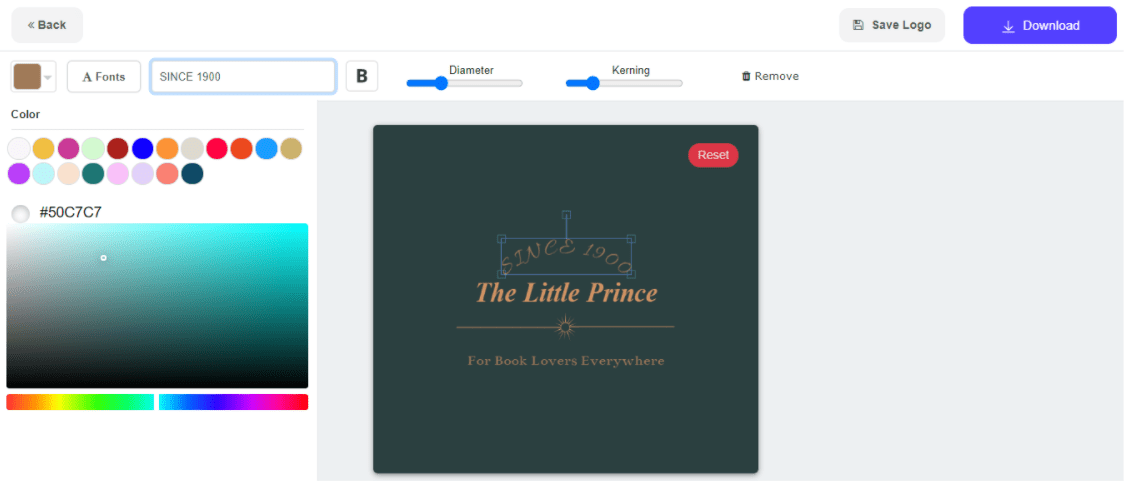 But while there are plenty of icons and fonts to choose from, I found customization options to be somewhat limited overall. You can't upload your own photos or animate your logo, for example.
And although the Reset button is helpful if you want to clear all your edits and start fresh, it would be nice to have an Undo button for fixing smaller mistakes.
You can save your projects before you buy them, and go back to modify them, which is great. Also, you can customize your logo within ten days of purchase (except for your brand name), which is very handy if the logo you bought doesn't look as good on your site as you thought it would.
You can download your logo in several formats, including PNG, PDF, EPS, and SVG.
Pricing and Support
Kreateable's pricing model is simple: you pay a one-time fee of $49 per logo. It's not a small amount, but you get usage rights and access to all the features I've mentioned – unlimited downloads in multiple formats, the ability to edit your logo within ten days of purchase, and more.
You can also download five additional variants of your logo (for example, a version without the slogan, versions with light or dark backgrounds, etc). Kreatable helps you resize your logos to fit most social media platforms, and even site favicons.
You can't download a version of your logo for free, but you can download free samples of other logos to get a sense for what a finished product looks like. When you're ready, you can pay with most credit cards. Your first purchase is 30 percent off, but make sure you're satisfied with your logo before you buy, because there are no refunds.
As for Kreateable's customer support… it's not the best. The Help Center only has 17 articles, which address basic questions about features and payments. When I couldn't find out which languages Kreateable supports, I turned to email, which should supposedly deliver responses within 12 hours.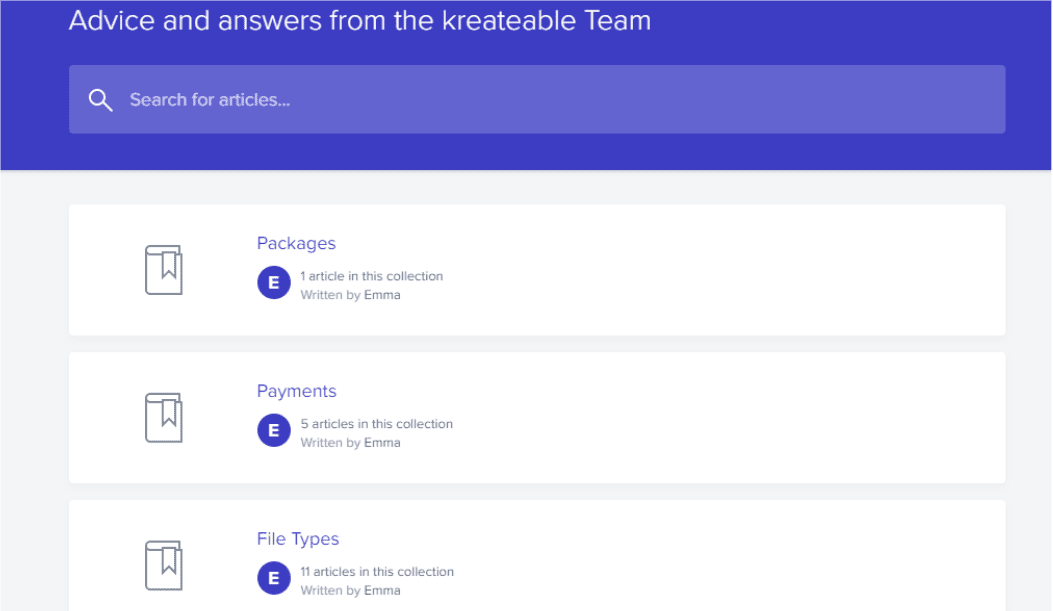 A reply came after two days, so their 12-hour email support response claim isn't entirely true.
However, I was able to talk with a representative immediately via live chat, which is available Monday to Friday, 9 am – 5 pm EST.