good choice for beginners.
Its
editor is very simple to use
, but you still get a solid set of features to promote and grow your business. Plus, if you're really in a hurry,
Zyro's AI writing tool
can automatically generate site content for you. WooCommerce, on the other hand, isn't technically a website builder –
it's a
WordPress plugin
, but it has everything you need to create an online store. It comes with an abundance of extensions and integrations, and
it's free to download and use
. However,
it's not the most beginner-friendly e-commerce platform
out there, so if you're not already used to WordPress, you might need some time to learn the ropes. If you want to get your online store up and running quickly,
explore Zyro's latest deals
. Otherwise, read on to weigh in the pros and cons of both platforms and decide which one is better for you.
Templates
Zyro Has Pretty Designs, but WooCommerce Offers More Flexible Customization
Zyro has
118+ templates
,
 and most of them look really good. They're divided into nine categories that range from e-commerce and events to portfolios and photography.
You can
customize the overall color palette of your template and change typography styles
, but you can't set up different fonts for different sections of the website – the one you choose applies to the entire site. WooCommerce is compatible with almost all WordPress themes, but to make the most of its features, it's a good idea to choose one of the
25+ WooCommerce-specific themes
available from the Store. A few of them are free, but even the premium ones are quite reasonably priced.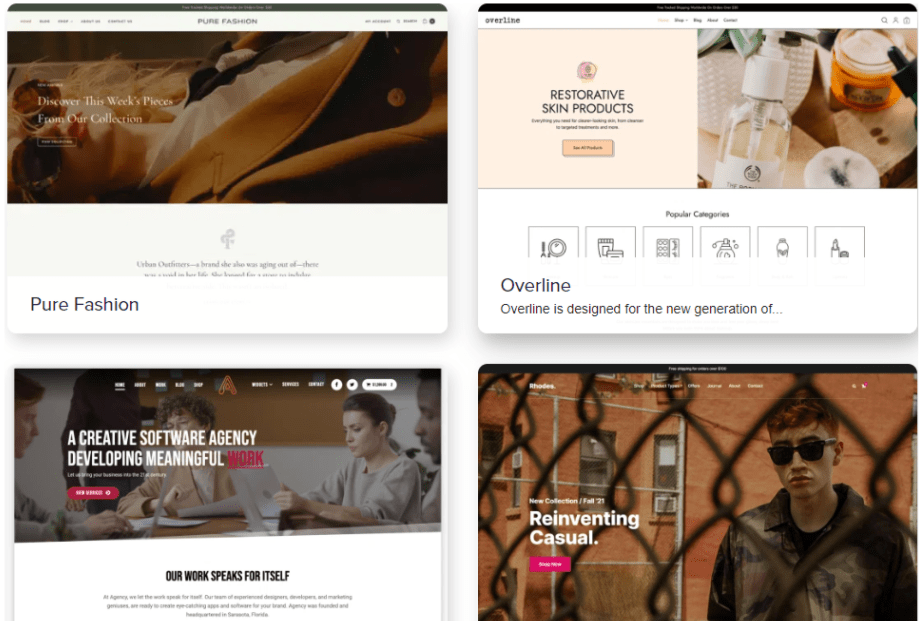 Storefront, WooCommerce's official theme, comes free with the plugin and you can customize it as much as you want. For example, you can use
 free and paid extensions
 to add pricing tables, reviews, or enable product sharing.
Ease of Use/Features
Zyro Is Super Intuitive; WooCommerce's Editor Can Be Confusing
Zyro's drag-and-drop editor is very easy to use, and thanks to its
grid-based layout
, every element of your site snaps right into place. Some of Zyro's most recently added features include
galleries and image slideshows, customizable forms, and section reordering.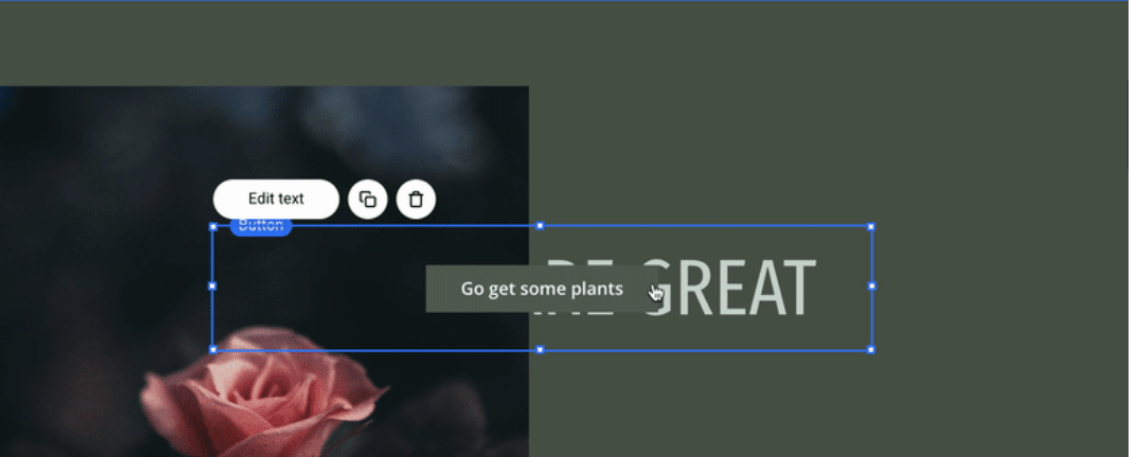 If you don't have time to come up with site content, the helpful
AI writing tool
 will do it for you. The content is based on the industry you choose, but don't expect anything too fancy – the text can be quite generic. WooCommerce isn't a site builder per se, and since it runs on WordPress, you'll be using
WordPress's visual customizer for editing
. It's not the easiest editor for beginners, since you can't just drag and drop elements around, but you can customize colors and fonts, upload logos, and more.
E-Commerce
With Zyro, you can create a store in just a few minutes (
provided you've subscribed to the eCommerce plan or above
), and you'll be able to do everything directly from the dashboard – track orders, manage inventory, conduct marketing campaigns, and so on. If you plan to sell worldwide, there are numerous payment gateways and shipping options available, and you can set up your store in multiple languages. You'll also be able to
sell via Amazon, Instagram, and Facebook
. The plain truth, though, is that while Zyro is easy to use, WooCommerce takes the lead in terms of e-commerce capabilities. After all, that's what the plugin was built for! It supports
over 60 languages
, it has a huge number of extensions, and it lets you create an
infinite number of product variations
. Some of WooCommerce's other useful features include unlimited image galleries, product reviews and ratings, advanced product filtering, and customizable checkouts.
One downside, though, is that WooCommerce takes a percentage of your sales, while Zyro doesn't charge transaction fees.
SEO Tools
Zyro has some pretty effective SEO tools, such as the
AI Heatmap
, which makes predictions about how visitors will navigate your site. Based on this feedback, you can change your site's layout to increase conversions. Also, the
AI writing tool generates SEO-optimized text
with the right number of keywords to help you drive traffic to your site. Meanwhile, WooCommerce incorporates WordPress's basic set of SEO features.
It doesn't have its own SEO tools, but you can integrate several plugins, such as Yoast,
 to boost your search engine rankings.
Apps and Integration
Zyro's Integrations Can't Match Hundreds of WooCommerce Extensions
Although Zyro is constantly growing and improving, it still has a
basic set of only five third-party apps
. These include Facebook Pixel, Messenger Live Chat, Hotjar, Google Analytics, and Google Tag Manager. What differentiates Zyro from other website builders is its set of
AI business tools
 – the Logo Maker, Business Name Generator, and Slogan Generator, all of which come in handy when you lack the time or inspiration for branding. On the other hand, WooCommerce has
over 40 free and over 300 paid extensions
. These include OptinMonster for reducing cart abandonment, Constant Contact for email marketing, and WooCommerce Quick View, which lets your customers peek into product details by simply hovering over a button with a mouse.

Pricing and Plans
Zyro's Plans Are Reasonably Priced; WooCommerce Is Technically Free
Zyro doesn't have a free plan, but it offers
a 30-day money-back guarantee
and its paid plans are quite affordable. There are four paid subscriptions:
Basic, Unleashed, eCommerce, and eCommerce Plus
.
The Basic plan offers 3 GB bandwidth, 1 GB storage, and the option to connect your own domain. Higher-tiered plans come with unlimited bandwidth and storage, as well as advanced marketing and e-commerce features. WooCommerce is free to use, but you'll need to purchase hosting for your WordPress website.
For WordPress.org, you need a web hosting provider
(see our list of
the best WordPress hosting services in 2023
) to host your site. Or,
if you use WordPress.com, you get hosting for free, but you need to subscribe to the Business plan or above to use WooCommerce
.
In case you're wondering how WordPress stacks up against Zyro in terms of pricing, I've compared their most popular plans side-by-side in the table below:
| | | | | |
| --- | --- | --- | --- | --- |
| | Zyro Unleashed | WordPress Business | Zyro eCommerce | WordPress eCommerce |
| Free domain for one year | ✔ | ✔ | ✔ | ✔ |
| SSL certificate | ✔ | ✔ | ✔ | ✔ |
| Storage | Unlimited | 200 GB | Unlimited | 200 GB |
| Website contributors | 1 | Multiple | 1 | Multiple |
| Number of products you can sell | 0 | 0 | 100 | Unlimited with WooCommerce |
| 24/7 customer support | ✔ | ✔ | ✔ | ✔ |
Support
Zyro's Live Chat Support Is More Accessible, But Both Builders Have Lots of Helpful Documentation
Zyro's email and live chat support are basically one and the same
, and even though Zyro's customer service claims to be available 24/7, that's not always the case. I reached out to their email and live chat support with two different questions on different days. Both times, I got a satisfying reply, but I had to wait several hours for an agent to get back to me.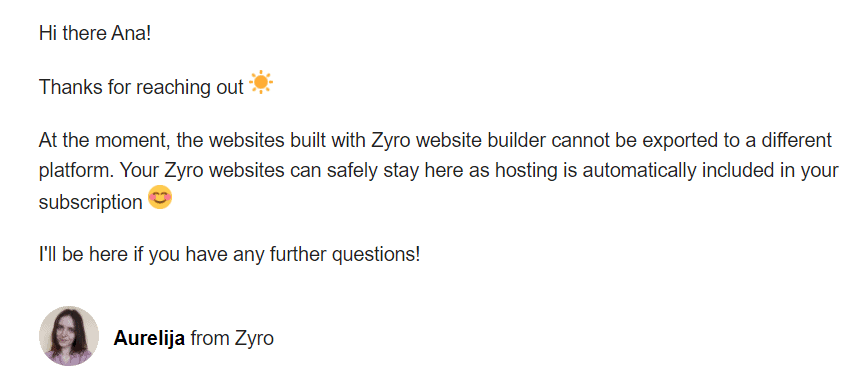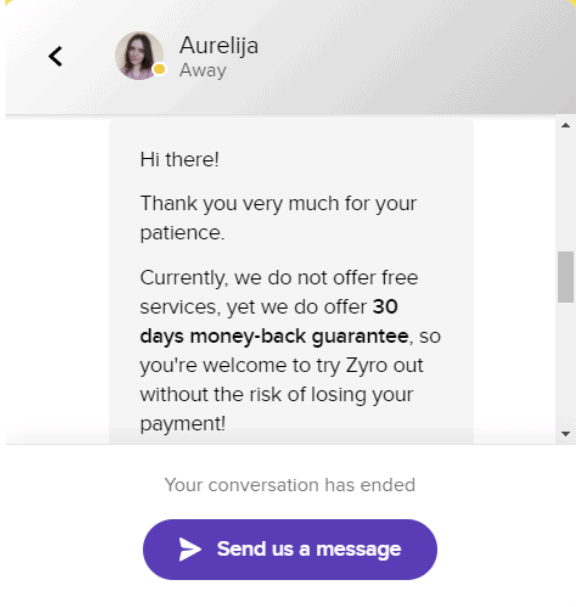 For WooCommerce, you can only submit a support ticket if you installed a premium theme or extension
. Otherwise, you'll need to browse through the helpful articles on the WooCommerce Docs website. There's also a community forum with pretty active members, and based on my experience, most users have their questions answered within an hour.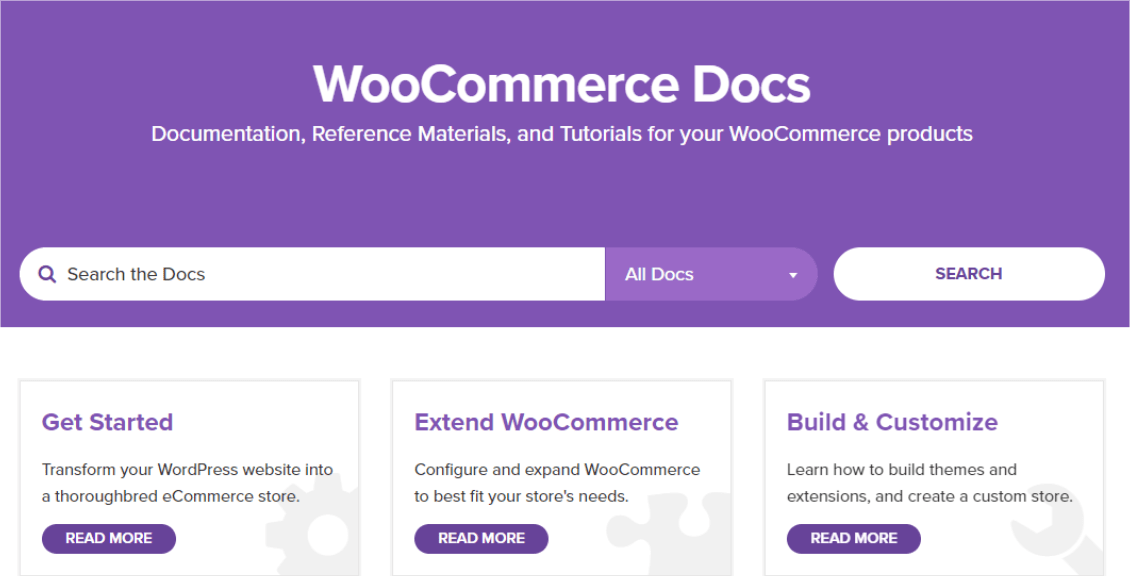 WooCommerce's support hours are Monday-Friday, from 08:30 a.m. to 5 p.m,
and agents usually
reply within 24 hours (weekends not included)
. Depending on the issue you have, you may also be able to speak to someone via live chat.
Zyro Is Great for Beginners, but WooCommerce Takes the Win for E-Commerce
Zyro provides a simple and quick way to build your website
, whether it's for personal or business purposes, and it's an excellent choice for users with little to no technical experience. WooCommerce is a specialized WordPress e-commerce plugin.
It has a more powerful set of features compared to Zyro
, but it can be quite complex, so I only recommend it for users familiar with WordPress who want to build large online stores. In fact, this is the main reason why Zyro made it onto our top 10 site builders, whereas WooCommerce did not. To see more great options, take a look at our list of the
best website builders in 2023
.
| | | |
| --- | --- | --- |
| | Zyro | WooCommerce |
| Templates | 100+ templates | 25 WooCommerce-specific themes; hundreds of WordPress themes available from third-party providers |
| Ease of Use / Features | Easy-to-use, drag-and-drop editor | Point-and-click theme customizer |
| Apps, Plugins, and Add-ons | Just 5 integrations available | 300+ integrations available |
| Pricing and Plans | Four paid plans | Free to use with WordPress (but you have to buy hosting or a business plan from WordPress.com) |
| Support | Support documentation, email, and live chat support | Support documentation, community forum |
FAQ
Which is cheaper, Zyro or WooCommerce?
Zyro doesn't have a free plan, but all four paid plans are quite affordable, and there's a 30-day money-back guarantee. Also, you get a free domain for one year on all plans. On the other hand, WooCommerce is free, but you'll need a Business subscription or higher to use WordPress.com, or a hosting provider to use WordPress.org. Regardless of which builder you decide on, check out our coupon page to get the best deals.
Which is easier to use, Zyro or WooCommerce?
Zyro is definitely more suitable for beginners, as it has an intuitive drag-and-drop editor that's super easy to use (learn more about it in our expert Zyro review). WooCommerce might feel a bit overwhelming if you've never built a website before, although experienced WordPress users should have no trouble navigating it.
How do I decide what website builder is the best?
It all depends on what you're trying to achieve. Zyro is easier to use, but it has fewer features than WooCommerce. On the other hand, WooCommerce has tons of options to help you extend your site's functionality, but can be intimidating for newbies. Of course, you're not limited to either Zyro or WooCommerce if you want to build an online store. Check out our list of the best website builders in 2023 for more options.