With Zyro, it's all about speed and simplicity
 – it doesn't bog you down with too many customization options, and its AI writing tool automatically generates content for you. It's ideal for beginners who don't want to wrestle with an intimidating interface, and need to get their site up fast. On the other hand,
Webflow is much more flexible when it comes to customization, and it has a wider selection of apps
. However, it can be complicated to master if you don't have previous design knowledge, so there's definitely a learning curve. The right choice for you will depend on which side of the spectrum you're on. Take a look at
the latest Zyro offerings
to get started, or read on to find out which platform is better suited for your needs.
Templates
Zyro Has Slick Designs, but Webflow Has More Templates
Zyro doesn't offer nearly as many templates as Webflow (we're talking dozens rather than hundreds), but you still get to
choose from over 100 designs
. Although you can't switch between templates and there aren't too many customization options, they're all mobile-friendly and quite slick-looking.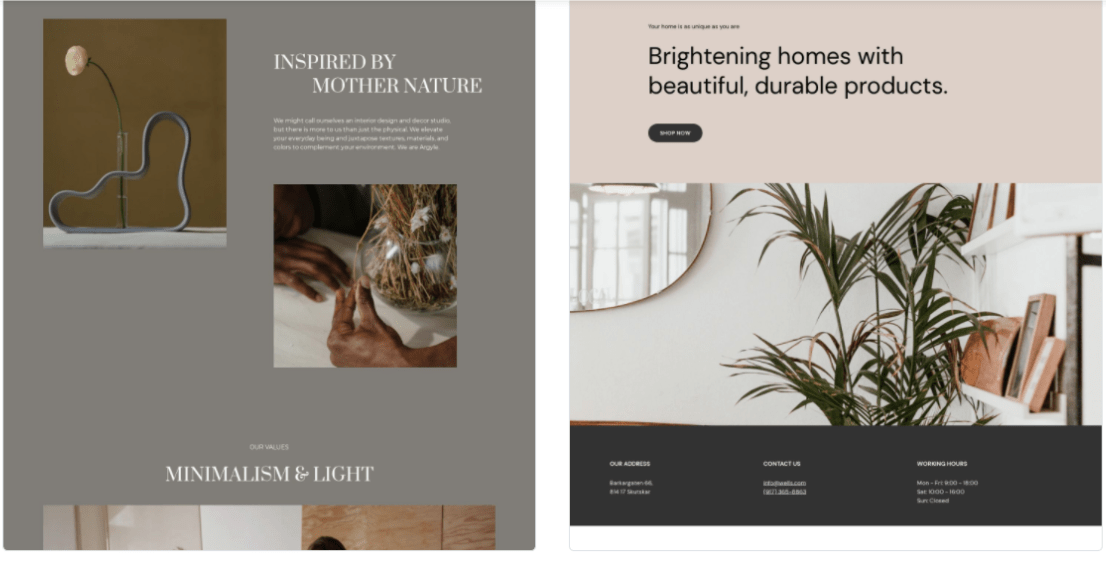 Webflow offers over 500 templates, both free and paid,
 divided across 16 categories.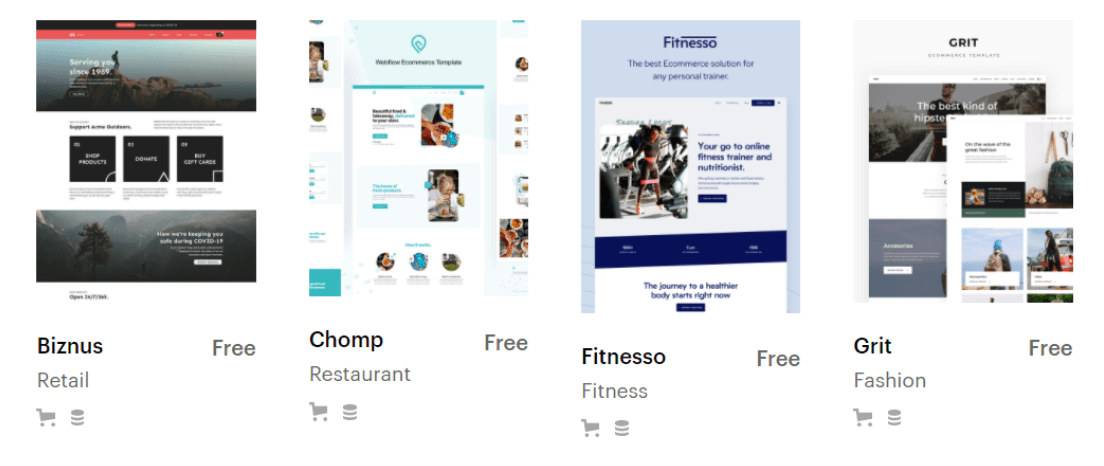 And although its paid designs are more attractive compared to the free options, all Webflow templates are mobile responsive and fully customizable in terms of colors, fonts, layouts, and more.
Ease of Use/Features
Zyro's Editor Is Super Easy to Use; Webflow's Interface May Be Overwhelming for Beginners
Zyro has a simple drag-and-drop editor that makes it easy to add text, images, and other site elements. It also has a
grid-based layout
, meaning that you can place elements wherever you want and still keep their size and spacing consistent. This practically ensures that your site will look good regardless of the layout tweaks you make. One of Zyro's distinctive features is its
AI writing tool
 that generates content for your site based on the category you choose. This is a real time saver if speed is an issue for you, although the text can be quite generic. Webflow's editor looks very similar to the Photoshop interface, so designers will have no problem navigating it. Beginners like me, on the other hand, may feel slightly overwhelmed because the interface is packed with customization options. You do get a
guided tour
of the interface
, though, which is really helpful.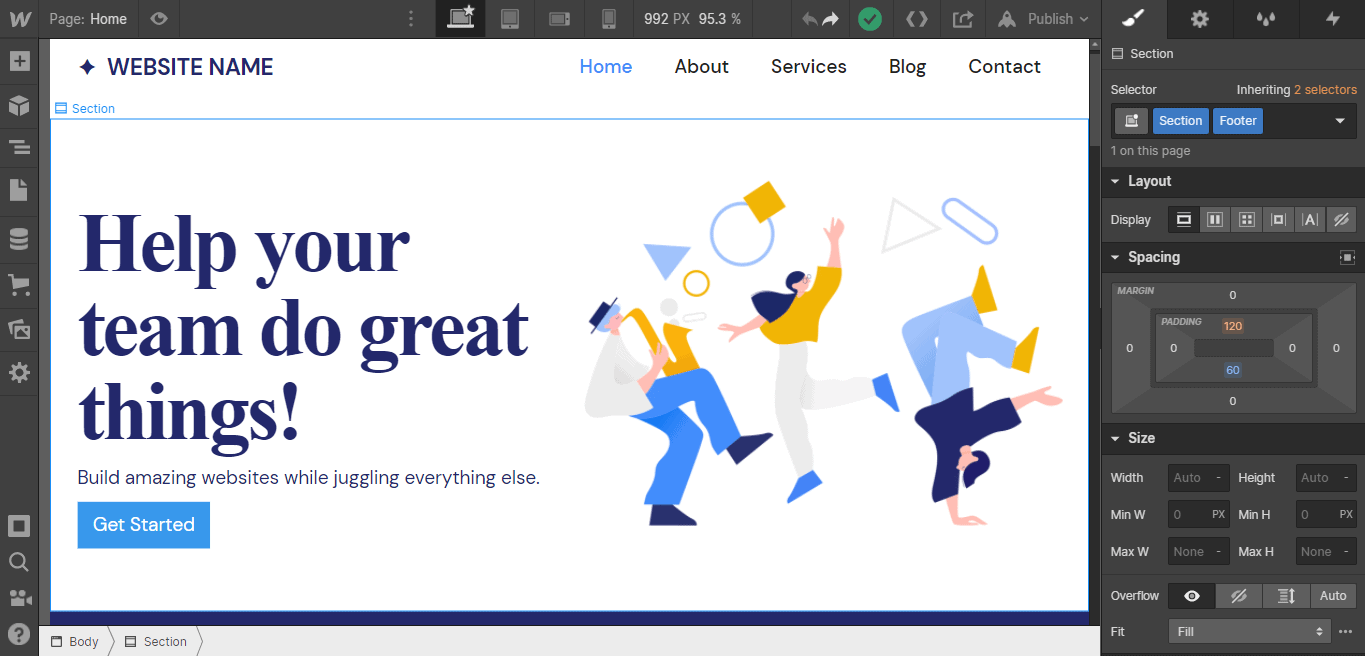 You can customize your site as much as you like by changing colors, fonts, and layouts, adding buttons, images, or gifs, or creating animations for literally every page element.
SEO Tools
SEO-wise, Webflow automatically creates a sitemap for you and allows you to modify keywords, titles, descriptions, and alt tags. Zyro has all that, but it also has an extra trick up its sleeve:
the AI Heatmap
. This tool shows you how visitors navigate your site and what elements they focus on most. Based on the heatmap predictions, you can change the site's layout to increase your conversions.
Blogging
Zyro's blogging platform struck me as a bit confusing, because
you have to add individual image and text sections manually
. This can be difficult to adapt to, especially if you're used to WordPress. Also, there are no options for adding videos or scheduling blog posts. Webflow's integrated blogging platform is much more intuitive, and you can use it to post different types of content – events, listings, recipes, and so on. Every new project is called a collection, and you can modify its title, URL, SEO description, and more.
E-Commerce
When it comes to e-commerce features, both website builders are pretty solid. They offer all the tools you need to set up and run an online store, such as managing product collections, offering discounts, setting up tax and shipping parameters, customizing shopping carts, and integrating with lots of payment gateways. However, Zyro takes the lead here for one major reason:
it doesn't charge transaction fees
, whereas Webflow takes up to 2% in fees above and beyond the payment gateway's transaction charge. Ouch.
Apps and Integrations
Webflow Offers More Apps, While Zyro Has Some Basic Integrations
Webflow doesn't have an extensive app store like that of
Wix
, but lots of features come already built in. Designers will particularly appreciate
AfterEffects,
 for creating motion graphics and visual effects, and
Lightbox Gallery
, which lets you craft stunning galleries using your uploaded images and videos. And if those aren't enough for you, Webflow does integrate with some
third-party apps
, including online booking tools such as ZealSchedule, live chat apps like Chatwoot, and online form builders, such as MightyForms. By comparison, Zyro doesn't have a whole lot to offer when it comes to third-party integrations: in fact, it's only got five. Facebook Messenger, Google Ads, and Hotjar Analytics are among the select few. However, it does have some unique
AI business tools
, such as the Logo Maker, Business Name Generator, and Slogan Generator, which are pretty useful if you lack copywriting skills.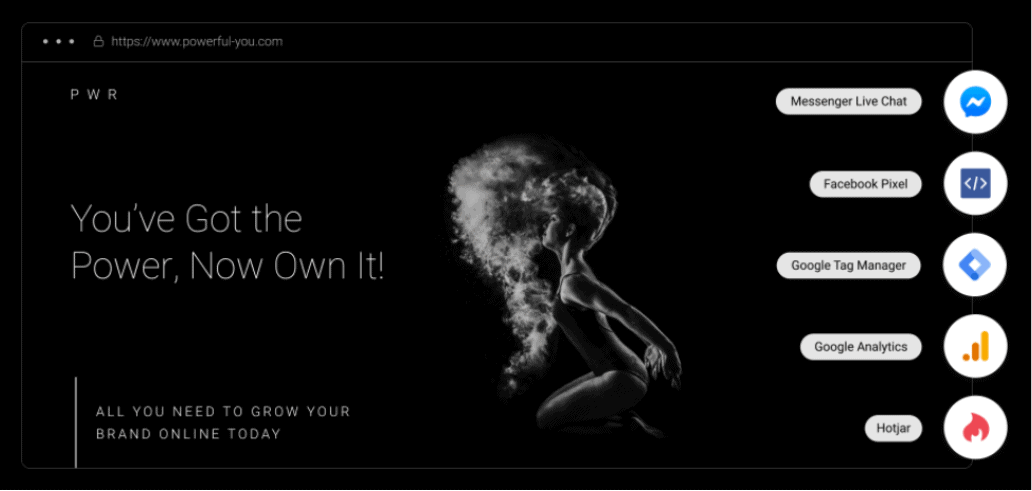 But by far my favorite Zyro feature is its
integration with Unsplash
, which grants you access to millions of royalty-free images to choose from.
Pricing and Plans
Zyro Doesn't Have a Free Plan; Webflow's Pricing Is Too Complicated
Zyro
doesn't have a free plan, but it does offer a 30-day money-back guarantee
, so you can test the platform without the risk of losing your payment. Its paid plans include the
Basic, Unleashed, eCommerce, and eCommerce Plus plans
, all of which are priced lower than similar plans with Webflow.
On the Basic plan, you get 3 GB bandwidth, 1 GB storage, and the options to connect your own domain and remove ads from your site. Higher-tiered plans come with unlimited bandwidth and storage, as well as advanced marketing and e-commerce tools. The Basic plan is best suited for personal projects, while other plans are more business-oriented. Of course, you can upgrade as your company starts to grow. Webflow's plans are more complicated. For starters, there's 13 of them, and they're divided into two main groups: Site plans and Account plans.
Importantly,
both of these groups have a free plan
. Both groups are further divided into subgroups, each of which have their own set of subscriptions. In a nutshell, site plans work best if you have a single personal or business website, while account plans are better if you run multiple websites or build websites for clients.
| | | | | |
| --- | --- | --- | --- | --- |
| | Zyro Unleashed | Webflow CMS | Zyro eCommerce | Webflow Ecommerce Standard |
| Custom domain | ✔ | ✔ | ✔ | ✔ |
| SSL certificate | ✔ | ✔ | ✔ | ✔ |
| Unlimited storage | ✔ | ✔ | ✔ | ✔ |
| Website contributors | 1 | 3 | 1 | 3 |
| Number of products you can sell | 0 | 0 | 100 | 500 |
| 24/7 customer support | ✔ | Email support only, available on business days from 6 a.m. to 6 p.m. | ✔ | Email support only, available on business days from 6 a.m. to 6 p.m. |
Support
Zyro Offers More Live Support Channels, While Webflow's Customer Service Isn't Quite Responsive
In addition to its Help Center documentation, Zyro also offers
live chat and email support
. I asked them about multiple language features via email, and they answered promptly and politely.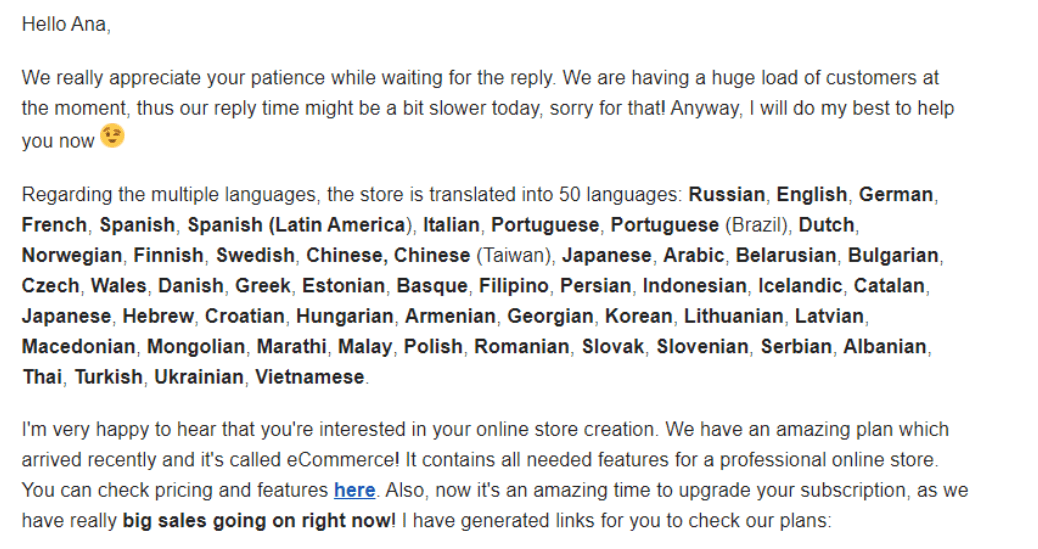 Webflow has a community forum and a series of courses and support documentation collectively branded as Webflow University. However, as far as personalized customer support goes,
email is your only option,
and it's only available on business days from 6 a.m. to 6 p.m. I reached out to them with a question about template switching, and I immediately got an automatic email back, with the typical "we are experiencing a high volume of requests and a team member will reach out to you", etc.
In the end, a service representative reached out to me, albeit three days later! I find this timeframe rather lengthy, especially considering the unavailability of an alternative communication channel for follow-up. On the bright side, I received a comprehensive and nuanced response; there was certainly no hastily composed form letter involved.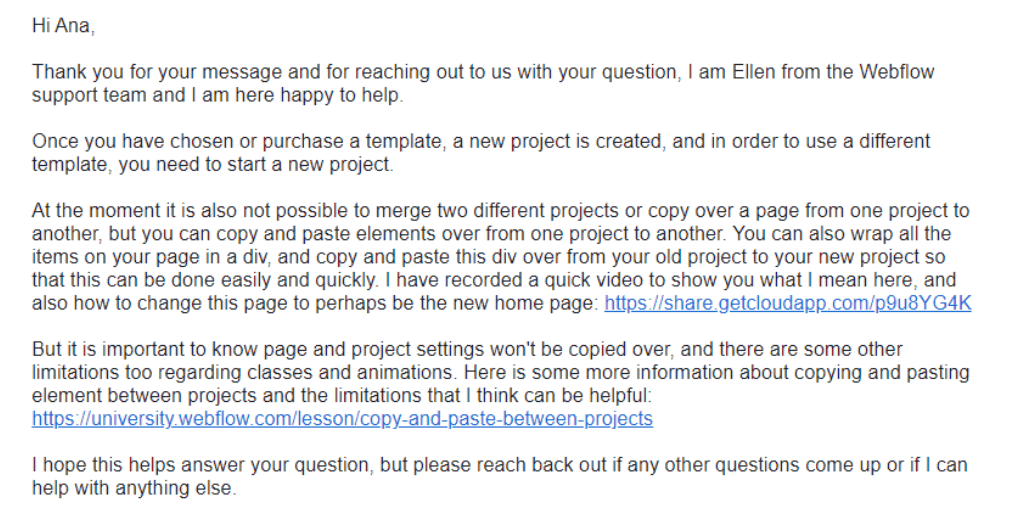 Two Different Builders for Two Very Different Types of Audiences
Zyro offers a simple, quick way to build a website and it's a great choice for beginners.
 Webflow offers lots more customization options, but it's aimed at designers – newbies will probably find the website building process somewhat intimidating. Depending on your needs and level of experience, both platforms can help you create fully functional, good-looking websites. However, keep in mind that only Zyro made it onto our top 10. To compare it to other great options, check out our list of
the best website builders for 2023
.
Templates
70+ templates (all free)
500+ templates (40+ free)
Ease of Use / Features
Easy to use, minimalist, drag-and-drop editor
Somewhat cluttered drag-and-drop editor, with tons of features
Apps, Plugins, and Add-ons
Limited integrations available
60+ integrations available
Pricing and Plans
Four paid plans
2 free plans and 11 paid plans, divided into two main groups
Support
Support documentation, email and live chat support
Support documentation, community forum, and email support
FAQ
What's more expensive, Zyro or Webflow?
Zyro's paid plans are more affordable than Webflow's, and while you won't get as wide an array of features, you'll still be able to create a functional and attractive website. Also, if you plan on building an online store, Zyro doesn't charge transaction fees. Plus, you can start from an even lower price if you use one of our awesome coupons.
Which website builder is better, Zyro or Webflow?
It all depends on your needs. If you're a beginner looking for a quick and hassle-free way to get your site up and running, Zyro is your go-to choice (read more in our expert Zyro review). However, if you want to be more involved in the web design process or if you build websites for clients, Webflow is probably going to be the better option.
Is Zyro really free?
Zyro doesn't have a free plan, but it offers a 30-day money-back guarantee, so you'll be able to test its features before you commit. The Basic plan, which is the least expensive option, lets you remove ads from your site and connect a custom domain, while higher-tiered plans provide unlimited storage and access to marketing tools. To find out which builders have the most advantageous free plans, check out our list of the best free website builders in 2023.
Is Webflow better than Squarespace?
Again, it all depends on what you want. Squarespace is unmatched when it comes to professional, sleek template designs (more in our expert Squarespace review), but it doesn't have as wide a selection of apps and integrations as Webflow. Also, Squarespace's intuitive interface makes it a better option for beginners, while Webflow is geared towards users with some design knowledge. Both of these web builders offer attractive features, but if they don't quite fit your needs, you'll find more great options on our list of the best website builders for 2023.