Zyro is a solid, affordable builder that lets you create any kind of website, while Shopify is a hosted, cloud-based solution for online stores. So while both have excellent e-commerce plans for smaller and larger businesses, there are some key differences between the two. For one,
Zyro is priced lower than Shopify and doesn't charge transaction fees
. It's an easy-to-use platform that's ideal for building a simple site, but on the other hand, it doesn't offer much in the way of integrations and extra functionality. Meanwhile,
Shopify can get quite pricey, but there's a reason for that
. It combines an extremely powerful builder with an intuitive interface, which makes it a good option for both beginners and seasoned developers. That said, more horsepower doesn't always mean better results. If you want to get a store online quickly, I recommend you
check out Zyro's latest deals
. Otherwise, keep reading to see which platform is best for you.
Templates
Zyro Has Attractive Designs, but Shopify Gives You More Customization Options

Zyro has
over 100 free templates
, and they're all both good-looking and mobile-responsive. They're divided across nine categories, from photography and blog to landing pages and eCommerce.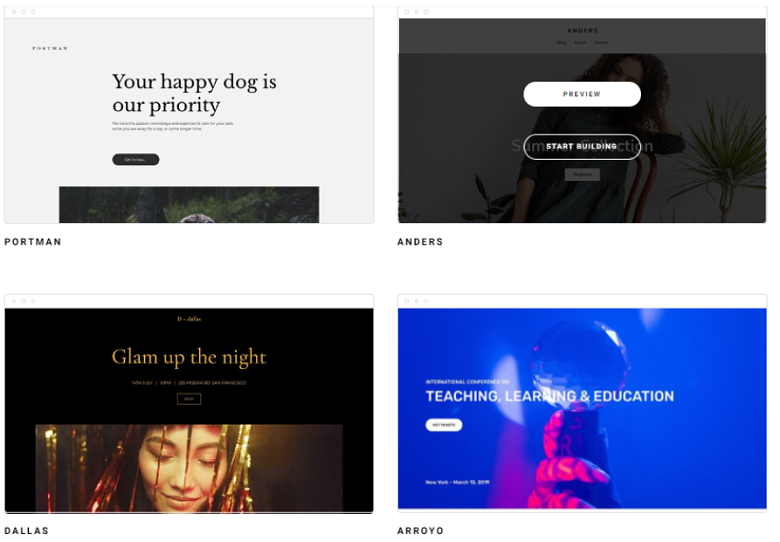 You can customize the overall color scheme, page layouts, and fonts. However,
you can't use different fonts for different sections
– your choice will apply to the entire website. Shopify, meanwhile, has
around 170 themes
 across 11 categories, such as fashion, jewelry, sports, and toys. You can easily personalize any template by changing colors, fonts, and layouts, styling social media buttons, and more.
Pro Tip:
If you want a truly unique template or theme, you can hire a designer on Fiverr for as little as $5.
See for yourself.
One key difference between the two platforms is that all of Zyro's templates are free to use with a subscription plan, while Shopify only has around 10 free themes. If you want a premium theme, you'll have to pay extra – usually to the tune of about $180.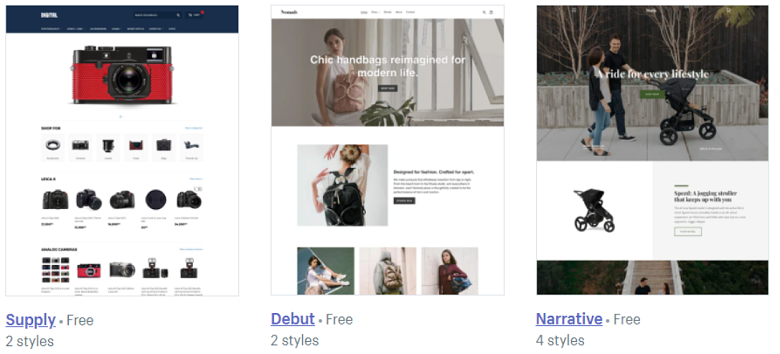 If you're not into any of Shopify's themes,
you can buy a template from a third-party provider like ThemeForest
, or hire a developer to create a custom design for you. Also, if you're a coder, you can create custom templates and then assign them to individual pages for a more unique look.
Ease of Use/Features
Both Builders Are Easy to Use, but Shopify Has More Tools
Zyro has a
grid-based editor
, which means that you can drag and drop elements and they'll snap into place on a predetermined grid. It's not complete creative control, but your layout is guaranteed to look good. The editor has also recently
gained a few new features
: you can now add image galleries, slideshows, and dropdown menus, as well as customize contact forms.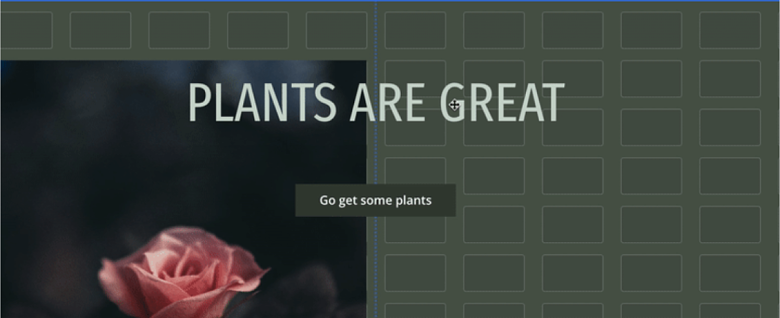 Shopify, on the other hand, has an intuitive
drag-and-drop editor
that beginners won't have any trouble mastering. It also gives you
access to CSS and HTML files
for advanced customization.
E-Commerce Features
If you subscribe to Zyro's
eCommerce plan
, you'll be able to set up an online store in no time. You'll manage everything from one handy dashboard, including inventory, order fulfillment, marketing campaigns, and more. Also, if you sign up for the eCommerce Plus plan, you can set up your store in multiple languages and sell on different channels, such as Facebook, Instagram, and Amazon. As you might guess from its name, Shopify is quite literally built for e-commerce, so it makes the store-building process very smooth and it's got
tons of helpful features
. Some standouts: it lets you sell downloadable digital products, synchronize your physical and online shops via Shopify's POS system, and create customizable customer login areas. And if you're based in the US,
you'll be able to use Shopify Shipping
, which displays different carriers' shipping rates in real time.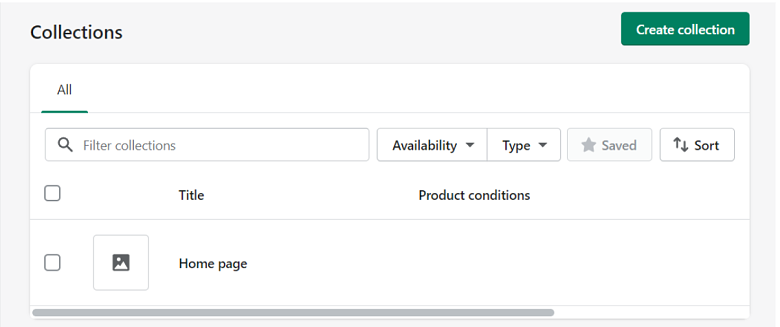 Another great US perk (which, sadly, is not available in every country) is the option to use
Shopify Payments, which gets rid of transaction fees
. You'll still have to pay credit card processing fees, but depending on your sales volumes, you could save a heck of a lot – Shopify charges up to 2% in transaction fees for all other payment gateways.
Following a recent revamp of the builder, Zyro now also lets you quickly build an online store.
It's a great solution if you want to launch something simple right away, but it still can't quite match Shopify's sheer number of useful e-commerce tools.
SEO tools
Zyro's approach to SEO is to try to take care of a lot of things for you. Its templates are all optimized for mobile, it's got an
AI writer
that can fill your site with keyword-rich content, and its integrations are all focused on SEO and marketing. On the other hand, Shopify has a set of built-in SEO tools that let you change title tags, descriptions, and image alt text, as well as preview how your site appears in search engine results. Another cool feature is its
redirect system
– when you change a URL, Shopify automatically creates an optional redirect from the old URL to the new one, so there are no 404 errors.
Apps and Integrations
This is where Zyro and Shopify really differ.
Zyro has only five integrations
– Facebook Pixel, Messenger Live Chat, Hotjar, Google Analytics, and Google Tag Manager. However, it also has a nifty set of
AI business tools
, including a logo maker, business name generator, and slogan Generator, all of which are pretty useful to get you thinking about your brand. Shopify's App Store, on the other hand, has over
5,000 free and paid apps
, and the number keeps growing. If you plan to scale your store in the future, this is definitely something you'll want to take into account.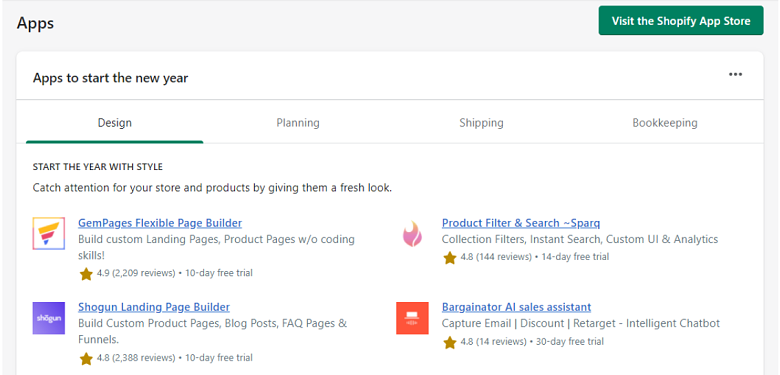 The store has an app for literally everything, including live chat capability, dropshipping tools such as Printful and Oberlo, Smile.io loyalty programs, Firepush (for centralizing multi-channel marketing campaigns), and many, many more.
Pricing and Plans
Zyro's Plans Are All Fairly Affordable; Shopify is Pricey, but Offers Better Value
Zyro has four paid plans:
Basic, Unleashed, eCommerce, and eCommerce Plus
. There's no free plan, but you do get a
30-day money-back guarantee
. The eCommerce plan is quite comprehensive: you get unlimited storage, up to 100 products, the ability to offer discounts and gift cards, and integrations with multiple payment gateways. The eCommerce Plus plan adds multi-channel selling, abandoned cart recovery, and multilingual stores. One thing to bear in mind is that Zyro doesn't charge transaction fees, which can make a big difference in overall cost. Meanwhile, Shopify has a
14-day free trial
and three paid plans:
Basic Shopify, Shopify, and Advanced Shopify
. All plans enable unlimited products, abandoned cart recovery, Shopify Shipping, Shopify Payments, multilingual stores, and 24/7 support, among others. Higher-tier plans let you add more staff accounts and assign inventory to more locations.
| | | |
| --- | --- | --- |
| | Zyro eCommerce | Basic Shopify |
| SSL certificate | ✔ | ✔ |
| Storage | Unlimited | Unlimited |
| Website contributors | 1 | 2 |
| Number of products you can sell | 100 | Unlimited |
| Abandoned cart recovery | ✘ | ✔ |
| 24/7 customer support | ✔ | ✔ |
Support
Zyro's Live Support is More Responsive; Shopify Is Busy

In addition to its documentation, Zyro offers
email and live chat support
 (although oddly, live chat responses are also sent to your email). Zyro asserts the availability of its 24/7 live chat, although there are occasional discrepancies. However, upon initiating a live conversation, you'll experience seamless interactions, and the agents prove to be exceptionally friendly and supportive.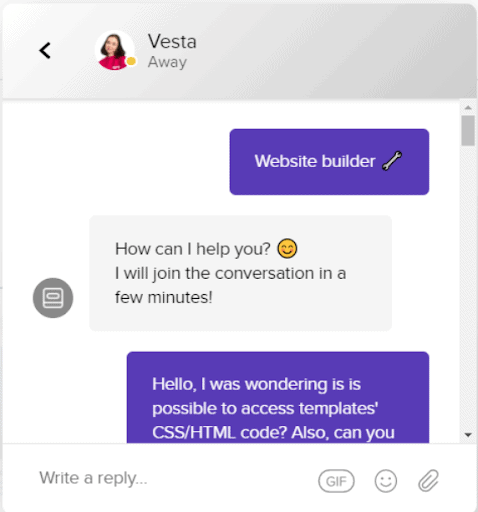 Shopify also has an array of articles and guides in addition to
email, live chat, and phone support
. But because it deals with a much higher volume of support requests, it's a lot less responsive compared to Zyro.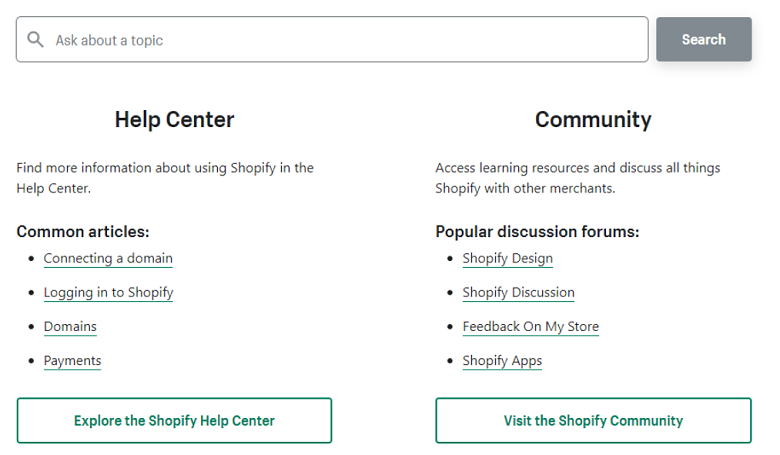 It's Easier to Scale with Shopify, but Zyro Is More Beginner-Friendly
Zyro is an affordable option for creating a simple online store
, and if you don't need to grow your shop into an e-commerce giant, its limited but reasonable functionality will be more than enough for you. However,
if you need to quickly scale up a more complex store, Shopify is a much better option
, as it comes with numerous sales channels and a vast app store to help you grow your business. Both Zyro and Shopify help you create attractive and functional online shops, which is why they both made it onto our top 10. Still, if you'd like to check out more options, take a look at our list of the
best website builders in 2023
.
| | | |
| --- | --- | --- |
| | Zyro | Shopify |
| Templates | 100+ templates | 170+ themes |
| Ease of Use / Features | Drag-and-drop editor | Drag-and-drop editor |
| Apps, Plugins, and Add-ons | Limited integrations available | 5,000+ integrations available |
| Pricing and Plans | Four paid plans | Free trial and three paid plans |
| Support | Support documentation, email, and live chat support | Support documentation, community forum, email, live chat, and phone support |
FAQ
Which is cheaper, Zyro or Shopify?
Zyro doesn't have a free plan, but all four paid plans are quite affordable, and you can cancel your subscription for a full refund in the first 30 days if you're not satisfied. Also, you get a free domain for one year on all plans. On the other hand, Shopify has a 14-day free trial, but its prices are a lot higher than Zyro's. Either way, you might want to check out our coupons page to get the best deal on your favorite builder.
Which is easier to use, Zyro or Shopify?
Both Zyro and Shopify are easy to use, as they both have intuitive, drag-and-drop editors. However, Zyro has a slight edge because of its AI tools and streamlined interface. To learn more about Zyro's beginner-friendly features, read our expert review.
How do I decide what website builder is the best?
It all depends on what you're trying to achieve. Zyro is easier to use, but it has far fewer features than Shopify. On the other hand, Shopify has a vast app store to help you extend your site's functionality, but it can be quite expensive (read more about Shopify in our in-depth review). If you're still undecided, check out our list of the best website builders in 2023 for more options.