There is no denying that Google is the internet's juggernaut. If you're looking for a word processor, Docs is one of the best. When you want to organize data, Sheets is an invaluable resource. And YouTube is by far the most popular streaming platform in the world. You might think that, just like the rest of its offerings, Google Sites would offer a high-quality, user-friendly platform for creating websites. But can it compete with a dedicated website builder like Wix? Is it the right platform to launch your project? The answer to both questions is no, but there are a few exceptions. Google Sites' features and functionality are pretty limited. As comfortable to use as it might be, Wix can do everything Sites can and more. The learning curve for Wix is slightly steeper, but Wix offers a far more versatile and powerful website-building experience while giving you a lot more control over the finer details of your site. Keep reading to find out why I prefer Wix for all my website-building needs. Or start building your dream website with Wix right now.
Templates
Wix Beats Sites Both in Quality and Quantity
If you care about template variety, then there's really no competition in this category.
While Wix boasts a selection of over 900 unique templates across 18 different categories, Google Sites offers a far more modest collection of 17 templates in total.
That doesn't mean you should write off Google Sites. While they are far more simplistic than Wix's, Sites' templates are well-organized based on functionality. Plus, Google Sites offers just enough customization options to make each template unique.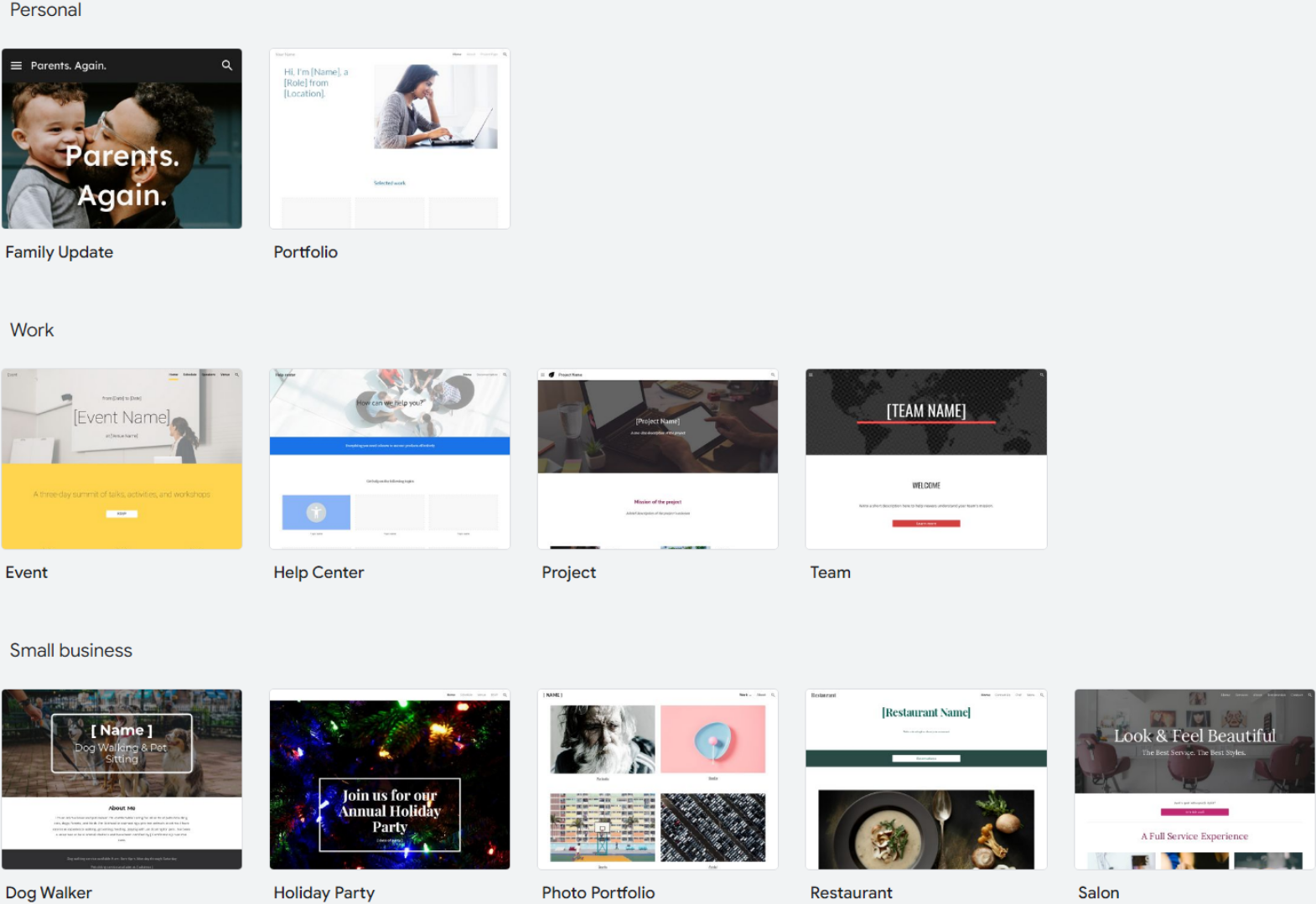 Still, each template in Wix's massive selection stands out for its expert design. Wix's templates cover various styles, moods, and purposes, from minimalist and elegant options for professional websites to fun offerings for creatives.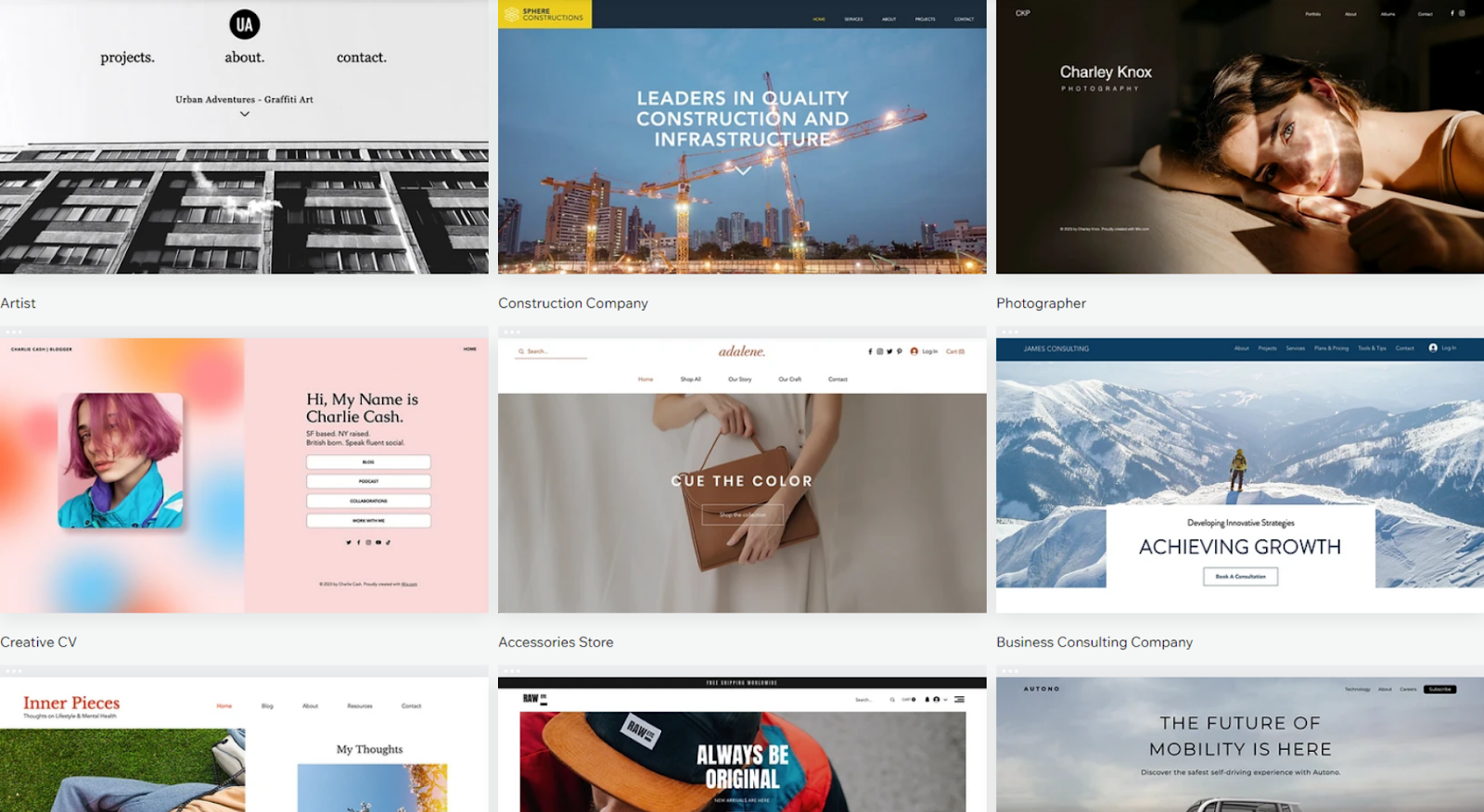 What's more, Wix's templates come with the added advantage of being fully customizable through its intuitive and feature-packed drag-and-drop editor. Sites gives you many customization options, but Wix ensures you can tweak elements to your heart's content. With Wix,
you can create a site that truly reflects your style and needs.
While Google Sites offers a respectable starting point for crafting simple, straightforward websites,
Wix is undoubtedly the winner when it comes to template variety, quality, and customization.
Its vast collection of stylish, expertly designed templates paired with robust editing tools makes it a powerhouse if you want to craft a unique and visually compelling website.
Features and Ease of Use
Sites Is as Easy as It Gets, but Wix Comes With Far Better Features
Building a website using Google Sites takes a few minutes.
Thanks to Sites' simple interface and intuitive editor, you can get a presentable site in the time it takes for your coffee to brew. But like other Google products, Sites sacrifices expanded functionality for ease of use. Sites' limited toolbox is aimed at those who want to host an online presentation with more interactivity. Though you get some handy integrations with the rest of Google's product suite,
Sites' features pretty much begin and end with adding headlines, images, and text boxes.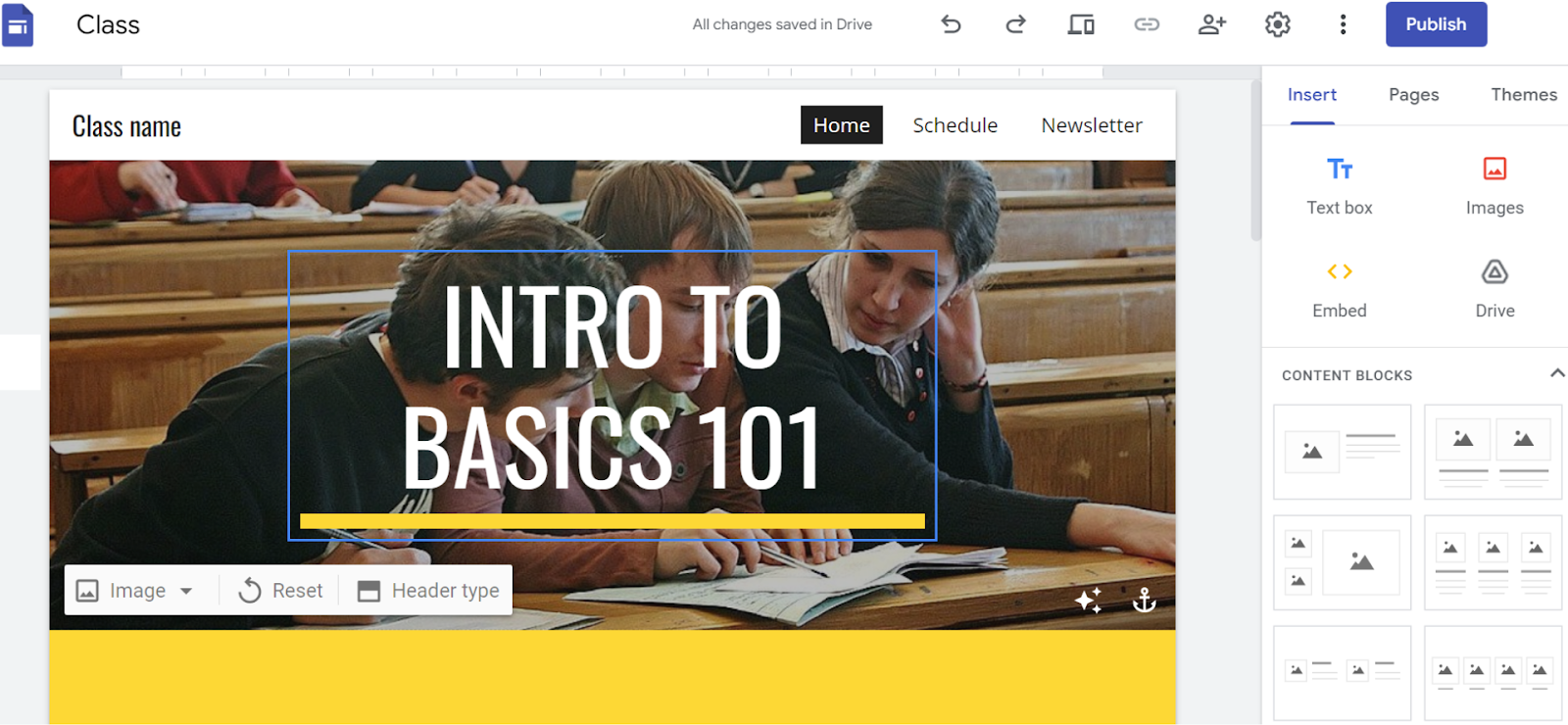 This added simplicity makes it ideal if you're looking for a super simple site, like somewhere to host classroom information for teachers, a centralized page for game nights with friends, or a digital space to host your resume.
If you want anything more, though, you should opt for Wix.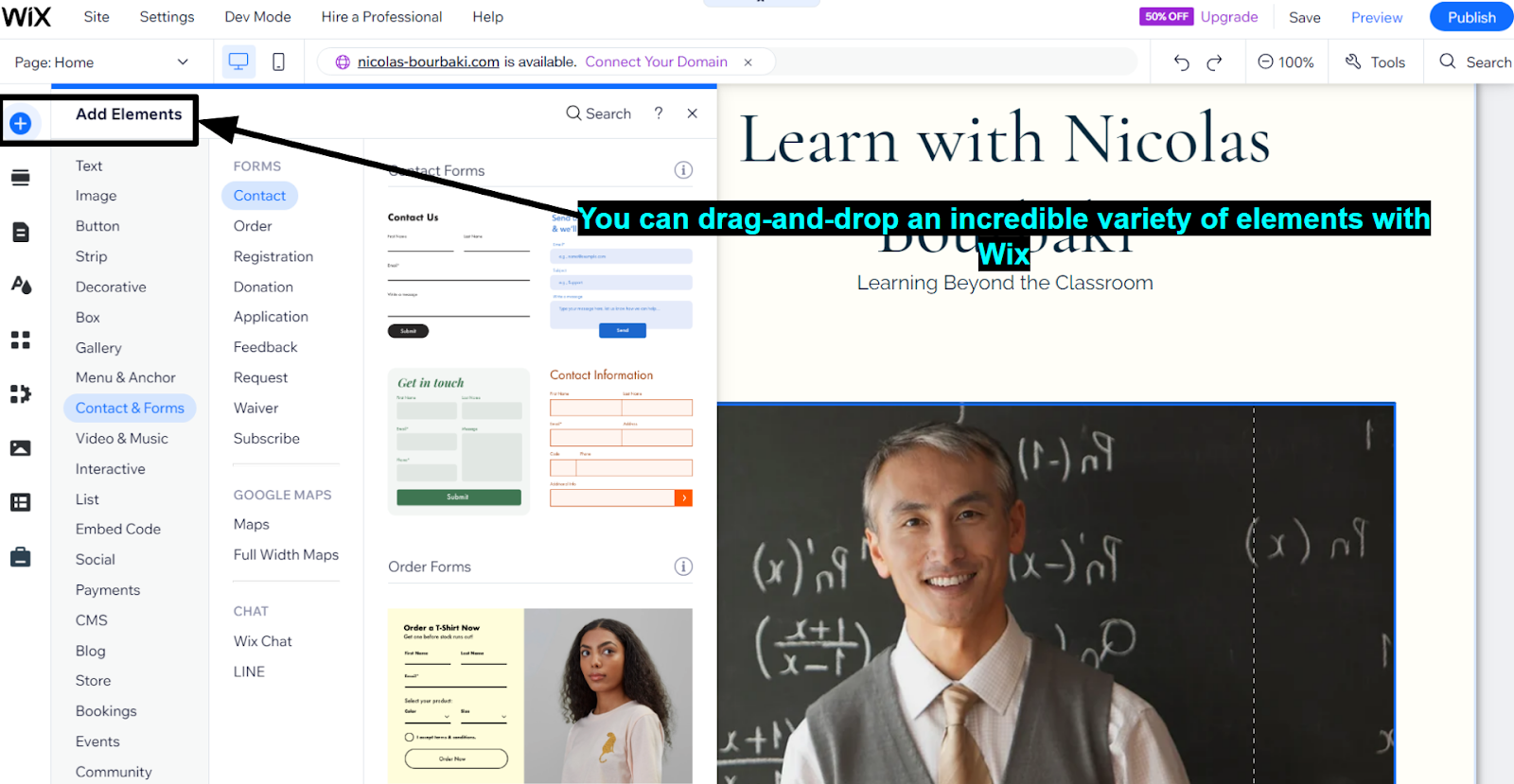 Wix's drag-and-drop editor
allows you to place elements anywhere on the page, and the vast selection of tools for things like blogging, e-commerce, file sharing, and more make it a far more functional builder. This might sound like it also involves a bigger time commitment, but Wix is incredibly easy to use, too. For simple sites, they both deliver excellent results.
The only thing that makes Wix slightly more complicated is the fact that it offers a way more comprehensive toolset.
Apps & Add-Ons
Sites Integrates With the Full Google Suite, but Wix Offers Hundreds of Apps
One of Google Sites' greatest features is its seamless integration with other products from the Google Suite.
You can directly add YouTube videos and Sheets files and even integrate your Google Calendar into your website. It's a straightforward way to create a cohesive digital workspace, especially if you're already a Google Suite enthusiast.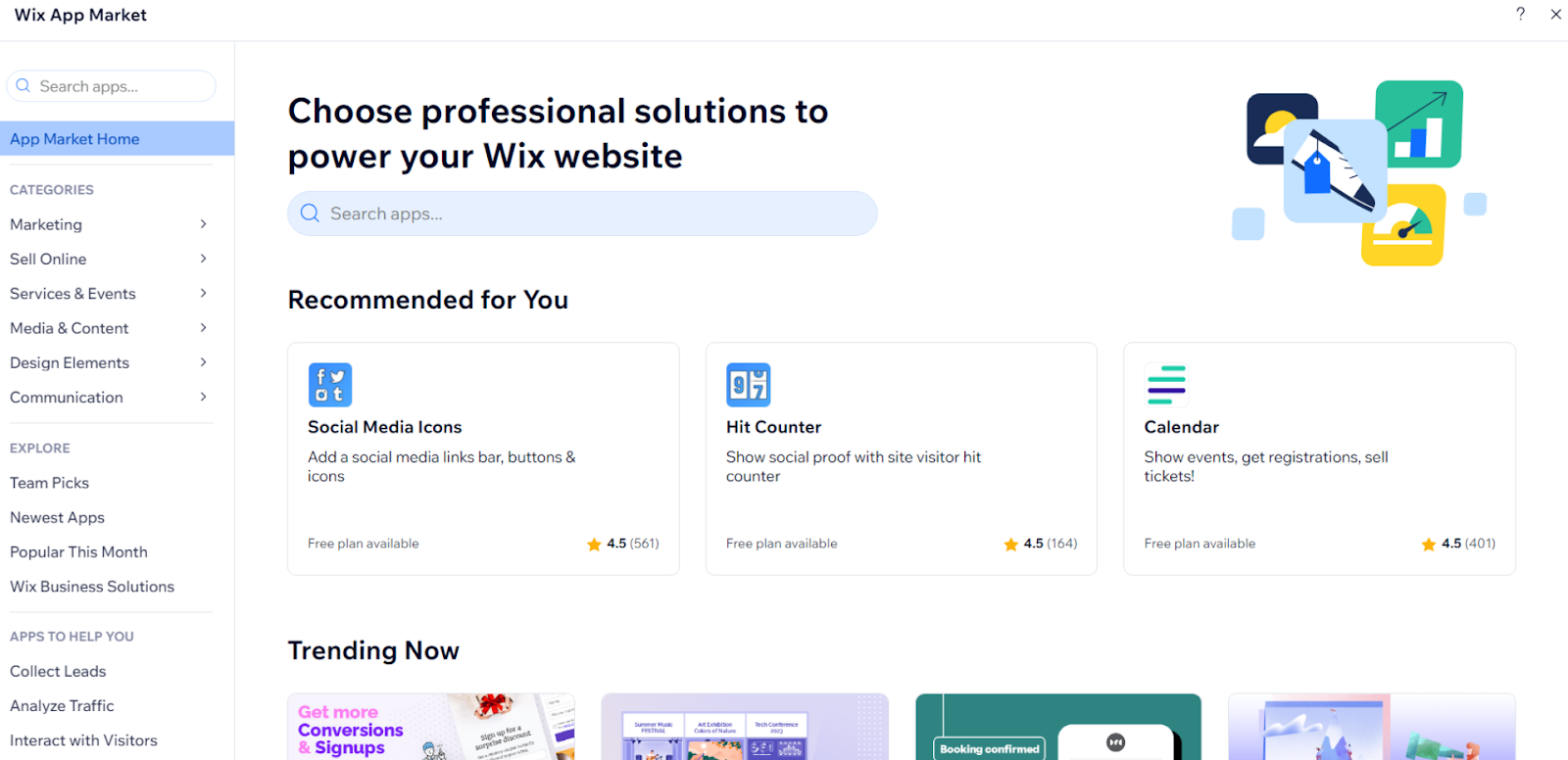 However, Wix decidedly takes the win in this category, too.
It offers hundreds of proprietary and third-party integrations.
Wix provides suitable alternatives to nearly every product in Google Suite (there are apps for calendar, document, and spreadsheet sharing). Beyond that, Wix's app market lets you integrate custom RSS feeds into your site, edit images and videos, localize your site for different regions, and much more.
Blogging & E-Commerce
Wix Has a Comprehensive Set of Tools for Blogging and E-Commerce – Sites Doesn't
If you want to create a blog using Google Sites, it will involve manually creating and linking individual pages every time you want to add a new entry. It also doesn't offer any tools for creating a fully-fledged e-commerce site. Though Sites allows you to add Shopify integrations, Shopify is an e-commerce platform in its own right. That means the only way to get e-commerce functionalities from Google Sites is to create an entirely different e-commerce site on a better platform and then link to it.
On the other hand, Wix offers advanced tools for blogging and e-commerce.
Wix's blog maker gives you a simple interface to publish, update, and organize blog posts that seamlessly integrate into your site. If you're interested in e-commerce, Wix offers a comprehensive set of tools that allow you to run and manage a professional e-commerce business directly from your Wix site.
Marketing & SEO
Wix Gives You the Tools To Make Yourself Known Online
Search Engine Optimization (SEO) is crucial if you plan to make yourself known online. Good SEO will affect your site's position on different search engines, determining your total traffic. Though Google Sites offers integrations with HubSpot, it doesn't offer any advanced SEO tools of its own. Wix, on the other hand, offers a robust selection of tools that allow you to fine-tune your site's SEO as much as you want.
With Wix, you can edit the metadata properties of almost every element on your site and even get personalized recommendations to improve traffic.
Even if you ever feel limited, plenty of great SEO apps on the Wix app store will help you improve your search engine rankings even further. Thanks to Wix's marketing tools, you can promote your site further through email campaigns, social media ads, and more.
Pricing
Wix Offers Advanced Functionality and a Wide Range of Pricing Options
Both Wix and Google Sites give you complete access to their respective editors for free, but Wix gives you much more editing freedom. When you're ready to take your site to the next level,
Wix offers paid plans that expand the platform's functionality – Sites doesn't have similar options.
Here's What You Get for Free
You can access all of Google Sites' features for free if you have a Google account. Complete access to Wix's extensive editing features is also free.
Neither includes a free domain in hosting.
If you want to connect a custom domain, you need to purchase one from a third-party marketplace (with Google Sites) or upgrade to a paid plan and connect a custom domain (with Wix).
Here's What You Get If You Pay
Besides its free plan, Wix also offers four paid plans that give you access to a broader selection of features.
Light lets you connect a custom domain to your site and removes all Wix advertising. Core gives you access to visitor analytics and increases the available storage space. Business and Business Enterprise offer advanced e-commerce features to help you create and run any online business. These features include shopping carts, inventory tracking, integrations with various payment processors, scheduling tools, and more. On the other hand, Sites doesn't offer anything more than what you see the first time around. That means its complete offering feels barebones, even compared to some more affordable Wix starter options. Take a look at the comparison table below for more details.
Wix
Google Sites
Starting Price

$

27.00

Free with GSuite
Type of Editor
Drag-and-drop
Point-and-click
Connect Domain

✔

✔

Marketing Tools

✔

✘

Visitor Analytics

✔

✘

Accept Payments?

✔

✘
Support
Wix Offers Live Support
While Google Sites provides a pretty comprehensive set of support documents and a somewhat lively user forum, it doesn't give any choices for live support. If you encounter an issue, you're completely by yourself.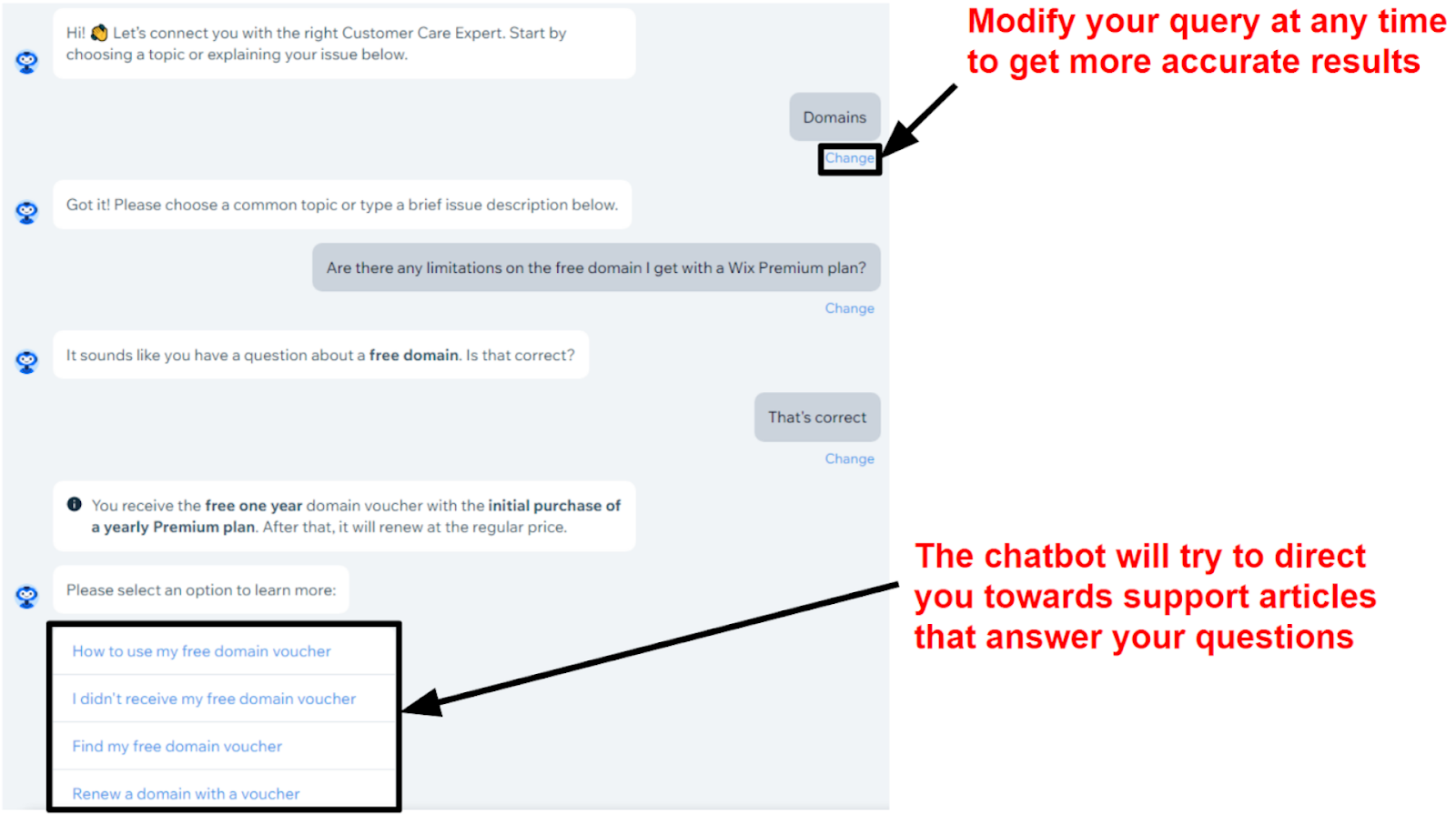 Though Wix's support has room to improve, it at least offers
something
.
Besides a helpful knowledge base and comprehensive forums, Wix also offers live chat and email support. The responses aren't always immediate, but at least there's a way to contact Wix directly with any doubts about your site, which is more than I can say for Google Sites.
Sites Can Be Helpful, but Wix Is Better if You're Serious About Your Website
Depending on your goals, Google Sites can be a perfectly respectable website builder. It gets the job done if you want a quick and easy way to get some information online. But if you don't mind putting in a little extra work, Wix is the way to go.
Sites is barebones in all aspects and offers no support – Wix offers design freedom, more advanced tools, and actual customer support.
Whether you're building a professional portfolio, blog, e-commerce site, or pretty much anything else,
Wix will consistently deliver better results
. It gives you the editing tools and backend functionality to make your site your own. Even if you're just creating a site for fun (or practice), Wix's free plan gives you full control of its robust editor. Below, you'll find a quick comparison of how the two builders stack up against each other.
Templates
Over 900 high-quality templates
17 simple templates
Features & Ease of Use
Very beginner-friendly and feature-packed
Scant features, but outstanding ease of use
Apps & Add-Ons
Hundreds of proprietary and third-party apps
Integrations with the rest of the Google Suite
Blogging
Intuitive and powerful blogging editor
No blogging tools available
E-Commerce
Powerful tools for e-commerce
Shopify integrations
Marketing
User-friendly email marketing editor
HubSpot integrations
SEO
Robust SEO tools and further third-party apps
Barebones SEO editor
Pricing
Well-priced plans according to your needs
Free
Support
Quality customer support
Virtually no customer support
FAQ
Is Wix better than Google Sites?
I usually avoid making definitive judgments, but in this case, I can confidently say that Wix is a better website builder than Google Sites in almost all cases. Wix offers more functionality and creative control. Google Sites is okay if you're looking for a free, easy way to put information online, but not much else. If you want to learn exactly how the two stack up against each other, read our expert comparison.
Which is easier to use, Google Sites or Wix?
Google Sites is much easier to use due to its simplicity. That said, Wix is one of the most user-friendly website builders on the market, giving you much more creative control than Sites. Overall, though Wix has a bit more of a learning curve, it allows you to create higher-quality websites.
Is Google Sites good for my business website?
No. Google Sites' lack of editing options, e-commerce integrations, and limited functionality makes it a really unprofessional builder for almost all businesses. If you're looking for a place to create your business website for cheap, I recommend Wix. It gives you a lot more freedom to establish a unique online identity. Wix also has useful business features like scheduling apps, e-commerce integrations, and email marketing capabilities.
What's the best website builder in 2023?
The best website builder will depend on your specific needs and limitations. The best builder for a high-budget online store with many moving parts will differ from the best builder for a professional portfolio. That said, not all builders are created equal. If you want to learn more about the best builder for you, I recommend checking out our updated list of the best website builders in 2023.