You might think that any product with the Google stamp of approval comes with a level of quality that far exceeds any other brand. However, with website builders, that's not always the case. I recently tested Wix and Google Sites to see which one is better. While they both have great features like simple drag-and-drop editors,
overall I've found that Wix's additional customizable features and superior selection of templates make it the better all-around builder.
Continue reading to find out why Wix comes out on top in essentially every category. Or, if you're short on time, you can skip the review and
begin your free trial of Wix
 right now.
Templates
Wix Has More than 900 Templates; Google Sites Has Just 12
When it comes to templates, Wix clearly has a leg-up on Google Sites.
 Not only does Wix make it easy to choose the perfect template by separating them into five categories (Business & Services, Store, Creative, Community, and Blog), it also takes it a step further by adding helpful tabs within each category: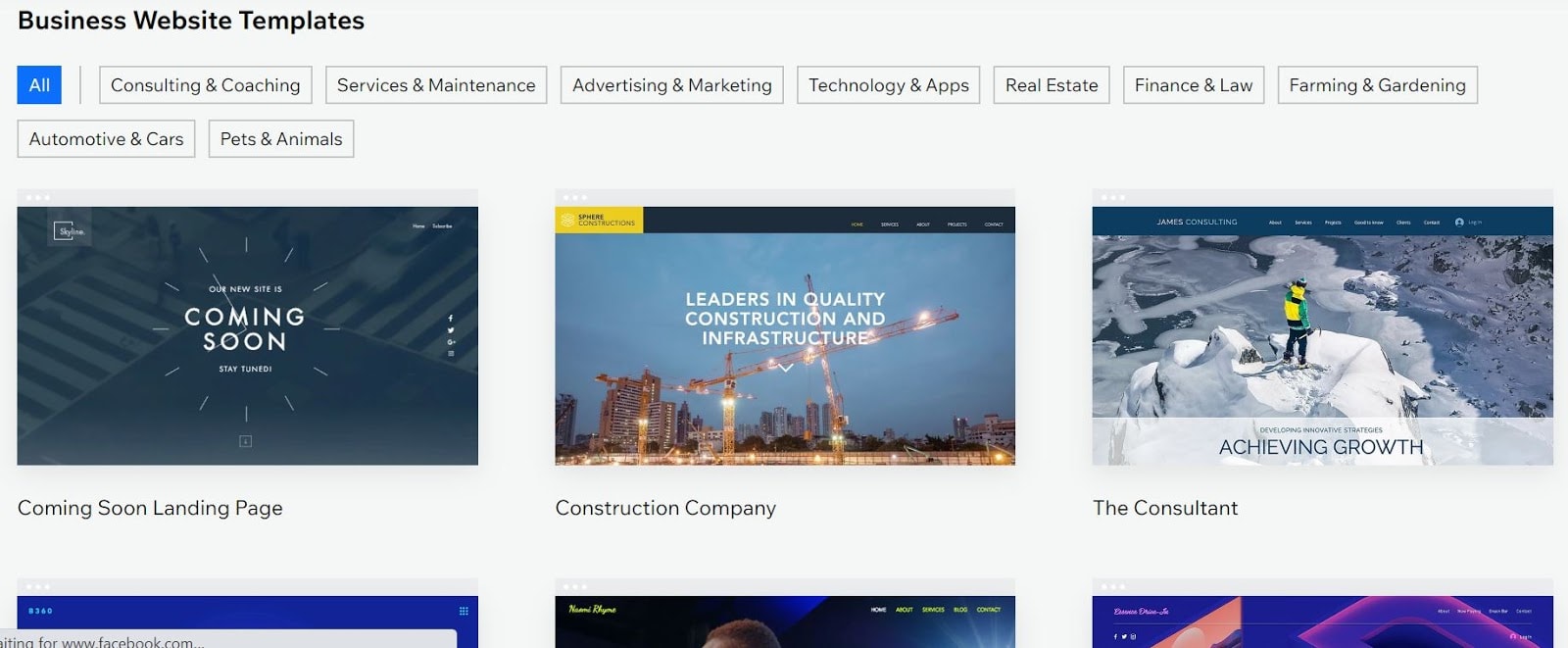 On the other hand, with Google Sites, the twelve templates you see below are exactly what you get: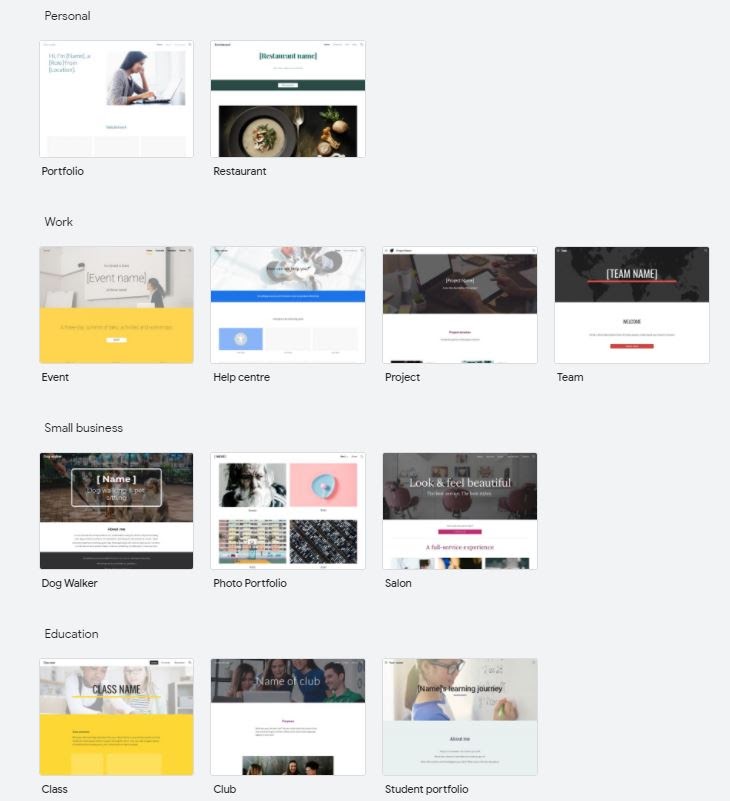 While this selection pales in comparison to Wix, it's worth noting that
you can customize the color, layout, and typography of your Google Site template
, so at least it won't be identical to thousands of other websites on the web. If it so happens that one of these 12 Google Sites templates matches your specific needs, great! However, most people (myself included) prefer getting to
choose between hundreds of templates, making Wix the clear winner
 in this category.
Ease of Use
Both Builders Have Clean, Easy-to-Use Editors
Both Wix and Google Sites have really straightforward editors that allow you to drag and drop content blocks into place on your pages. This makes it exceptionally simple to add images, text, videos, and other elements to your site. They both also display popup tutorials that explain important controls and features to help guide you while you build your site: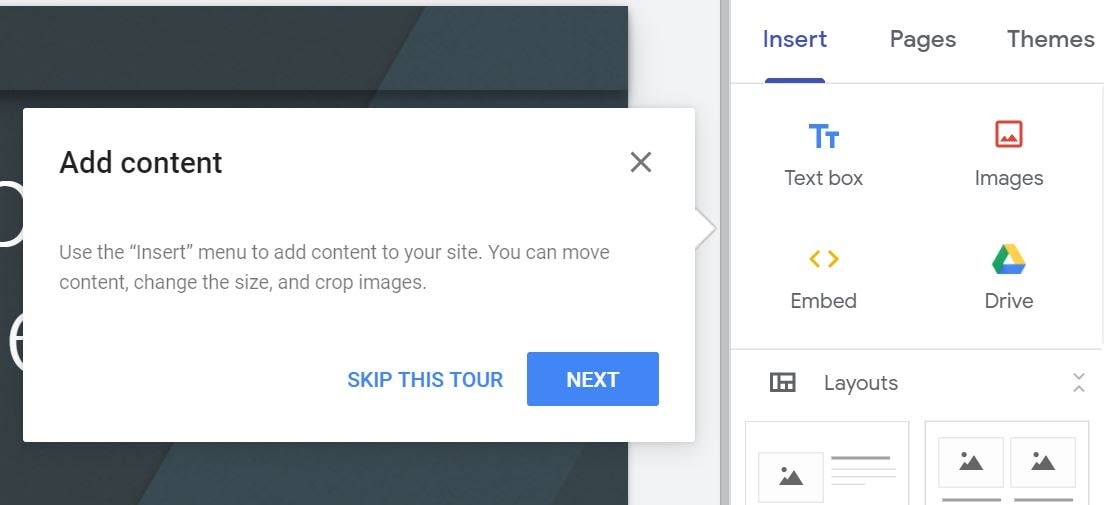 One thing that I really liked about the Google Sites editor is its simple layout and minimalistic design.
Google has done a good job of displaying only the options you need
 and not cluttering the editor menu. However, perhaps the reason it can have such a simple look is that there really isn't a whole lot of features to choose from when editing. You can add text, images, videos, as well as integrate content from other Google services like Docs, Sheets, and Maps, but that's pretty much it.
Wix also has a very clean, comprehensive editor.
One of my favorite things about building a site with Wix is that it's almost like having a professional sitting beside you, helping you with the entire process. For example, if you move a content block too far towards the margin of your site, you'll get a helpful reminder that says: "you dragged an element out of the gridlines, some of your visitors won't see it." This feature alone has helped me catch several mistakes before launching my own personal website.
Apps/Addons
Wix Has In-House and Third-Party Apps; Google Sites Has Neither
The Wix "App Market" is integrated directly in the editor, allowing you to sort through hundreds of apps (form third-party developers and Wix) without even leaving the editor.
Here are just a few of the ways you can use free apps from the App Marketplace to enhance your site:
Access social media tools
Add a blog to your website
Grow communities around shared interests
Sell tickets and RSVP for events
Etc.
If you would like to, you can also purchase apps that provide additional features:
Source online products for your ecommerce store
Integrate QuickBooks online for orders made to your site
Accept online bookings for your business
Etc.
Unfortunately,
Google Sites does not provide any way to download third-party apps to your site
. However, you
can
 add content from other apps synced with your Google account. For example, the editor has an option to add content from Google Docs, Maps, Calendar, Sheets, Slides, Forms, and Charts. So, at least there's that.
Plans and Pricing
Both Builders Have Free Plans; Wix Gives The Option to Upgrade
Wix offers a free plan with the opportunity to upgrade.
However, Google Sites only has a free plan with limited features.
| | | |
| --- | --- | --- |
| Features | Wix | Google Sites |
| Free Domain | Assigned Domain (username.wixsite.com) | Assigned Domain (sites.google.com/sitename) |
| Includes SSL Certificate | Yes | Yes |
| Customer Support | Yes | No |
| Ads | Wix ads displayed on site | No ads displayed on site |
| Storage | 500 MB | 1GB or 15GB if you have a Google Drive account |
| Bandwidth | 500 MB | Unlimited |
Because both plans are free, you can see that your options are somewhat restricted. However,
Wix makes it easy to upgrade to paid plans with additional features.
 These include several e-commerce and business plans. I found this very helpful because on my site I needed a way to sell products online, and upgrading to Wix's
Business Basic
Plan
 helped me do just that!
Google Sites only provides a free plan so you cannot upgrade to gain access to additional features you might need for your website.
Support
Wix Lets You Contact Real People; Google Sites Does Not
Wix's Help Center is complete and comprehensive.
 They provide individual videos that show you exactly how to use the builder to customize your site. These videos include tutorials that show you how to:
Add and customize strips, text, pages, links, and menus
Connect social media channels
Optimize images
Boost your site's SEO
Translate your site into any language
Etc.
If your question isn't answered in these videos, you can also connect with a real person via email.
When I was building my site with Wix, I wondered if I could make certain elements visible on mobile devices but hidden on desktop. So, I asked them a question. They responded to me within a couple of hours, providing an answer to my question and suggesting a useful resource filled with more information: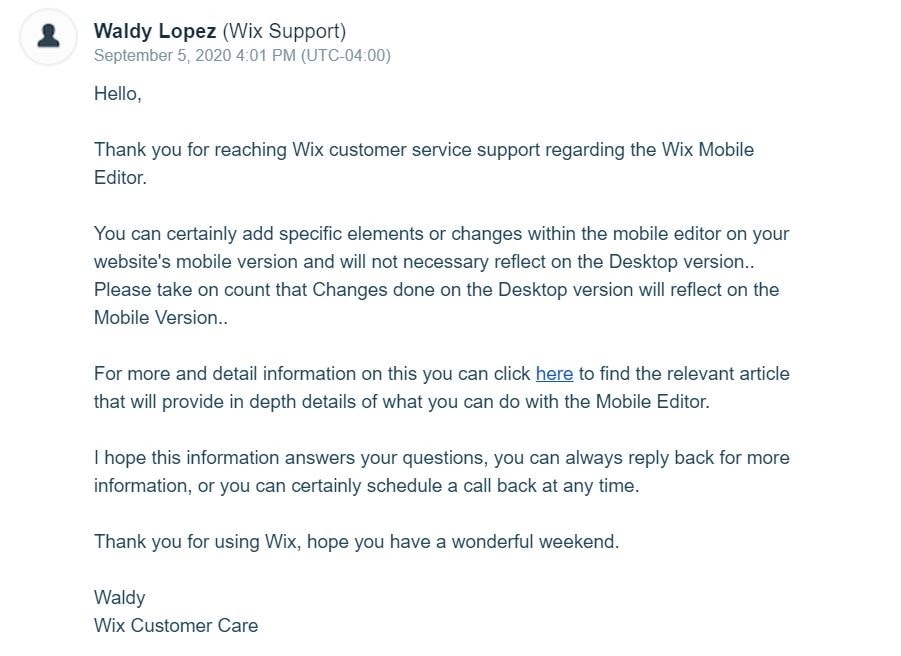 Unfortunately, Google Sites doesn't display the same level of customer support as Wix.
 In fact, the only support material I could find were articles written about common problems. There was no way to reach out to a real person to ask a specific question about my site.
In This Comparison, the Winner Was Obvious
Google has a reputation for creating industry-leading products and services. However,
when comparing the Google Sites builder to Wix, I have to say that Wix definitely has the upper-hand.
This is simply because Wix offers more. More templates. More apps. Superior customer support.
Templates
900+ to choose from for any type of site.
12 templates with the option to customize color, text, and layout
Ease of Use / Features
Interactive builder gives helpful design tips
Minimalistic editor with basic features
Apps, Plugins, and Add-ons
Many options in the App Market
Cannot download third-party apps. You can integrate content from other Google Apps
Pricing and Plans
Free plan available, plus the option to upgrade
Free plan only; no option to upgrade
Support
Submit a help ticket or get a callback
No live support
FAQ
Which is cheaper, Wix or Google Sites?
If you have a Gmail account, you have the ability to create a Google Site for free. You can also create a site for no cost with Wix's free plan. However, only Wix provides the opportunity for users to upgrade if they would like to pay for additional features, specifically designed for business, e-commerce, and more. If you do decide to upgrade to a paid Wix plan, make sure that you are taking advantage of any current deals or coupons.
Which is easier to use, Google Sites or Wix?
Both Google Sites and Wix have clean, minimalistic drag-and-drop editors that make it extremely easy to build a website in a relatively short amount of time. However, Wix has a robust customer support center with helpful videos and tools to help you create your website while Google Sites only provides basic articles on commonly asked questions. For this reason, Wix is easier to use. If you're curious to learn more about what it's like to actually work with Google Sites or Wix, check out our expert reviews.
How do I decide what website builder is best?
Consider the kind of website you're building. If you're in a rush and need a simple site with minimal customized features and a basic design, Google Sites might be your best option. However, for anything beyond a basic website, Wix will be the better choice thanks to its hundreds of themes, apps, and customizable design options. By no means are these the only two builders you can choose from. If you're looking for more options, we've compiled a list of the ten best website builders where we compare features, pricing, and more.