There are quite a few companies that have jumped on the website builder wagon in the past 5 years, and most of these sites do a great job of letting the less experienced computer user create a fully functional business site. The only problem is that templates are the one key aspect that let a lot of them down.
It's one thing to be able to build a website using drag-and-drop features, but if the template is below par then you might as well go out and pay hundreds of dollars to get a site designed. Aesthetics are key to you and your customers and the saying "first impressions are key" couldn't be more important with templates.
One of the many things that Wix have got nailed is templates, so let's take a further look into what they offer.
What About My Industry?
This is the first heading I wanted to talk about because Wix cover the lot! The majority of web builders will filter their templates into about an average of 7-10 sub-categories, but not Wix. Oh no, Wix really drill down into detail and currently offer 12 sub-categories which are then split into further sub-categories.
To give you an idea, take a look at the image below which shows what I mean.

You will see from this image that under the main Online Store option, you have a further 12 categories that are retail specific (food & drink, health & beauty, clothing etc).
Overall there are 280 premium themes that are completely free when you sign up to one of the Wix packages.
Any Examples I Can See?
If you need inspiring then it's always worth seeing what other companies and individuals are doing. If you take a look on their live examples page it will show you what sites are using which themes, which will give you a great idea of how your site will look.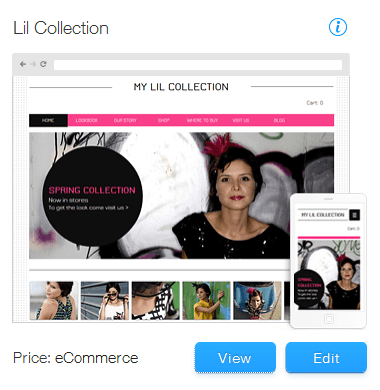 You can also see working examples in both desktop and mobile versions, which will help you determine if a template is suited to you.
Summary
Wix templates are all HTML5-based templates now as well, which in simple terms means that they will not just use the latest best coding practices, but they will also work on iOS, Android and Desktop, as well as making your site more SEO and user friendly.
This in turn will help conversion, return visits, and leave your visitors with a pleasant experience. Your site will look sleek, professional and work in every possible scenario. There are enough examples, categories and sub-categories to really get your teeth stuck into here, and to make sure you end up with the right theme for your industry type. So take your time, have a good look around and see what catches your eye. You can Visit Wix here.