Time for a new logo? No time to start looking for a designer? I've definitely been there. Enter Wix Logo Maker, an algorithm-assisted logo maker from the people who brought you drag-and-drop websites since before they were cool.
I gave it a try with a test case: a pie shop. Why? Because I'm hungry, and I'm not going to suffer alone. The results were… interesting.
I think it's safe to say some of you will love Wix Logo Maker, while others will prefer Tailor Brands and the flexibility it has to offer. Wondering which side of the fence you're on? Read on to find out.
How Does It Work?
So here's how you make a logo with this thing: first, click the big button on the Wix Logo Maker page.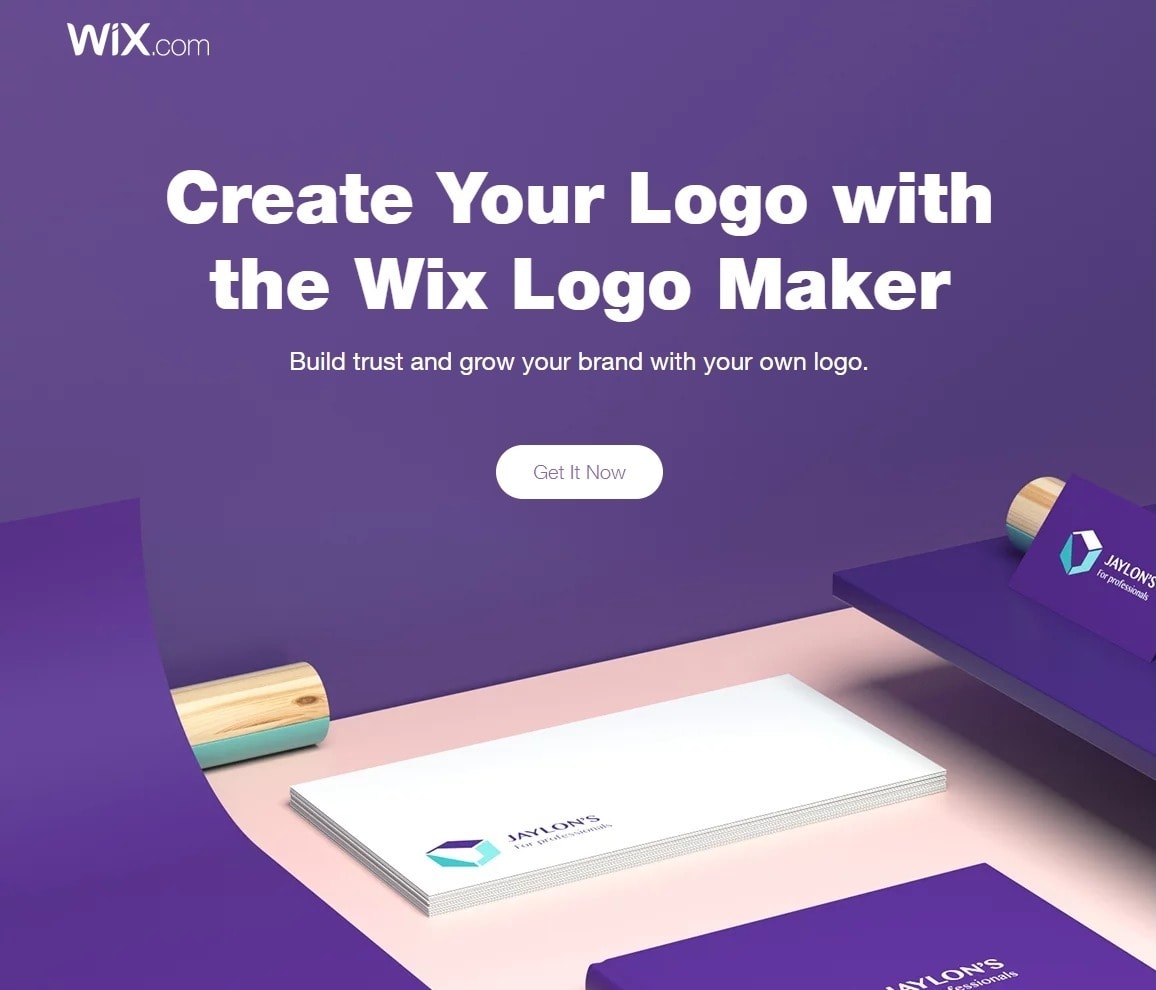 Then put in your business's name, and any taglines you have if you want them to be used as part of the logo. If it's a long tagline, it might be better not to, as it will be very hard to see at small sizes.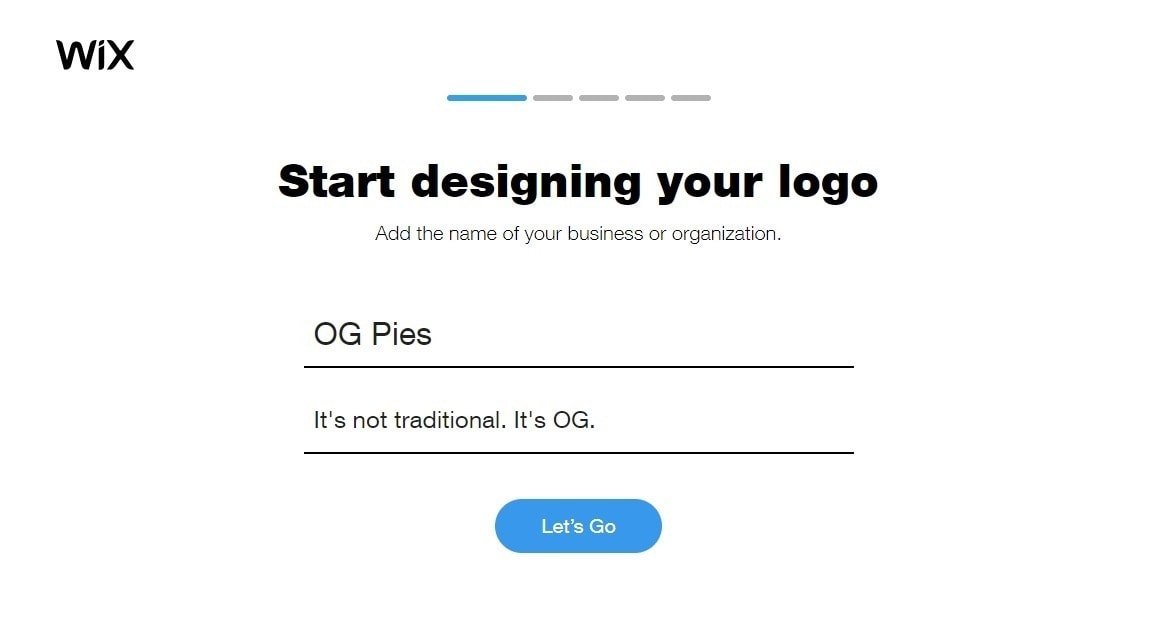 Then you have to type in what sort of business your logo is for. I chose "Pie Store" because, heck, it was one of the options.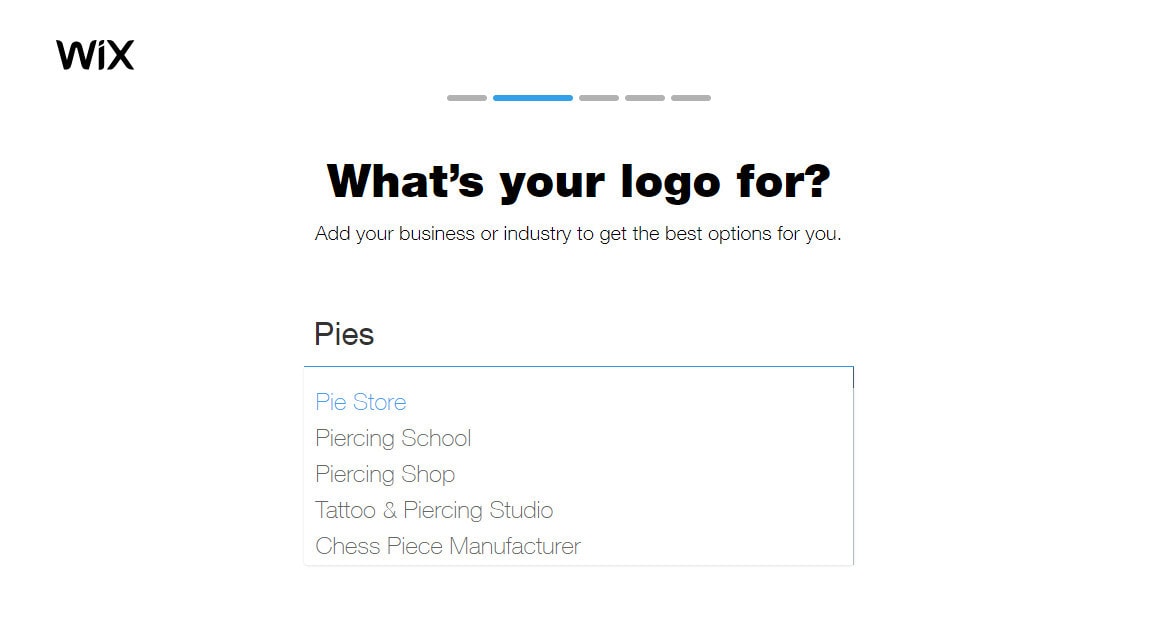 Then, if you want, you can choose your logo's "style" from a list of keywords. You may select more than one.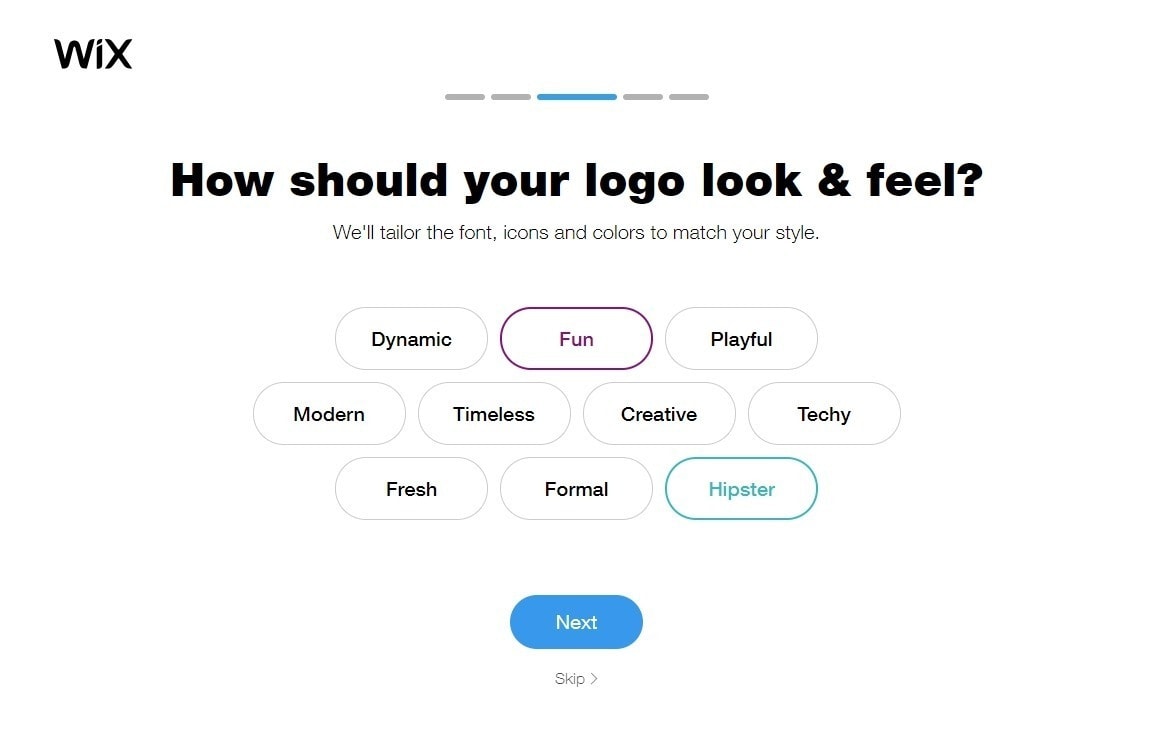 Next, you have to choose your favorite logo between two options (if you don't like either option, you can indicate that as well). Do this five times. The point is to give Wix Logo Maker a good idea of what you like.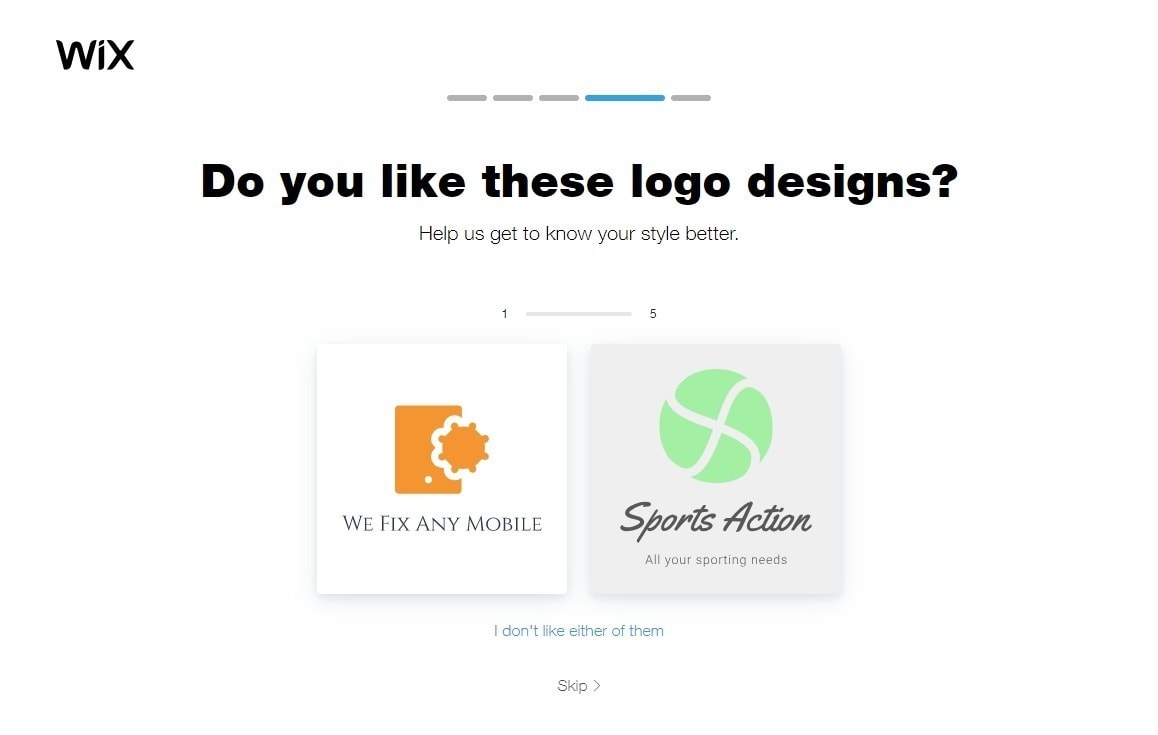 Then you can select where you want to use the logo. This helps Wix determine what sort of package to sell you at the end of the process, mostly.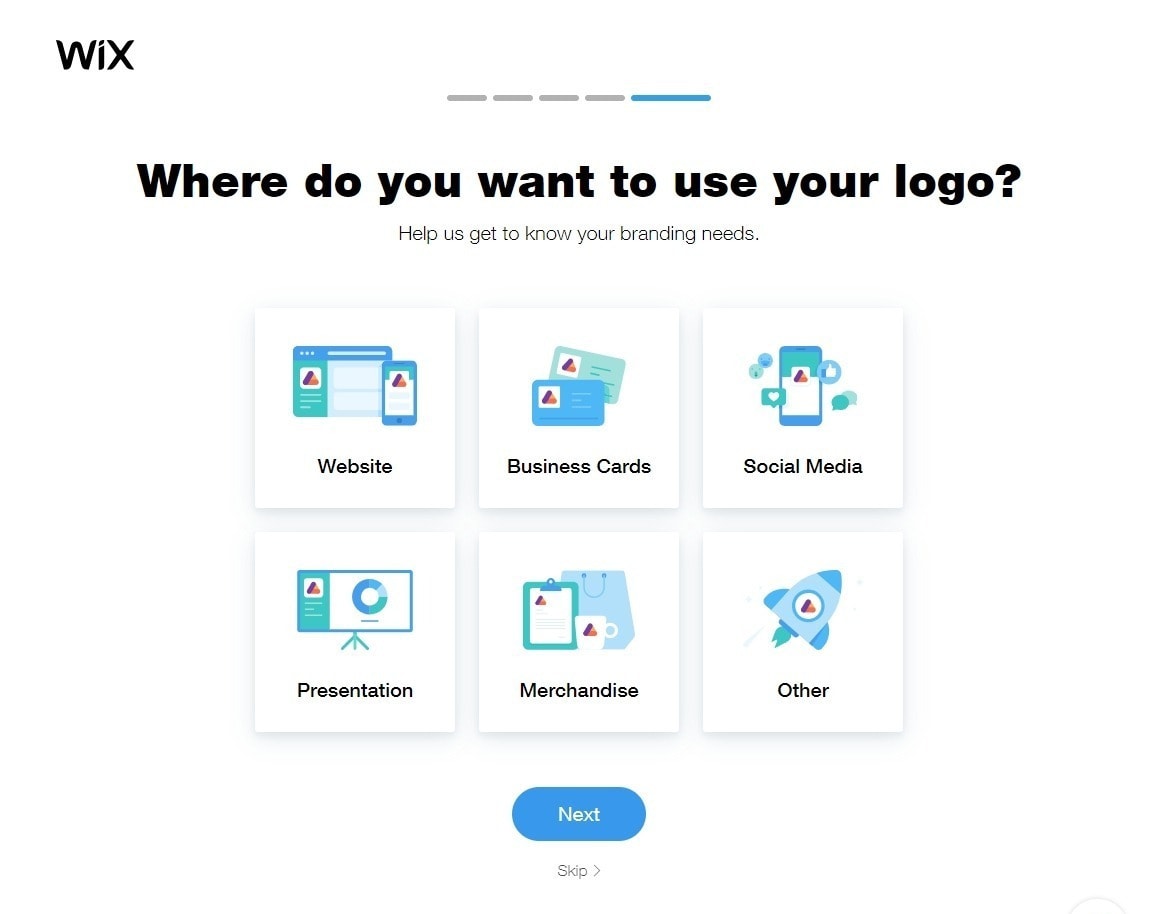 Finally, all you have to do is choose from the possible logos shown to you.
Now, unfortunately, the algorithm didn't have anything that just screamed "pies," so my choices felt a little generic. It's not like I expected the logo maker to have a stockpile of pie-slice logos lying around, but… well, the algorithm did its best, I suppose. My request was a bit specific.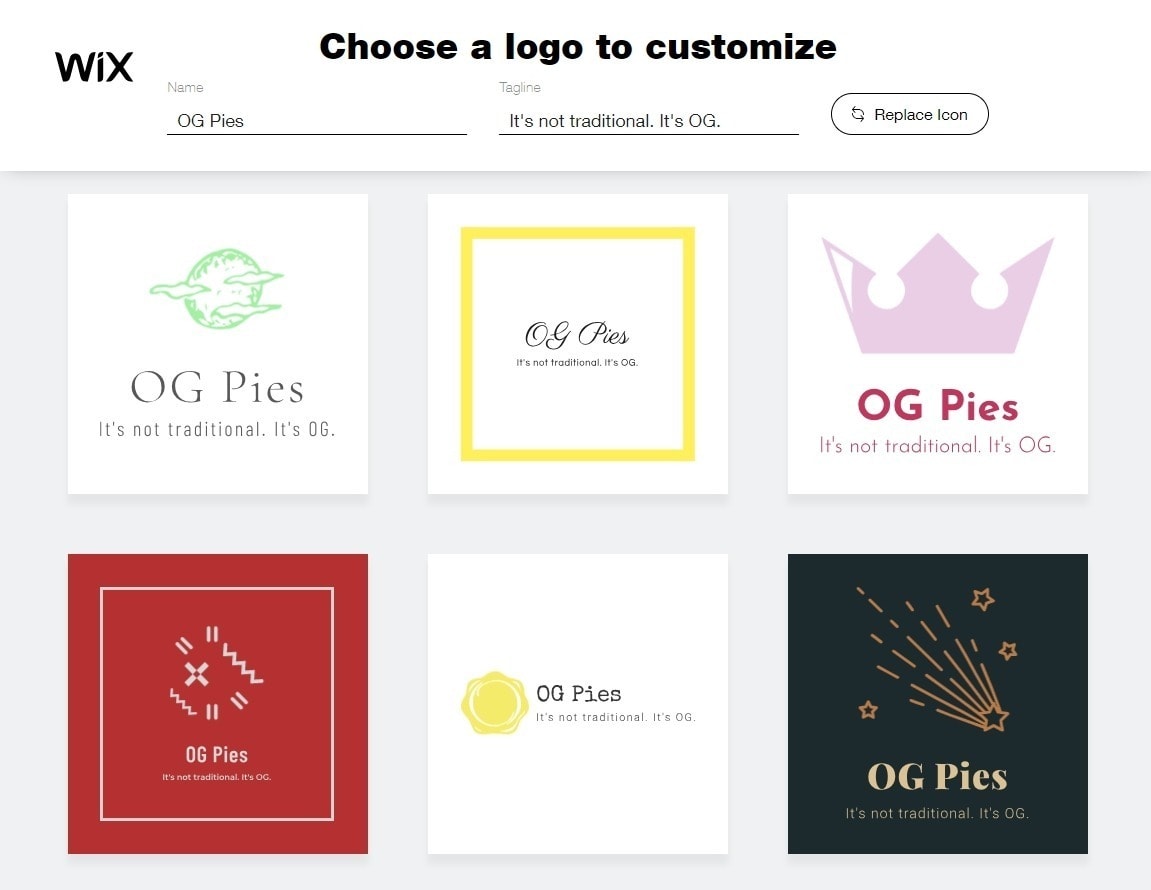 I chose the crown, mostly to get to the next screen. This is where you can edit various features of your logo, including the title, tagline, colors, and more. There are also options for changing the font size and letter spacing. You can replace the icon to try out different ones, which is fairly handy.
You can also change the position of the icon relative to the text. Layout changes are all handled with sliders, so you can't drag and drop things where you want them. It's a limited way of doing things, but at least you're not completely locked into the default layout.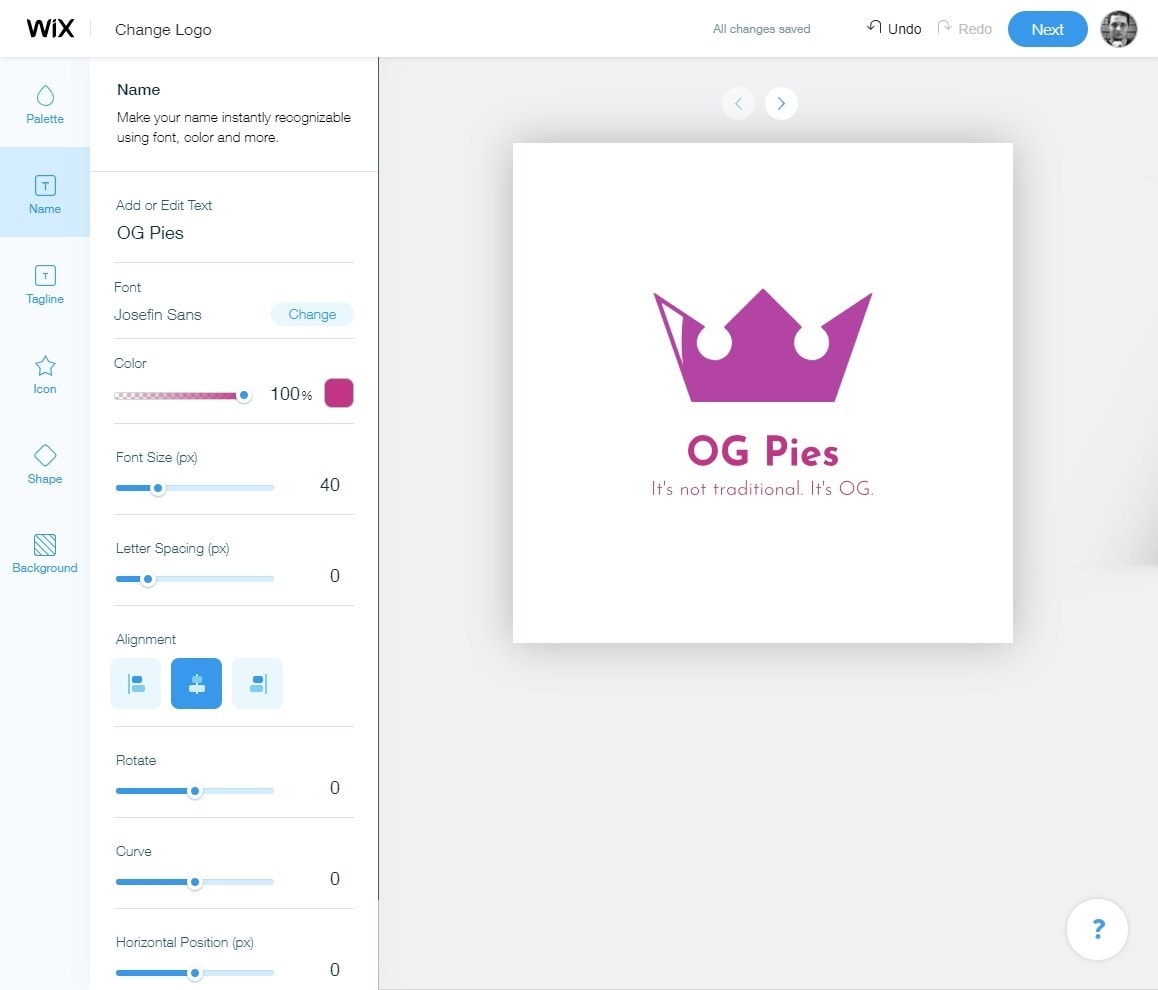 After this, all you have to do is buy the logo.
What Packages Does Wix Logo Maker Offer?
You do have to buy the logo. The free sample provided is very small, and practically useless by design. Wix wants you to buy, which is fair. If you want to buy the logo on its own (i.e., without a website package as well), there are two packages available at the time of this writing:
Basic
Includes full commercial usage rights
Includes large PNG files, which can't be made any bigger without losing quality
Advanced
Includes full commercial usage rights
Includes large PNG files
Includes logo in the Scalable Vector Graphics (SVG) format
Includes versions of your logo that have been pre-sized for use with social media websites
Frankly, the advanced package gives you better value for your money. Having the option to scale your logo up, or to have a professional change it a bit in the future with proper vector graphics software, is pretty useful. And the pre-sized images for social media will save you some work.
Can You Edit Your Logo After You Buy It?
Yes, you can. All logos you create are saved in your user profile, and can be edited at any time. You should note that if you get a logo with one of Wix's premium website plans, any edits you make will be saved as a new logo. If you want to download and use that new version, you'll have to pay again.
You can also buy the more expensive package with the SVG files. These can be edited in any vector graphics editor, including Adobe Illustrator, Affinity Designer, Sketch, or Inkscape. Keep in mind that these are professional-grade programs, and while Inkscape is free, the point of using a logo generator is that you don't have to use more complex software. Still, the option is there.
How Does It Compare with Other Logo Generators?
We also took a look at some other options to see how Wix stacks up. To be perfectly honest, there's some stiff competition.
Tailor Brands
Tailor Brands is an interesting competitor, as it uses much of the same process for generating logos, but with an interesting key difference: you get to choose whether you want the algorithm to automatically generate an abstract shape for your logo, or manually search through a large database of icons to use with your logo.
Incidentally, there are lots of icons for pies, but you have to type in "apple pie" or some other kind of fruit pie. You can even filter for "meat pie." Plain old "pie" seems to be interpreted as the Spanish word for "foot."
You can also choose between logos with icons, logos without them, and logos that are based on initials. It's the only logo generator on this list that allows you to choose your general approach like that.
Tailor Brands doesn't offer a price per-logo. Instead, it charges by the month, because brands evolve. The price for one month of service on its cheapest plan is cheaper than Wix Logo Maker's cheapest option.
Looka
Looka also uses an algorithm that lets you select icons manually from a large library. The functionality is closer to Wix Logo Maker than to Tailor Brands. What sets Looka apart is mostly its focus on color. It lets you select up to three different colors, and the logo choices presented to you will be based on one of those colors.
I think Looka's designs are a bit basic, but still usable. The real downside, however, is the pricing. The cheapest plan (which is currently the same as Wix's cheapest logo package) provides only one low-resolution file. But who would want just a low-resolution file? Looka has the answer: "those who need a low-resolution logo file as inspiration for their designer."
And then it gets quite a bit more expensive to get a logo you can actually use. The pricing is quite steep.
DesignMantic
DesignMantic's logo generator is by far the most dated on this list, with a fairly limited selection of, well… I can only call it "clipart." It's not great. The pricing is also the most expensive of all the logo generators, so if you thought Looka was bad, this is worse.
To give DesignMantic its due, it does something the rest of the services don't: it allows you to manually edit the layout of your logo, with a drag-and-drop editor, without opening it up in other software. But that's really all it does right. Personally, I'd avoid it.
Is Wix Logo Maker Worth It?
That depends. Feature for feature, Tailor Brands does better logos — in my opinion — for cheaper prices. Well, if you pay for only one month, that is. Despite the affordability, you may or may not be put off by the monthly payment structure.
If you want to pay once for your logo, and only once, Wix Logo Maker can give you that. Besides, if you're building a site with Wix, logos come with some of its plans. If you're already in Wix's ecosystem, then it's a reasonably affordable service that will get the job done. Just don't depend on the algorithm to do all the work for you.
Want to learn more about the Wix website builder? Don't miss our expert review.