the way these features are allocated to pricing plans is what makes the difference
.
BigCommerce has most of the same features available on all plans
, with a few exceptions. With Volusion, you'll need to subscribe to higher-tiered plans to get access to advanced features, such as the ability to sell unlimited products and sell on Amazon and eBay.
BigCommerce also has a more intuitive interface and a significantly larger app store
. So it must be the better choice for you, right? Well, Volusion has important strengths too. For instance, it has a built-in point of sale (POS) system, which can be great if you have a physical location. So, which one
actually
fits your business best? I tested both platforms thoroughly to figure out exactly where the differences are. If you're feeling confident, you can
try BigCommerce's 14-day free trial
 – or read on, to find out whether Volusion has the perfect plan for you.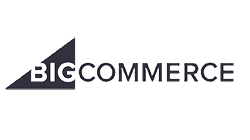 Save up to 10 % on your BigCommerce plan!
Limited-time offer - Don't miss it!
68 users used this coupon!
Templates
BigCommerce Offers Better Theme Options than Volusion
Volusion has 45 themes, all of which feature
modern and polished designs
. It has 11 free themes, while the rest cost about $180 each. All themes are mobile-responsive, and you can switch between them anytime without losing the existing content.

You can customize colors and fonts, although there are few options in that regard. If you have coding knowledge, you can make more drastic changes by editing your site's CSS and HTML files.
BigCommerce offers over 60 themes, 12 of which are free
. Plus, BigCommerce organizes its themes better than Volusion does, dividing them across 12 useful categories (like Food & Beverage or Automotive & Industrial). Like Volusion, BigCommerce's themes look good and are mobile-responsive. However,
BigCommerce's theme selection is stronger because there are more styles to choose from
, especially among free themes. Volusion's themes tend to repeat the same basic layout, whereas BigCommerce's variety will make it easier for businesses to find the right fit. As for customization, BigCommerce lets you edit colors, fonts, layouts, HTML/CSS, add global widgets, style buttons, and more.
Plus, most BigCommerce themes come in 3-4 different color schemes
(called 'styles') that you can easily switch between. And if you really need to, you can upload a custom theme from ThemeForest.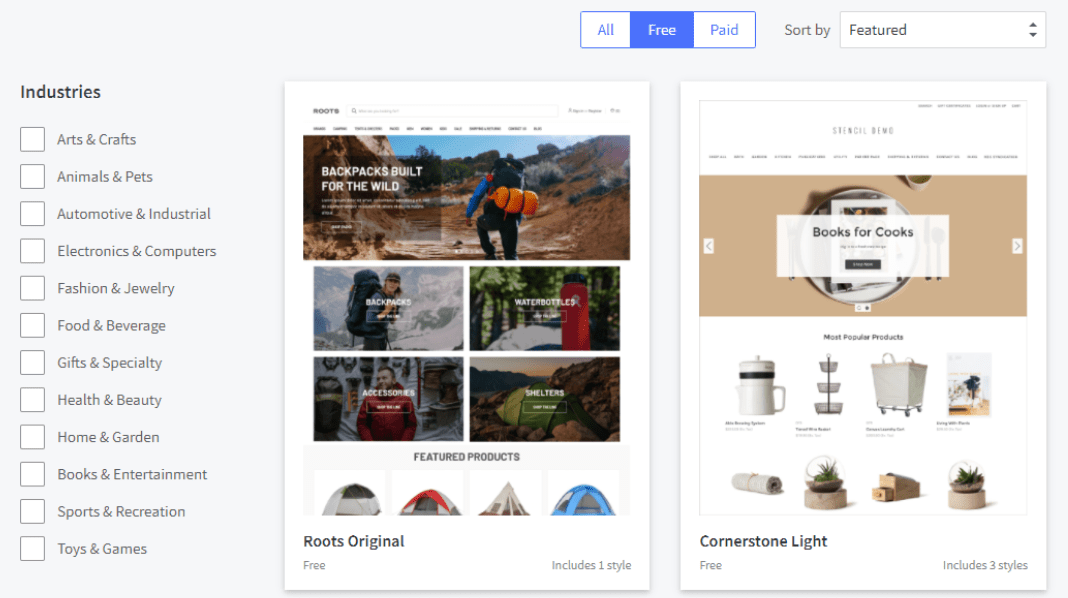 Features and Ease of Use
Volusion's Revamped Editor Still Doesn't Beat BigCommerce's Intuitive Interface
Volusion's new interface is more intuitive than before, but beginners still may struggle to navigate it
. It's good that you can easily add elements like CTA buttons and images (as well as upload your own photos or add stock images via Unsplash for free). However, editing any extra site content (which Volusion calls "articles"), such as the company info, takes a while to figure out. For example, it took me a while to realize that you need to click on a little blue link on the left to edit text boxes.

Luckily,
tutorials for every stage of your store creation are built into the editor the first time you use it
, along with a set-up checklist. The set-up stages include choosing a theme, uploading your logo, customizing your site, adding products, and creating your site's navigation. Meanwhile,
BigCommerce has a very beginner-friendly interface.
All settings, including the ones for design, managing your store, and managing your account are placed neatly on the left-side panel of your dashboard.
As soon as you sign up with BigCommerce, a tour guide appears
 to walk you through things. You can also access it anytime in the Help section. As for customization, things are straightforward. You can easily add and modify a page, add a logo and social media links, upload images using Image Manager, or create a Homepage Carousel with the Carousel Builder.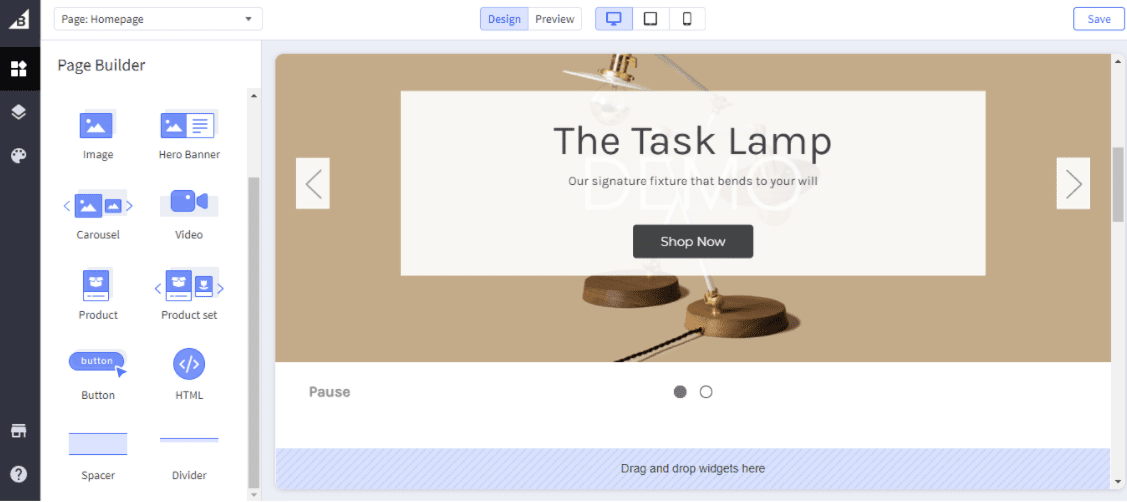 Apps and Integrations
Volusion Has More Built-in Features, but It Can't Compete with BigCommerce's App Store
Volusion offers plenty of in-house tools, but in case you're looking for more,
Volusion's App Market has around 70 apps
. It has a range of third-party services, from dropshipping tools like Doba, to customer management apps, like SnapEngage. Plus,
Volusion integrates with
over 30 payment gateways
, including PayPal and Stripe. However, options vary based on location – if you're in Europe, you get fewer options than American users, for example. Volusion does have its own payment solution, called Volusion Payments. But it imposes transaction and monthly fees, and is only available in the US. While Volusion's app store is decent,
BigCommerce offers more functionality with about 850 apps
(free and paid). You can get an app for anything, from design to shipping, marketing to accounting, and more. The app store is well-organized – for example, the Must Haves collection can help beginners find what they need right away.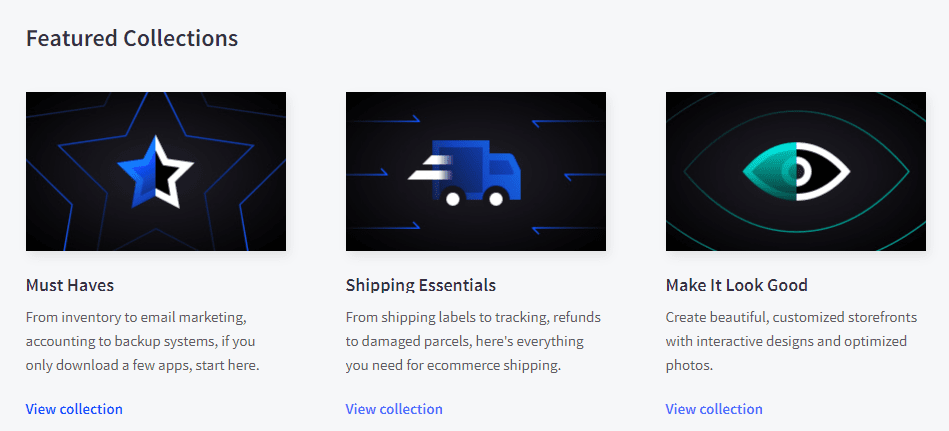 Although it doesn't have a proprietary payment solution,
BigCommerce integrates with
over 65 payment gateways – so you can accept payments in 140+ currencies and 230 countries.
As with Volusion, availability varies depending on your location.
Pro tip:
Volusion and BigCommerce don't impose transaction fees for the use of third-party payment gateways. However, the fees imposed by the payment gateways themselves can add up. Check out
our list of the best PayPal alternatives
to see what can save your store the most money.
E-Commerce Features
Both Have Great Features, but BigCommerce Makes Using Them Easier
Adding products is a straightforward process with Volusion, and there's a solid set of features to help you manage your store with ease. For example,
Volusion's Deal of the Day feature
 lets you create a landing page for a particular product you want to promote. However, setting up digital products is unintuitive – I had to find a support article to figure it out.

Volusion has a versatile POS system built-in
(something you need a third-party app for on BigCommerce). Some other standout features include: 'Suggested Products'; built-in affiliate programs; recurring billing systems; and customizable product filters (to help customers browse). As strong as these features are though, they can be a bit complicated to set up. As for BigCommerce: you can easily manage products, orders, inventory, sales channels, and everything else in one place thanks to the dashboard. Plus,
BigCommerce lets you
sell digital products, display real-time shipping rates, offer single-page checkouts
, enable product filtering, segment customers into groups, and more.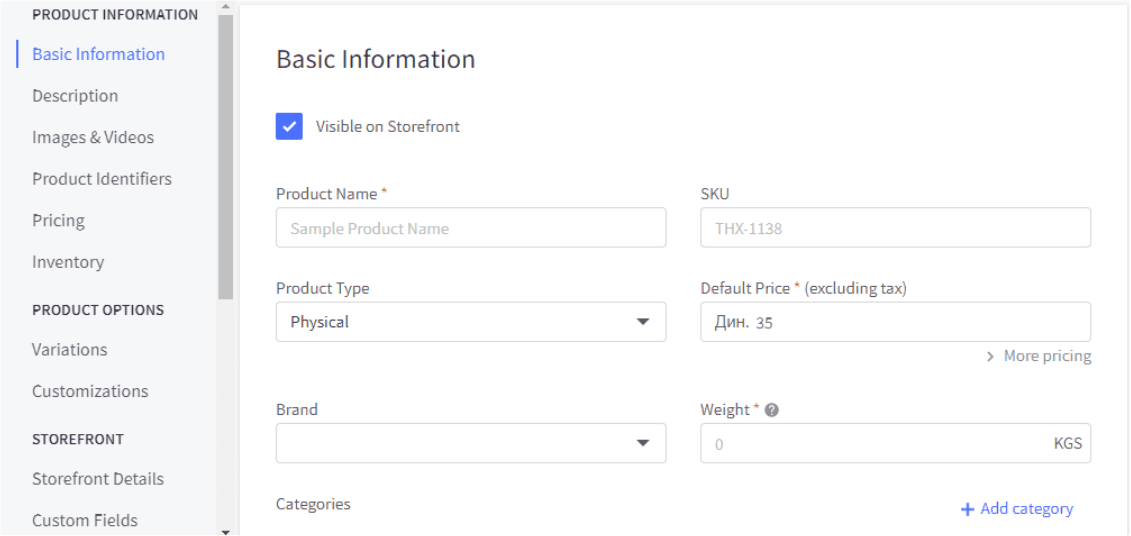 Blogging Features
Volusion Users Will Need to Rely on Other Platforms
Volusion
doesn't have a blogging platform built-in
. That's a big drawback, because blogging is an effective way of ranking higher in search engine results. You can create a blog on a third-party platform and link it to your Volusion store, but you would lose out on some of the normal SEO benefits of a blog. Plus, it's a hassle. In contrast,
all BigCommerce plans can use a built-in blogging platform
.
It has all the basic features you would expect, including the ability to add tags and thumbnail images to your posts, maintain comment sections, add a Recent Posts section, and more. You can also share your posts on social media, like Facebook, Twitter, or Pinterest.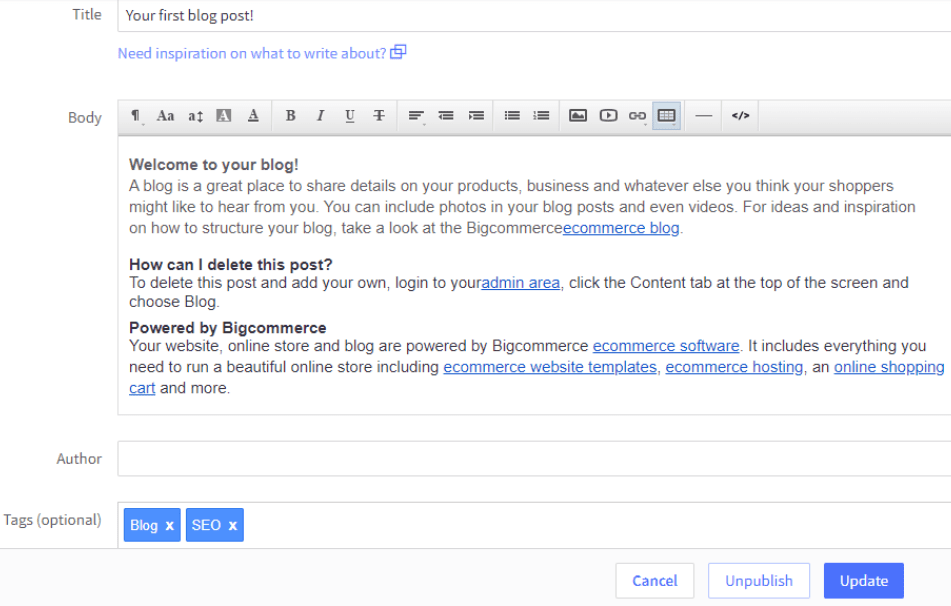 Marketing Features
Good Marketing Tools from Both, but BigCommerce's Are More Cost-Effective
Volusion has an effective set of marketing features. Among other things, you can: create coupons and discounts; set up a Facebook store (and sell up to 25 products on it); and sell on eBay and Amazon. You can also use PPC (pay per click) ads on Google results, sync with Google Shopping, and display Google customer reviews.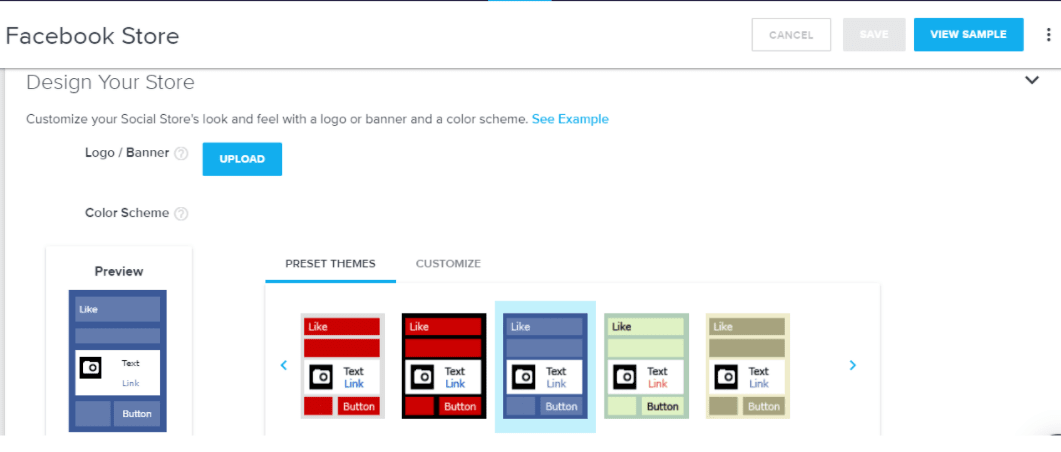 BigCommerce also has strong marketing tools. But
unlike Volusion, all of BigCommerce's plans include
multi-channel selling
(specifically, all accounts can integrate with Facebook/Instagram checkout, Google Shopping, Amazon, eBay, and Walmart). All plans also let you make coupons and discounts, and sell gift certificates.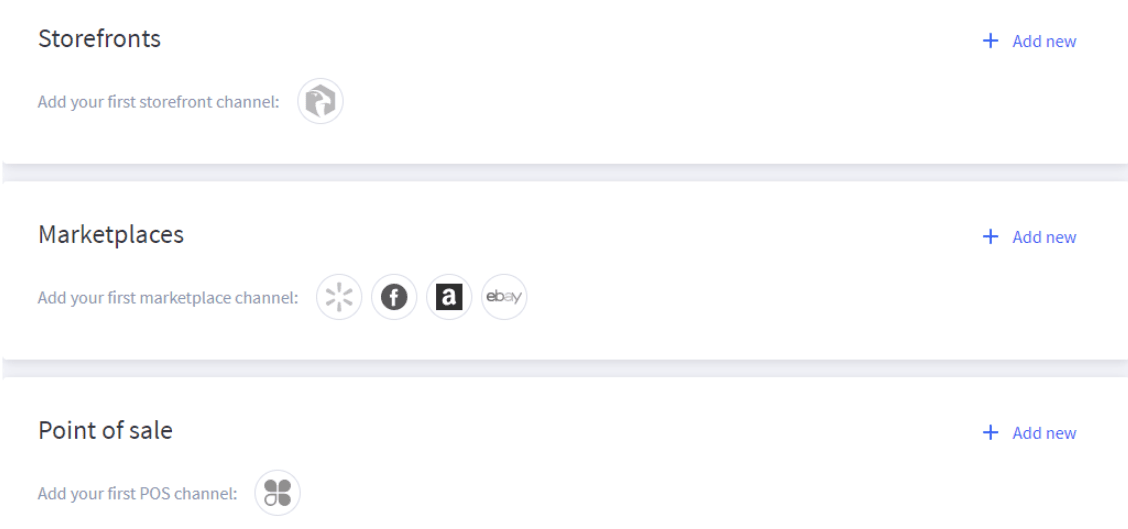 BigCommerce lacks a built-in email marketing tool
, but integrating with third-party providers is easy. Meanwhile, Volusion only starts including email marketing from its second tier, and caps that tier at 200 free emails a month. So if you're on a tight budget, you may want to use an external service for email marketing, regardless of whether you pick Volusion or BigCommerce.
SEO and Analytics
Better SEO Tools from BigCommerce, but Volusion Wins on Analytics
Volusion offers solid SEO tools: you can modify titles, meta descriptions, URLs, add alt text for images, and more.
Volusion also automatically creates a sitemap of your online store
, so that search engines can scan your site easily. Additionally, Volusion lets you generate comprehensive reports based on order information, product views, category views, and more. Volusion's
ROI tracker provides insights on sales driven by advertising campaigns, affiliates
, and more. And apart from reports, you can do an internal search of your site to get a list of terms your customers are looking for.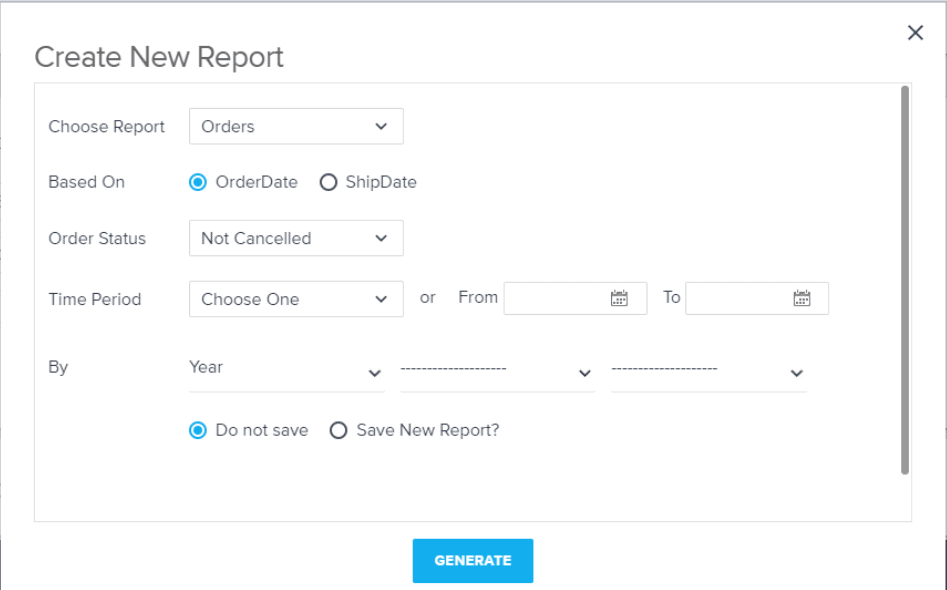 Like Volusion, BigCommerce lets you modify titles, meta descriptions, and alt tags. But
aside from basic SEO tools, BigCommerce has advanced out-of-the-box features
, some of which save you time – compared to Volusion's SEO set-up, which requires more manual adjusting. These nifty BigCommerce features include: automatically optimized page URLs (which you can still modify); automatic 301 redirects and URL rewrites when you rename a product; and a content delivery network (CDN) that makes sure your site loads quickly for customers and search engines.
You can also track your store's traffic, orders, and conversion rate
.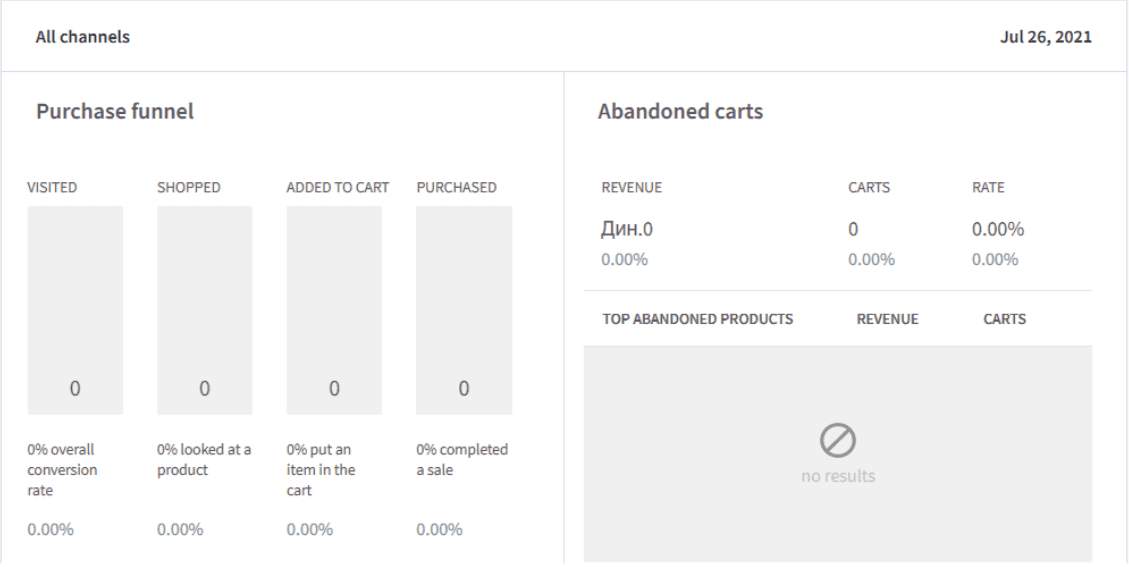 Pricing
Both Builders Have Similar Prices, but BigCommerce Provides Better Value
Volusion doesn't have a free plan, but it offers a
14-day free trial
that gives you access to most major features. There are four paid plans: Personal, Professional, Business, and Prime.
All four Volusion plans include unlimited bandwidth, SEO tools, and social media integrations.
Features like Deal of the Day and integrations for Amazon and eBay are only available on the Business plan and above.
BigCommerce offers a 15-day free trial
that lets you try most features. It has four paid plans: Standard, Plus, Pro, and Enterprise. All plans include unlimited products, a POS system, multichannel selling, mobile apps, real-time shipping quotes, and 24/7 support, among other things. The higher tiers include Google Customer Reviews, product filtering, and other advanced tools.
With both site builders, keep track of extra costs
. With BigCommerce, the overall cost can build up depending on how many apps you use. With Volusion, you'll have to pay extra for an SSL certificate and fraud protection – plus whatever apps you use. Also keep in mind that you might purchase a theme from either builder.
| | | |
| --- | --- | --- |
| | Volusion Professional | BigCommerce Pro |
| Free SSL certificate | ✘ | ✔ |
| Bandwidth | Unlimited | Unlimited |
| Staff accounts | 5 | Unlimited |
| Number of products you can sell | 5,000 | Unlimited |
| Abandoned cart recovery | ✔ | ✔ |
| 24/7 customer support | ✔ | ✔ |
Support
Both Builders Have Responsive Live Support, but BigCommerce Offers More Channels
Volusion doesn't have email support, but all plans can access live chat
. The Professional and higher-tier plans get phone support, too. Volusion also has plenty of helpful articles and guides. And when it comes to live chat, you can rely on a fast and friendly service.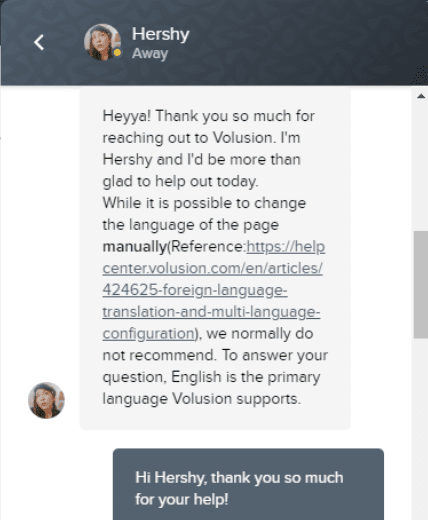 Meanwhile, in addition to an extensive Help Center and a community forum, all BigCommerce plans get email, live chat, and phone support. You can connect with an agent via live chat within minutes, and the staff is friendly and willing to help.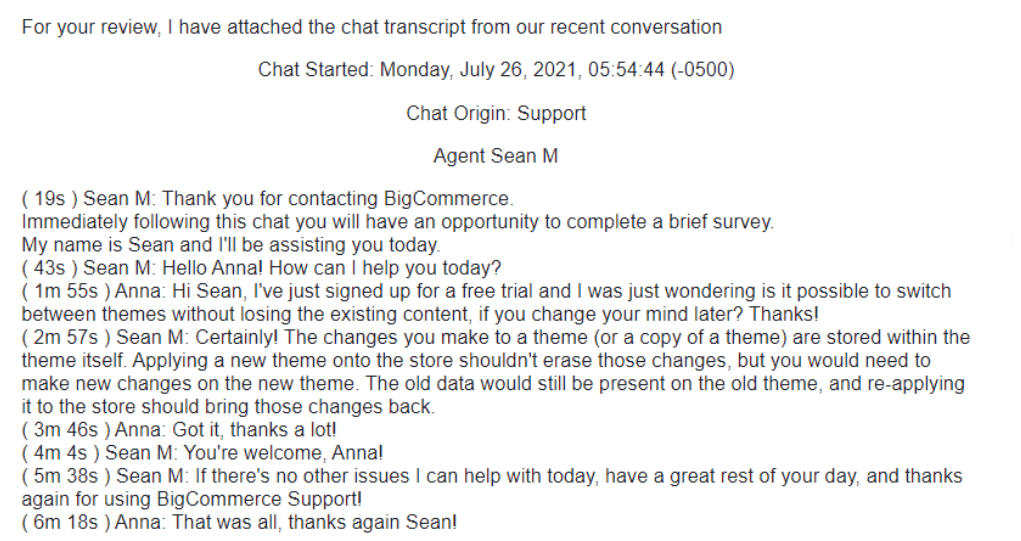 Volusion and BigCommerce Target the Same Audience, but BigCommerce Makes a Better Offer
Volusion and BigCommerce have similar features and nearly identical pricing, but
BigCommerce includes most of its features on all plans, while Volusion makes you upgrade to access better tools
. Volusion excels at analytics, but navigating its interface can be tricky for beginners. In contrast, BigCommerce's interface is incredibly intuitive, and you can scale your business quickly thanks to diverse third-party functionality. So overall, because it provides more than Volusion at the same price points, and is easier to use,
BigCommerce is the better option
 for most small to medium-sized businesses.
Apps, Plugins, and Add-ons
Pricing and Plans
Free trial and 4 paid plans
Free trial and 4 paid plans
Support
Support documentation, live chat, and phone support
Support documentation, forum, email, live chat, and phone support
FAQ
Is Volusion better than BigCommerce?
Volusion has attractive templates and solid features, especially strong analytics tools. However, BigCommerce has a more intuitive interface, more apps, and a larger number of features available on all plans. Overall, BigCommerce is more cost-effective for businesses looking to scale up. See our in-depth review of BigCommerce for more info on its pros and cons.
Which is cheaper, Volusion or BigCommerce?
Volusion and BigCommerce have similar prices. However, Volusion charges extra for an SSL certificate, which is essential if your site handles payment information. BigCommerce provides better value for the money because it includes SSL certificates, plus other features, in its plans. You can check out our coupons to cut down on BigCommerce's cost further.
Should I use BigCommerce for a small online store?
Yes! BigCommerce was primarily built for small to medium-sized businesses. BigCommerce's plans are reasonably priced and most major features are available on all plans. You can use BigCommerce's 15-day free trial to test its features before you commit. Our analysis of BigCommerce's pricing also has some tips on keeping costs low.
What is the best platform for an e-commerce site?
Both Volusion and BigCommerce are excellent options for e-commerce sites. Large businesses may also want to look into Shopify, as it has thousands of apps and advanced shipping features. If you're interested, Shopify offers a 14-day free trial. For some small shops, more traditional website builders that do not focus exclusively on e-commerce could be better. Check out our list of the best website builders for 2023 to get inspired.