"Hey, Alexa!"
If you know what I'm referring to, raise your hand.
Alexa, Cortana, Siri, Google Assistant…these are all names of voice search assistants that most of us know, use, and love. These assistants are leading today's "voice search revolution" – a massive move to voice-based search and internet use.
But the question on everyone's mind is: Is this revolution just a hype, or is it a trend you should be paying attention to?
Well, 41% of adults use voice search daily. And 20% of all searches on mobile devices are made by voice.
But maybe the most staggering statistic of all is that voice-based orders comprised $1.8B of the retail segment in 2017. Whoa.
Voice search is a big deal. As a digital marketer or business owner, it's important to understand how voice search works and how it can affect your company.
This guide will equip you on everything you need to know about voice search – why it's important, how to optimize your content for it, and what to anticipate as it grows in popularity and impact.
What Is Voice Search?
Voice search is when consumers use technology to submit search queries using their voice versus typing something into a search engine. Voice search results are either verbal responses (when searching with a voice assistant) or relevant web pages (when searching on mobile or desktop).
Voice search also applies to voice e-commerce (or voice shopping), which is when consumers complete a purchase using a voice assistant. This functionality is reserved for dedicated voice assistants like Amazon Echo and Google Assistant.
Chances are, you've used this technology before. Have you ever sent a text message or dialed a phone with your voice? If you have, you've accessed voice search technology.
From voice dialing to Google Voice Typing to voice search assistant, search by voice has arrived and thrived in our everyday internet use. Now let's talk about why this technology is growing so rapidly.
Why Is Voice Search Growing?
What once seemed like a concept of the far future, voice search is here – and it's growing, fast. By the year 2020, it's estimated that almost 50% of all online searches will be performed by voice.
Voice search technology has grown for a few reasons.
For one, voice search immensely improves user experience. It's convenience at its finest. By merely voicing an inquiry, consumers can search through dozens of websites and internet pages without having to manually do so (besides scrolling through a handful of search results).
Here are a couple ways voice search makes life easier:
Voice search is faster than traditional search – 3.7x faster, in fact – which is why more than 75% of people say they use it.
Voice search users can perform sequential searches without repeating words – they do this by recognizing and remembering searcher intent. Perks like Google search voice history allow you to search for something such as "Where is the nearest Target?" and follow up with "How late is it open?" without having to repeat your original search.
Voice search also allows consumers to purchase a product with their words. From calling an Uber to ordering a pizza to re-ordering shampoo from the shower when you run out, voice assistants have revolutionized e-commerce. In fact, voice shopping is expected to increase to $40 billion in 2022 – up from nearly $2 billion today.
Additionally, voice search equips consumers of all ages, abilities, and technical competencies to participate in online searches. It has revolutionized search engine and internet accessibility. In fact, more than 50% of those 55+ use voice search because they say it empowers them. Also, as of early 2019, Google Assistant supports 30 languages.
Voice search makes consumers' lives much easier and simplifies the overall search process. Searching by voice essentially generates a search engine "assistant" that does the browsing for you.
How to Optimize Your Content for Voice Search
Voice search SEO is much different from traditional SEO. Why? Well, searches conducted by voice are different than those conducted on a desktop or mobile device.
Voice searches are longer and more conversational than text searches. They are typically between three and five words and incorporate a question and the words who, what, when, why, where, or how.
Voice searches are also looking for local and immediate content. In fact, Google reported that, over the last two years, searches for "______ near me now" have grown by over 150% and searches for "______ near me today/tonight" have grown by over 900%.
The voice search audience is closer to a place of action; voice searches tend to fall into the "decision" phase of the buyer's journey (whereas text searches hover around the "consideration" phase). People who search via voice are either ready to buy or in the process of making a purchase.
Like we said above, voice-based purchases make up almost $2 billion of today's retail segment. As voice search technology gets smarter, and consumers get more comfortable with shopping via voice, this number will only grow.
Finally, voice searches are generally looking for specific information. When people search by voice, they're looking for answers, such as an actor in a movie, the hours of a nearby pizza place, or the price of fuel. This differs from regular text searches where people are often able to take time to read and absorb – with voice search, people want prompt and precise information.
What do these behavioral differences mean for SEO? They affect keyword research, content development, and website optimization. We cover specifically how in the next sections.
Keyword Research for Voice Search SEO
These new search behaviors have influenced SEO in a big way. No longer are robotic keywords repeated throughout content the priority. Content that succeeds in voice-based search uses language that's conversational, contextual, and natural.
Here are some voice search keyword research best practices:
Use long-form keywords (long-tail SEO), and turn individual keywords in longer phrases that include filler words. Consider what's more natural to say aloud versus type.

Example: Instead of targeting "baking" and "chocolate cake," target "how to bake a chocolate cake."

Target question keywords, as consumers are likely voicing these questions aloud.

Example: Target "how can I bake a chocolate cake?" or "who has the best chocolate cake recipe?"

Choose everyday keywords over technical ones. It's unlikely most consumers know the proper language from your industry or business.

Example: Target "how to prepare your chocolate for baking" vs. "how to temper fondant chocolate for your devil's food cake."
Pro Tip: Use a tool like AnswerThePublic to expand on your list of keywords. AnswerThePublic is an amazing tool that marketers can use to get a sense of the searches their audience is conducting. Simply type in a word or short phrase to see hundreds of suggested questions and content ideas, then use these questions to rank for your audiences' voice inquiries.
Now, let's discuss how to apply these keywords and optimize your content so it can be discovered using voice search.
Tips for Voice Search SEO
The following tips will help you develop your content and optimize your website so that you'll easily be found by voice search. Treat this section as more of a checklist and less of a 1-2-3 step process.
Make sure your website loads quickly and is mobile responsive.
Consumers use voice search because it's fast and convenient. If your website can't load in time for Google to scan, it's likely going to be excluded from the results. Google favors fast websites for both voice search and traditional search, so it's wise to double-check your site speed either way. Check that your images are optimized, site files are compressed, and your website is caching – all of these contribute to site speed.
If you've done everything you can and your site is still loading too slowly, it might be time for a new web host.
A lot of consumers also use voice search on mobile devices – 20%, in fact. For this reason, it helps that your website is mobile responsive and readable on mobile devices. Use Google's Mobile-Friendly Test tool to check how your website stacks up. This tool can also tell you if your site has problems loading and how to fix those problems.

Write in a conversational tone using everyday language.
Most people treat voice search like they're talking to a real person. Because of that, Google indexes content written in the same conversational tone.
When writing your page copy and blog content, write as if you are speaking directly to your audience. Don't neglect filler words that people may include in voice search queries, such as "the," "an," and the 5Ws we mentioned above (e.g., who, what, etc.).
Write long-form content with short, concise answers.
Because speed and convenience are so important to voice searchers, Google prefers to scan content that offers concise answers. Consider producing some content that reads like a Q&A – an optimized FAQ page, for instance.
The content itself can be long (as Google likes 2,000+ word articles), but the answers should be short and sweet – this makes it easy for Google to find and recite information.
Pro Tip: Optimizing your content for voice search comes with an added benefit. It makes your website more accessible, and visually-impaired visitors will be able to find it more easily.
Use structured data to optimize for featured content.
Google's featured content makes our lives much easier. Content elements like Featured Snippets, Carousels, and Knowledge Panels pull information from websites and allow consumers to find answers right on the Google search engine results page (SERP).
Voice assistants also pull information from these content features. For that reason, it's helpful to get your content in these features, too. You can do this through Schema markup, also referred to as structured data.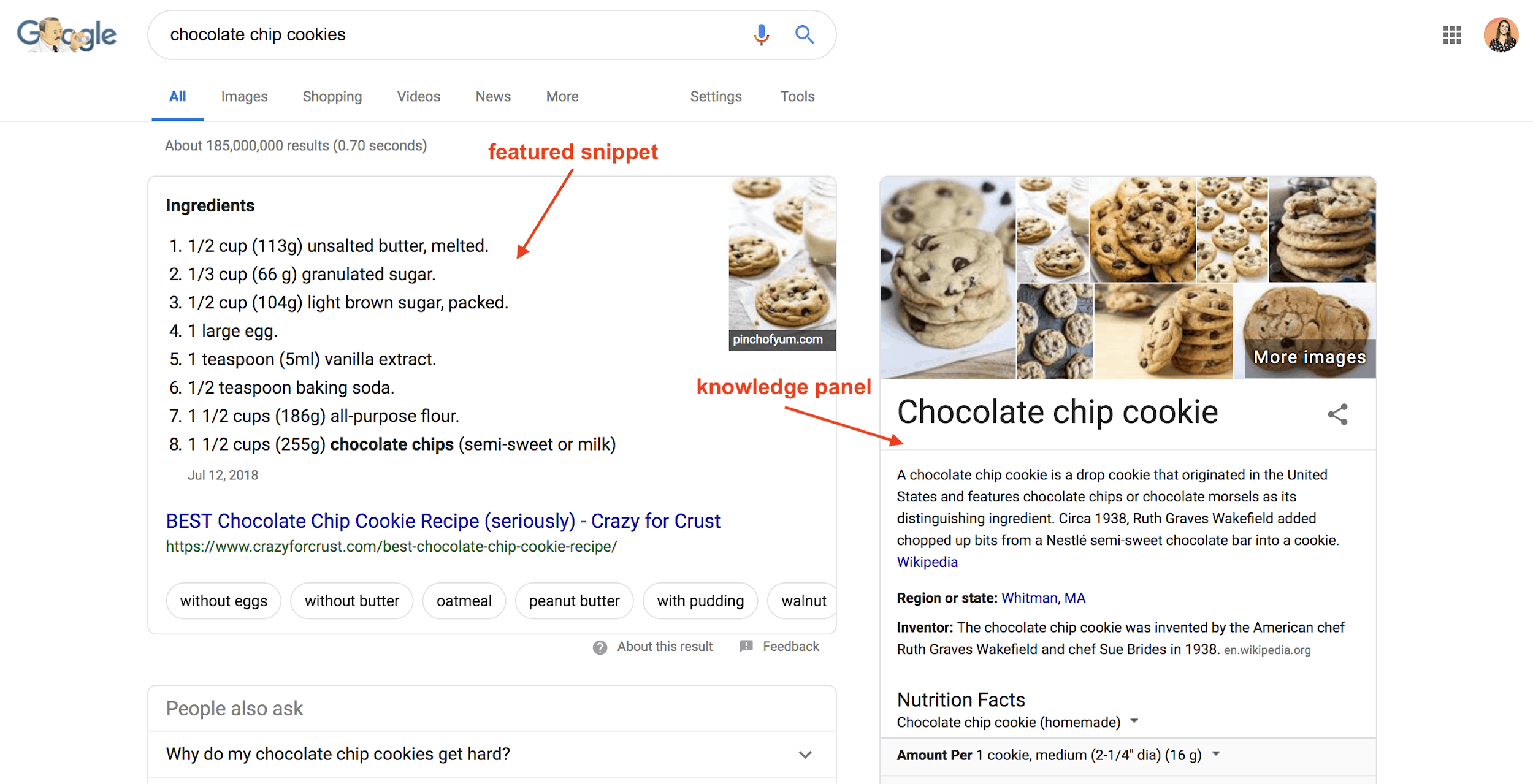 Structured data is essentially data about your website content. It tells search engines what's in your content and how they can display that data to users.
Here's what structured data looks like on the backend. The below is from a Starbucks coffee shop near me. You'll see how they've used structured data to mark up their address and store hours so Google knows how to display it in SERPs.)

Check out Google's Structured Data Testing Tool to learn more about how to mark up your website content and have your website featured on content snippets.
If you're a local business, get listed on Google.
Did you know that 50% of mobile searches for local content lead to a same-day purchase? The easier Google can find and index your business information, the more purchases you are likely to have.
To claim or register your local business, go to Google My Business to get started. Also, make sure your business has profiles on Yelp, as voice assistants often pull data on locations and store hours from there, too.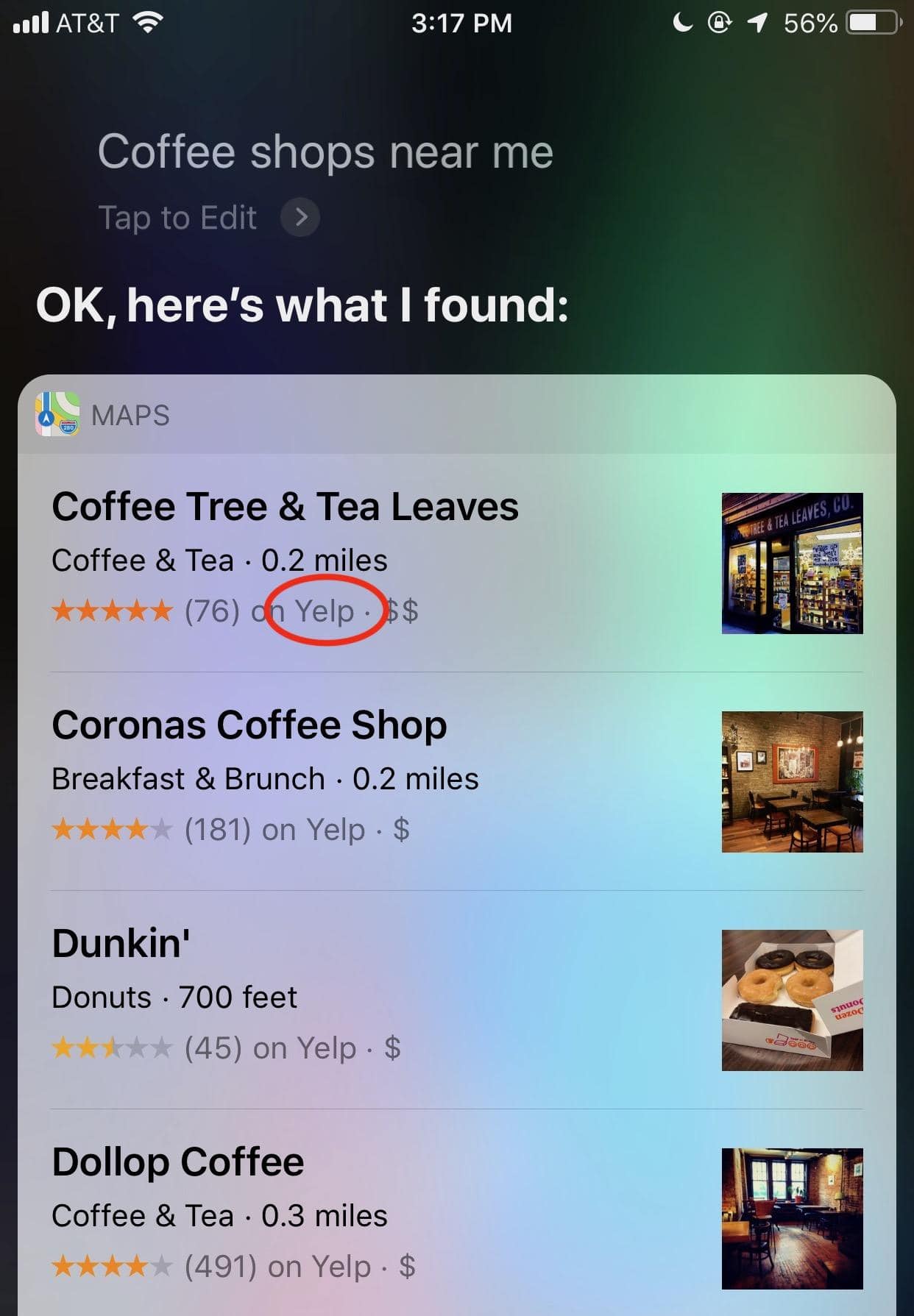 You can also include specific keywords throughout your content, such as nicknames for your neighborhood, landmarks around your business, and various names for your business or industry.
So, Is Voice Search Here to Stay?
Yes – without a doubt. Voice search equips us to locate new and nearby products and services without having to manually look around. It's also changed how we discover and decide on products and services, primarily local ones.
As a digital marketer, content creator, or SEO specialist, you should be aware of this trend and adapt your content to respond to voice search inquiries – especially if you operate a local business (or run a business with local chains or franchises).
If you want to compete in this space, you need to adopt voice search SEO and other best practices. Curious about other trends you should be taking advantage of? Learn from the experts on these six awesome content marketing podcasts.
---
Sources:
https ://www.blog.google/products/search/omg-mobile-voice-survey-reveals-teens/
https ://www.prnewswire.com/news-releases/voice-shopping-set-to-jump-to-40-billion-by-2022-rising-from-2-billion-today-300605596.html
https ://econsultancy.com/the-future-of-voice-search-2020-and-beyond/
https ://www.bruceclay.com/blog/learn-how-to-optimize-for-voice-search-now/
https ://www.stonetemple.com/voice-usage-trends/
https ://www.thinkwithgoogle.com
https ://www.campaignlive.co.uk/article/just-say-it-future-search-voice-personal-digital-assistants/1392459
https ://searchengineland.com
https ://rubygarage.org/blog/what-is-voice-commerce