You already know that you need strong SEO to rank well on Google and other major search engines. But which website builder can best help you achieve that task? Most website builders claim that they can help you rank well, but you quickly learn that they don't offer the tools necessary to get your website noticed.
Whether you're a newbie to SEO or an SEO expert, you want a website builder that has the basic tools necessary to meet Google's SEO standards and robust enough to allow you to outshine other websites in your niche or industry.
Wix
Wix used to be one of the worst free website builders for SEO, but it has dramatically improved its game in recent years to become one of the best. Famous for its drag-and-drop builder, Wix also makes it easy to customize your SEO.
Primary SEO function is available on all webpages, including webpage titles, meta descriptions, image alt attributes, and customizable URLs. You can also modify headings from H1 to H2 as needed. You can access these objects directly on the website, or you can do it automatically using the Wix SEO Wiz.
The Wix SEO Wiz gives you an individualized plan to customize your website for SEO. It will then walk you through fixing your SEO. There's also an option to instantly index your website to Google, allowing your website's rank to improve even faster.
The Wix SEO Wiz is included with the free plan.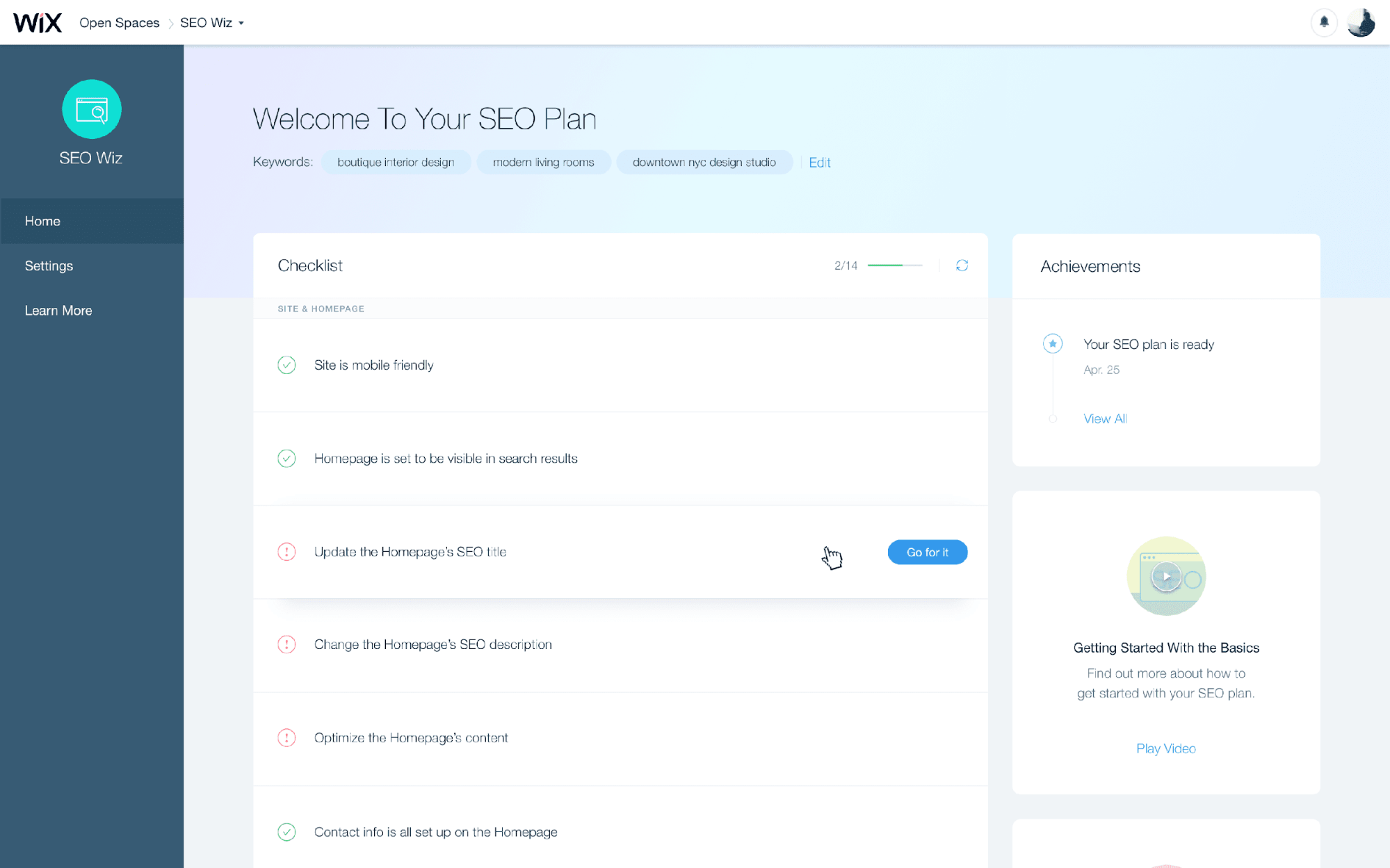 In addition to the Wix SEO Wiz, there's a variety of similar SEO tools in the Wix App Market, including Rabbit SEO, Site Booster, GetTraffic, and more.
There are a few limitations to Wix SEO, but most are insignificant for most websites. For example, you won't be able to modify your Sitemap file, which may slow the indexing of some webpages. Also, SEO on blog posts have some limitations. You won't be able to add search engine instructions for blog posts, and you'll only be able to use H1 and H2 headings.
To learn more about Wix, read our expert review.
WordPress
WordPress.com can be great for SEO, but only if you upgrade to Business. That's because WordPress limits your ability to modify SEO elements and install plug-ins on all plans except for Business. With the WordPress Business plan, you unlock the ability to adjust SEO on all templates along with the ability to install SEO plug-in tools such as Yoast or the All-in-One SEO pack.
That said, WordPress.com is not beginner friendly for SEO. You'll have to know a bit about what you're doing or at least be able to follow instructions from tutorials competently. There are no tools like those you find with Wix to help you set up SEO automatically. However, if you know what you're doing, WordPress will allow you to install plug-ins that will help you maximize your SEO. The main downside is that you have to go with WordPress' most expensive product to do so.
If you're interested in finding out more about WordPress, check out our expert review.
Jimdo
Jimdo is a bit of a mixed bag when it comes to SEO based on which plan you sign up for. If you're using Jimdo's Free or Pro plan, you get many of the most basic SEO options, such as the ability to modify webpage titles and meta descriptions, and customize your URLs. However, more advanced SEO options are available only for those who sign up for at least the Business plan.
If you're a beginner to SEO, you can use Jimdo's Dolphin AI tool to help you automatically customize your SEO. Jimdo also offers tutorials for improving your website's SEO.
A couple things to note about Jimdo is that your website is going to be limited to H1, H2, and H3 headings, and the builder tends to append your website name to the webpage titles automatically. Outside of the Dolphin AI, Jimdo doesn't offer additional apps for modifying SEO.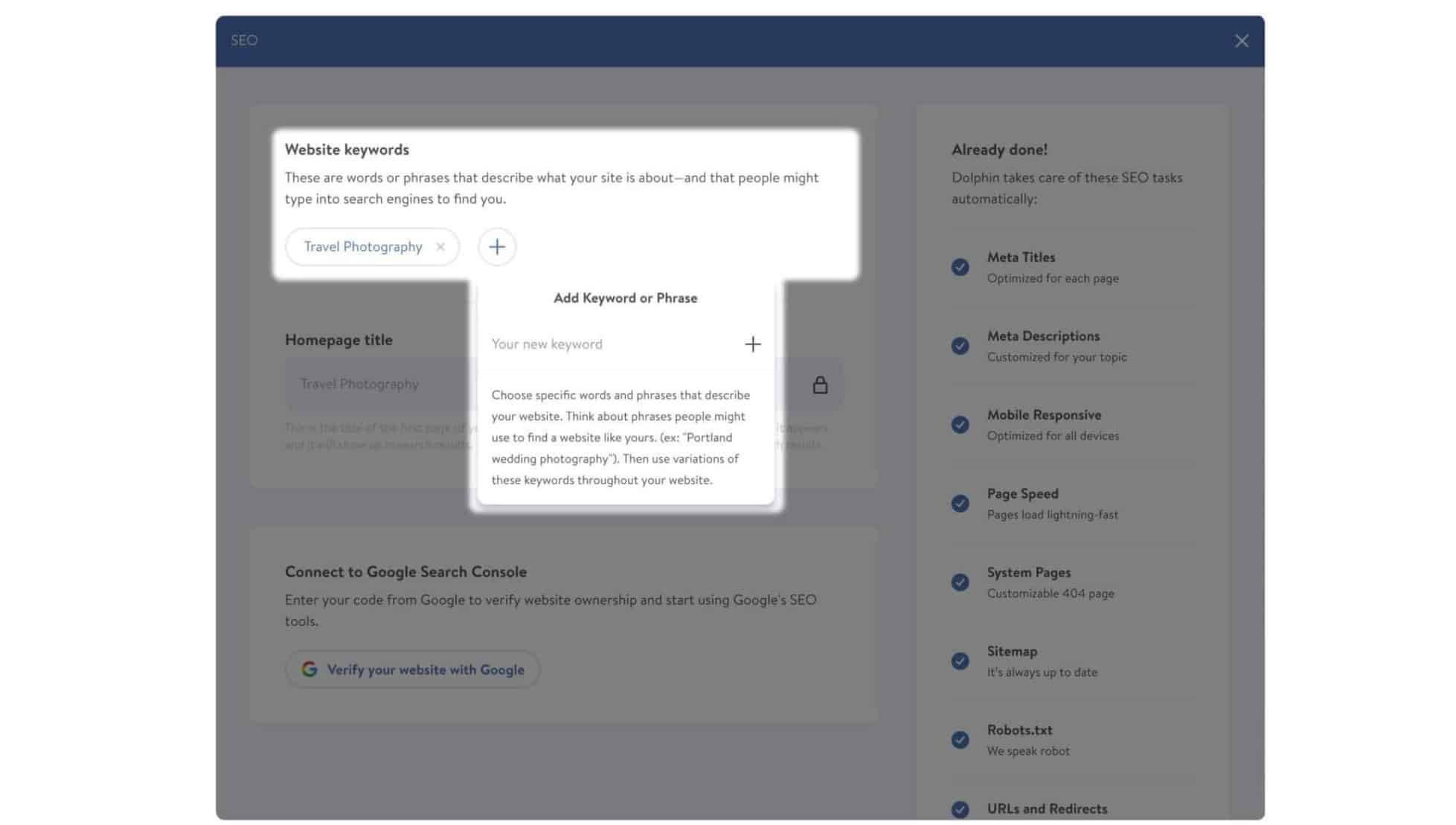 Jimdo is solid for SEO if you have at least a Business plan, but it requires that you be more hands-on than some other builders. For those that already have a solid understanding of SEO, this is an option worth checking out.
To learn more about Jimdo's features, read our expert review.
Squarespace
Out of all the builders on this list, Squarespace is the most limited as far as SEO is concerned. For starters, this platform isn't beginner-friendly. If you're looking for tools to help you automatically set up and modify SEO, you won't have them. You'll need to adjust your SEO options manually. For those who know what they're doing or don't have problems following tutorials, this is only a minor inconvenience.
Next, you're going to run into numerous limitations with the website. Primary webpages will allow you to modify most SEO features, such as webpage titles and meta descriptions. However, these same options are not customizable in some of your essential areas, such as blog posts and product webpages.
You'll be unable to modify webpage titles or meta descriptions in your products or blog posts, making it much more difficult for them to be found. Also, you won't be able to modify alt attributes for images. Instead, Squarespace copies the image caption or title.
If you're using SquareSpace for basic webpages, like a main business page, the SEO may be competent enough for your needs. However, if you plan to run an e-commerce website or a blog, then you're going to struggle to rank due to the limitation in place by the builder.
Read our Squarespace expert review if you're interested in learning more about the platform. And if you're already a Squarespace user, here are some tips that will help you improve your Squarespace SEO.
Pick The Best Builder and Do the Work Necessary to Rank Well
Finding the best website builder for SEO is just the first step in making sure your website ranks on Google. Now it's your turn to do what's necessary to maximize your website's chances of ranking well online.
Starting with content, verify that your website has quality content that's both relevant and evergreen to ensure that it doesn't become stale after a time. This likely will require regular updates to keep things fresh.
Next, you need to stay on top of administering your website's SEO. This is not a "set it and forget it" scenario. You'll need to regularly research and update relevant areas of your SEO, ranging from titles to keywords, phrase, and more.
Also, you need to educate yourself in both SEO and the trends in your industry. The more you know about SEO, the better you'll be able to optimize your website in the future. By staying on top of trends in your industry, you can anticipate changes that will be necessary for your SEO to remain relevant so you can outshine your competition.
The good news is that the tools to optimize your website are at your disposal. The bad news is that you'll now have to work even harder to ensure that your website stays optimized and ranks highly on Google. When you put in the effort, the payoff will be a high ranking that will drive traffic to your website and grow your brand.
| | Wix | WordPress | Jimdo | Squarespace |
| --- | --- | --- | --- | --- |
| Webpage Titles | Yes | Business only | Yes | Main webpages only |
| Meta Descriptions | Yes | Business only | Yes | Main webpages only |
| Customizable URLs | Yes | Yes | Yes | Yes |
| Headings | H1 to H6 (except blogs) | H1 to H6 | H1, H2, & H3 Only | H1, H2, & H3 only |
| Image Alt Attributes | Yes | Business only | Yes | Yes (Non-modifiable) |
| Automated SEO Tools | Yes | No | Yes | No |