When you don't have the budget or time to hire a dedicated SEO strategist, a strong website builder can go a long way in helping Google understand your site – even if you only just learned what SEO is.
But not all website builders can actually do this well, and a great website doesn't mean much if nobody can find it.
I worked as an agency SEO strategist for two years, and I've tested a ton of website builders, so I can tell you which ones are best for SEO. More importantly, I can tell you why and how they are good at SEO.
These website builders give you the structure and tools you need to implement a successful SEO strategy so you can achieve those excellent rankings.
What We Look For in the Best Website Builders for SEO
Let's start by making sure we're both on the same page about what SEO actually is: SEO, or search engine optimization, is the practice of improving a website so that it will appear in search results when it is the most relevant site for a given keyword. There are dozens of factors that you can modify to improve your rankings, which range from incorporating keywords into your page titles to how many well-known sites link to your website. No website builder can possibly account for every factor, so when I assessed website builders for SEO, I looked for tools and features that address the most important ranking factors. Here's what that includes:
Easy way to update page titles: The easiest thing to do to give your SEO a boost is include important keywords (or, the search terms people will use to find your site) in your page title. Not all website builders give you control over your page titles, but the ones on my list have a clear, easy-to-find way of making those changes, so you can tweak your optimizations whenever you need to.
Mobile-friendly templates: More than half of all website traffic now comes from mobile devices, so Google has made mobile-friendly websites a really crucial factor in ranking highly. The builders on this list either provide templates that are automatically mobile-responsive, or let you adjust the mobile version of your site separately so you can make sure it looks its best.
Automatic assistance for technical SEO: All websites have some behind-the-scenes components that are critical to your website being understood correctly by Google – things like sitemaps and robots.txt files that tell search engines which pages they should include and which they should skip. These website builders help you provide the right information in a user-friendly interface, and take care of the complicated parts in the background.
SEO support & guidance: Using these SEO tools effectively requires a bit of know-how. What should you start with? How do you pick the right keywords? What does "canonical" even mean? I chose website builders that have guides, assistants, and support centers that provide current and accurate information on SEO best practices.
With these basics, you can create a strong foundation on which you can build your unique, optimized content and climb into those coveted first-page rankings.
I have sung Wix's praises many, many times, and I will continue to do so here. In addition to enabling you to create highly customizable sites with all kinds of features and functions you hadn't even thought of, Wix has an excellent tool for getting your site SEO-ready. It's called Wix SEO Wiz, and it's amazing. Even better? It's available on every Wix plan –
even the free one
. Wix SEO Wiz starts by asking you to choose some relevant keywords for your site.Then, it generates a checklist for tasks you need to complete to incorporate your keywords and take care of a lot of other factors that matter for SEO.
You'll be directed to update your page titles to include keywords, create unique meta descriptions, and add links to and from your pages, among other things.
SEO Tip:
The best way to start brainstorming keywords is to think of what you want searchers to type into Google in order to reach your site. From those ideas, you can fine-tune your keywords based on related Google searches or with the help of external tools, like
AnswerThePublic
.
For each item on your personalized SEO checklist, you'll be told exactly what you need to do, where and how to do it, and why it's important for your site. The list is divided into three phases of increasingly advanced SEO tasks, and those phases are organized by page.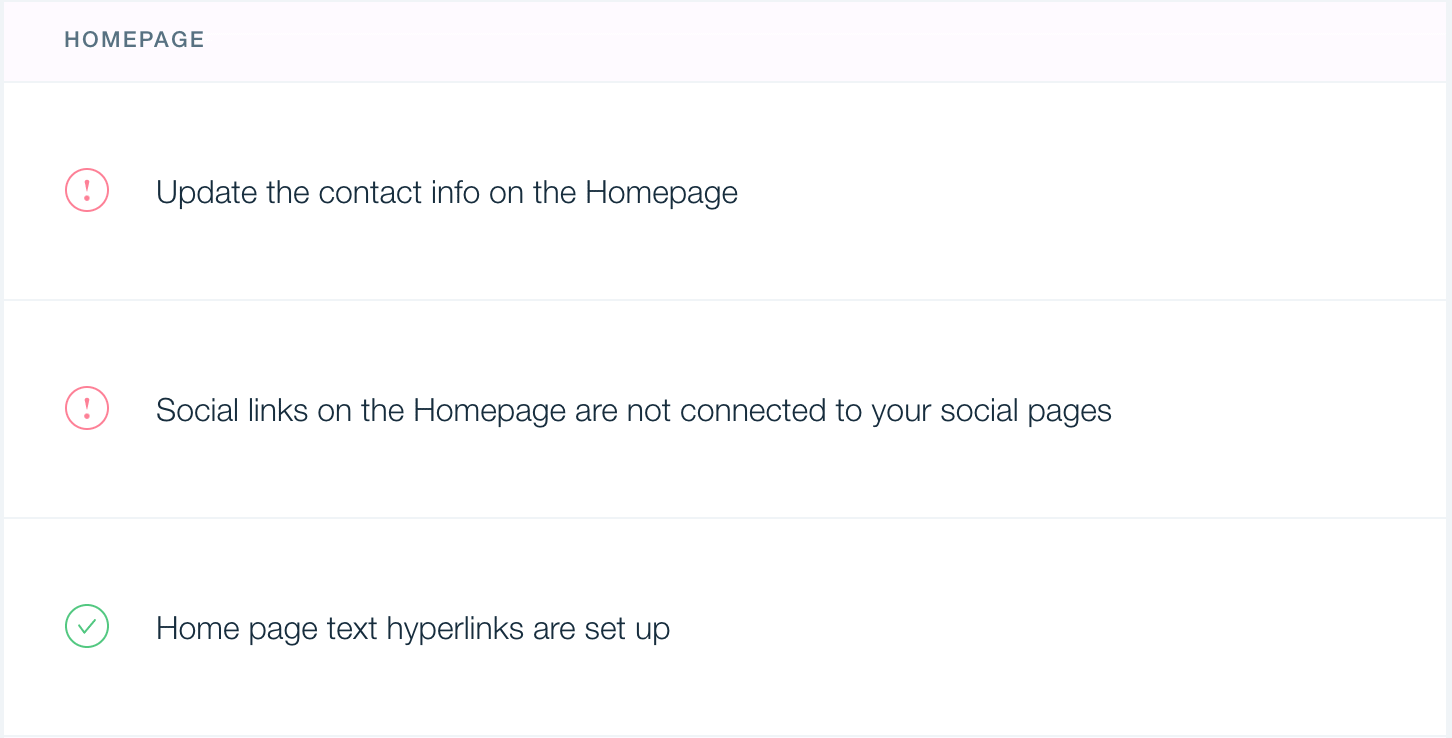 While Wix SEO Wiz provides a centralized place to track your SEO progress, you can also find key areas for optimization separately.
Wix skips the SEO jargon and calls the main SEO settings for each page "Get Found on Google,"
 so it's easy to find. From here, you can change your page title, description, and URL, and it provides a preview of what your page will look like in search results.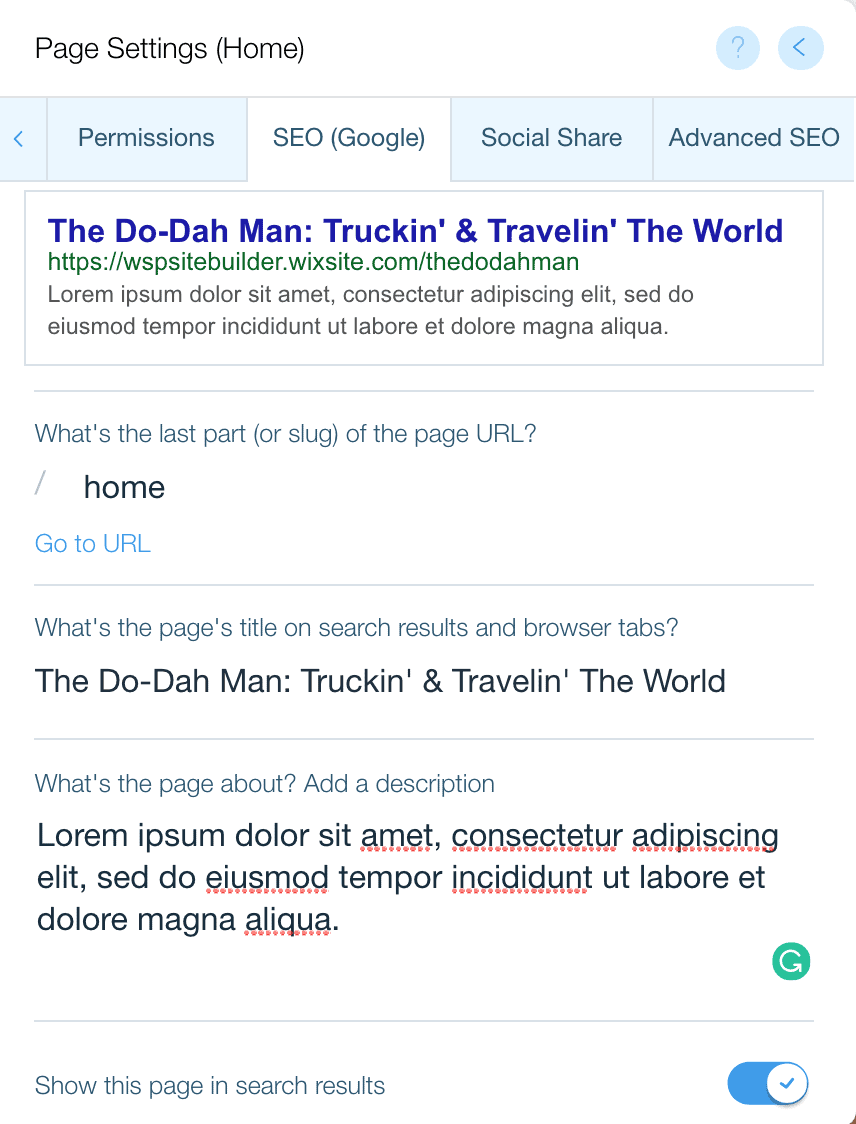 Wix has so many good SEO features that it's hard to cover them all. Here are a few more of my favorites:
Huge SEO resource center to help you pick the right keywords and organize your strategy
Responsive design elements and ability to edit mobile site separately
Detailed tutorials on connecting Google Search Console and Google Analytics
Advanced technical SEO tools like a URL redirect manager and robots.txt editor
Option to hire a Wix Partner to assist with your SEO efforts
Read more about Wix in our expert review
.
| | |
| --- | --- |
| Mobile-responsive templates? | No, but some responsive design elements and a separate mobile view editor |
| SEO guidance & support | Advanced |
| SEO tools available on free plan? | Yes |
Squarespace is best known for
its luxurious templates
 and a site building experience that also provides a high-end feel, and that feeling of luxury mostly extends to its SEO tools as well. There are a lot of impressive SEO features, but there are also a few places where it feels like it could do a bit better. All of Squarespace's templates are mobile-responsive, but not all of its templates let you update your page description. (Page descriptions won't directly influence your rankings, but they're useful in persuading people to click on the link to your site, which does directly influence your rankings.)
You can update your page titles very easily in the editor's sidebar
, because if you couldn't, Squarespace wouldn't be on my list.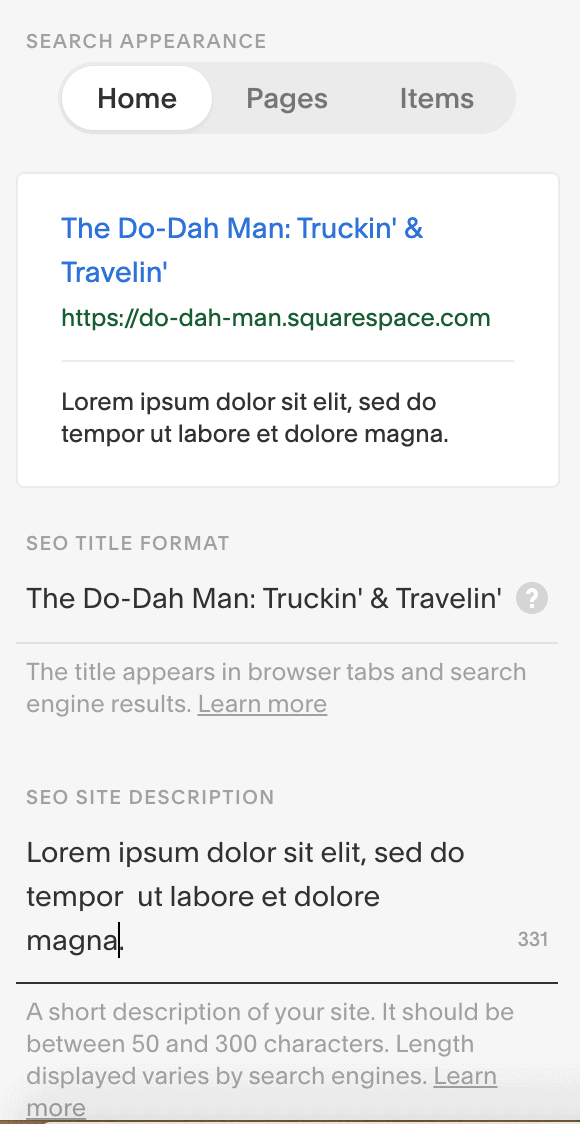 Most of Squarespace's SEO features are geared toward what goes on behind the scenes. Your sitemap is automatically created as you build your site, and Squarespace's built-in integration with Google Search Console (GSC) makes it really simple to submit that sitemap for indexing.
Your GSC data will also be displayed in your analytics dashboard
 in your Squarespace account, so you can monitor your site traffic within the tool. Here are a few other behind-the-scenes SEO features:
URL redirect tool with specialized options for pointing multiple domains at your site
AMP (accelerated mobile pages) tool for faster mobile loading
Automatic structured data for sitewide information and blog posts
When it comes to SEO guidance, Squarespace doesn't offer much within its dashboard – you'll need to visit the support center for an SEO checklist and a list of relevant features.
It provides a good summary of the basics, but isn't really enough for an SEO beginner
 to understand some of the nuance that's required. You do have the option of hiring a Squarespace expert or subscribing to a plan that includes SEO consultations if you're looking for more assistance.
Read more in our expert Squarespace review
.
| | |
| --- | --- |
| Mobile-responsive templates? | Yes |
| SEO guidance & support | Intermediate |
| SEO tools available on free plan? | No free plan, 14-day free trial |
WordPress.com has some of the best blogging tools available, and stands out even further with its selection of plugins that extend your site's functionality any way you like. But when it comes to SEO,
WordPress.com's native tools leave a lot to be desired. You'll be better off with a plugin like Yoast that was developed specifically for WordPress SEO.
 (You do need a
Business plan
 or higher to install plugins.) With WordPress.com's native SEO tools, you'll get the basics – you can update your page titles and descriptions, add image alt text, and know that the technical basics like sitemaps are automatically taken care of.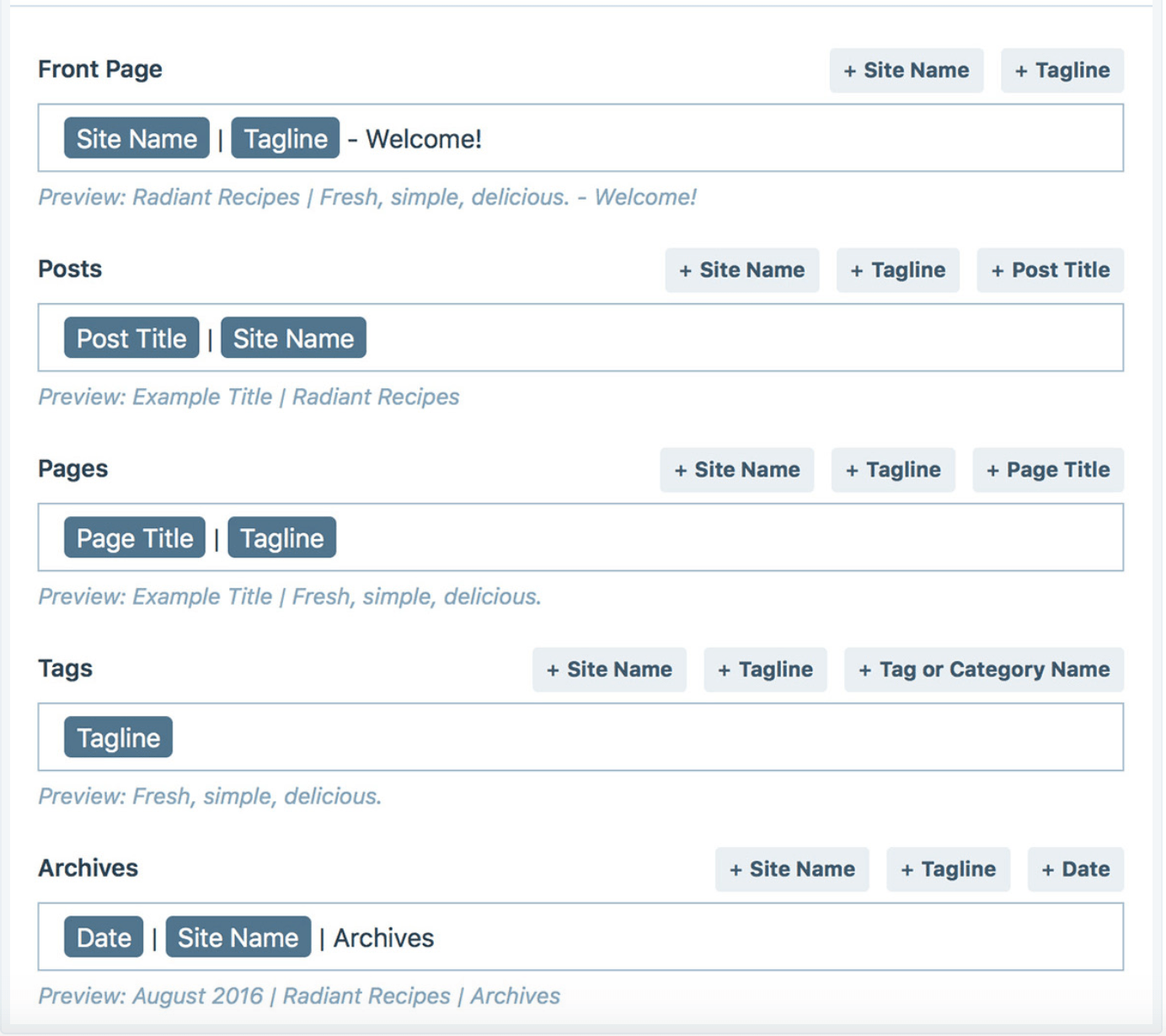 The
Yoast SEO plugin
 goes a lot further, providing metrics on how well your content is optimized for your chosen keywords and assessing reading level, content length, and more. No SEO tool will be able to definitively pick the right keywords for you to use, but
Yoast does more to ensure you're using keywords properly than any other website builder SEO tool I've seen.
SEO Tip: Once you publish your website, do not change your URLs unless absolutely necessary! This can confuse search engines and hurt your ranking.
Yoast provides a ton of more advanced features too, largely on the technical side of SEO. Some of these require a premium Yoast plan, but if you're serious about SEO, it's well worth the relatively low (less than $10/month) cost. Here are some of the best features:
Automatic sitemaps and robots.txt files
Canonical link management tool
301 redirect manager (Premium)
Internal link recommendations (Premium)
You can learn more in our expert WordPress.com review
.
| | |
| --- | --- |
| Mobile-responsive templates? | Some, not all |
| SEO guidance & support | Intermediate |
| SEO tools available on free plan? | Basic native tools are, Yoast and other plugins require the Business plan or higher |
SITE123 is a really simple and reliable website builder, excellent for smaller blogs and online stores. Its features tend to be more basic than some other website builders, so I was surprised to find a thorough SEO site audit tool, called SEO Adviser, that helps you not only set up your site for SEO success, but also maintain your SEO as your site grows and changes. The SEO Adviser is available on
all SITE123's plans
, but on the free plan, it will only scan three pages.
SEO Tip: An SEO site audit means running what's typically known as a crawl or scan to gather information on page titles, title length, broken links, and a lot more. SEO strategists use this information to determine what needs to be optimized on a site.
SITE123's SEO Adviser reviews each page and returns a list of passed and failed tests.
You can then view the failed tests to learn what you need to do to pass it, and rectify the issue within the same screen.
When you're done addressing the issues, you can run a new scan to see if you now pass all tests.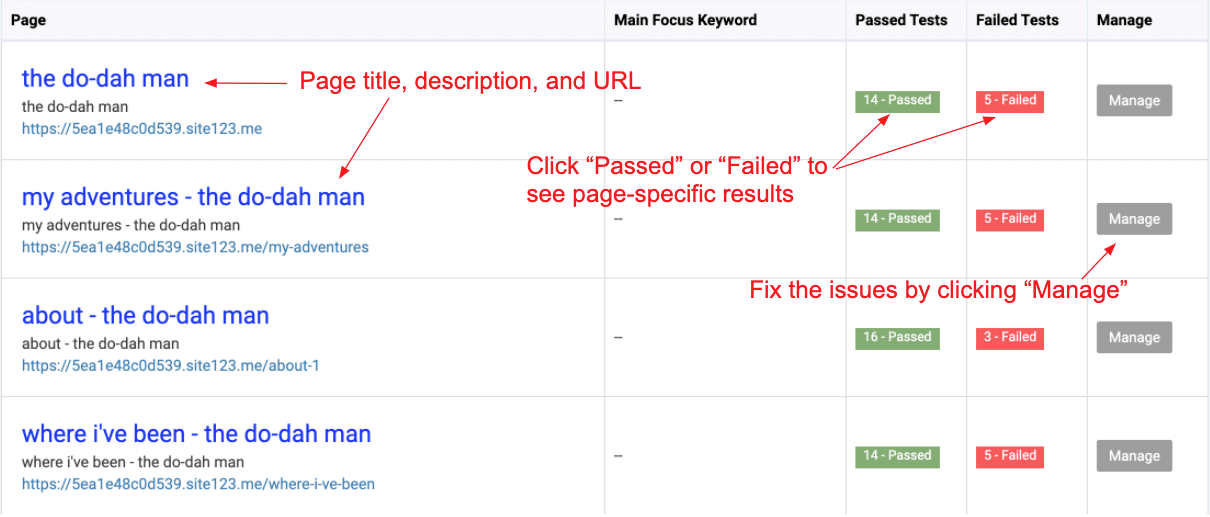 The SEO Adviser will cover updating your page titles, descriptions, and a lot more, but there are a few other handy SEO features too:
Simple 301 redirect tool
Google Search Console activation through App Market
Automatically generated sitemap
For more information, take a look at our expert SITE123 review
.
| | |
| --- | --- |
| Mobile-responsive templates? | Yes |
| SEO guidance & support | Intermediate |
| SEO tools available on free plan? | Yes, but limited |
Webnode is a basic website builder that stands out because of its multi-language feature that allows you to have the same website architecture for every language version of your website. That's crucial for SEO on multi-language websites.
Updating page titles, URLs, and other basics is easier on Webnode than any other website builder – even if you're on the free plan.
Every page has the same set of SEO settings, unlike some builders where the layout or location changes depending on whether it's a blog page, store page, or something else.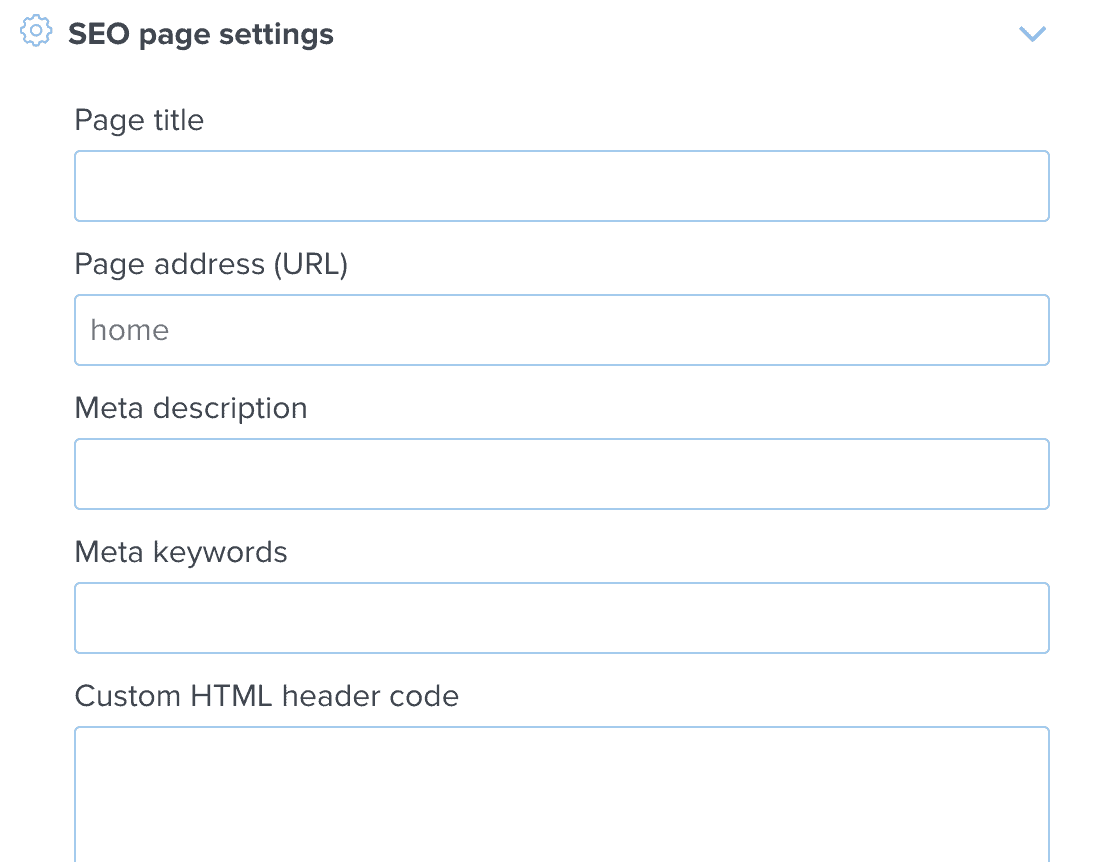 The settings also include a field for custom header and footer code, primarily crucial for incorporating tracking codes for Google Analytics and other tools. It also serves a few advanced applications. The catch?
Webnode doesn't have many other SEO features.
There's a good set of "SEO basics" blog posts on the site, but
no step-by-step guide or checklist
 to walk you through the initial optimizations you'll need. It's best for people who have some SEO knowledge and experience and just need access to the right fields to optimize. Here are a few other SEO-related features:
New templates are completely mobile responsive
Walkthroughs for connecting Google Analytics and Google Search Console
Automatically generated sitemaps
Page-level settings for letting the site appear in search engines
Check out our expert Webnode review for more info
.
| | |
| --- | --- |
| Mobile-responsive templates? | Newer templates are, older ones aren't |
| SEO guidance & support | Minimal |
| SEO tools available on free plan? | Yes |
Weebly is very similar to Webnode – simple, straightforward, with a DIY approach to SEO – but it has more powerful e-commerce tools, and some are even available on the
free plan
 (depending on your location). It's best for smaller online retailers who want to customize the SEO settings for individual products on their store.
SEO Tip: Optimizing your product pages is helpful, but don't forget to optimize your category pages too! These pages are often favored by search engines and often have a higher conversion rate than a single product page. (Thanks, impulse buyers!)
Each Weebly page has basic SEO fields for page title and description, and the pop-up window also shows a preview of what your titles will look like in the search results.
You'll find similar fields in your product management settings, although you won't see a preview like you do for standard pages.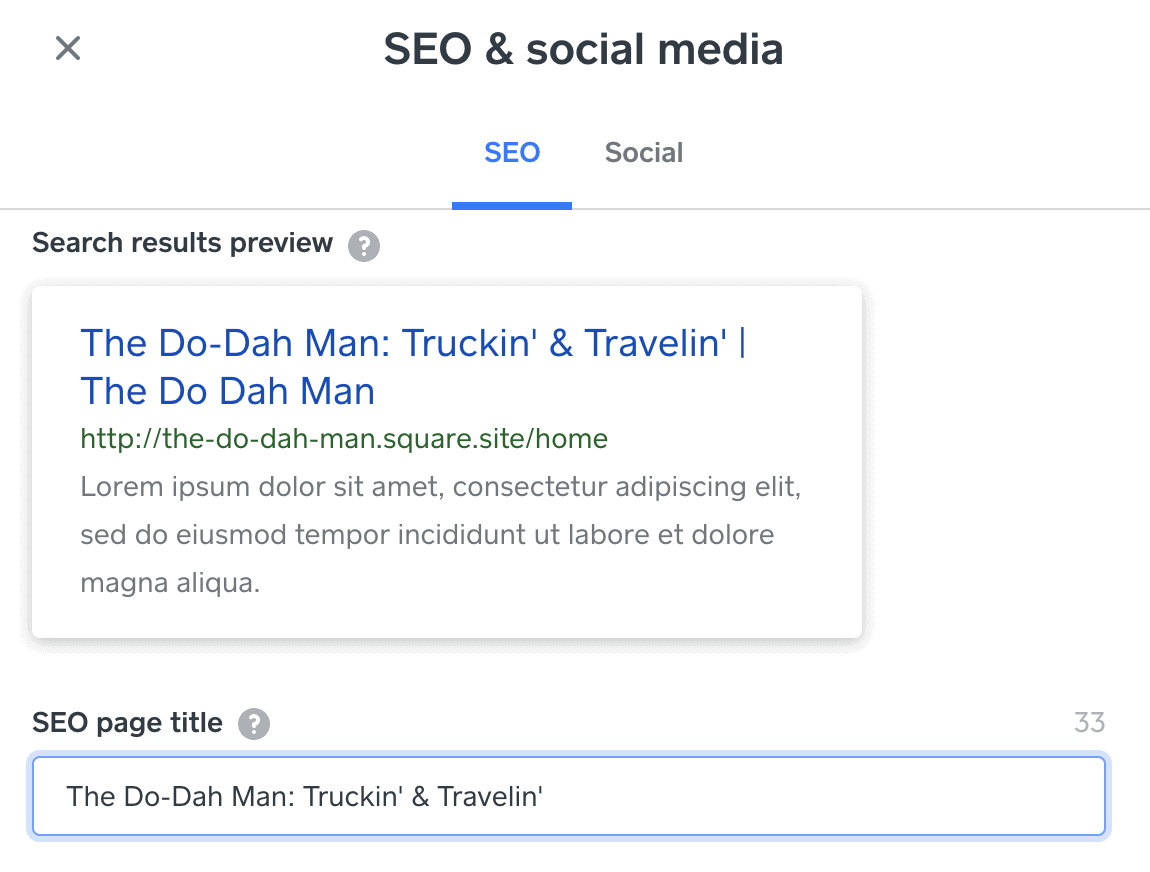 Weebly has an extensive SEO guide to help you determine the right keywords to use and understand other SEO concepts, but it's not incorporated into the editor – you either have to know it exists and go looking for it, or stumble across it accidentally like I did.
The guide includes an SEO checklist to track your progress
, but there aren't any interactive features or tools that tell you if you've successfully completed the listed items. There are a couple of additional SEO features that Weebly offers too:
Simple 301 redirect tool
Centralized location to input tracking codes for Google Analytics and more
Custom header and footer code fields (Classic Weebly editor)
You can learn more in our expert Weebly review
.
| | |
| --- | --- |
| Mobile-responsive templates? | Yes |
| SEO guidance & support | Intermediate |
| SEO tools available on free plan? | Yes |
Get Your Website SEO-Ready
Website builders know they can't run your whole SEO strategy for you, but the ones on this list have done as much as they can to give you the tools and support your site needs to rank well in Google search results. If you want a complete checklist for what you need to do and why it's important for SEO,
Wix is the best option
 – and you'll get complete freedom to customize your design and functionality too. If you are more SEO-savvy and want more of a DIY approach,
Webnode
 or
Weebly
 could be good options, depending on the type of site you're building. As you start your website building journey,
remember that SEO is a marathon, not a sprint.
 These tools will help you build a strong SEO foundation, but you'll need to consistently maintain and optimize your site for continued SEO success.
| | | |
| --- | --- | --- |
| | Top Feature | |
| Wix | Comprehensive SEO checklist & advanced technical tools | |
| Squarespace | Built-in Google integrations & advanced technical tools | |
| WordPress.com | Content optimization analysis & other advanced tools through Yoast | |
| SITE123 | SEO Adviser to run regular site scans and maintain SEO | |
| Webnode | Optimization options for every page & multi-language site setup | |
| Weebly | E-commerce SEO tools & detailed SEO guide | |
FAQ
Is Wix good for SEO?
Yes. While Wix had some issues with search engines in the distant past, these days, there is nothing to worry about. Wix SEO Wiz is one of the best SEO checklists and guides available on any website builder, and the customization freedom you have with Wix is excellent for SEO. Check out our expert Wix review for more details, or use the free plan to take it for a test drive. If you do decide that Wix is right for you, make sure that you take advantage of any current deals or coupons.
Is Squarespace good for SEO?
Yes. Squarespace has the standard tools for optimizing your page titles and site content, as well as some more advanced tools to handle technical aspects, like 301 redirects, sitemaps, and structured data. (Read more in our in-depth Squarespace review.) While Squarespace doesn't have a free option, it does have a 14-day free trial, and there are usually some good discounts to take advantage of!
How can I improve my website's SEO?
Good SEO starts with good keywords – terms or phrases that are relevant to your site topic and that people search for often. Add these keywords to your page titles and throughout your content to let search engines know what your site is about. There are many facets to SEO, but here are some other key actions you can take:
Create unique title for every page
Make sure every page is linked to from another page on the site
Submit your sitemap to Google Search Console
Use responsive design to make your site mobile-friendly
You can make a website with good SEO using any of the options on this list – or with any of our top website builders for 2023.
Is SEO hard to learn?
SEO is a complex and ever-evolving topic, but there are many resources that make it easy to learn the basics, like our Wix SEO Guide, our Yoast SEO Guide, or our list of the Best SEO Tools. With the right guidance and consistent education and practice, you can learn foundational SEO practices very easily and apply them to your site.