VentraIP and Crazy Domains are two big names in the Australian web hosting market, but which one is right for you? Crazy Domains offers budget hosting for Windows and Linux operating systems. Whereas VentraIP is a little more expensive but gives you SSD-powered web hosting and free SSL. To make a fair comparison between VentraIP and Crazy Domains, I tested them in terms of performance, features, pricing, security, and customer support. While both have perks and limitations, VentraIP outperformed Crazy Domains in more than one category. Read on to see how VentraIP and Crazy Domains performed in this in-depth comparison.
Click here to see VentraIP's latest deals
or keep reading to see what makes VentraIP the winner of this battle.
1. Plans and Pricing
Crazy Domains Has More Plans, but VentraIP Provides More Freebies
VentraIP sells cPanel shared hosting, reseller hosting, and VPS. Crazy Domains offers a broader range of hosting solutions, including shared hosting, WordPress hosting, and VPS for Linux and Windows. At first glance, Crazy Domains appears to offer cheaper shared hosting plans than VentraIP. However, VentraIP includes premium features that you either don't get or need to pay for with Crazy Domains (more details in the features section).
A free domain name is included with some hosting plans from VentraIP
Crazy Domains Web Hosting
Both VentraIP and Crazy Domains provide free website migration, but you won't get a free domain name. VentraIP offers a 45-day money-back guarantee, while Crazy Domains gives you 60 days to test its service. The winner? If I were to judge these two vendors solely on pricing, then Crazy Domains wins. However, given its free premium extras, VentraIP wins the pricing round, in my opinion, even if it's slightly more expensive than its competitor.
2. Features
VentraIP Offers Better Features – Crazy Domains Has More Storage
Crazy Domains has shared hosting plans for both Linux and Windows. With the Linux-based packages, you get 150 GB to unlimited disk space, 100 to unlimited email accounts, unlimited bandwidth, and can host from 1 to unlimited websites. VentraIP doesn't offer shared hosting for Windows, but all its Linux plans come with SSD cloud storage (5 GB to 25 GB), unlimited bandwidth, and unlimited email accounts. You get some premium extras for free with VentraIP, such as a Comodo SSL certificate and Acronis Cloud hourly backups to safeguard your data. See more differences between VentraIP and Crazy Domains in this comparison table:
| | | |
| --- | --- | --- |
| | VentraIP | Crazy Domains |
| Hosting Types | Shared, reseller, VPS | Shared (Linux and Windows), WordPress hosting, VPS (Linux and Windows) |
| Free Domain | ✘ | ✘ |
| Free SSL Certificate | ✔ | ✘ |
| Disk Space | 5 GB – 200 GB (depending on the plan) | 10 GB – Unlimited (depending on the plan) |
| Bandwidth | 2 TB – Unlimited | Unlimited |
| Automatic Backups | Hourly | Weekly |
| Control Panel | cPanel | cPanel, Plesk |
| Email Accounts | Unlimited | 100 – Unlimited |
| Free CDN | ✘ | ✘ |
| Free Site Migration | ✔ | ✘ |
| Money-Back Guarantee | 45 days | 60 days |
The winner? VentraIP wins by offering hourly backups, free Comodo SSL certificates, and SSD storage with all its shared hosting plans. However, if you want Windows shared hosting or more storage, Crazy Domains will be more suitable.
3. Performance
VentraIP Has Much Slower Loading Speeds Than Crazy Domains
Although VentraIP and Crazy Domains promise the industry standard 99.9% uptime guarantee, when I tested VentraIP with Uptime Robot over 30 days, it scored a perfect 100%.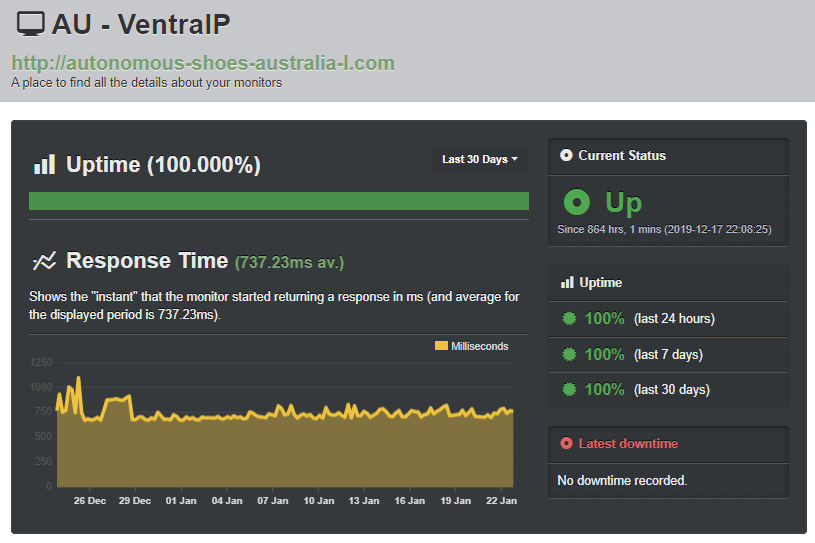 On the other side, Crazy Domains scored 99.98% on Uptime Robot, which may not be as good as VentraIP, but still exceeded its 99.9% promise.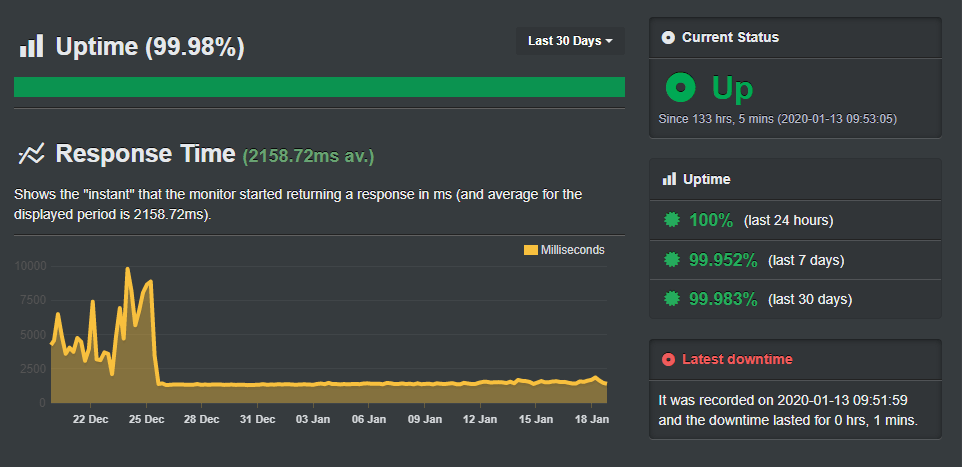 The next performance determinant of a good host is page loading speeds. Loading speeds are affected by many factors, including server locations, server hardware, and performance-boosting software. VentraIP only has servers in Australia. Crazy Domains has servers in Australia, the U.K., the U.S.A. Belgium, Hong Kong, India, and Singapore. VentraIP uses SSD disk drives with all its services, while Crazy Domains only uses SSD with its VPS hosting plans. SSD performs a lot faster than traditional drives, improving the performance of your website. Neither service provides a CDN, which acts as a global network of servers to increase your website's overall loading speeds. I used GTMetrix to test the performance of the two contenders. Starting with VentraIP, it scored a B at 89% (not bad).

Crazy Domains also scored a B at 85%, which is slightly higher than VentraIP.

I also performed a more comprehensive page loading speed test for both vendors using Sucuri. To my disappointment, VentraIP scored an F. That isn't very good!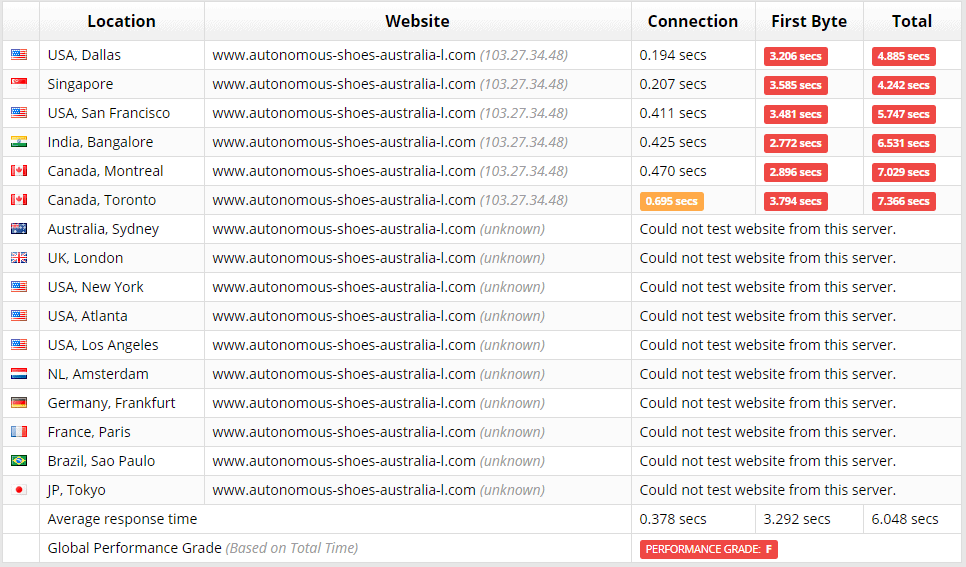 In contrast, Crazy Domains scored a C. It isn't great either, but still a whole lot better than VentraIP.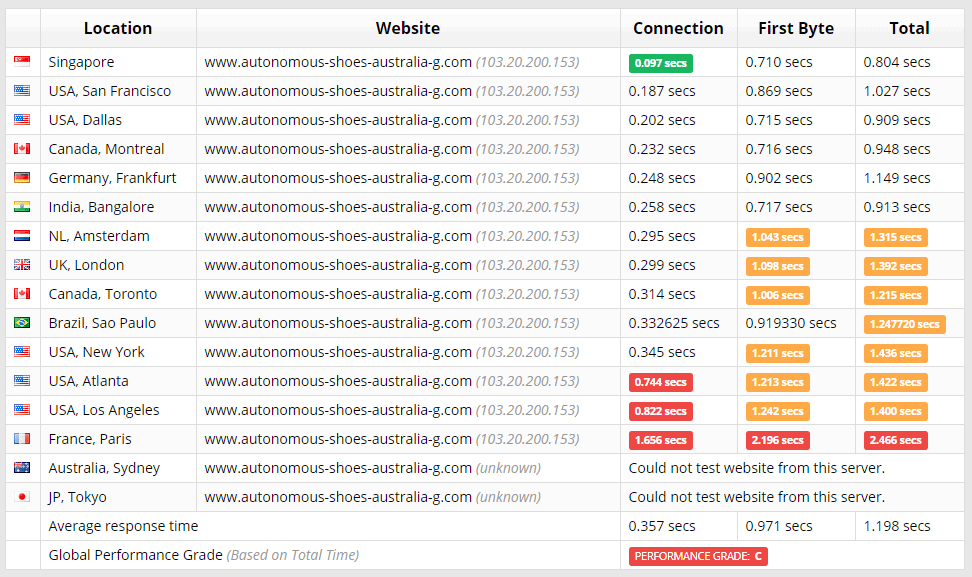 The winner? VentraIP and Crazy Domains are not the best web hosts when it comes to performance. However, Crazy Domains had better performance and faster loading speeds when tested. Therefore, Crazy Domains wins this round.
4. Security
VentraIP Has More Free Security Features Default
VentraIP guards your website with Corero DDoS Mitigation, which is more efficient against DDoS attacks, malware, and Brute-force attacks than Crazy Domains' BitNinja. Crazy Domains additionally offers Site Protection, which protects your website against malware and hackers, as a paid add-on. On the other hand, VentraIP has malware scanning and protection as a default (free) security measure with all its plans and services. Crazy Domains backs up your website automatically weekly and always recommends that you perform custom backups. VentraIP backs up your data on an hourly basis using Acronis Cloud Backup free of charge. So, it's easier to restore your information with VentraIP than with Crazy Domains. The winner is VentraIP. VentraIP is more proactive and cost-effective when it comes to securing your website as opposed to Crazy Domains.
5. Support
VentraIP Offers More Support Options
Crazy Domains and VentraIP both have well-organized and comprehensive knowledgebase sections. For customer support, VentraIP offers 24/7 live chat, phone, email, and support tickets. I tested both the live chat and support ticket options. I connected instantly to the live chat representative, and they thoroughly answered my questions. The ticket response came within a few hours.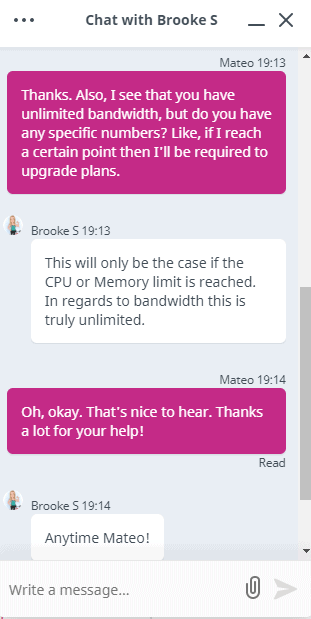 As for Crazy Domains, it offers 24/7 live chat, phone, and email customer support. Like VentraIP, when I contacted Crazy Domains' live chat, I was connected instantly both with the sales support and technical support. The agents answered all my questions promptly and respectfully.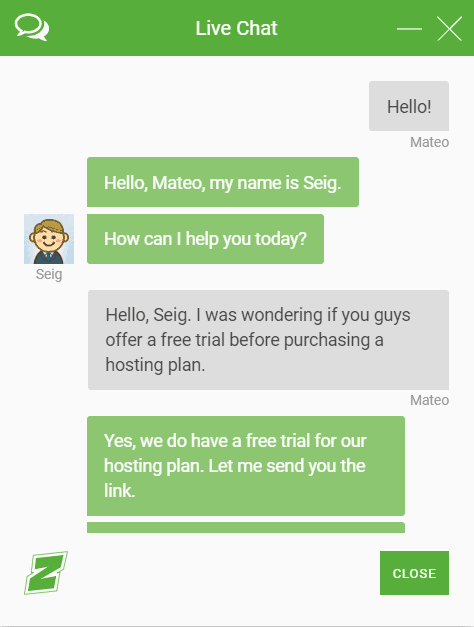 The winner? It's almost a tie, but VentraIP wins this round by a sliver for offering more support options.
Crazy Domains Loses out to VentraIP
Crazy Domains offers a more budget-friendly option compared to VentraIP (as long as you refrain from purchasing additional add-ons). Additionally, Crazy Domains provides a wider range of hosting plans, greater storage capacity, and slightly improved performance. On the other hand, VentraIP secures victory in this comparison through its provision of top-tier features, valuable complimentary offerings, enhanced security measures, and a broader array of customer support channels.
See VentraIP's prices and deals
.
In the end, it's up to you and what's more suitable for your needs. Neither VentraIP nor Crazy Domains made it to our
list of the best web hosting services
. Find out which hosts are recommended by our experts.
Plans and Pricing
Slightly more expensive plans. 45-day money-back guarantee
Cheaper than VentraIP. 60-day money-back guarantee
Key Features
Free website migration, free Comodo SSL certificate, SSD storage, unlimited email accounts, cPanel
Free website migration, more storage, up to unlimited email accounts, cPanel and Plesk
Performance
99.9% uptime guarantee, fewer downtimes, slower loading speeds
99.9% uptime guarantee, slightly more downtimes, faster loading speeds
Security
Free Comodo SSL certificates, Corero DDoS Mitigation, Fortinet Hardware Firewall, Anti-virus, anti-malware, hourly backups with Acronis Cloud Backup
Optional SSL certificates, DDoS protection with BitNinja, Firewall, Site Protection (optional paid add-on), weekly backups
Support
Comprehensive knowledgebase, 24/7 live chat, email, phone, and support ticket
Comprehensive knowledgebase, 24/7 live chat, phone, and email support
FAQ
Does VentraIP offer WordPress hosting?
No. VentraIP doesn't sell WordPress hosting plans. However, you can easily install WordPress with the one-click application installer. In addition, all VentraIP's shared hosting plans are optimized for WordPress with built-in LiteSpeed caching for fast loading. If you need reliable managed WordPress Hosting, explore the best managed WordPress hosting services.
How do I install WordPress on Crazy Domains?
Follow these simple steps to install WordPress on Crazy Domains:
Log into your cPanel.
Scroll down until you find Software or the [ v ] arrow symbol.
Click on the Installatron Applications installer button.
Scroll down to Content Management, then click on the WordPress icon.
Click on +Install this application.
Follow the wizard to complete the WordPress installation.
Does VentraIP offer a free domain?
No. VentraIP doesn't offer a free domain name with any of its hosting services, but it offers free website transfer. If you register a domain name with them, you'll get free DNS hosting, free email and web forwarding, and free WHOIS ID protection.
Does Crazy Domains use SSD?
Not with all hosting packages. Crazy Domains only offers SSD storage with its WordPress hosting and VPS plans. If Crazy Domains isn't quite right for you, why don't you take a look at my top recommended cheap and fast SSD hosting services.