, customer testimonials build trust and credibility with your audience for your products or services.
According to Vendasta, 92% of people like to read online reviews before deciding to make a purchase and 88% prefer to trust peer reviews rather than brand messages. Customer testimonials essentially encourage visitors to take the next step in your sales funnel, which results in a higher conversion rate. Not sure how to incorporate customer testimonials on your landing page without coming across as too pushy? Not to worry—read on for how to use testimonials
correctly
in order to boost your ROI.
#1: Use Your Target Audience
It goes without saying that your landing page testimonials need to come from actual customers that have tried out your product or service. Ideally, you should be featuring your target audience. Why?
Because it reiterates to prospective customers that, yes, this is the right product for them.
For instance, take The Open University, an online university geared toward adult learners looking to advance their education later in life. Many are likely juggling families, hectic schedules, and existing careers. It wouldn't make any sense to include testimonials from individuals who are straight out of high school and fall into the more "traditional student" category; doing so would only confuse your marketing efforts.
Customer endorsements help reiterate what makes your product great, and who it is for.
By featuring testimonials from the types of students that The Open University
wants
to have, they help prospective customers picture themselves as students, moving them further along the buyer's journey.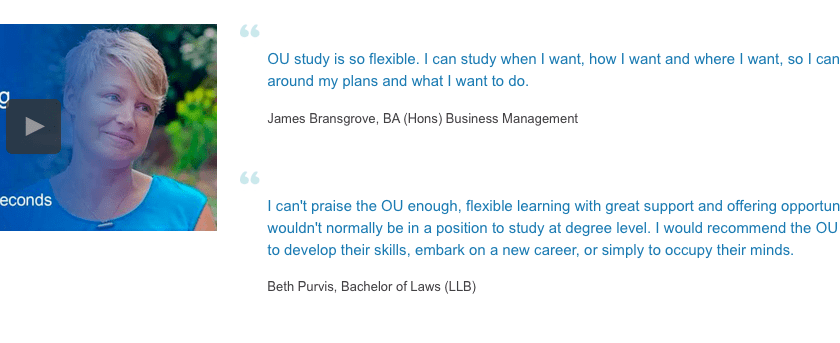 #2: Focus on Authoritative Sources
In addition to your target audience, try to use authoritative sources in your landing page testimonials to better show your worth and increase credibility.
After all, visitors are more likely to buy into a product or service if they learn that a well-known and respected company, publication, or public figure is also a fan.
For instance, if you're a regular reader of
Forbes
or The Verge, and hang onto every word that they say, then you're naturally going to trust them when it comes to their endorsement of productivity app Evernote, right?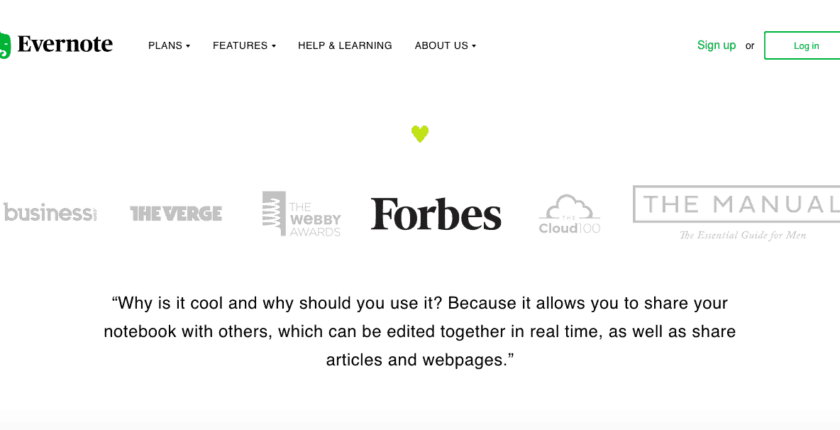 It's all about
wielding the power of influential sources in your target market
to effectively establish your brand and build recognition, which inevitably leads to an increase in sales. Just be sure that you are focusing on the sources that matter the most to your audience.
#3: Show Achievements and Statistics
Shouting about your achievements is another successful way of using testimonials correctly on your landing page.
Have you won any accolades or do you have any statistics that speak to the effectiveness of your offering? Even better!
I realize that nobody likes a bragger but, in this case, it really helps your chances when it comes to those all-important clicks and conversions. Take the restaurant San Carlo, for example. They state that they're the winner of 36 industry and consumer food and drink awards, and highlight the top three most prestigious awards to showcase on their landing page.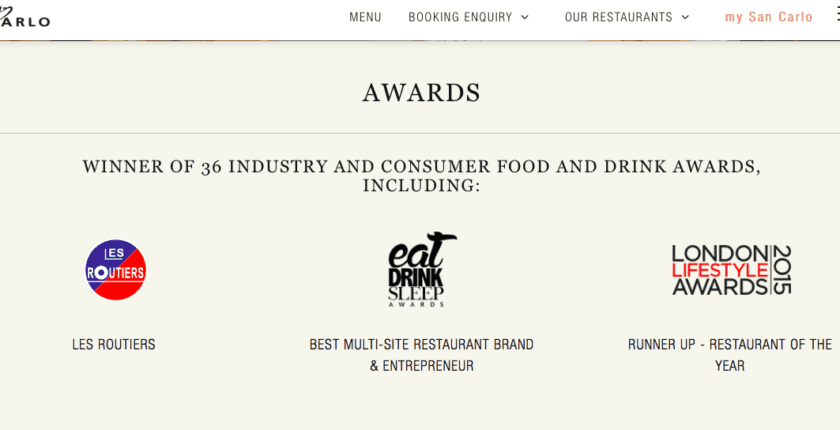 Be sure to always use official logos and direct links to the source if you want to boost your integrity.
If you make a claim but then can't back it up, this reflects poorly on your brand and consumers won't be able to trust you.
#4: Make Your Testimonials Highly Visual
As a consumer, do you think that you're more likely to trust an online customer review if it includes a real photo of the person rather than just their words? Studies say yes!
There's something about visual customer testimonials on landing pages that make them even more powerful.
According to Spectoos, 52% of marketers claim that videos are the best content type for increasing ROI. They're a highly effective way of communicating messages to your audience to showcase your authenticity. If you don't have the resources to create video reviews, you can still present your testimonials in an engaging and visually appealing way. Take online form builder
Formsite
, for example, they combine a number of different best practices from this article to best showcase their customer testimonials.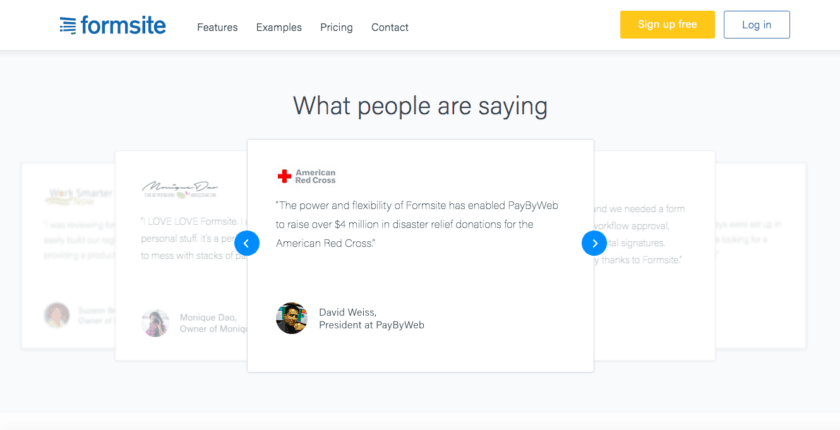 "Before" and "after" landing page imagery is also super impactful as it shows how you can benefit potential customers with your product or service.
For instance, the landing page of haircare brand Coco & Eve shows pictures of the "before" and "after" hair of their customers once they've used their products.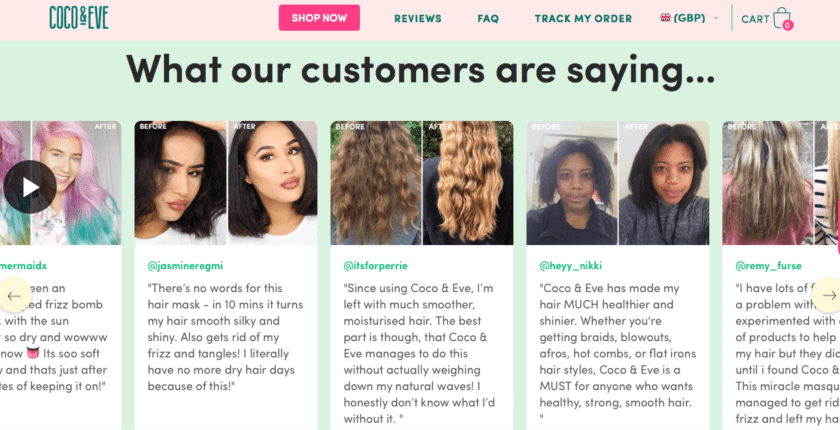 Coco & Eve further leverage this social proof by linking to their customers' Instagram pages where they sourced the imagery.
This works extremely well because it shows that these customers are real people who have given real testimonials,
which enhances the believability of the benefits of their brand.
#5: Place Testimonials Properly
As well as
who
and
what
you're showing in terms of landing page testimonials, you also have to think about
where.
There's no right or wrong answer when it comes to this, but let's get one thing straight—
sometimes, less is more in the online marketing world.
If you include too many customer testimonials, crowd the landing page, or overload your visitors in any way, they are likely to leave. Why? Well, it looks like you're either trying too hard or you're just making things too confusing. Instead, be cool and casual about your placement.
The
best landing page builders
will help you place testimonials prominently to project trustworthiness, while at the same time ensuring that the key focus is on your Call to Action (CTA) buttons.
Consider the best practices when it comes to
constructing your landing page
. Instead of putting testimonials everywhere, place one or two of them strategically on the page without taking attention away from the CTA. If you aim to stand out, consider excluding complete customer testimonials from your landing page. Instead, follow the example of Simply Business, a business insurance company. Showcase your customer review score and present a video depicting satisfied customers. Alternatively, you can opt to provide a preview of a full customer review by including a snippet.
Either way, the highest conversion rates derive from using CTA buttons as the main focus on your landing page alongside a couple of key customer testimonials to support them in an aesthetically pleasing way.
Target Your Testimonials
Customer testimonials on landing pages—when used correctly—are extremely effective in driving further clicks and conversions. Be sure to target them to your specific audience, make them visual in the form of videos and imagery, use social proof, and place them properly to build authority with potential consumers. By establishing credibility, you also develop trust, which ultimately pushes visitors further down the sales funnel to boost your ROI.
---
Sources
50 Important Stats You Need to Know About Online Reviews: https://www.vendasta.com/blog/50-stats-you-need-to-know-about-online-reviews 5 Great Customer Testimonials Examples to Use on Landing Pages: https://www.spectoos.com/5-great-tips-customer-testimonials-landing-pages/
Images
The Open University: http://www.openuniversity.edu Evernote: https://evernote.com/ San Carlo: https://sancarlo.co.uk/reviews/ Formsite: https://www.formsite.com/ Coco & Eve: https://www.cocoandeve.com/reviews Simply Business: https://www.simplybusiness.co.uk/