LegalZoom and Tailor Brands are among the best Limited Liability Company (LLC) formation services out there. Whichever you choose, you'll receive high-quality service, reliable filing, fast turnaround times, and a wide variety of extra tools to help you get started on the right foot. However, when it comes to your business, "good enough" is often not good enough.
Not only will the LLC service you choose handle your company's crucial starting phase, it will probably also be the first resource you consult when you need more administrative help. So you'll want to be absolutely sure that you've made the right choice. That's why I decided to look closely into both of these providers. After hundreds of hours researching merchant reviews, reading Terms of Service agreements, and consulting with customer support teams, I can tell you that
Tailor Brands offers better overall value for most business owners.
That said,
it was a close matchup, and the best service for you will really depend on your particular business needs.
So, keep reading to discover the best option for you, or go ahead and check out Tailor Brands' LLC formation plans today.
Features
Tailor Brands' Marketing and Design Services Are Hard to Match
LegalZoom and Tailor Brands offer free plans
(which is to say you only pay state filing fees) that include all the necessary tools and resources for registering an LLC. And
they provide the fundamental features you'd expect from any respectable LLC formation service.
These paid add-ons include applying for an Employer Identification Number (EIN) on your behalf, helping you draft an Operating Agreement, or providing you with a Registered Agent service. In terms of just the basics, there isn't that much of a difference between the two. Even their usual filing times are about the same, and any potential difference gets smoothed over when you consider state processing times – which can range from weeks to months. Does this mean both services are the same? Far from it.
It's just that the most important differences lie in their respective complementary features.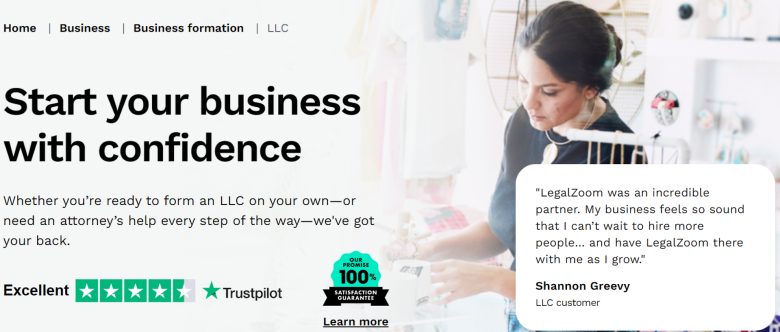 LegalZoom goes the extra mile to provide comprehensive legal assistance for your LLC.
It extends support for filing annual reports, provides business tax consultations, and can even help you open a Business Bank Account with your EIN. These features are designed to give you peace of mind and ensure all your legal administrative needs are covered.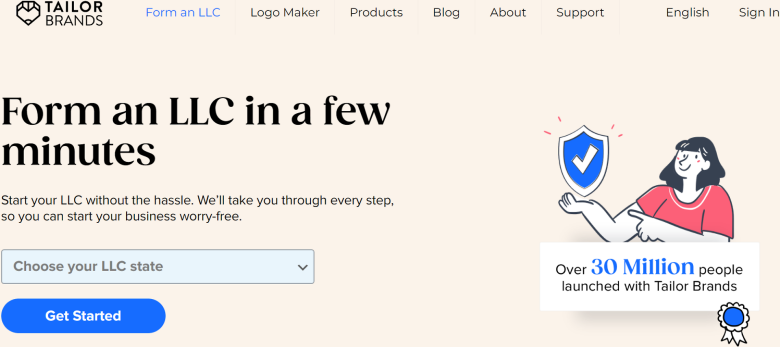 On the other hand,
Tailor Brands shines with its marketing and branding features
, allowing you to establish a distinctive brand identity for your LLC. Its intuitive logo design tool enables you to create a professional and eye-catching logo uniquely tailored to your business. But it doesn't stop there.
Tailor Brands also offers comprehensive brand identity tools, including customized brand guidelines, social media assets, and even professional website design.
This can help you to attract customers and distinguish yourself from competitors without having to hire an expensive creative agency. To be honest, the win in this section goes to whatever you consider more important to your business. If you're looking for an all-in-one package for legal help, LegalZoom is a great choice. If you're looking for a full set of services to help you establish a brand identity, then Tailor Brands is the way to go. Still,
I'm inclined to give Tailor Brands the edge here because of the quality of its design tools
and the convenience of having your visual identity needs provided alongside your LLC registration.
Ease of Use
Both Are Incredibly User-Friendly, but Tailor Brands Takes the Lead
Ease of use is fundamental to any LLC formation service. After all, you can register a company entirely on your own, so for any service to be worth it, it needs to provide a stress-free and streamlined experience. Luckily,
both LegalZoom and Tailor Brands excel in this category.
LegalZoom takes pride in its
fast, intuitive, and fully-online sign-up process
.
Its platform guides you through each step, ensuring you provide all the necessary information to form your LLC accurately. LegalZoom allows you to complete the entire process without the need for extensive legal knowledge or expertise.

On the other hand,
Tailor Brands takes the ease-of-use factor even further with its exceptionally designed user interface and dynamic application process.
The user-friendly interface and smooth navigation make the application process interactive and engaging. You can also customize your company's visual elements as you go. Whether you're designing a logo, creating brand guidelines, or building your website, Tailor Brands ensures a seamless and enjoyable user experience. What's more, Tailor Brands offers its LLC formation services in Spanish and English, and its design services are also available in Dutch, French, German, Italian, Portuguese, and Turkish. This can make a world of difference for non-native English speakers or non-US citizens who are looking to register and establish a company and brand identity. While both LegalZoom and Tailor Brands offer user-friendly platforms,
Tailor Brands takes the crown when it comes to ease of use
.
Its exceptional interface and dynamic application process make the user's experience more engaging and enjoyable.
Pricing
Tailor Brands Offers Similar Features at a Lower Price
If this section was just about pricing
transparency,
LegalZoom would blow Tailor Brands out of the water. LegalZoom clearly states its three LLC formation packages. You can choose between the Basic, Pro, and Premium package (
$
0
,
$
249.00
, and
$
299.00
respectively). LegalZoom's Basic package offers, well… the basics for registering your LLC. The Pro package also includes EIN registration, Operating Agreement drafting, and 30-minute consultations for taxes and legal questions. And the Premium package extends the legal assistance even further. Tailor Brands, on the other hand, obfuscates its pricing a lot more. Its website doesn't show any pricing clearly, and you can only see the required fees until late in the registration process.
That lack of clarity is especially baffling when you consider that Tailor Brands's pricing options are actually very straightforward.
Just like LegalZoom, Tailor Brands offers three plans. The Free and Essential packages are almost one-to-one with LegalZoom's Basic and Pro packages, with the notable exception of EIN registration, which Tailor Brands offers as a paid add-on to any plan. That said,
Tailor Brands's highest-paid package costs just about the same as LegalZoom's middle package, but offers way better value.
For
$
249.00
, you get not only expedited filing and drafting of an Operating Agreement, but also access to a full suite of branding and creative tools. For a quick glance at how LegalZoom's and Tailor Brands' top-end packages stack up against each other, take a look at the table below:
Tailor Brands
LegalZoom
Prices of the most comparable plans

$

249.00

$

299.00

Stated filing time/range (minus state processing time)
2 business days
5–14 business days
EIN application?

✘

✔

Registered Agent service?
For an extra fee
For an extra fee
Tax consultations?

✘

✔

Logo creation services?

✔

 

✘

Web design services?

✔

 

✘

Branding services?

✔

 

✘
Support
LegalZoom Offers Better and More Readily-Available Support
Tailor Brands' customer support service is fine, but nothing spectacular. Its chatbot is available 24/7, but its answers are limited to showing you articles on Tailor Brands' blog, making it just marginally more effective than a Google search. Phone support is mostly just there to provide sales-related information.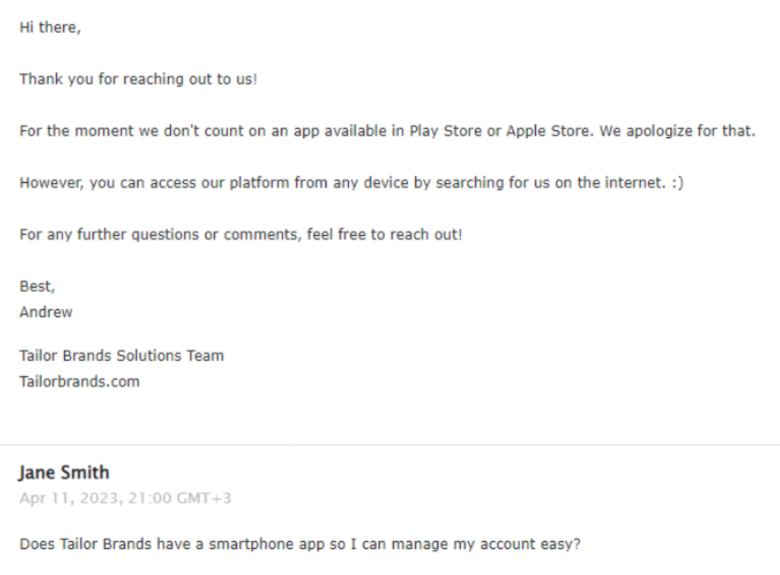 That's not to say it's all bad. In
our Tailor Brands review
,
we found email support to be helpful and efficient.
Not only did email support answer our questions, but it also followed up to make sure the answer was satisfactory. The only problem is that email support can take as much as 48 hours to get back to you. LegalZoom, on the other hand, offers fantastic support across the board. In
our in-depth review of LegalZoom
,
we found LegalZoom's live chat support extremely helpful.
Though its customer support contact form could use some work, most independent merchant reviews praise its email support quality.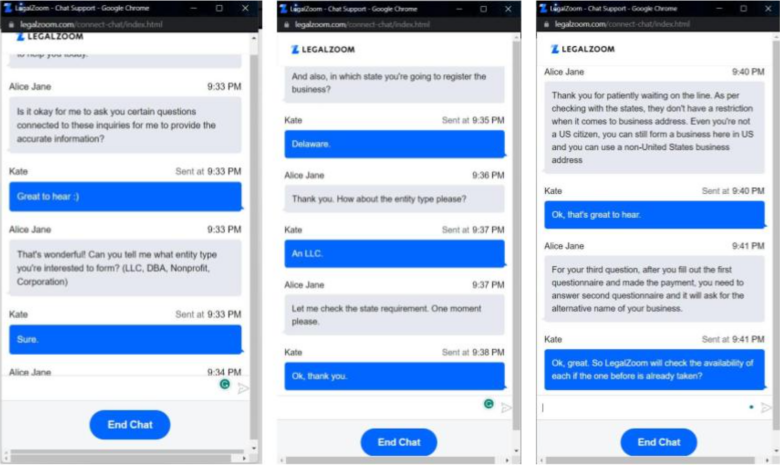 Though LegalZoom only offers phone support with its Pro and Premium LLC formation packages, several merchants report prompt response times and useful, in-depth answers. Tailor Brands' support might not be awful, but
LegalZoom is by far the winner in this category.
In the End, It's All About What Your Business Needs
Out of all the LLC formation services out there, you could do a lot worse than Tailor Brands or LegalZoom.
Both provide free high-quality barebones packages for LLC registration, outstanding extra value on their paid plans, and top-notch extra features.
Though Tailor Brands beats LegalZoom in most categories, it's mostly just by one small detail that it takes the lead. That means that the best service will ultimately come down to what you need. If you could use a little extra help handling the legal nuances of your LLC, and you don't mind paying a little more for it, then LegalZoom would be an ideal choice for you. However,
Tailor Brands' digital design tools, user-friendly dashboard, and easy LLC formation process make it the better all-around choice for most business owners.
Features
Great base features with a wide selection of branding extras
Great base features with a wide selection of legal extras
Ease of Use
Incredibly easy to use, with a more engaging sign-up process
Incredibly easy to use
Compliance
Not BBB accredited
BBB accredited
Pricing
Better value for most services
More expensive across the board
Support
Okay support
Excellent support
FAQ
Should I choose Tailor Brands or LegalZoom to register my LLC?
That depends on your business. While both Tailor Brands and LegalZoom offer some of the best LLC formation services on the market, their selection of added features differs greatly. LegalZoom offers extra services to help you deal with the legal nuances of running an LLC, while Tailor Brands offers a wide selection of features aimed at helping you establish a successful brand identity. If you're having trouble deciding, I recommend that you take a more in-depth look at the features they offer.
What is the best LLC formation service?
While not every LLC formation service out there offers good quality, there's no shortage of great options. The best formation service for your company will vary a lot depending on your particular needs and where you feel you could use some help. That said, I can recommend both Tailor Brands and LegalZoom, as they both provide excellent quality and reliability. If you want to know which one's best for you, I recommend checking out our in-depth comparison.
Is Tailor Brands worth the price?
In short: yes. Tailor Brands offers efficient and reliable service for registering your LLC, as well as a fantastic selection of branding features. All for really affordable rates.
Can I register an LLC on my own?
Definitely, you have the ability to create an LLC entirely by yourself. However, this can be a complex and somewhat tiresome task. While it's not impossible, as a business owner, you have to ensure you have enough time and a clear mind to carry it out correctly. You could also simplify your life considerably by choosing an LLC formation service. A formation service can help you streamline the process, deal with all the complicated paperwork, and provide ongoing assistance. If you're not sure where to start, I recommend you check out our list of the 10 best LLC formation services in 2023.