Squarespace vs GoDaddy website builder
is tougher than you might expect. Both have several plans to choose from, attractive templates, and ease-to-use features.
I built websites on both platforms, and I can tell you that there are some big differences between them.
They're both user-friendly and deliver a polished, professional finished product.
The difference is that Squarespace has more options to customize your website
. The limited options of GoDaddy's free version means your site will end up looking just like everyone else
,
 but even the premium plans don't hold a candle to the customization of Squarespace.
I
tested the features of each and broke down the differences from SEO and marketing to templates and plans to determine which is the superior website builder. If you want to create a site that stands out from the crowd, you'll want to go with the higher quality product that Squarespace has to offer.
Templates
Squarespace Beats GoDaddy in Quantity and Diversity
GoDaddy's templates are clean, professional, and fun,
 they're all attractive and somewhat versatile, but there is just not enough variety.
There are
only 16 free templates
 – which they call "themes," and many of those are incredibly similar to one another; with just slight variations, you could easily achieve the same effect on your own through font changes and box placement. GoDaddy offers five template categories: Blog, Online Store, Cosmetic and Beauty supply, Nonprofit, and Coming Soon. There's a lot of diversity with
Squarespace's large variety of templates
. Just select what type of business you are building your site for, and the topics that apply, and Squarespace will suggest templates that are right for you.
Choose your template first, because switching back and forth is difficult.
With an almost matte finish of soft fading and lighting, their templates have a minimalist feel, similar to Apple or Ikea. These beautiful templates are highly customizable, but they're going to maintain their overall look and feel.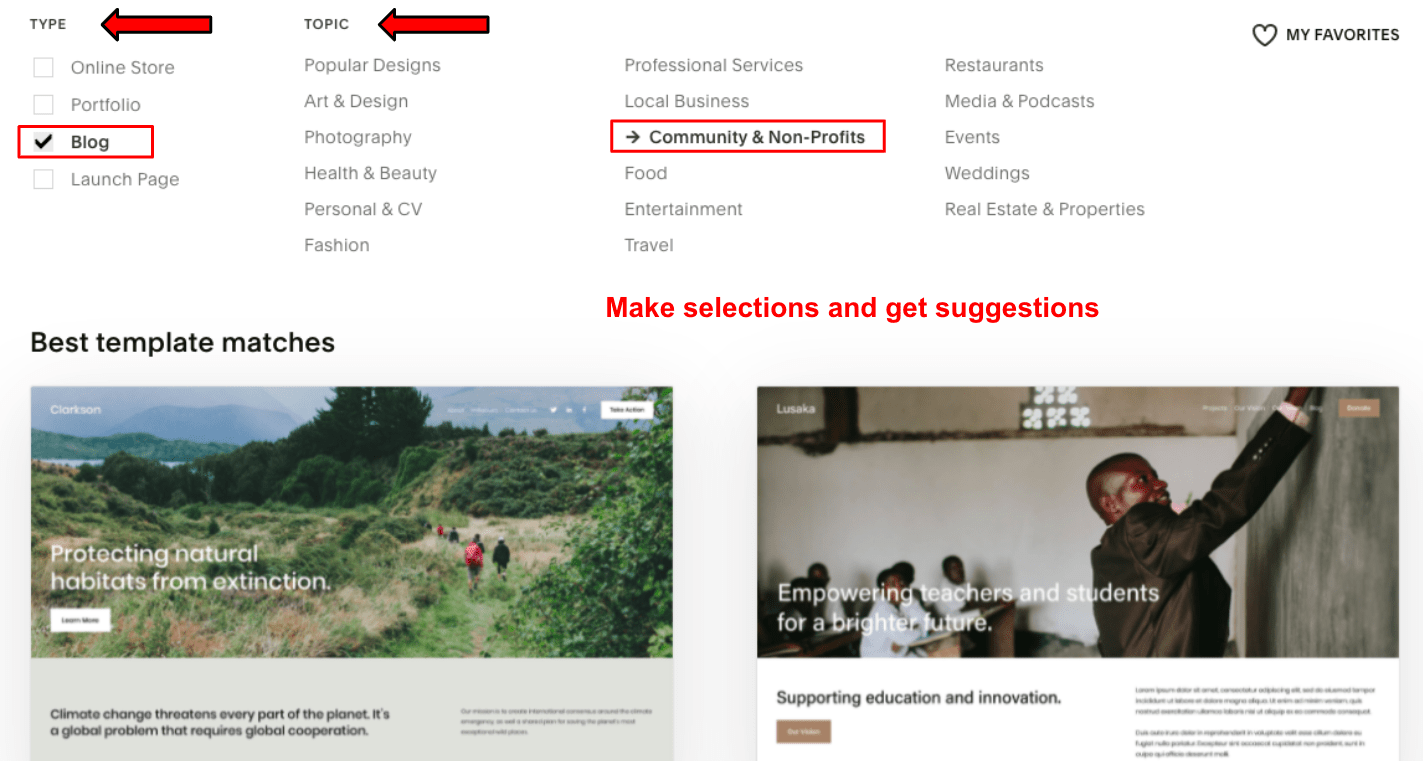 GoDaddy
makes switching templates easy. There's no losing your information – just select a template to try and your content seamlessly converts into the new template.
This makes trying out different templates fast and easy, and you can see exactly how your content looks with the new style.
Squarespace locks you into the template, so choose wisely. Neither GoDaddy nor Squarespace allows you to purchase third-party templates, so be sure you like what they're offering before you commit. They feature unique designs and truly vary from one another. GoDaddy's templates are simple and elegant but offer little definition between each.
Features and Ease of Use
Both Are Easy to Build and Use, but GoDaddy Is Easy to Market
Both builders are incredibly easy to use.
 Most of us building a new website aren't marketing gurus, graphic designers, or copywriters. Sure, we know that we need to create a website to reach our audience online, but what do we do after that? Thankfully, both offer useful and easy to follow guides.
GoDaddy makes building, marketing, and engaging with your audience simple and hassle-free without having to upgrade to a premium plan 
by offering clear next steps like creating email campaigns, Facebook posts, and Instagram insights.

GoDaddy makes it simple by prompting you with easy to do next steps once your site is finished, like marketing, audience engagement, and linking social media accounts. Linking social media accounts is easy with both, but it is a few more clicks with Squarespace vs GoDaddy, and with
GoDaddy's free version
 you can only link one account. Squarespace vs GoDaddy is a draw when it comes to important elements. Neither is lacking in the basics.
GoDaddy loses to Squarespace on the customization front, but this was a close one.
 Both website builders offer huge amounts of customization. On both website builders, you can easily see the automatic mobile view of your site, ensuring your audience sees exactly what you intended. With GoDaddy's drag-and-drop style editing you can easily move boxes up and down on the page, and change the content within the box. You can even select a box to move to a different page. Where you place the boxes, however, is pretty limited. Squarespace is also a drag-and-drop editor, and just like GoDaddy, you can't just drag whatever you want to wherever you want it. I can easily move my sections up and down and edit within the content boxes, but it's not freeform. Within the boxes, there are far more editing features with Squarespace than what you find with GoDaddy.
When it comes to blogging the ease of use with Squarespace won out.
 It is simple and intuitive to create a section, new posts, and to navigate. Several blog page options are available, almost like their own template section, and each one is visually appealing. With GoDaddy, it almost feels like the blog is a separate entity and setup is confusing.
Extensions and Plugins
Squarespace's Add-Ons Make All the Difference
With GoDaddy they're called plugins, Squarespace calls them extensions, but whether you call them plugins, apps, or extensions, they're those awesome little add-ons that are essential to the customization process. Adding plugins for things like custom loading icons and popout menus can take your site to the next level.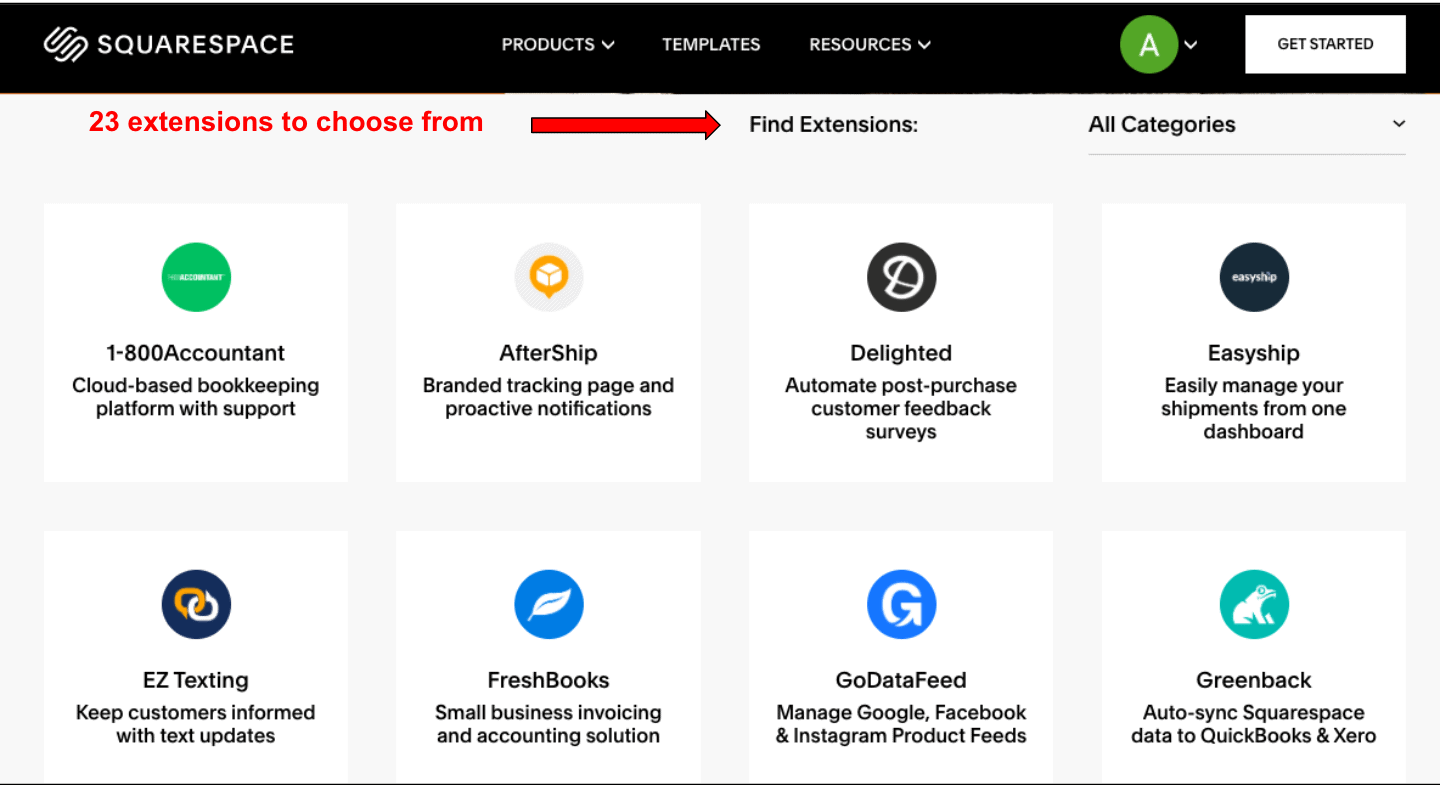 Squarespace has twenty-three extensions
, eight of which are free, the others starting around $10.
GoDaddy doesn't offer plugins directly through the website builder
,
 but there are innumerable third-party plugins that are compatible with your GoDaddy site. A quick Google search uncovered
over sixty free plugins I could add to my GoDaddy site
.
This is great, but the extra legwork is a downside.
SEO
Squarespace Better Integrates Its SEO Features
We all know that search engine optimization (SEO) is crucial to any web content. Without it, your site is lost in a sea of virtual information.
Squarespace makes it easy by building SEO best practices right into the makeup of every site.
 With things like clean URLs, built-in mobile optimizations, and meta tags, you are set up for success from the get-go. But they don't stop there! Squarespace has an incredibly easy to use section to help you understand and build SEO content right in with the website building features. Their guide and checklist are helpful and easy to understand and showed me exactly how to edit meta tags and why I would want to.
GoDaddy strongly encourages users to upgrade to a premium plan to improve SEO because their free plan doesn't offer
any
. It would certainly be worth the upgrade. The basic plan offers SEO features like keyword suggestions, rank tracking, and Google My Business which gives a snapshot of your site's important info. Even after the upgrade, it doesn't compare to what you would get from Squarespace.
Pricing
Get What You Pay For with Squarespace
Godaddy website builder vs Squarespace might seem like an unfair comparison because
GoDaddy has a free option
 and Squarespace does not. As I started to build my sites I quickly found that I'd have to pay and upgrade to do much with GoDaddy. For instance, with GoDaddy's free and basic plans you have to scour the web for plugins – free or otherwise – or upgrade to the pro plan to access them.
On the other hand, Squarespace delivers plugins right to you, and many are free to use. Plus,
Squarespace offers a free 14-day trial
, so you can set up your site completely free, but you'll have to purchase a plan to actually use it. The personal plan is affordable when billed monthly, but you can save even more when you pay annually.
Squarespace
GoDaddy
Type
Personal
Basic Commerce
Basic
Ecommerce
Price

$

16.00

$

27.00

$

9.99

$

29.99

SEO

✔

✔

✘

✔

Template Access

✔

✔

Basic Features

✔

Mobile Friendly

✔

✔

✔

✔

Shipping Options

✘

✔

✘

✔

Integrated Commerce

✘

✔

✘

*plugins needed
Support
When You Need Help, You Need it Now, and GoDaddy Gets It
GoDaddy was an almost immediate win on the support front.
I asked support for help at the same time, around 11:30 AM on a Sunday morning. I asked them the same questions.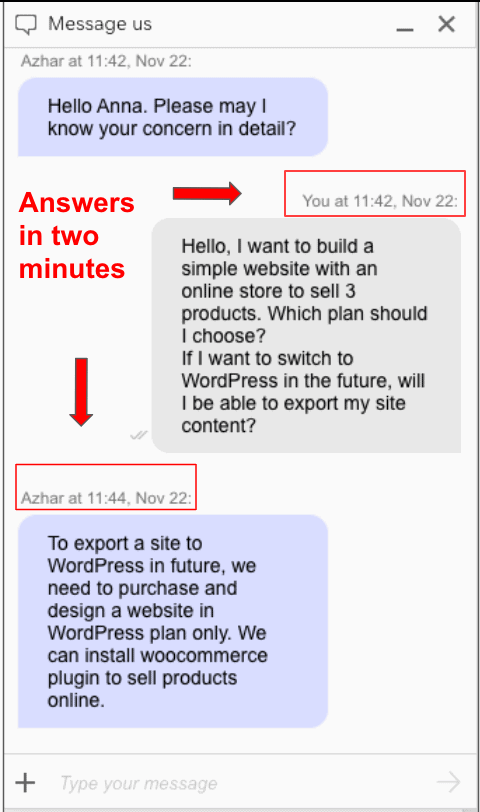 With GoDaddy, I could use their popup live chat, which is available 24/7. In less than five minutes I had an answer back from a helpful and friendly GoDaddy support team member who ensured I got all my questions answered and that I understood them. He also asked me about my day! It really was a positive experience. Squarespace's response took a considerable amount of time. I had the choice to either call or email their support, and I opted for email communication. In return, I received an automated canned response, to which I promptly replied with my inquiries. As of now, I am still awaiting their response, which has exceeded eight hours.
Both Have a Lot to Offer, but One Out-Matches the Competition
Squarespace is the clear winner for anyone who wants an easy-to-build, eye-catching website with all the features you need.
Whether you're looking to build a customer-friendly eCommerce site, or you're starting your first personal blog, Squarespace has the tools that you need at your fingertips, and at a low monthly rate. If you're still, somehow, not convinced that Squarespace is exactly what you're looking for, you can take a look at our
expert list of the top website builders for 2023.
Now, don't get wrong,
GoDaddy delivers an excellent finished product
, but you'll need to buy some upgrades, research your own third-party plugins, and put in more work along the way. However, their marketing is easy and user-friendly, so you might want to consider them if marketing and engagement are your big concerns.
Templates
60+ unique
16 free, more with upgrade
Ease of Use / Features
Intuitive drag-and-drop, loads of features
Features vary based on the plan, strong marketing
Plugins / Extensions
23 extensions
Plugins not available through the site
SEO
Integrated and easily enhanced
The free plan has 0
Free Plan
14-day trial only
Yes
Support
Unresponsive
Quick and excellent
FAQ
Which is better, GoDaddy, or Squarespace?
It really depends on what you're looking for. For e-commerce and blogging, Squarespace has everything you need. GoDaddy is great for help with marketing and audience engagement. If you want more help deciding, you can check out our expert Squarespce review, and our expert GoDaddy review.
Which is cheaper, GoDaddy, or Squarespace?
GoDaddy has a completely free plan, whereas Squarespace just gives you a 14-day free trial. GoDaddy's annually paid premium plans are so low they're almost half of Squarespace's lowest one. If you are particularly price sensitive, check out our list of the best completely free website builders in 2023.
What is the best website builder in 2023?
Again, this really comes down to your personal needs and interests. However, in our exhaustive testing all of the top website builders in 2023, Wix came out on top. Not only is it incredibly easy to use, but there are also tons of features, many of which are available on the free version. However, if design is especially important to you, Squarespace has the best looking templates. On the other hand, if you want to incorporate lots of functionality, WordPress could be the best option for you.
Is Squarespace worth the cost?
Squarespace is worth the small investment. Their templates are stylish, it's easy to use, and has great plugins. If you decide that it's right for you, check out our current Squarespace coupons to make sure you're getting the best deal.