At a glance, Smartsheet and monday.com are two similar project management software: each simplifies task management to ensure an efficient workflow within a team/agency. However,
monday.com brings more features to the table, most of which are highly customizable
. Smartsheet is flexible too, but not to the same extent. While monday.com and Smartsheet both do what they're supposed to do, monday.com managed to exceed my expectations in almost every way (except for its prices, maybe). For starters, I was (pleasantly) surprised by just how easy it is to use, despite its powerful functionality.
Smartsheet is still beginner friendly, but its interface isn't as intuitive as monday.com's
, so it takes a little longer to get the hang of. You can
try monday.com for free now
or keep reading to see why I think it's ultimately better than Smartsheet.
Features
monday.com Is Richer in Features, but Smartsheet Is More Generous with Its Automations
While testing each software, it soon became apparent that Smartsheet and monday.com provide many of the same core project management features. Both offer automations, integrations, project tracking tools, forms, and more. Impressively, Smartsheet makes all of these available on its entry-level plan, whereas monday.com reserves some of its more advanced functions for its Standard plan (and higher). That said,
monday.com's higher tier plans also unlock project views and additional features – like time tracking – that Smartsheet simply lacks.
One of the things I liked most about monday.com is that it's so customizable. You can make changes to anything, from project templates and forms to labels in dropdown columns.
monday.com also allows you to add different widgets to your boards that show charts, progress, to do lists, workloads, and more.
Smartsheet lets you customize its boards too, but not as much as monday.com. Both Smartsheet and monday.com give you access to automations, which they call workflows.
You can set up automations using a template or create them from scratch.
The difference between the two platforms is that you have to purchase monday.com's Standard plan or higher to access automations, whereas Smartsheet includes them in its entry-level plan. What's more, Smartsheet offers unlimited automations with its Business plan, while monday.com limits their number to 25,000/month even on its top-tier plan. As for integrations,
monday.com provides over 40 integrations
, including popular options like Microsoft Team, Slack, Dropbox, Zoom, Google Drive, and Zapier. By comparison, Smartsheet has only 11 integrations, plus an additional 70+ connectors.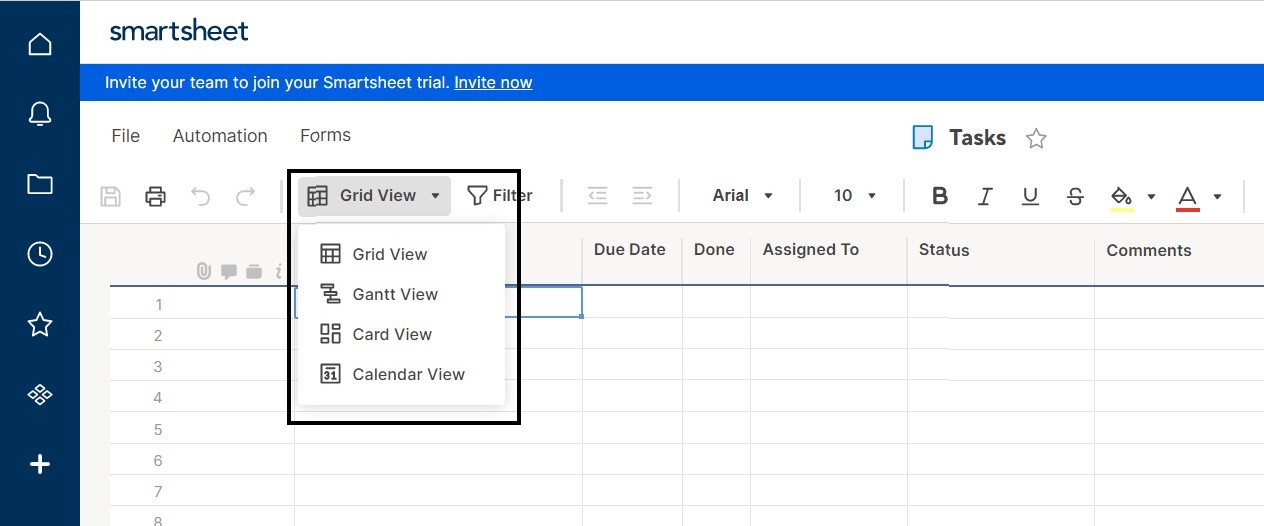 Another advantage of monday.com is the range of project views it gives you.
monday.com has 9 project visualization tools
, including Gantt and Kanban, and users can set the one that's best for them regardless of the view originally set by the project owner. Just be aware that not all of monday.com's views are available on its lower tier-plans – you'll need to upgrade to the Pro plan to access them all. Still,
Smartsheet has only 4 views available, regardless of the plan you choose
.

Lastly,
unlike Smartsheet, monday.com has a time tracking feature
. Once you add a time tracking column in your main table, a
Play
button will pop up next to a task, no matter which view you select. This makes it incredibly easy for team members to record how long they spend on each task, which is a big advantage when managing your resources. As far as features are concerned, I think
monday.com ultimately outshines Smartsheet
. Though Smartsheet is more generous with automations, monday.com provides more project visualization tools, more integrations, and a great time tracking feature built in.
Ease of Use
monday.com Is Easy to Use Right From the Start, While Smartsheet Takes Some Time
Thanks to its intuitive user interface, monday.com is effortless to use right from the start.
You're free to customize your boards according to your needs, but both the header and the menu on the left already include everything you need to get started. Plus, monday.com's modern and colorful design is more approachable than Smartsheet's spreadsheet-like design.
Smartsheet comes with a learning curve, and you'll need to spend some time with its knowledge base to really get to grips with it.
I admit I had some issues navigating the platform at first, partly because some key functions within project task lists are represented by symbols. For instance, I couldn't find the symbol for the
Add column
function at first. Once I learned what all the various symbols meant, things got easier.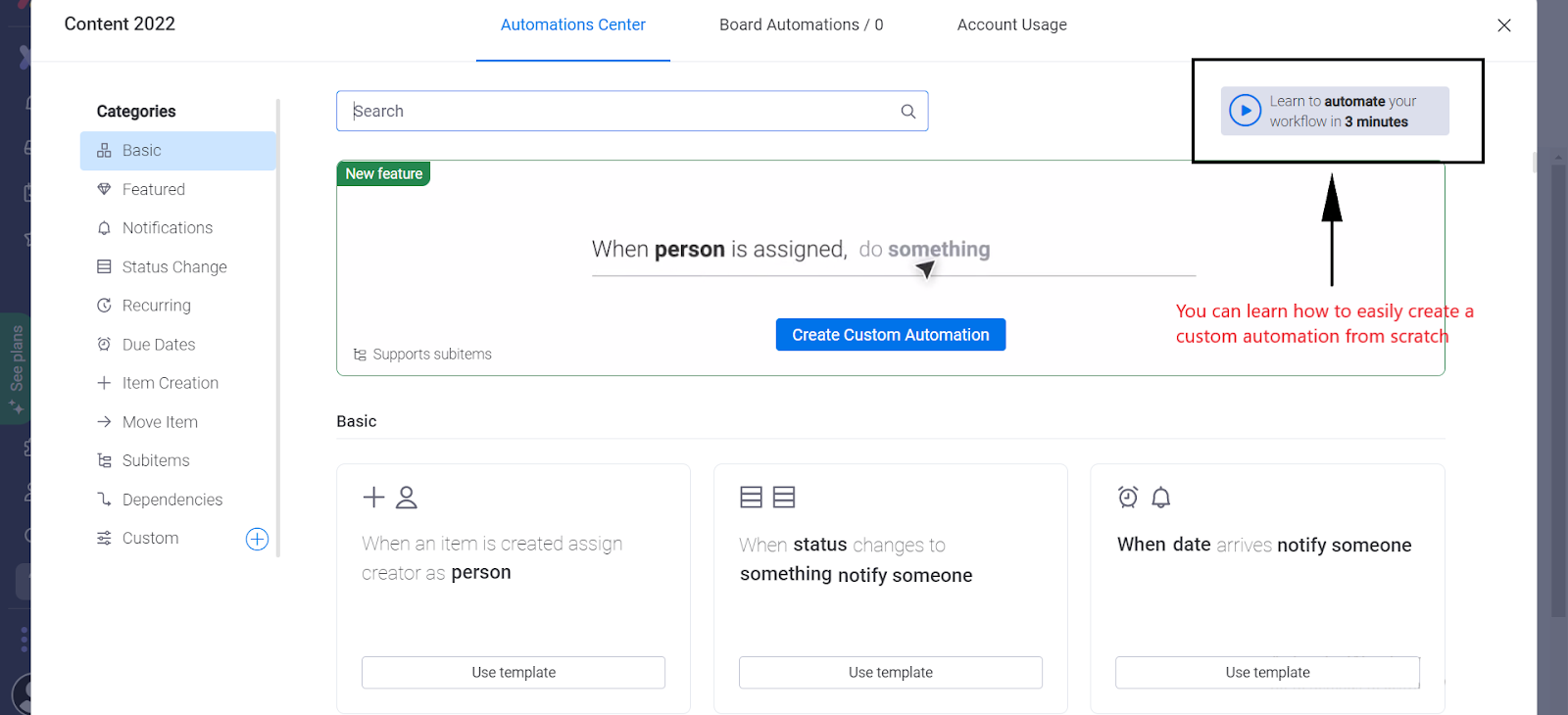 When you
sign up with monday.com
, you have access to several resources to help you get started. For instance, if you want to create an automation, monday.com will offer to teach you how in a few minutes. If you want to add an integration, again, you're told exactly where to go and what buttons to select. And if you already have experience with project management software, you can choose to build a template from scratch.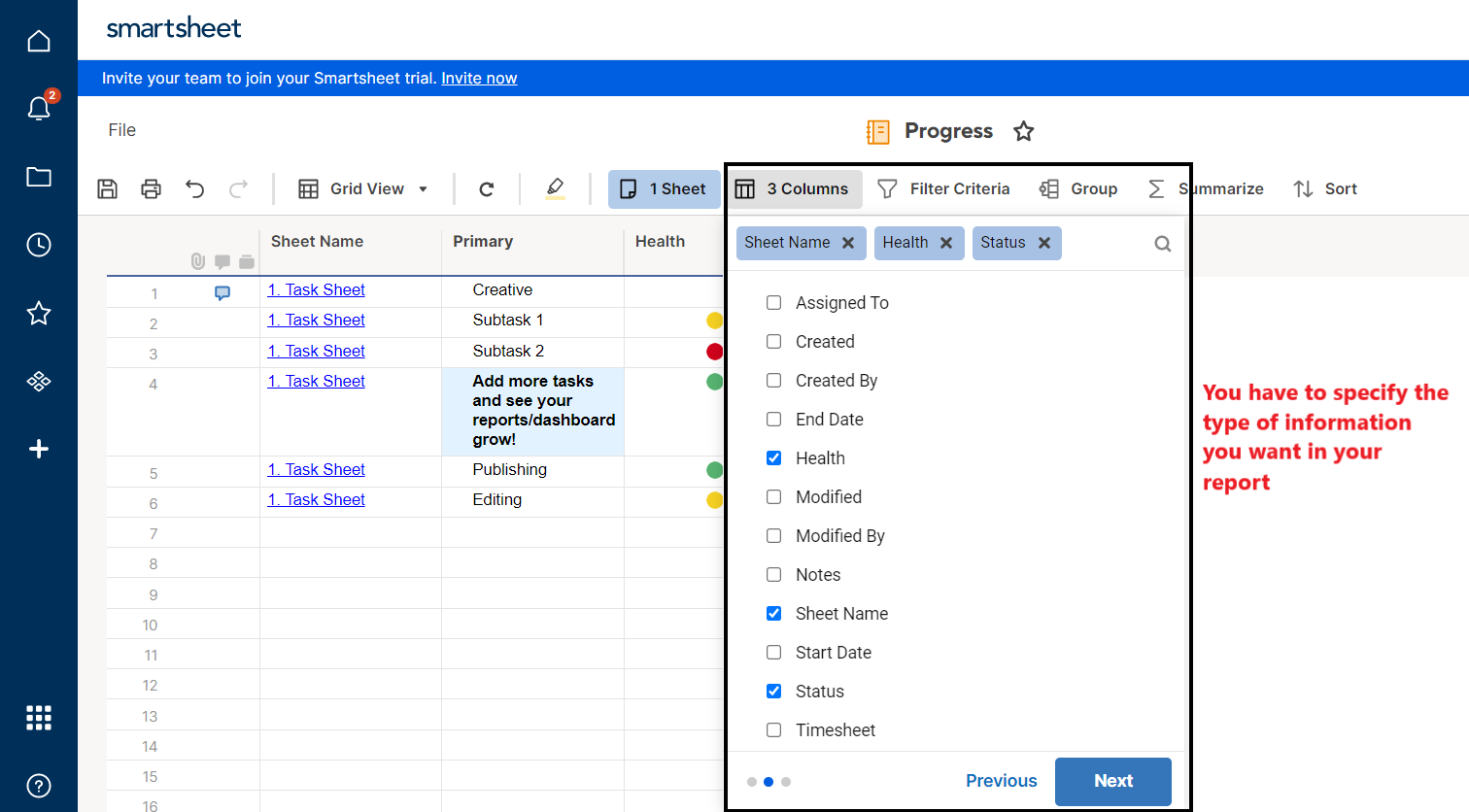 Reports
is where Smartsheet has an advantage over monday.com.
With Smartsheet, you can create a report by selecting the relevant cells, which are called source grids
. Once you establish what the report should include, you can share, export, and see it using the view that's most convenient to you. monday.com's reports are equally insightful, but they can take a little more time to generate because they require perfectly-optimized boards. On the other hand, omonday.com makes it quicker and easier to find files. Smartsheet has a search bar, but
monday.com's
Search Everything
feature allows you to conduct a more accurate and faster search
because it filters through people, tags, boards, files, and updates. When it comes to overall ease of use,
monday.com wins because its user interface is easy to navigate right away
.
Collaboration Tools
Smartsheet and monday.com Both Provide Excellent Communication Tools
While
neither Smartsheet nor monday.com have a built-in chat feature
, both have excellent team dashboards that allow you to comment on different tasks (which monday.com calls "items"), tag team members, and share files. And if it's a chat option you prefer, monday.com and Smartsheet each offer integrations with popular chat apps like Slack.

monday.com's primary method of communication is via discussion threads
available for each item. You can leave messages, tag team members using @, and add files directly to the conversation. Smartsheet offers pretty much the same functionality, but monday.com's threads are more visually appealing and easier to follow. For collaboration outside your team, both monday.com and Smartsheet allow you to add guests.
monday.com has shareable boards
that let you invite guests to view specific boards. Smartsheet makes things a little simpler by allowing you to share an existing sheet by sending an email invite to your chosen collaborators. In the end, I decided to call this section a tie, because
both platforms offer excellent collaboration tools, with each excelling in slightly different areas.
Pricing
Smartsheet is More Budget-Friendly, but monday.com Is Worth the Slightly Higher Cost
monday.com has three premium plans (plus a custom enterprise plan) that can accommodate a range of businesses, from small teams to large agencies. Its prices, however, are a little on the pricier side.
Smartsheet has two premium plans and a customizable enterprise solution
, and while these are better suited to freelancers,
small teams
, and agencies, its prices are more affordable.
monday.com has a free forever plan
and offers a 14-day free trial of its Pro plan, while Smartsheet offers a 30-day free trial of its Pro or Business plan.
Here's What You Get for Free
Unlike Smartsheet, monday.com offers a free forever plan
, and while it has its limitations, it should be enough for a personal project. It gives you access to the Kanban view and allows up to 1,000 items (tasks). You also get 500 MB of free storage.
Monday.com's free plan allows only two users
, but it doesn't include access to integrations and automations. Unfortunately, Smartsheet doesn't offer a free plan, but you can
try it out with a 30-day free trial
.
Here's What You Get If You Pay
monday.com gatekeeps some of its best features for higher-level plans. The Standard plan gives the best value for money at
$
10.00
because it includes automations, integrations, additional views, and more. Smartsheet imposes no such restrictions on its basic plan, but it offers fewer features overall. Both
monday.com and Smartsheet charge for each team member
. However, monday.com's plans are tailored for a specific number of teammates (3, 5, 10, 15, etc.), limiting your ability to pay only for the exact number of members you need. Smartsheet's Pro plan is suitable for teams of up to 10 users, and the Business plan sets no limits in that regard. Also,
Smartsheet gives access to automations and integrations even if you opt for the entry-level plan
. For a quick comparison, here's what you get with each project management software's entry-level plans:
Smartsheet
monday.com
Starting Price

$

7.00

$

8.00

Views
4
9
Integrations

✔

✘

Automations

✔

✘

Collaboration tools

✔

✔

Reports

✔

✔

Forms

✔

✔
Support
Smartsheet's Support Left Me waiting, Whereas monday.com's Agent Was Prompt and Helpful
Smartsheet offers three support channels – phone and 24/7 email/ticket support
. You're guaranteed a reply in 60 minutes or less. There's no live chat option, though, which is a bit disappointing. Still, Smartsheet's knowledge base is filled with tons of articles and tutorials to help you learn how to navigate every single aspect of it. You can also get help via the active community forum.
monday.com has two customer support channels – 24/7 live chat and an email/ticket system
. It also has an impressive knowledge base and an active community forum. I decided to pose as a complete beginner and test both Smartsheet's and monday.com's support services to see which one is more efficient.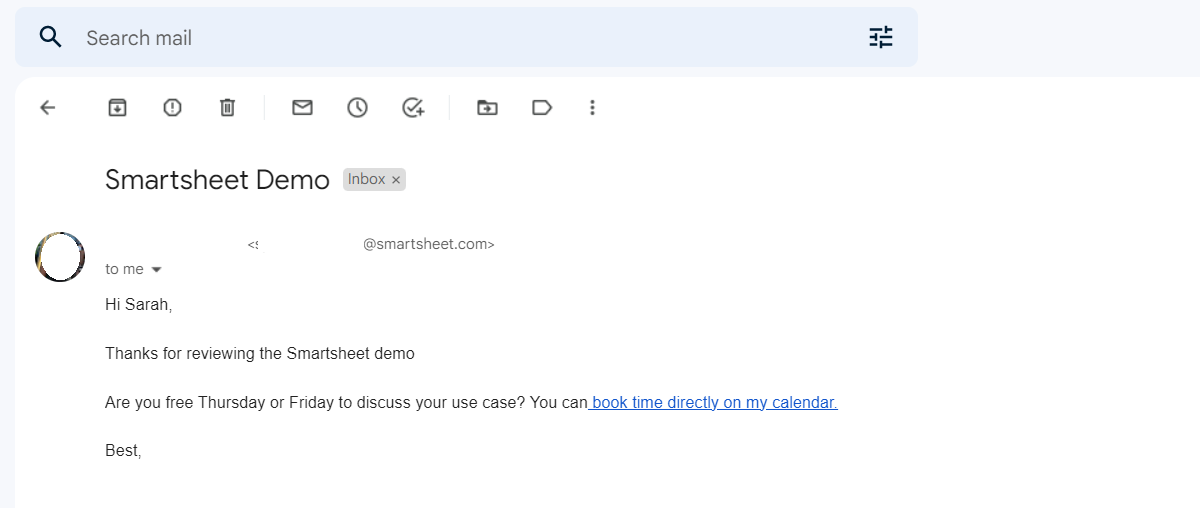 My interaction with Smartsheet was bittersweet. The first time I contacted customer service, I received an email telling me there was a high volume of support requests and I would get answers to my questions in
96 hours
. That's too long for most people's standards, so I tried again. Two and a half hours later (not 60 minutes as promised), I got a reply from an agent offering to have a meeting to discuss my questions, which is pretty amazing!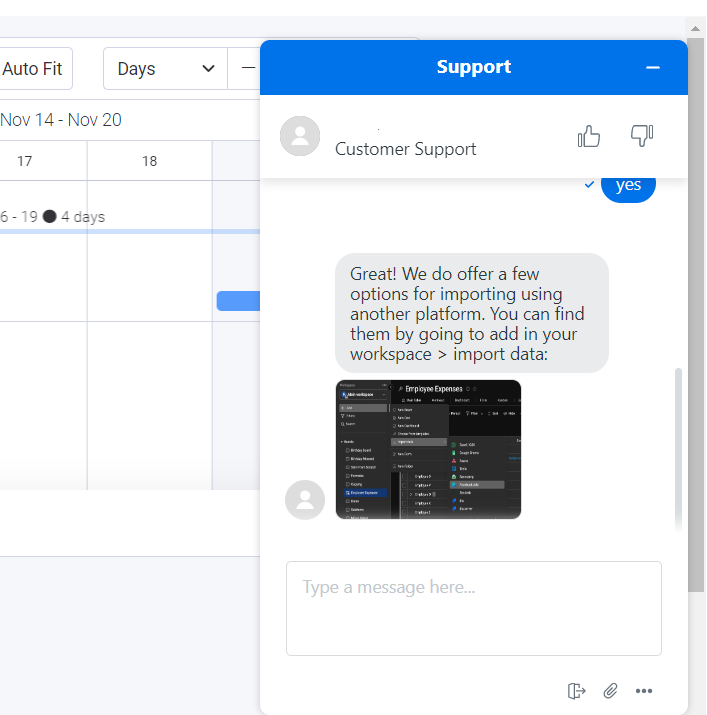 My experience with monday.com was much smoother. When I contacted its support via live chat, I was connected to an agent right away. Not only did I get an answer to my question in under a minute, but the agent even sent me a screenshot with the location of the feature I was looking for – quick and concise, just the way everyone likes it. I think it goes without saying that
monday.com offers superior customer support
.
monday.com May Be Pricier, but It Has More to Offer
Both Smartsheet and monday.com are solid options if you're looking to efficiently manage your teams and projects. Still, all things considered,
monday.com is the better choice
. It's highly customizable, has tons of useful, easy-to-use features, its user interface is more intuitive and visually appealing, and its customer support is outstanding. No matter how impressive monday.com may be, you may lean towards choosing Smartsheet if you seek a more budget-friendly option. Smartsheet offers comparable features and fulfills its intended functions. It may require a bit more time to become proficient, but if you're willing to invest the effort and favor a spreadsheet-like interface, it remains an excellent choice.
Features
Automations, 11 integrations, 4 views, forms, reports
Automations, 40+ integrations, 9 views, forms, reports, time tracking
Ease of Use
Basic user interface with a learning curve
Intuitive and beginner-friendly user interface
Collaboration Tools
Comment threads, mentions, file sharing
Comment threads, mentions, file sharing
Pricing
30-day free trial, two averagely-priced premium plans
14-day free trial for the Pro plan, limited free forever plan, and four premium plans
Support
Phone, email, ticketing system, extensive knowledge base, community forum
Phone for billing issues, 24/7 live chat, email, extensive knowledge base, community forum
FAQ
Is monday.com the best project management platform?
Yes, in my opinion, monday.com is one of the best project management software. It's highly customizable and extremely beginner friendly. monday.com also has some of the best features on the market, offering over 40 integrations, customizable automations, time tracking, forms, reports, and more. Plus, it has 9 customizable views, with each team member free to use the one they prefer.
What software is similar to monday.com?
There are many project management software similar to monday.com. For instance, if you're looking for something that's more affordable, you can take a look at Smartsheet. If you think this one doesn't suit you either, take a look at our list of top 10 best project management software.
How is monday.com different from Smartsheet?
While they share some similarities, monday.com is different from Smartsheet in several aspects. For example, monday.com is far easier to use due to its more modern and intuitive user interface. While it's not quite as affordable as Smartsheet, monday.com offers more integrations and project visualization tools (views), additional features, and is more customizable.
What apps does monday.com integrate with?
monday.com integrates with over 40 apps, including popular options like Slack, Gmail, Microsoft Teams, Outlook, GitHub, Twilio, Zendesk, and Jira.