While SiteGround and OVHcloud are both popular web hosting providers,
the most important thing to understand is that they usually cater to different markets.
SiteGround is primarily known for beginner-friendly, WordPress-based hosting plans, while OVHcloud's main focus is VPS, cloud, and dedicated hosting for enterprise users. However, as both of these companies offer some form of consumer-focused web hosting,
I've measured the overall value of each host's services in a comparison of their shared hosting plans
. All in all,
SiteGround is the better option overall, as it offers more useful features, more reliable uptime, and more helpful support
. OVHcloud isn't a bad host by any means, but its convoluted control panel and poor support can make simple day-to-day tasks an annoyance. That's just the short of it, though. Below, I cover what you can expect from both hosts, in detail.
Check out SiteGround's latest deals
, or read on to learn exactly why it came out on top.
Plans and Pricing
OVHcloud's Cheap Long-Term Pricing Offers Better Value
It's worth noting that OVHcloud offers a far greater variety of hosting types than SiteGround, including VPS, cloud hosting, and dedicated servers, but
both offer budget shared hosting, and this is where I focused my comparison
. SiteGround's shared hosting is available on monthly, yearly, biennial, or triennial billing cycles.
The yearly entry-level plan starts at just
$
1.99
. This is thanks to a special customer discount. On the other hand, you can only purchase OVHcloud shared hosting on an annual billing cycle and there are no discounts for new customers.
A free domain name is included with some hosting plans from SiteGround
Because of this,
SiteGround is slightly cheaper than OVHcloud – at first
. After your first year of hosting, your plan at SiteGround will renew at the normal price, which is significantly more expensive. Although OVHcloud does not offer an initial discount, you can expect a consistently competitive price –
OVHcloud is cheaper in the long-term
.
A free domain name is included with some hosting plans from OVHcloud
But what about the plans themselves?
OVHcloud offers more storage with its entry-level plan than SiteGround does with its most expensive plan.
In addition, OVHcloud allows you to host five websites with its cheapest plan, whereas SiteGround only supports a single one with its equivalent plan.
I'd have to say OVHcloud wins this round
– it offers better long-term value, and it's not nearly as tight on resources as SiteGround.
Features
SiteGround Offers an Efficient and Convenient Platform for Web Hosting
Both of these hosts use their own proprietary control panels.
SiteGround's is called Site Tools, and it's an absolute joy to use. I'm not exaggerating when I say it's one of most responsive and easy-to-navigate control panels I've ever worked with. Unfortunately, I cannot say the same for the OVHcloud control panel. Just trying to perform basic tasks through this panel was difficult – there were constant loading screens, the UI was a mess of unintuitive menus, and I even ran into a few bugs.
SiteGround is a much friendlier option for beginners
simply because of its control panel.
SiteGround is also particularly good if you're running WordPress.
Beyond the one-click installation process, you'll also have access to the WP Starter Wizard. This builds a basic framework for your site based on your responses to a few simple questions – such as whether you'd like to sell products or run a blog. It might save you a lot of time.
It also offers a WP Migrator plugin, which lets you easily transfer any existing WordPress site to SiteGround's platform with just a few clicks.
On the other hand, OVHcloud doesn't offer a migration service. You'd have to manually migrate everything over yourself using a third-party FTP client, which is going to be a huge headache if you're new to the process.
Overall, I'd say this is an easy victory for SiteGround.
It's not just more beginner-friendly – it's easier to work with overall.
| | | |
| --- | --- | --- |
| | SiteGround | OVHcloud |
| Hosting types | Shared, WordPress, WooCommerce, cloud, and reseller | Shared, VPS, cloud, and dedicated servers |
| Free domain name? | ✔ | ✔ |
| Free SSL? | ✔ | ✔ |
| Number of websites | 1 to unlimited | 5 to 10 |
| Storage | 10GB to 40GB SSD | 100GB to 250GB SSD |
| Bandwidth | Unmetered traffic, supports 10,000 to 400,000 visitors | Unlimited traffic |
| Control panel | Site Tools | OVHcloud Control Panel |
| Free CDN? | ✔ | ✘ (paid option) |
| Email accounts | Unlimited | 10 to 100 |
| Money-back guarantee | 30 days | 30 days |
Performance
SiteGround Takes Uptime Seriously – OVHcloud Is Much Less Reliable
We created a basic site with both hosts, complete with hi-res images, graphics, and text – what you'd typically see on most websites. We then performed speed and uptime tests. It's worth mentioning that
SiteGround offers you a choice of seven data centers spread across the US, Europe, Asia, and Australia
. This gives you good coverage on most major continents, letting you serve your target audience with a nearby data center for improved site loading speeds. On the other hand,
OVHcloud's shared hosting plans are served by a single data center in eastern Canada
. If your target audience is in Europe, they're likely to experience slower loading speeds. You can activate a Content Delivery Network (CDN), or upgrade to a VPS so that you can choose your data center, but both of these services will cost you more. First, we tested our site's loading speed with each host. Here are the results below: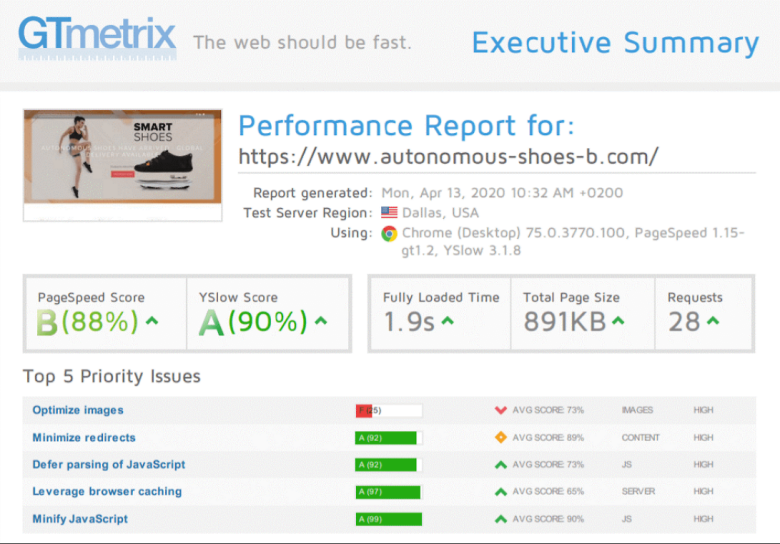 SiteGround, despite a heavy layer of caching and WordPress optimization straight out of the box, only offered mediocre speed (though still just within Google's recommendation of less than 2 seconds). It performed slightly better with Sucuri Load Time Tester, which you can read about in
our SiteGround review
.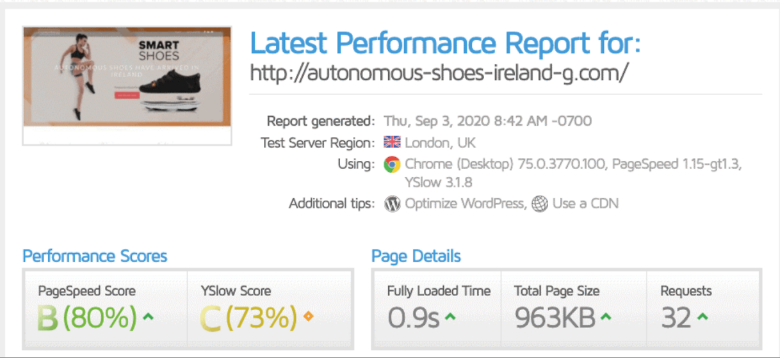 OVHcloud was the faster of the two, beating SiteGround's time by a whole second
. It also performed well in our global speed tests, which you can check out in
our OVHcloud review
. Next, we tested uptime.
We first looked at SiteGround, which offers a 99.9% uptime guarantee.
If this uptime quota isn't met, you'll get an entire month of free hosting – with additional free months for particularly poor uptime. This is much more generous than most other providers.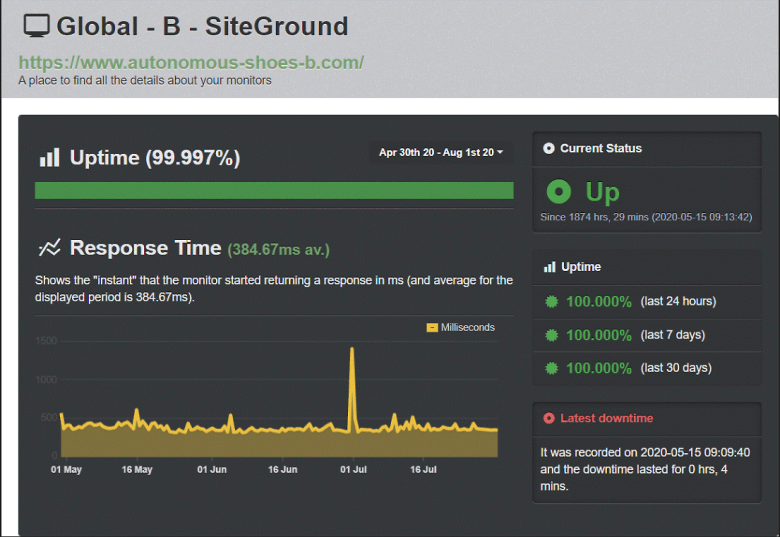 After a couple of months of uptime monitoring, we were very happy with SiteGround. Apart from a single short instance of downtime,
the website was always up.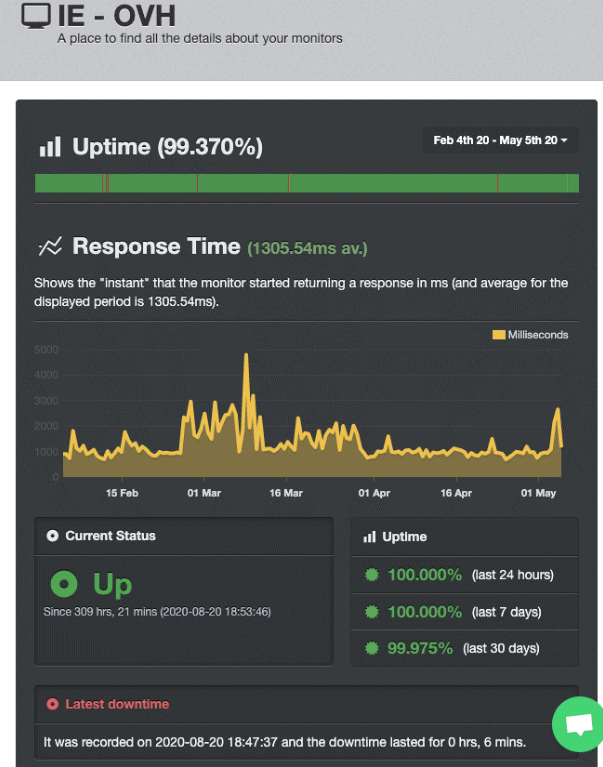 However, it wasn't such a good story for OVHcloud. It had much more significant periods of downtime – and to make matters worse,
OVHcloud has no uptime guarantee for shared hosting
. The same amount of downtime with SiteGround would give you an entire free month of hosting, whereas you'd get zero compensation with OVHcloud. So, which is better? OVHcloud is fast, but its poor uptime makes it a risky option.
SiteGround only offers decent loading speed, but it's far more reliable – which is why I think it's the safer pick
in terms of performance.
Security
SiteGround's Advanced Security Keeps Sites Safe – OVHcloud Only Provides Basic Protection
SiteGround uses a custom web application firewall (WAF) which is constantly updated to keep on top of new threats.
SiteGround also uses an AI-driven anti-bot system which effectively blocks millions of web attacks per day.
WordPress sites also get a specialized security plugin
which blocks common vulnerabilities and backdoors, hides revealing information from public view, and lets you keep track of login attempts. You can also take recovery actions if you are compromised, such as logging out all users and forcing a password reset. So, how does OVHcloud compete with all of this? Well, it has a ModSecurity WAF, some DDoS protection, and… that's about it. Don't get me wrong – this might be enough. But
it doesn't go the extra mile like SiteGround does
. Nor does it offer any specialized protection for WordPress sites, which often need it.
SiteGround is the easy winner for this section
, because your websites are kept secure without any effort on your part.
Support
SiteGround Provided Detailed Help, While OVHcloud Failed To Resolve My Issue
SiteGround offers 24/7 live chat, tickets, and phone support, along with an extensive knowledge base
consisting of guides and tutorials aimed at all skill levels. This is available regardless of your choice of plan. As for OVHcloud, there are multiple support levels available.
OVHcloud's free support tier is limited to 08:00 to 18:00 Monday to Friday
(the exact time zone will vary depending on your location). You can contact support via live chat, tickets, and phone support. There is also a knowledge base, but it isn't quite as comprehensive as SiteGround's. You can get 24/7 support with OVHcloud if it's an emergency – such as your website being down for a long time – but in most cases, you'll have to adhere to the schedule above. Plus,
the target response time is a staggering 8 hours
, which presumably will often take you past the end of business hours. For more available and responsive support, you'll be expected to pay an expensive ongoing fee. I know what you're thinking: it's not looking too good for OVHcloud. Well, we tested the support services for both hosts, beginning with a request for help from SiteGround's support team with connecting a domain to our test site.

The first issue we ran into was response time –
we had to wait over 20 minutes to connect to a SiteGround agent
via live chat.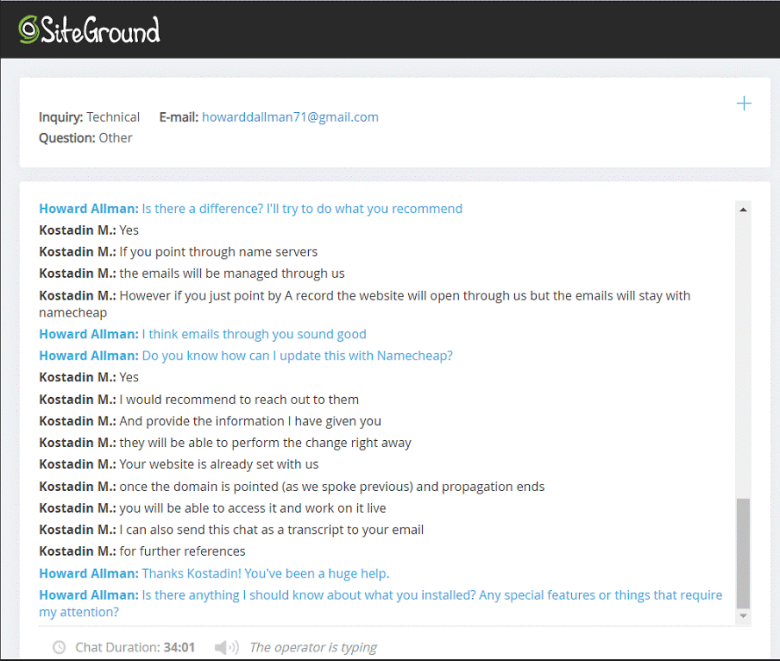 While the wait was long, it was worth it.
The SiteGround support agent was a pleasure to work with, patiently describing how to connect my domain in a clear and polite manner.
Later on, I asked for help with installing WordPress and the agent actually went ahead and did it for me. It's rare to get this level of service, especially with a budget host. Thankfully,
the wait times for SiteGround's phone support tend to be shorter
, so you do have the option to get a quicker response in an emergency. Then, we tested OVHcloud. As this was outside the usual support hours, we submitted a support ticket, hoping it'd be dealt with early the next morning. We asked for help installing a WordPress theme – a task that should require only a brief explanation, and maybe a link to a guide. Then, we waited. And waited. And waited some more. Just as we were about to give up hope,
we received a response from OVHcloud's support team eight days later
.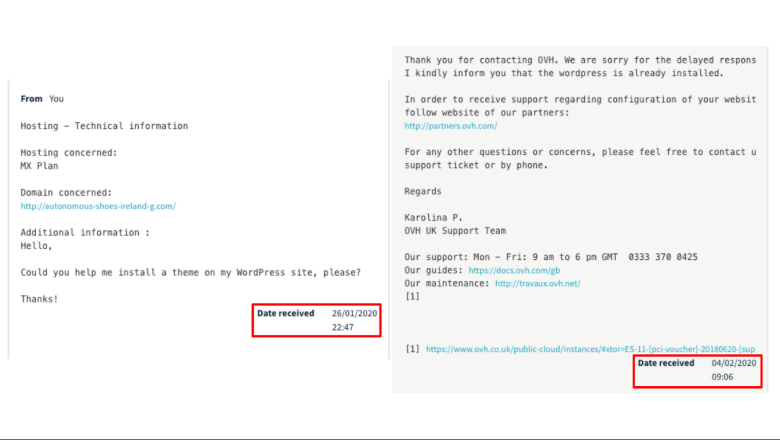 As you can see,
the OVHcloud agent didn't even understand my question
. Instead, they just confirmed I had WordPress installed. Eight days of waiting and I was still at square one!
This is why SiteGround wins this section, easily
– not only is its support 24/7, but it's more responsive and far more helpful.
SiteGround Earns an Easy Victory
With much better uptime, support, and features (especially for WordPress),
SiteGround is easily the winning provider
in this comparison. Its responsive Site Tools control panel will save you a ton of time over the clunky OVHcloud Control Panel, and you'll have plenty of WordPress features at your disposal to maintain your sites, and to keep them secure and optimized. While OVHcloud does have many benefits, like its cheaper long-term pricing and faster page loading speed, it's difficult to recommend with its shaky uptime and poor support service. SiteGround also made
our list of the top web hosting services for 2023
, while OVHcloud did not make the cut. For a clear side-by-side comparison of these two hosts, check out the table below:
Plans and pricing
Big discounts for new customers, but high renewal fees and tight resources in the basic plan
Cheaper in the long term, no renewal fees and generous resources
Key features
Beginner-friendly and responsive control panel, useful WordPress tools like WP Migrator and WP Starter Wizard
Unresponsive and messy control panel, and a lack of useful features, especially for WordPress sites
Performance
Slower site loading speed, but much more reliable uptime that's protected by a guarantee
Faster site loading speed, but patches of significant downtime with no guaranteed compensation
Security
Custom security suite featuring an AI anti-bot system and specialized WordPress security
Basic firewall and DDoS protection, no added security for WordPress sites
Support
Slow response times for live chat, but agents provide detailed and patient support
Painfully slow response times for support that may not even address your issues
FAQ
Is SiteGround or OVHcloud better?
I'd say SiteGround is the better option by far. While it will cost you a little more in the long term, SiteGround's responsive control panel and more reliable uptime is worth the extra money, and you'll get a nice discount when you sign up. I'd struggle to recommend OVHcloud because of its poor uptime and problematic support.
Where are the OVHcloud data centers located?
OVHcloud's shared hosting is served by a single data center in Beauharnois, Canada. Because of this, European, Asian, and Australian audiences may be waiting longer for your site to load due to latency. Despite this, OVHcloud still offered faster performance than SiteGround in our tests, even on a global scale.
Is SiteGround worth the money?
SiteGround is worth the money if you're looking for a particularly beginner-friendly solution with good features and support for WordPress.
Is OVHcloud good for VPS?
OVHcloud's VPS offer a good balance of affordability and powerful dedicated resources. All servers come with full root access and are completely customizable. Just keep in mind that these servers are unmanaged, meaning that you'll have to maintain and run the server yourself. If you're a beginner, I'd recommend starting with OVHcloud's shared hosting, or better yet, one of the options on our list of the best web hosting services in 2023.