If you're thinking about giving cloud hosting a try, then DigitalOcean might seem like the obvious choice compared to SiteGround. It specializes in cloud hosting after all, while SiteGround is more of a "general" host that also offers cloud hosting services.
But I've found that sometimes the specialist option isn't the best option – especially when it's so difficult to use.
Maybe you're concerned that SiteGround can't possibly deliver the same quality of cloud hosting. Well, you'll have to keep reading to get the full details, but the TL;DR is simple: After creating test sites and researching both hosts carefully, I can confidently say that
SiteGround offers a better cloud hosting service than DigitalOcean.
By the time you're done reading, you may even come to the conclusion that cloud hosting isn't really the best option for you – in which case, SiteGround has a
lot
more to offer.
Click here to see all SiteGround's latest plans
, or read on to find out what makes it the better choice in my opinion.
Ease of Use
DigitalOcean Is NOT for Beginners – but SiteGround Keeps Things Simple
I'm not going to lie, setting up a test site with DigitalOcean caused me a lot of frustration – and I've been setting up and building websites for over ten years.
First, I need to explain some terminology. DigitalOcean uses the name "droplet" to describe the cloud servers you can set up. There are plenty of options (such as Ubuntu and CentOS, and pre-configured droplets), and you can create multiple droplets, too. I build websites using WordPress, so I was pleased to find a one-click pre-configured droplet that runs on Ubuntu. Once I'd selected the plan details (more on this in the pricing section) and other options, I thought I'd be good to go. Unfortunately, "one-click" installation is misleading.
It took a lot more than one click – and a lot of frustration – before the installation process was finished.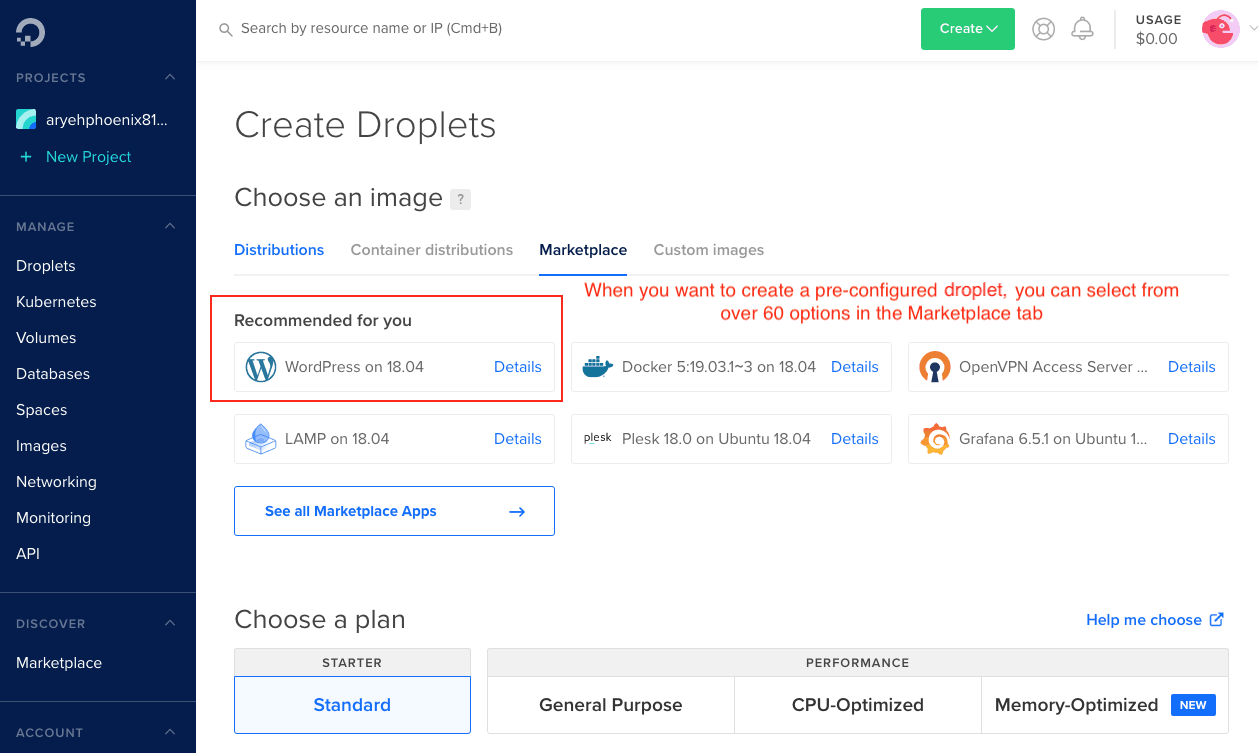 You have to use an app like Terminal (macOS) or DigitalOcean's VNC (virtual network computing) console to set up WordPress (or other apps) on your new DigitalOcean cloud server
– and the instructions aren't entirely clear. If you're used to working in Terminal, you'll be fine – but if you're not, I'd avoid DigitalOcean!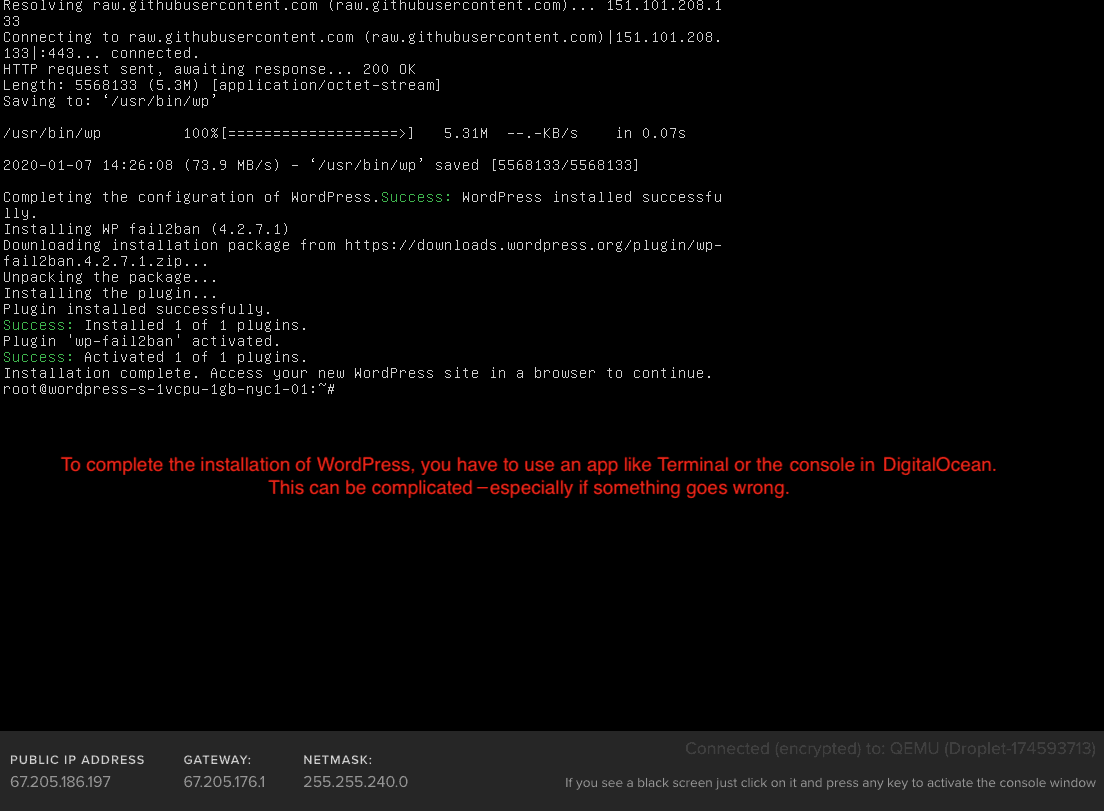 Compared to DigitalOcean, SiteGround is super easy to use.
Because it's
managed
cloud hosting, you're not on your own to set things up the way you are with DigitalOcean. Everything is managed from within SiteGround's customized Site Tools (dashboard), and installation of apps like WordPress and Weebly Sitebuilder is as easy as one click.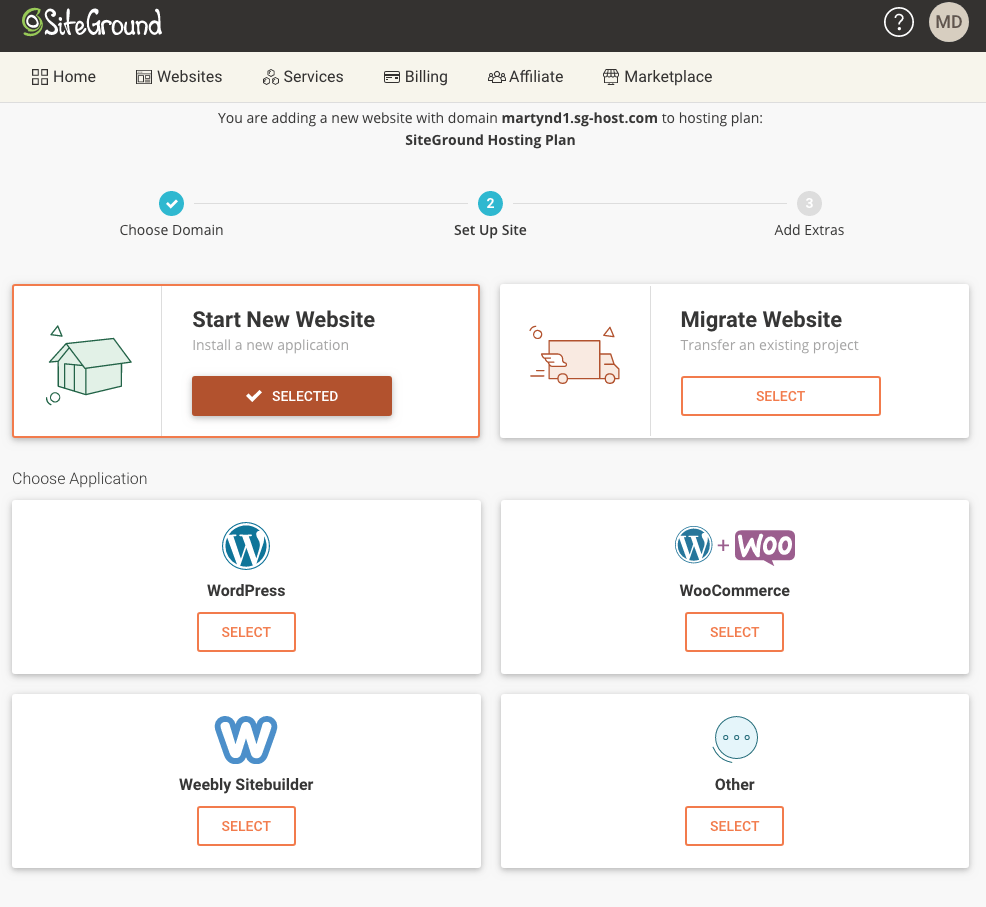 If you already have a website hosted elsewhere, the technical team will migrate your existing website(s) for free.
For my SiteGround websites, the process took just a few hours to complete, and I didn't have to worry about a thing. Because SiteGround uses SiteTools across all of its hosting plans, you'll have the same easy experience with shared hosting and WordPress hosting, too.
Plans & Pricing
DigitalOcean's Plans Are More Flexible, but SiteGround's Plans Are Simpler
SiteGround's four cloud hosting plans
– Entry, Business, Business Plus, and SuperPower – each offer a different amount of CPU (processing) power, memory, and SSD storage. SSD storage starts at 40 GB, while data transfer is a very generous 5 TB. (Data transfer is sometimes also referred to as bandwidth, or the amount of data transferred when someone visits your website or downloads a resource from your website.) You also have the option of configuring your cloud hosting into a custom plan, adjusting the CPU, memory, and SSD storage according to your needs.
You're able to change your plan at any time in your dashboard, so you never have to worry about running out of resources.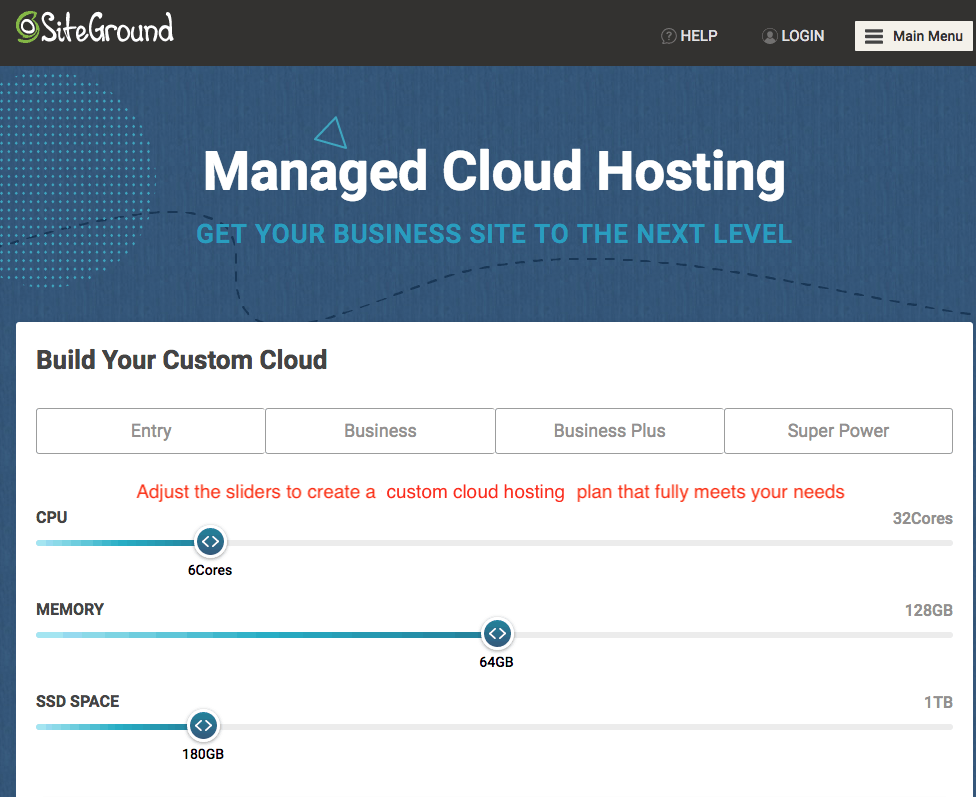 Of course, SiteGround offers much more than just cloud hosting, and its shared hosting, managed WordPress and managed WooCommerce plans are much more affordable.
If you don't need higher levels of resources (storage space and processing power), a managed WordPress plan could be more suitable. For example, you could choose the highest-priced managed WordPress plan, GoGeek, and benefit from all the speed-boosting features plus higher levels of server resources compared to other plans, at a fraction of the cost of the entry-level cloud hosting plan.
DigitalOcean offers a lot more customization options, allowing you to select from server types,
including Ubuntu, CentOS, and Fedora. It groups the cloud server options according to performance level – Standard, General Purpose, CPU-Optimized, and Memory-Optimized – with differing amounts of SSD storage, data transfer, and memory. SSD storage amounts start at 25 GB, and lower-priced plans include 1 TB of data transfer. You have much more payment flexibility with DigitalOcean, as you only pay for what you use, and you can set up billing alerts to automatically receive an email notification when your monthly usage exceeds a certain amount.
You do need to add credit to your account (generally enough to cover the estimated cost for one month) before you get started.
For example, if you wanted to create a CPU-Optimized server droplet with 4 GB of memory, 2 CPUs, and 4 TB of data transfer, DigitalOcean will only allow you to create that droplet when you have added enough money to your pre-paid balance.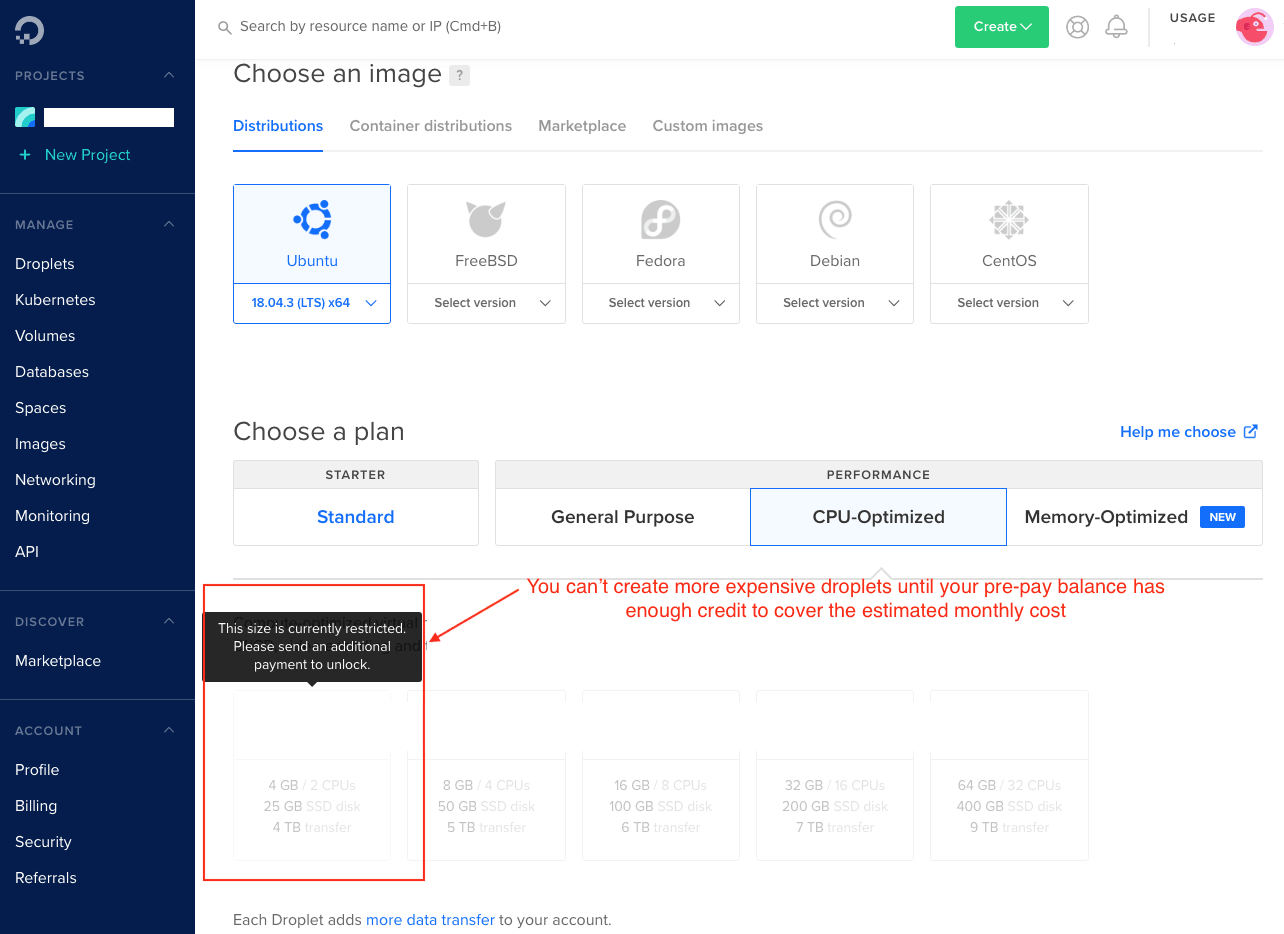 Performance
SiteGround Packs In Speed Enhancements That DigitalOcean Lacks
Compared to shared hosting, cloud hosting is going to perform better by default, so you can expect better speed and reliability. In addition,
SiteGround's cloud hosting is supplemented by exclusive speed-boosting features that give you even faster page loading times
.
SiteGround includes:
Cloudflare CDN (content delivery network) for fast loading speeds no matter where your visitors are browsing from
NGINX Direct Delivery to ensure images load fast from the server memory
SuperCacher, SiteGround's innovative caching service that includes NGINX dynamic cache and the Memcached service within the SG Optimizer plugin
GZIP compression
DigitalOcean doesn't offer the same kind of speed enhancements.
Its servers are configured to give the best possible speeds, and you can access some pre-configured droplet images in the Marketplace that do include some performance-enhancing features. The OpenLiteSpeed WordPress droplet, for example, can improve page loading speeds, but it's not as fast as SiteGround.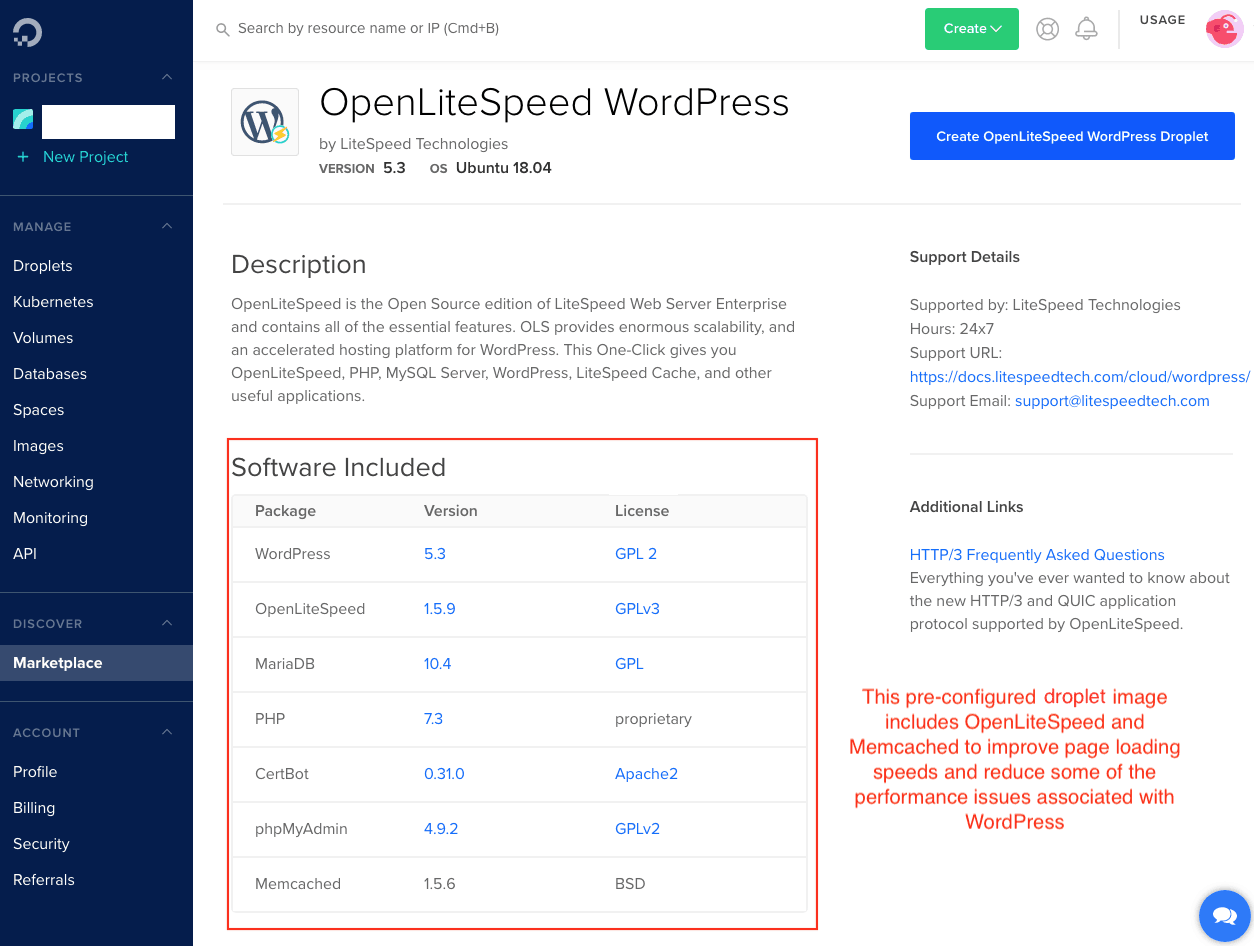 Features
SiteGround Is Fully Managed with Features DigitalOcean Can't Provide
DigitalOcean and SiteGround offer vastly different features with their cloud hosting plans – possibly because they're targeting very different customers.
DigitalOcean is geared toward developers, so if that's you, then you'll appreciate the flexibility DigitalOcean offers for building and deploying your cloud servers.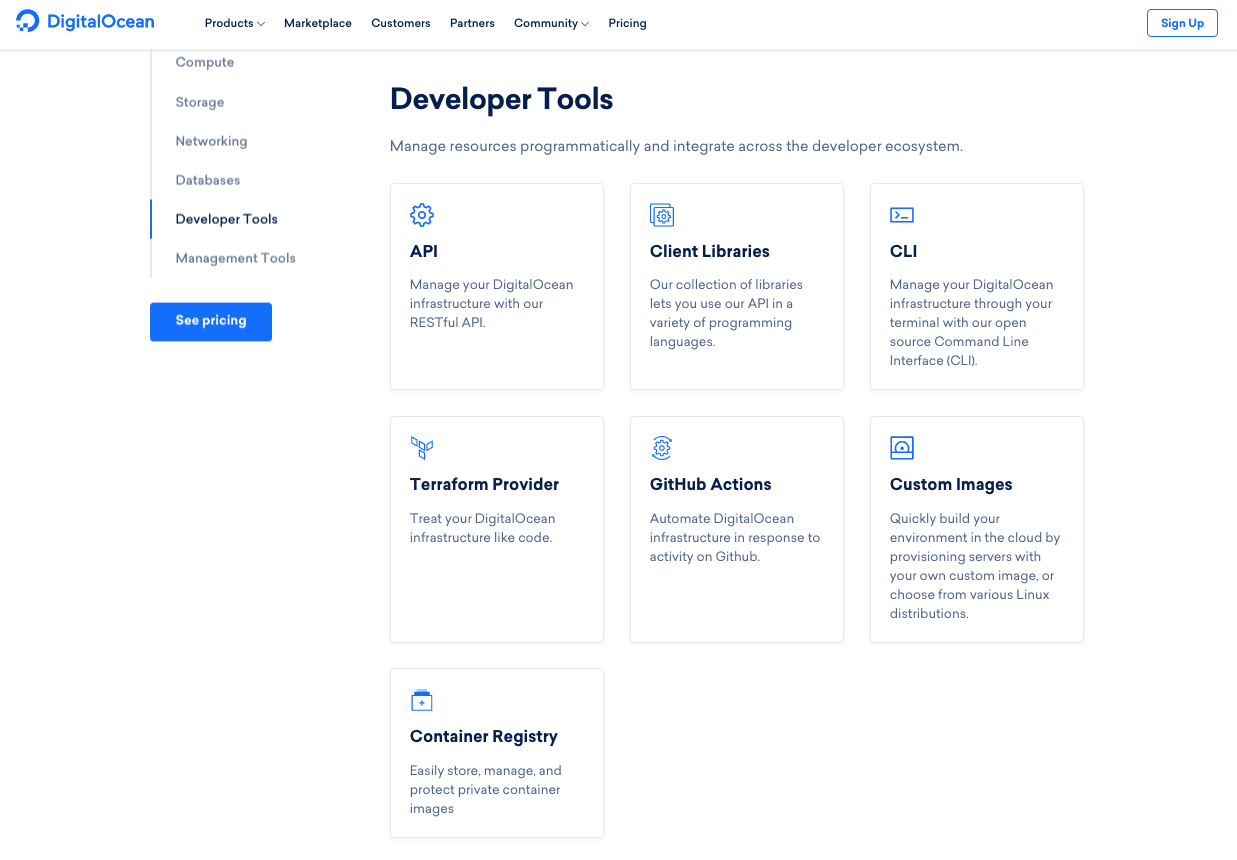 If you're not a developer, however, SiteGround's managed cloud hosting features will probably be more appealing to you.
For example, you can take advantage of simple, guided installation and optimization of WordPress, automatic updates and backups, and use the staging tool to make changes to your website without disrupting the live version.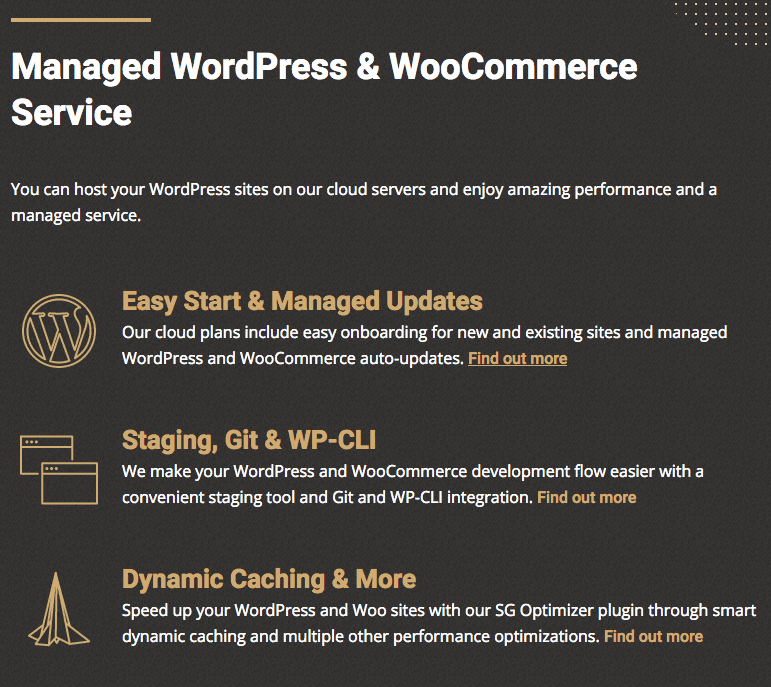 Comparing DigitalOcean and SiteGround on features is tricky, but let's take a look at some of the most important features.
| | | |
| --- | --- | --- |
| Feature | SiteGround | DigitalOcean |
| Managed Hosting | Fully managed | Unmanaged |
| SSD Space | Starting at 40 GB for cloud hosting; up to 30GB for other hosting types | Starting at 25 GB |
| Data Transfer | Starting at 5 TB for cloud hosting | Starting at 1 TB |
| Backups | Daily, including seven off-site copies | Add-on weekly backups with four copies available |
| CDN | Cloudflare CDN included (on all hosting types) | Cloudflare compatible, but you have to set it up yourself |
| SSL | Free Let's Encrypt SSL certificates for every domain you use | Free Let's Encrypt SSL certificates, but you have to issue and set these up manually |
| Website Migration | Free website migration included | No options for website migration |
| Private DNS (Domain Name System) | Yes, included on all cloud plans | Yes, this can be manually configured |
Security
DigitalOcean's Basic Security Can't Match SiteGround's Level of Protection
What web hosting companies consider to be "essential security features" is often not enough to keep your website fully protected. Many web hosts expect you to pay extra for security features to protect your website, or to remove malware if your website has already been infected.
DigitalOcean, unfortunately, doesn't offer much in the way of security features.
During my research, I came across woeful tales from DigitalOcean users whose accounts (and websites) were deactivated due to malicious traffic, malware, and spamming caused by security breaches. This could be in part because
DigitalOcean requires you to configure your own firewalls and perform routine security monitoring and updates
. And it's not exactly an easy process to take on yourself.
SiteGround offers more built-in security –
it monitors your website 24/7, and you will be protected from hacking attempts, spam, and malicious bot resource usage. SiteGround is also proactive about patching software when vulnerabilities are revealed. It develops its own security patches rather than waiting for patches to be released. To learn more about SiteGround's security features, read our
expert SiteGround review
.
Support
DigitalOcean's Support Is Lacking Compared to SiteGround's Customer Focus
I tested out the customer support with SiteGround and DigitalOcean and had two very different experiences.
SiteGround provides Advanced Priority Support for cloud hosting, and you can access this 24/7 via live chat or ticket/email.
SiteGround has a great reputation for answering support tickets quickly and connecting through live chat – and my experience backs that up. I used the live chat option and was connected to a support agent in less than 30 seconds. I asked questions about upgrading to cloud hosting from shared hosting and using WordPress on a cloud server. The first agent quickly transferred me to another team member who was able to answer my questions efficiently.
The whole exchange took a matter of minutes, and my upgrade to cloud hosting was completed by the end of the day
.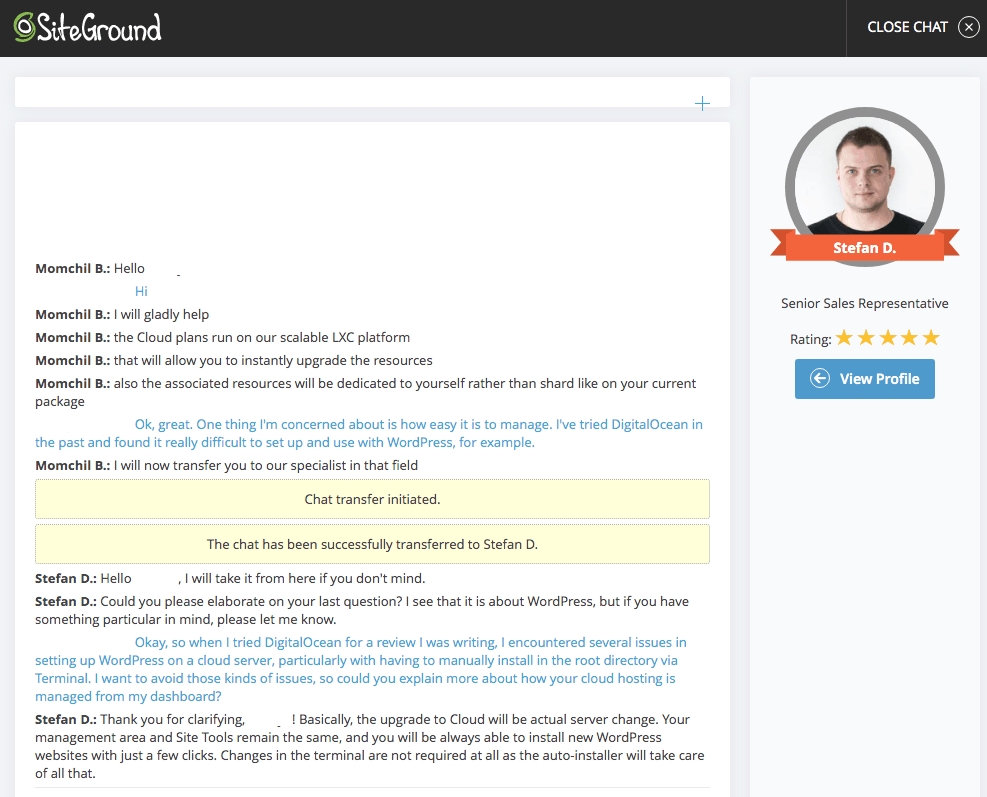 DigitalOcean only offers ticket-based support, and there's no information about available hours of support.
When I submitted a support ticket, I received a response within ten minutes – which is pretty fast for ticket support. The answer, however, was not very helpful, directing me to a support article on how to install an SSL certificate. This is probably because DigitalOcean's customer base is largely developers with the skills to manage cloud hosting.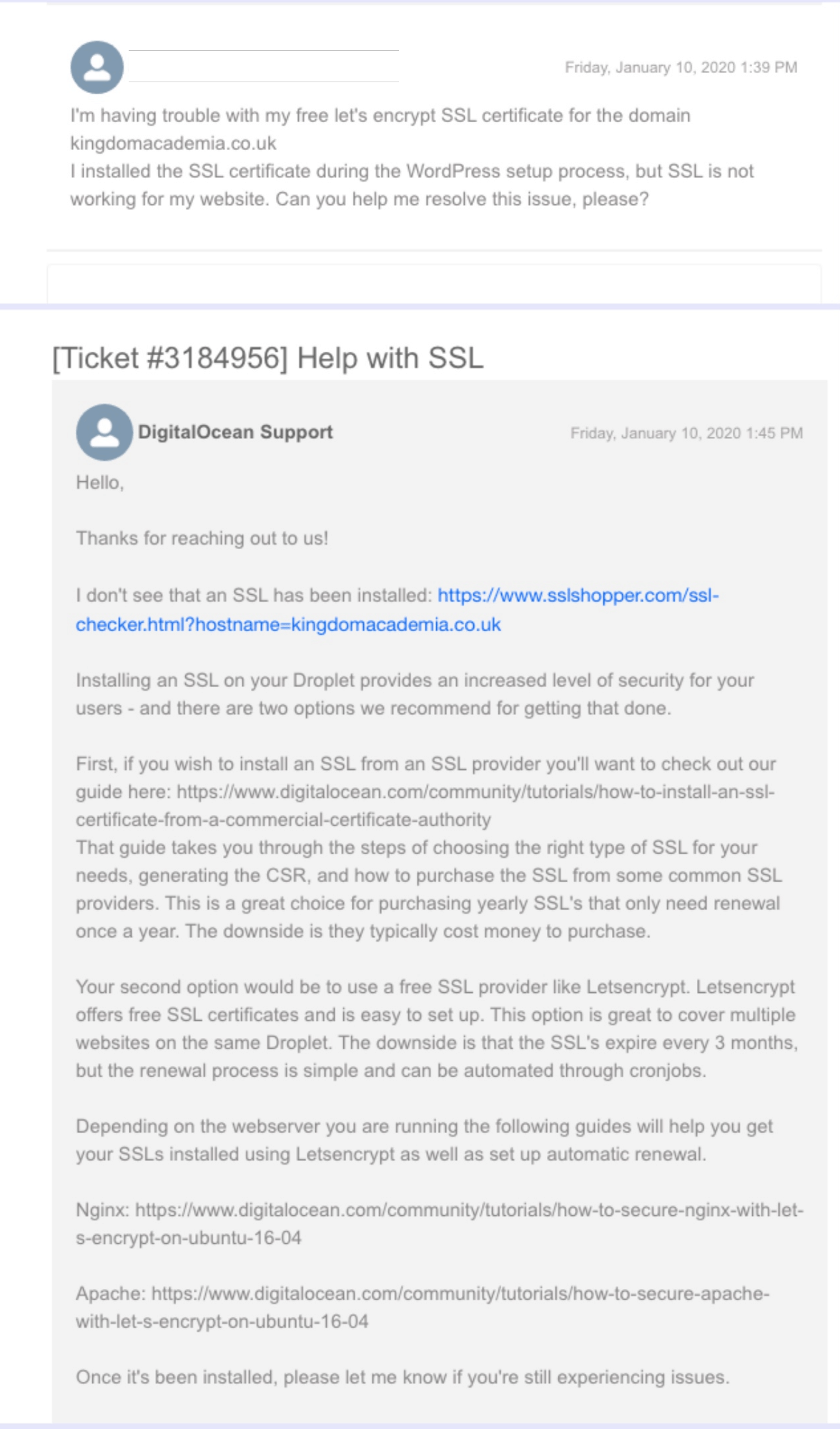 SiteGround Is Superior but Comes at a Cost
Well, we have a clear winner – SiteGround gets glowing reviews from its users because it doesn't just claim to be good, it demonstrates it, too. SiteGround's cloud hosting is beginner-friendly while still offering flexibility and tools that developers can work with (such as staging). This is why it made our list of
the best web hosting services
.
The biggest drawback with SiteGround is its price
. You can't start off cheap with SiteGround's cloud hosting the way you can with DigitalOcean – but that old saying "you get what you pay for" is true here.
If you want the security and support of managed cloud hosting that lets you focus on the content of your website, then SiteGround is the right choice for you.
If the price of SiteGround's cloud hosting is beyond your budget, yet you wish to take advantage of its features, consider choosing one of SiteGround's Managed WordPress plans. Regrettably, the available maximum storage in this case is 30GB; however, this should suffice for the majority of website types.
However, if you are a developer (or you like to play around more with developer tools), then DigitalOcean does offer more control and customization options.
You really do need to know what you're doing, however – as I discovered when it took me a whole day to set up my DigitalOcean cloud server!
Ease of Use
Beginner-friendly and managed via the SiteGround dashboard, with one-click installations
Not beginner-friendly, and you will need some level of developer knowledge to really get started
Pricing
The cloud hosting plans are much more expensive than SiteGround's shared hosting plans – but you can pay monthly
There is a lot of flexibility, and you can start with a low-priced plan that's similar to the price of other hosts' shared hosting
Performance
Speed-boosting features ensure very fast page loading times
Doesn't include speed-enhancing features, but you can configure it to work with Cloudflare CDN
Features
Perks like website migrations, auto-generated SSL certificates, daily backups, and more SSD storage and data transfer
Lots of tools for developers but no daily backups (unless you pay extra), and you have to install your own SSL certificates
Security
Automated monitoring, hack protection, and spam protection
You are largely responsible for your own security
Support
24/7 support via live chat and ticket/email
Ticket support – but I did get a rapid response to my question
FAQ
Which host is best, SiteGround or DigitalOcean?
The answer really depends on your own individual needs and your level of expertise. DigitalOcean provides an excellent cloud hosting service for developers, but if you're just starting out with cloud hosting, you might have a hard time getting set up. SiteGround, on the other hand, is one of the easiest hosts to use and it provides all-round excellent service, which is why it's on our list of the top web hosting services.
Does SiteGround offer cloud hosting?
Yes, SiteGround offers a fully managed cloud hosting service. It's easy to use even if you have no previous experience with cloud hosting. You get guaranteed resources and it's easy to scale up as your website/business grows. Trying to make up your mind between cloud hosting and VPS? Read our in-depth VPS vs cloud comparison to understand all the pros and cons of each.
Is DigitalOcean good for WordPress hosting?
You can host a WordPress website on DigitalOcean, but you need to keep in mind that as DigitalOcean is geared at developers, there are no easy one-click installations here that can set everything up for you. You'll need to have some knowledge of the command line to get started.
Is SiteGround good for small businesses?
SiteGround's hosting is an excellent choice for small businesses. In addition to great uptime and loading speeds, you get access to a bunch of unique features, including collaboration tools and advanced security. If you're planning on building an e-commerce site, you'll want to check out SiteGround's managed WooCommerce plans.