When you're hunting for a new web host, there are dozens to choose from – but if you're specifically torn between SiteGround and A2 Hosting, how do you make that final decision? Which host is going to meet your needs?
I would recommend SiteGround every time. If you want to find out what makes SiteGround the better choice, follow along with the battle below.
Round 1: A2 Hosting May Be Faster, but SiteGround Is Much More Reliable
SiteGround has a lot of technology in place to make sure your web pages load quickly – even when there are a lot of people visiting at the same time. For example, SiteGround uses SSD drives (way faster than old-style HDD drives), a CDN (content delivery network) via Cloudflare, and has the most up-to-date versions of PHP (currently 7.3) available.
In addition to these speed-boosting features, SiteGround has its own SuperCacher, which uses multiple caching tools to ensure your pages load rapidly. The most aggressive levels of caching are only available on the (most expensive) GoGeek plan, but even on the basic StartUp plan, you can take advantage of the advanced Level 1 static caching features. (Static content on your website includes images and pages that are infrequently updated.)
SiteGround's server response and page loading times are, therefore, much faster than hosts that don't use speed-boosting technology, with speeds of between 0.5 and 0.7 seconds on average. To put these numbers in context, Google recommends pages load in less than two seconds, and the average for web hosts without speed-enhancing features is around seven seconds.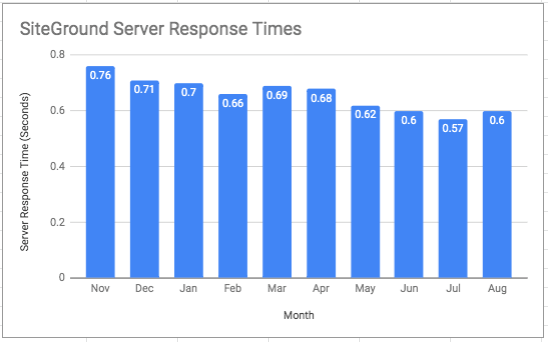 If SiteGround is this fast, how does A2 compare? Surprisingly, A2 Hosting actually has even faster page loading and server response times. This is largely due to its use of speed-optimized servers (that it calls the SwiftServer platform), SSD storage and Anycast DNS (Domain Name System), which works much like CDNs.
Additionally, A2 Hosting offers a feature named Turbo – but this is only available on the (most expensive) Turbo plan. Turbo delivers speeds around 20x faster than A2's other hosting plans (find out more about Turbo in our expert review of A2 Hosting)
A2 Hosting's server response times are impressive, with response times of less than a quarter of a second in some cases. On average, A2 has server response times of between 0.23 and 0.28 seconds – twice as fast as SiteGround.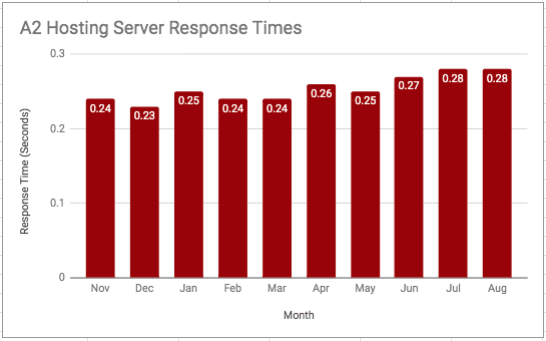 But which one is more reliable? Reliability is measured in terms of uptime – and it's here where SiteGround pulls ahead of A2 Hosting. Both SiteGround and A2 have a 99.9% uptime guarantee, but where SiteGround has a consistent monthly average of 99.98% – which equates to 8.5 minutes of downtime per month – A2 Hosting's reliability is more inconsistent. 
A2's average uptime is 99.92% – equating to almost 35 minutes of downtime per month. In one recent month, its uptime was only 99.7%, equaling 129 minutes (or 2 hours 9 minutes) of downtime.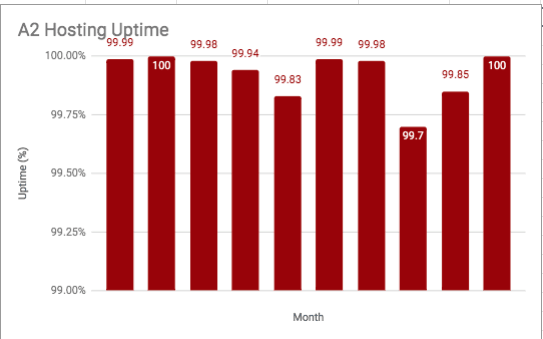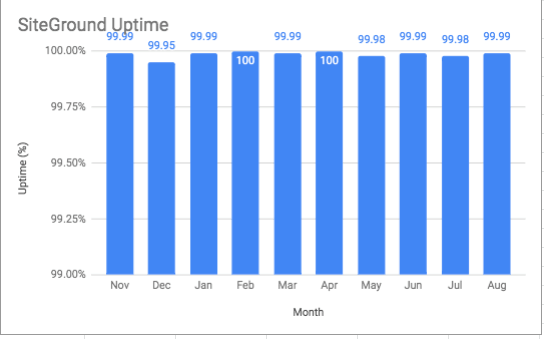 And the winner is: It's a tie. While A2 Hosting's speed makes it twice as fast as SiteGround, its uptime history is disappointing, making it a riskier choice if you're building a business website. SiteGround may be slower, but its page loading speeds are still impressive, and you won't have to worry about long periods of downtime.
Round 2: SiteGround and A2 Cost Almost the Same, but Backups Set Them Apart
When the hosting companies you're debating between offer similar initial-period prices, you have to look at which one is going to give you the best value for your money instead. Overall, looking at A2 vs SiteGround on value, it soon becomes clear that SiteGround is the better choice. There are several reasons:
Backups: With SiteGround, you get free daily backups that are kept for up to 30 days and a tool that helps you restore your backups if you need to. A2 Hosting only provide backups as an add-on service – and the price you pay for the backups varies depending on the size of backup you need, starting at 5 GB.
Initial term: You don't need to pay up front for a period of two or three years to get the best prices with SiteGround. The price is the same whether you choose a 12-month plan or a three-year plan. With A2, you have to commit to a three-year plan to get the lowest prices.
Renewal prices: SiteGround's renewal prices are as high as A2's. However, with A2 Hosting, unless you cancel the automatic renewal, in writing, 15 days before your plan renews, you have to pay for the renewal term and you won't get a refund.
Online reviews raised some concerned about limits on storage with A2. I asked customer support about the "unlimited" storage and was initially assured that there were no limits. Then, I said that I had a website I wanted to transfer, but it was 60 GB in size. The customer support agent told me that A2's shared hosting is only "safe" for up to 40 GB – and if I wanted to use 60 GB of storage, I would need to choose a VPS (virtual private server) plan instead. 
To discover more, I checked out its Acceptable Use Policy: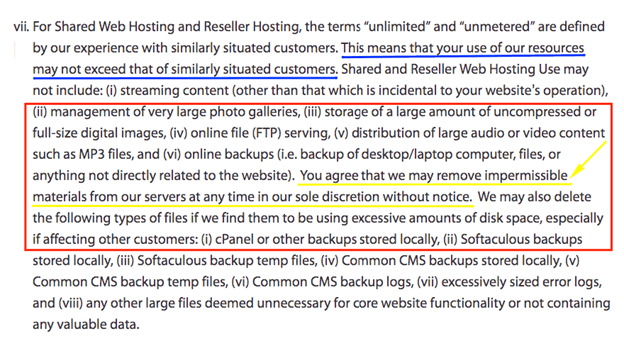 The TL;DR of A2's acceptable use policy: if you use more storage than other customers with similar websites, your files can be deleted without prior warning! 
And the winner is: SiteGround. Its web hosting plans give you better value than A2 for three reasons – you get backups, you don't have to pay up front for a really long term, and the storage limits are clear so you won't risk having your files deleted unexpectedly.
Round 3: SiteGround Is Proactive About Security – A2 Hosting Isn't
Keeping your website protected from hackers, malware, and other security concerns is an important part of web hosting.
Not only does SiteGround use advanced, AI-powered technology in its server firewalls and brute force protection, it also builds its own security patches rather than waiting for patches to be released by developers.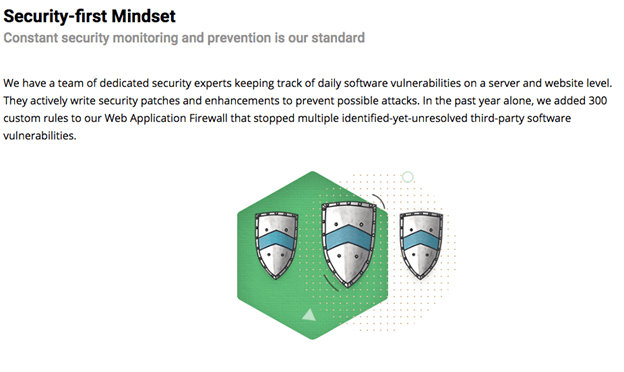 A2 Hosting has what it calls Perpetual Security, which aims to keep your website protected at all times. There's HackScan protection built-in, as well as brute force and DDoS (distributed denial of service) protection and a dual firewall. However, A2 Hosting doesn't develop its own security patches.
And the winner is: SiteGround. It has the edge over A2 Hosting in this round with its proactive approach to keeping your website protected. A2's security is good – but it doesn't respond to threats as quickly as SiteGround does.
Round 4: SiteGround Focuses on Ease of Use – A2 Is More Complicated
When it comes to features, you're probably going to choose the host that gives you the features you absolutely can't do without.
There are a couple things I want to draw your attention to:
If you have a website hosted elsewhere, SiteGround offers free migrations (on the GrowBig plan and above) no matter what system your existing website is hosted on. A2 only offers free migrations for websites on cPanel.
In terms of money-back guarantees, A2 Hosting stands out because it has adopted an "anytime money-back guarantee," which means you can get a refund for the remaining period of your initial term if you change your mind. SiteGround's money-back guarantee period is 30 days.
| | | |
| --- | --- | --- |
| Feature | SiteGround | A2 Hosting |
| Storage Space | 10 GB to 30 GB, depending on the plan | Unlimited, but in reality, only 40 GB |
| Money-Back Guarantee | 30 days | Anytime during your initial contract, but if you cancel after 30 days, you get a pro-rated refund |
| Free Domain Name | No | No |
| Automatic Backups | Yes, daily and kept for 30 days, with the option to make on-demand backups | No, only available as an added service |
| Free SSL Certificate | Yes | Yes |
| Free CDN | Yes, Cloudflare CDN | Yes |
| Bandwidth | Unmetered | Unmetered |
| Free Site Migration | Yes, completed within 24 hours | Yes, but only if you're transferring from a host that uses cPanel |
| Free Email Accounts | Unlimited | Email is available but limited, and you cannot use free email accounts for marketing purposes |
| One-Click Application Install | Yes, with a wizard for setting up WordPress with SiteGround's recommended plugins | Yes |
| Staging Tool | Yes | Only on managed WordPress hosting plans |
| cPanel | Yes | Yes |
| Free website builder | Yes, you can use the free version of Weebly to build your SiteGround website | Yes, but it's very basic |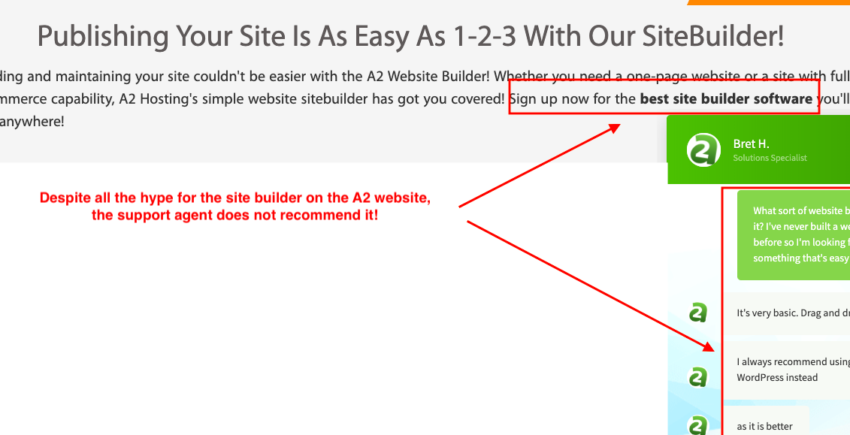 And the winner is: SiteGround. With its free migrations and integration with Weebly, SiteGround makes it the better choice for features.
Round 5: Getting Help from SiteGround Is Easy – with A2, You Have to Wait
Everybody – no matter how skilled you are – will need to call on customer support at some point. Whether it's to sort out a billing problem or to resolve a technical issue, you want to know you can contact support anytime you need to.
SiteGround has a great reputation for fast, efficient customer service that's available 24/7. You can get in touch via email, phone, and live chat – and SiteGround has some of the speediest customer service agents around.
With email support, you can expect a response in less than ten minutes – not an automated response, but a proper response from a real human! Live chat gets you connected quickly, and you won't have to wait in a queue if you call for support, either.
A2 Hosting has 24/7 customer support that it calls Guru Crew – available via live chat, ticket, and phone. It claims to be one of the best customer support services in the industry, but my experience wasn't so great.
First, I had to wait over five minutes for a response via live chat, and subsequent responses to my questions were slow – and a little blunt and unhelpful, too – as you can see from the screenshot below.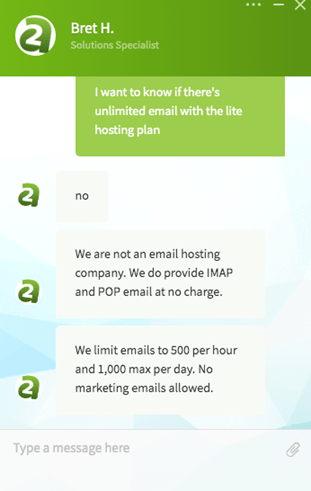 Other customers report waiting more than 48 hours for a reply when they've used ticket/email support, and phone support is equally problematic. I tried to call A2 Hosting, but after almost an hour waiting in a queue and listening to awful "hold" music, I gave up. Judging by customer reviews online, that's not an uncommon experience, either.
And the winner is: SiteGround. Its customer support is infinitely better than A2's! In all my encounters with SiteGround's support team, I've had my questions and issues answered and resolved quickly and courteously. Plus, despite my experience this time particular time, SiteGround scores top marks for its customer support in our expert review.
Choose SiteGround for Reliability, Value, and Support
Our Recommendations
You can't go wrong with SiteGround for your new website. You won't have to pay up front for a long period – which is great if you're on a budget – and you get a lot of advanced technology for your money. If you want to discover more about what makes SiteGround so great, read our expert review.
If you do need more storage than SiteGround offers, then A2 Hosting could work for you – bearing in mind the upper limit of 50 GB for shared hosting plans. To discover more about A2, read our in-depth review.
Performance
99.98% uptime for excellent reliability
Fast page loading speeds, with the option for Turbo speeds
Value
Daily backups that are easy to restore, clear limits on website size
Pay up front for three years for the best prices, and renewal is automatic unless you cancel in writing
Security
Top-level security, with in-house security patches automatically applied
Security is good, but you will have to wait for developers to release security patches
Features
Free website migration on GrowBig and above
Anytime money-back guarantee that applies to your initial term only
Customer Support
Fast, reliable customer support available 24/7
Customer support is 24/7, but wait times are not great