price
compared to hiring a permanent employee.
Not only will they save you money astronomically in terms of salary, but they will also eliminate other costs such as insurance, vacations, retirement, and office supplies
. With twice as many freelancers seeing an increase in demand in the past year versus those who have seen a decrease—
32% versus 15%
—it's important to pay them what they're worth. Read on to find out how you can calculate the cost of your freelance worker without grossly under or overpaying.
#1: Determine the Scope of Your Project
There is a saying when it comes to work:
Fast, good, or cheap. Pick two
. The idea here is that if you want any two of those things, you have to be okay with foregoing the third. If you want excellent work done in lightning speed, expect to pay a hefty price. If you want something quick for next to nothing, don't expect it to be great. And if you want high-quality work done within a modest budget, it is probably going to take a while before you see it. Before you price out your project,
ask yourself a few key questions
:
When do you need the project completed by? Remember that there may be a few needed revisions before you get to the final product
How much guidance or expertise can your in-house team provide, or do you expect the freelancer to be self-sufficient?
What is your total budget for the project? Are there internal costs or overhead that you also need to be accounting for, in addition to a freelancer's time?
#2: Consider the Market
Another aspect that you should consider before calculating the cost of your remote worker is
where they live
. For instance, a city-based freelancer based in New York City could cost significantly more than a country-based freelancer based in Hilbert, Wisconsin. Just make sure that you aren't sacrificing professional background in order to save on geographic background. While this isn't always the case,
an individual's level of expertise tends to be higher in more competitive markets
. According to Medium, there are presently
over 7.5 billion freelancers competing for all types of remote jobs worldwide
, from translation to marketing and virtual assistance. Expect to pay more for niche skills than those that are more commonly found.
#3: Bear in Mind a Freelancer's Background
Along with the scope of the project, their geographical location, and the current market rates, you also need to take a freelancer's background into consideration. This includes their
previous work experience and skill set
.
The more experienced a freelancer is, the more they're going to cost
. If you only have a small budget available for a remote worker, then this can be very restrictive in terms of who you can and cannot hire. Moreover, your pay rate should
reflect how technical the project is
. For example, freelance coders and software developers require a great deal of technical knowledge. That's why they can earn up to
$1,000 per hour
, according to Freelancing Hacks. On the other side of the spectrum, graphic design work tends to be more creative and subjective, which is why these freelancers earn considerably less at around
$85 per hour
(depending on their personal background).
#4: Figure Out How You'd Like to Pay
Calculating a freelancer's rate doesn't just relate to the amount that you'd like to pay.
You also need to work out how you'd like to pay
. You have two main options here, which are available on basically all of the
best freelance websites
out there: hourly or fixed price. Here's what you'll see when you place a job listing on Upwork (read our review
here
).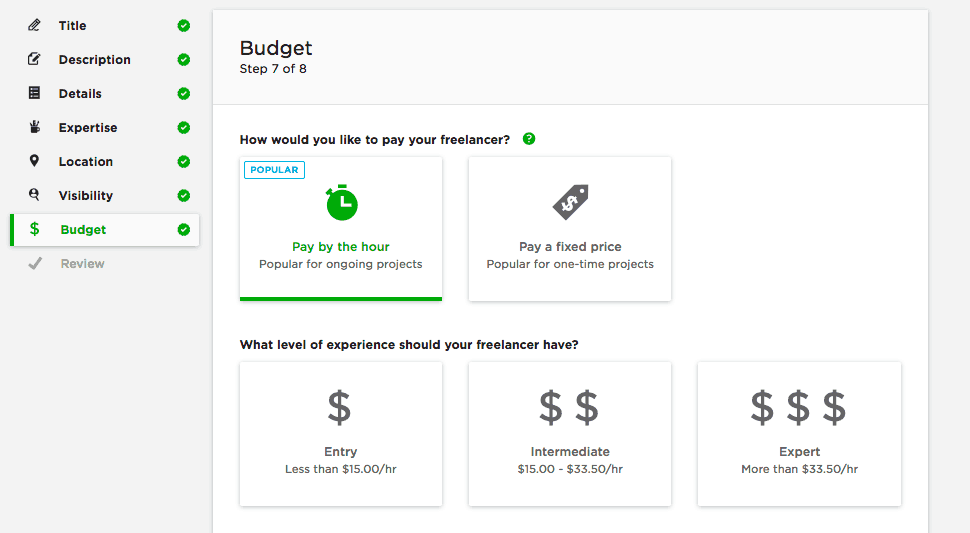 Option 1: Hourly
Time-based pricing is how many businesses pay their staff for ongoing working relationships, or when you are
unsure of the amount of time that will be required
to complete a given project. The downside is that, if you don't know how many hours the project will take,
it can be difficult to stick within a tight budget
. You help keep a freelancer's hours in check by setting regular milestones to make sure that they are on the right track, and by putting a cap on the number of hours that a freelancer is allowed to bill for.
Option 2: Fixed Price Per Project
Project-based pricing involves more guesswork up front. You have to think about how much time and resources the project will take and then estimate a fair cost. The key benefit here is that there are
no time restrictions
. If your freelancer has to spend more time completing the project, then you won't have to spill over your budget. However, the downside is that fixed price projects can be
difficult to calculate
; there are no set rules in terms of how much to pay a freelancer to complete a project and you could end up overspending or upsetting the freelancer if the project takes a lot more time than expected. Even though there are pros and cons with each method, it's up to you to figure out what will work best for your business depending on how far you can stretch your budget.
#5: Breakdown Annual Salaries
If you decide on an hourly rate, you could always find out the annual base salary for a worker in a particular field and then determine an hourly rate from there. Using salary information provided by Randstad (a staffing, recruitment, and HR services company) and Salary.com, you can expect to pay the following hourly ranges for the
top five most popular freelancing fields
:
| Freelancing Field | Typical Salary Range | Cost Per Hour Breakdown |
| --- | --- | --- |
| Web Developers | $55,500 to $110,000 | $26.68 to $52.88 |
| Social Media Managers | $49,000 to $90,000 | $23.56 to $43.27 |
| SEO Specialists | $49,500 to $90,000 | $23.80 to $43.27 |
| Graphic Designers | $32,000 to $75,000 | $15.38 to $36.06 |
| Copywriters | $45,000 to $55,000 | $21.63 to $26.44 |
Like the idea of a fixed price project instead? Well, you can calculate the rate based on the expected number of hours it should take to complete the work.
You can then figure out a fair flat rate based on these calculations and the freelancer's hourly rate
. Still struggling? Simply keep the lines of communication open with potential candidates and negotiate until you find a price that you're both happy with. It can also be a good idea to
start out with a small project that allows you to determine the freelancer's skill level and the time required
, which can give you a better sense of a fair hourly rate.
Be Fair to All Parties for a Healthy and Lasting Relationship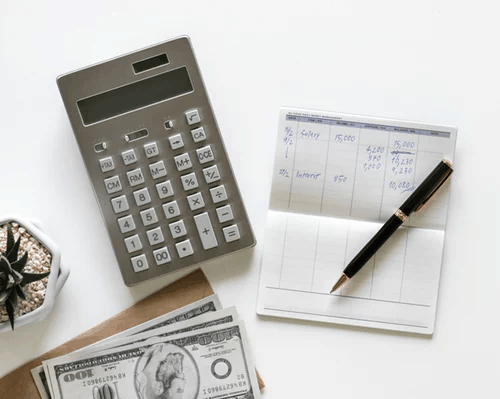 It can be difficult to determine how much to pay a freelancer, especially if you're new to the outsourcing process. At the end of the day, it's important to be fair.
If you provide your freelancer with a competitive wage for their time and effort, they will reward you with their loyalty and best work
. This is important regardless of factors such as race or gender. We recently completed a
study
and found that female freelancers can make
50% less than males
on platforms such as Upwork and Fiverr. We believe that clients have a responsibility to help curb this trend. Once you've found the freelancer for you, make sure that you have the necessary paperwork in place before you get started. Having a contract that
outlines the terms of your agreement
is crucial for a smooth and successful partnership. You can also hold your freelancer legally accountable if they don't end up completing the project for whatever reason. Once a contract has been signed and work begins, you can then sit back and relax knowing that your project is in safe hands.
---
Sources
Freelance Statistics: The Freelance Economy in Numbers: https://freetrain.co/freelance-statistics/
Future of Work: How to Avoid 7.5 Billion Freelancers Competing for Scraps? — Part 1: https://medium.com/peerism/future-of-work-how-to-avoid-7-5-billion-freelancers-competing-for-scraps-part-1-f1268f2b66b9
7 Highest Paying Freelance Jobs For Earning A Steady Income: https://freelancinghacks.com/highest-paying-freelance-jobs-earning-steady-income/
Startup Guide To Finding Freelancers & How Much To Pay Them : https://www.forbes.com/sites/jiawertz/2017/07/17/startup-guide-to-finding-freelancers-how-much-to-pay-them/#37432bdf9756
Hiring a Freelancer? 5 Tips to Determine How Much You Should Pay: https://www.upwork.com/hiring/startup/how-much-to-pay-freelancer/
Image Credits
Featured Image: https://unsplash.com/photos/0CWW9qztXww
Upwork.com
Conclusion Image: https://unsplash.com/photos/5IiH_UVYdp0