When businesses start to outgrow the standard consumer hosting solutions, where can they go? Choosing new solutions and migrating their sites to the next level of hosting can be very daunting.
Joe Oesterling, CTO of Liquid Web
talks about his company's high customer satisfaction rating and how their proactive measures and knowledgeable support teams help companies easily navigate this transition.
Please tell me about your background before Liquid Web.
I've had a long career in different IT leadership roles. Before Liquid Web, I was with Cbeyond, a company which focused on SMB (Small to Medium Business) technology solutions particularly in the voice data and cloud arena. We grew Cbeyond from zero to 500 million dollars in revenue, took it public and then sold it. While on the lookout to buy another company in the private cloud world, preferably in the SMB segment, we came across Liquid Web. Web hosting was not the business we were pinpointing, but we saw this profitable company,
Liquid Web
, with a really high Net Promoter Score that focused on SMBs, and we were very intrigued. It's rare to find technology companies with high Net Promoter Scores because customers want enterprise solutions at consumer prices, creating the classic mismatch. With Liquid Web, we saw a great opportunity to leverage our SMB familiarity and start with a company that was already a highly respected brand.
What is a Net Promoter Score?
A Net Promoter score is based on one simple question you've probably been asked dozens of times.  "On a scale of 1 to 10, how likely are you to refer someone to purchase this product/service?" The Net Promoter Score is calculated by taking the promoters (those who answered 9 or above) and subtracting the detractors (those who answered 6 or below). So, for example, if out of 100 responses you were rated 9 or above by 50 people and rated 6 or below by 20 people, you have a final Net Promoter Score of 30. You can see why our current Net Promoter score of 66 is very impressive – it means 80 – 90% of our customers are promoters! For some perspective, Apple, USAA, and Costco all score in the 70s while Cable companies typically have negative Net Promoter Scores.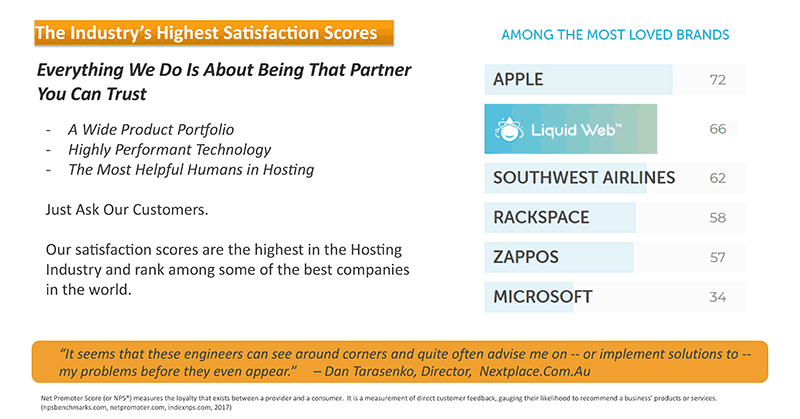 Please tell me about Liquid Web's hosting solutions.
Our product offerings fall into three groups. First is Managed Applications – offering products around Managed WordPress, WooCommerce and email. Next is Managed Hosting, as dedicated servers, cloud servers, or Cloud Sites. The third is our Custom Managed Hosting which focuses on hosting solutions that involve multi servers to meet more stringent requirements. Among the things that distinguish Liquid Web from other providers is our ability to keep code, content, and data in sync across all those servers.
What is the difference between a server hosted site and a cloud site?
Two main differences come to mind. One is that regular website hosting typically has a control panel like cPanel or Plesk which can be pretty daunting for a casual user. Cloud Sites control panel has been simplified to include only key functions like copying your code, content and data, so you don't have to be a system administrator to use it. Secondly, with typical server hosting, your ability to respond to traffic is limited to the resources you've purchased. So, if your site is mentioned on TechCrunch or by Oprah or Ellen, and suddenly your traffic spikes to two hundred thousand visits a day, you'll be overrun and have really slow website performance, or even the dreaded "404 Page Not Found". With Cloud Sites, you are only limited by the resources
across the platform
, and we have
hundreds of servers
, so it is automatically scaled back and forth to accommodate spikes in traffic.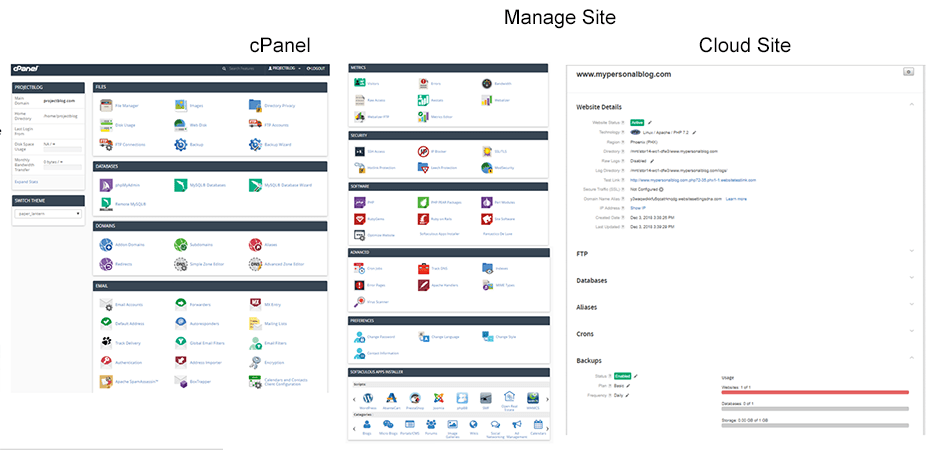 What are some of your newer security offerings?
We're very focused on protecting our customers on both the server and the site/domain level. To protect the server, we have offerings around server hardening and antivirus protection. We also do proactive scans to assure there are no vulnerabilities at the OS level all the way down to the base layer of DDoS protection. For domain level protection, we have leveraged products from CloudFlare around DDoS protection and a Web Application Firewall.
What are the newest plans for your manageable commerce hosting?
We've launched a couple of starter store plans at the $39 and $99 per month price point filling the need for companies at the entry-level part of the market. Additionally, we have specific solutions for specialized needs. such as sites that function as a marketplace or dropship company. We have negotiated deals with some of the preeminent providers of marketplace and dropship software, so those WooCommerce plugins are installed and ready to go from day one. Our standard Managed WooCommerce plans start at $249, and include premium plugins/services from Jilt (shopping cart abandonment), Glew.io (analytics), and Beaver Builder (page builder) so customers have the key tools to start to build, launch, and manage a store.
Does Liquid Web help with SEO?
SEO is not set up at the hosting level, but we do help in two areas highly related to SEO. If from Google's perspective, a website is not secure or loads slowly, that will have a negative impact on its organic search ranking, and we pride ourselves at Liquid Web with having the fastest hosting in the industry! When helping you create a WordPress site, we're really focused on helping you create one that's going to rank high. Our obsession with site availability, speed (we automatically compress images), and security (by default we provide HTTPS) can have a huge impact on raising your site's search ranking.
What customer and technical support do you provide?
Our support is one of the highlights of Liquid Web. To attain a Net Promoter Score of 66, you must have good products and the key, in my opinion, is our people. More than customer support, I see it as a journey through the lifecycle of being a Liquid Web customer, starting before the buying process. You can talk to a human being about your hosting needs, the business problem you're trying to solve, and the right technology solution. If you are migrating your site from another host, a process a lot of small businesses find daunting, our migrations team will talk you through it. After you host your site with us, we aim to provide assistance proactively, anticipating and resolving issues before they arise. Our various departments operate around the clock to ensure the security of our entire network, manage our data center, oversee power and cooling systems, and continuously monitor server availability. When customers do have technical issues, users on the Linux operating system will get support from our Linux team, Windows users from our Windows team. Customers with questions about WordPress or WooCommerce are being helped by our managed application team who have experience with thousands of WordPress sites. It's not that I don't think Superman or Wonder Woman exists, but I get a lot more sleep knowing that we've got multiple individuals and multiple teams taking proactive steps and addressing customer support issues.
What makes your managed WordPress hosting different?
For one, we have built a really simple user interface to build, launch, and manage WordPress. Secondly, unlike a lot of other WordPress hosts, there is no limit to the themes and plugins you can install. And thirdly, we have developed WordPress management capabilities that free you from WordPress maintenance. When there is an update for WordPress, a theme or plug-in, our Visual Comparison Tool places a copy of your site in a staging environment. It then compares images of the most common WordPress pages and looks at some log files to detect any differences. If there are no issues, the update is applied. It then takes another snapshot and keeps going until we've gone through all the updates in a safe, automated fashion. If our tool does detect differences which could indicate an update may have broken your site, it will halt the update and send you a notification. The user interface will tell you which specific theme or a plugin created this issue and we won't move forward with additional updates until we fix the one in question.

Why did you choose to work with the WordPress/WooCommerce platform?
Great question! 32% (and growing!) of the sites on the Internet are WordPress, so while there are a lot of content management systems out there, there's just one 800-pound gorilla. Therefore, it's really no surprise that WooCommerce, an e-commerce plugin for WordPress, is the fastest growing e-commerce platform on the planet. So, when we began our venture into managed applications, we chose WordPress for the content side and WooCommerce for the commerce side. What I really like about WordPress is how quickly it has evolved from its original blogging platform to being adopted by large mid-market companies. Even some enterprise companies like Disney, Time, Facebook, New York Post, and Spotify have started to use WordPress instead of these monolithic content management systems. In the future, I think we will see these technologies continue to evolve and innovate to meet the needs of these more sophisticated customers. WooCommerce is probably two to three years behind that, but it's undergoing the same evolution. We see a lot of WooCommerce in our customer segment, and we're hearing about more and more WooCommerce stores  realizing $10+ million plus in annual sales.

Want to learn more? Read our LiquidWeb review. Used LiquidWeb before? Write your own user review.