As a business owner, you'll constantly be juggling a bunch of different tasks. While registering your Limited Liability Company (LLC) is something you could do on your own, it demands your full attention, and a slight mistake can cost you valuable time and money. LLC formation services exist to take that weight off your shoulders. Northwest Registered Agent and LegalZoom are both
great
services. There's no doubt about that. But with something as important as forming your LLC – not to mention any extra assistance you might need down the line –
you need to be sure you're choosing what's best for your needs.
You might not have the time to put in hours of careful research into each service's offering, their prices, and what previous customers and experts alike have to say about them. Luckily, I do, and I did. Let me cut to the chase:
while I found that LegalZoom's broader range of services might be useful for a slight majority of merchants,
the choice should
come down to which offers the right options for you.
Keep reading to find out exactly how the two fared against each other, or check out LegalZoom's best deals today.
Features
LegalZoom's Comprehensive Legal Features Are Hard to Match
As far as the basics go,
LegalZoom and Northwest Registered Agent are well-established and reliable platforms that can assist you in efficiently setting up your LLC.
They both provide the basic, necessary features for LLC formation and offer Employer Identification Number (EIN) filing and Registered Agent services for an extra fee (as you might expect from a service provider called Northwest
Registered Agent
). Filing times vary between the two, with LegalZoom offering filing times of 5 to 14 business days and Northwest Registered Agent offering same-day filing. Both services also offer expedited filing for a small extra fee.
Keep in mind, however, that filing times and processing times are not the same thing.
Processing times depend almost exclusively on the state and can take anywhere from a couple of weeks to a couple of months.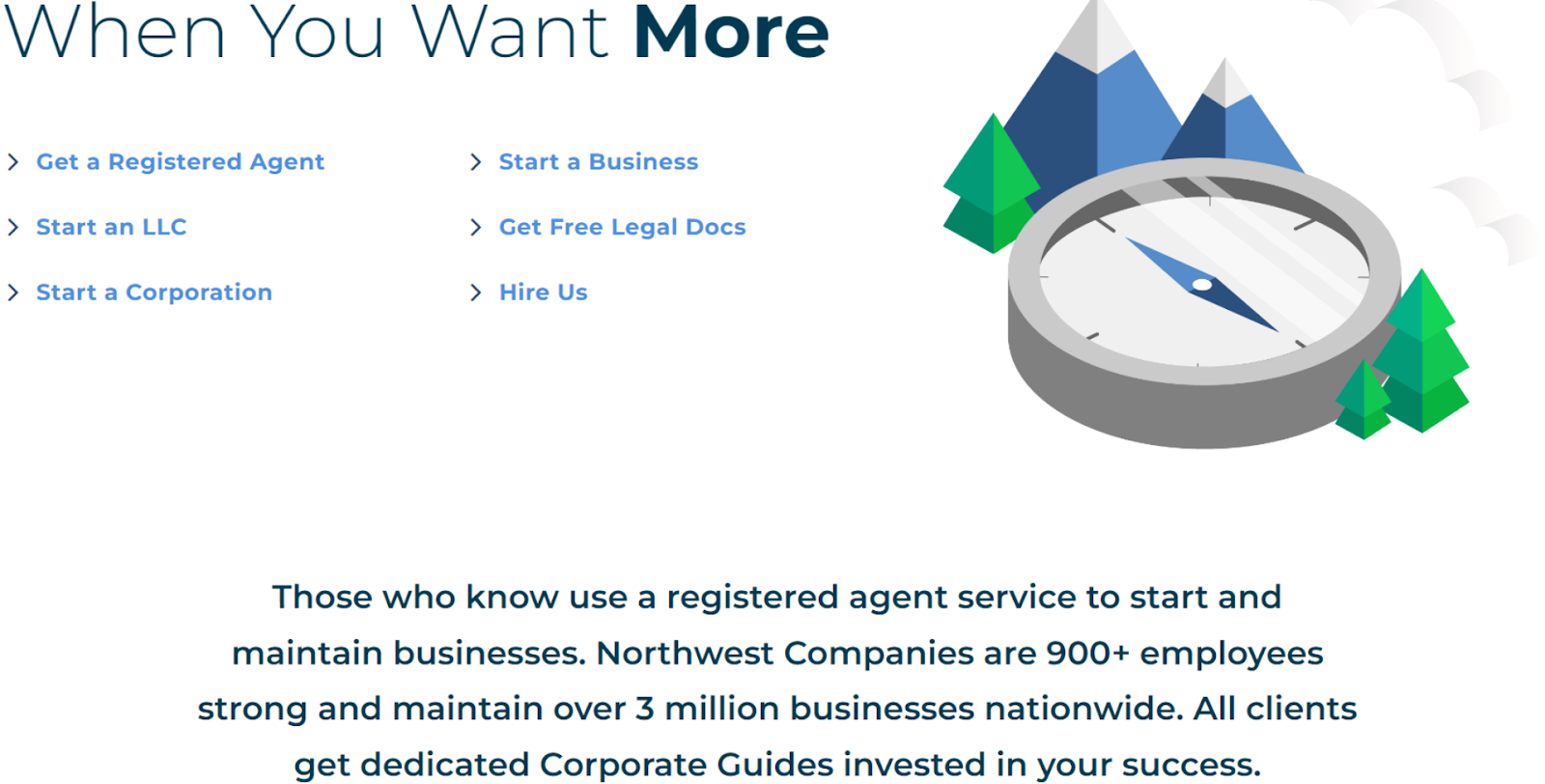 Beyond the fundamentals, Northwest Registered Agent provides offices in every US state and the District of Columbia. This means that
with Northwest Registered Agent, you'll get specialized service for your LLC's registration state.
It's also an excellent choice for privacy and security-conscious business owners.
As part of its Privacy by Default policy, Northwest Registered Agent conducts extensive background checks on all its employees and uses its own business address (instead of yours) as much as possible. Northwest Registered Agent also limits third-party involvement by keeping nearly all services in-house. That includes owning and maintaining its own dedicated servers to ensure that no one has access to your data without your express permission.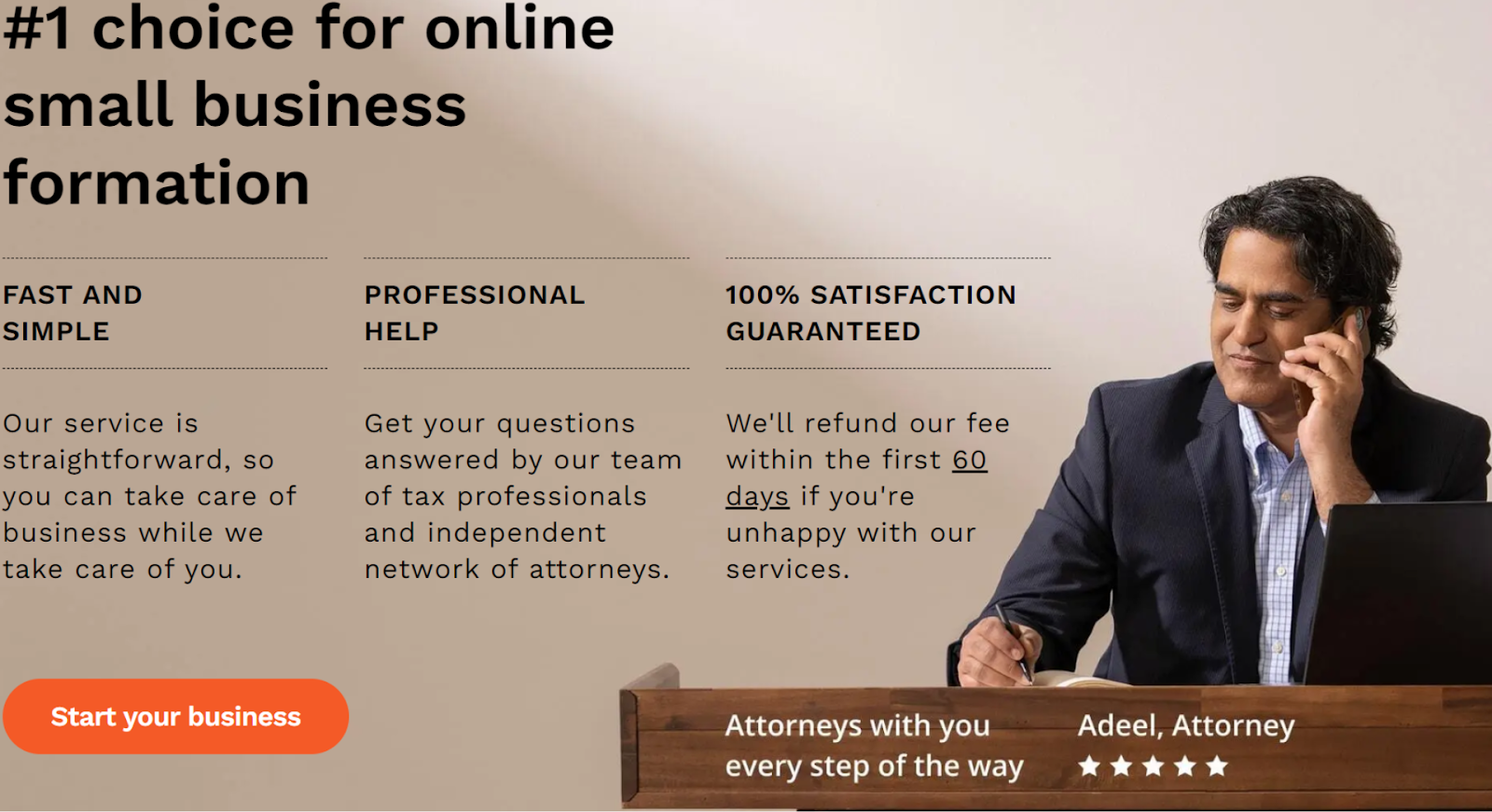 LegalZoom, on the other hand, stands out by offering a broader range of legal features beyond LLC formation services. From trademark registration to legal document preparation,
LegalZoom aims to be a comprehensive resource for any legal needs.
Its extensive team of experts and professionals makes it an outstanding choice for providing continuous legal support as your business grows. So, both LegalZoom and Northwest Registered Agent provide reliable LLC formation services and offer outstanding extras to help you manage and grow your business. If your main concern is privacy, then Northwest Registered Agent is as secure as it comes. However,
I'm inclined to give LegalZoom the win in this category for the convenience of having a centralized, high-quality hub for a variety of legal services
, which is always useful for business owners.
Ease of Use
Northwest Registered Agent Makes LLC Formation Easy, No Matter Where You Are
Both LegalZoom and Northwest Registered Agent excel in providing user-friendly interfaces and well-designed dashboards.
Thanks to their intuitive dashboard layouts and clear instructions, you'll find the LLC formation process straightforward and user friendly regardless of your level of familiarity with LLC formation. Whichever service you choose, the LLC formation process is incredibly streamlined. All you have to do is go to their respective websites, select your desired business type (LLC, S-corp, C-corp, etc.) and the state you want to register in, and check for name availability. After that, you could finish your filing process in mere minutes.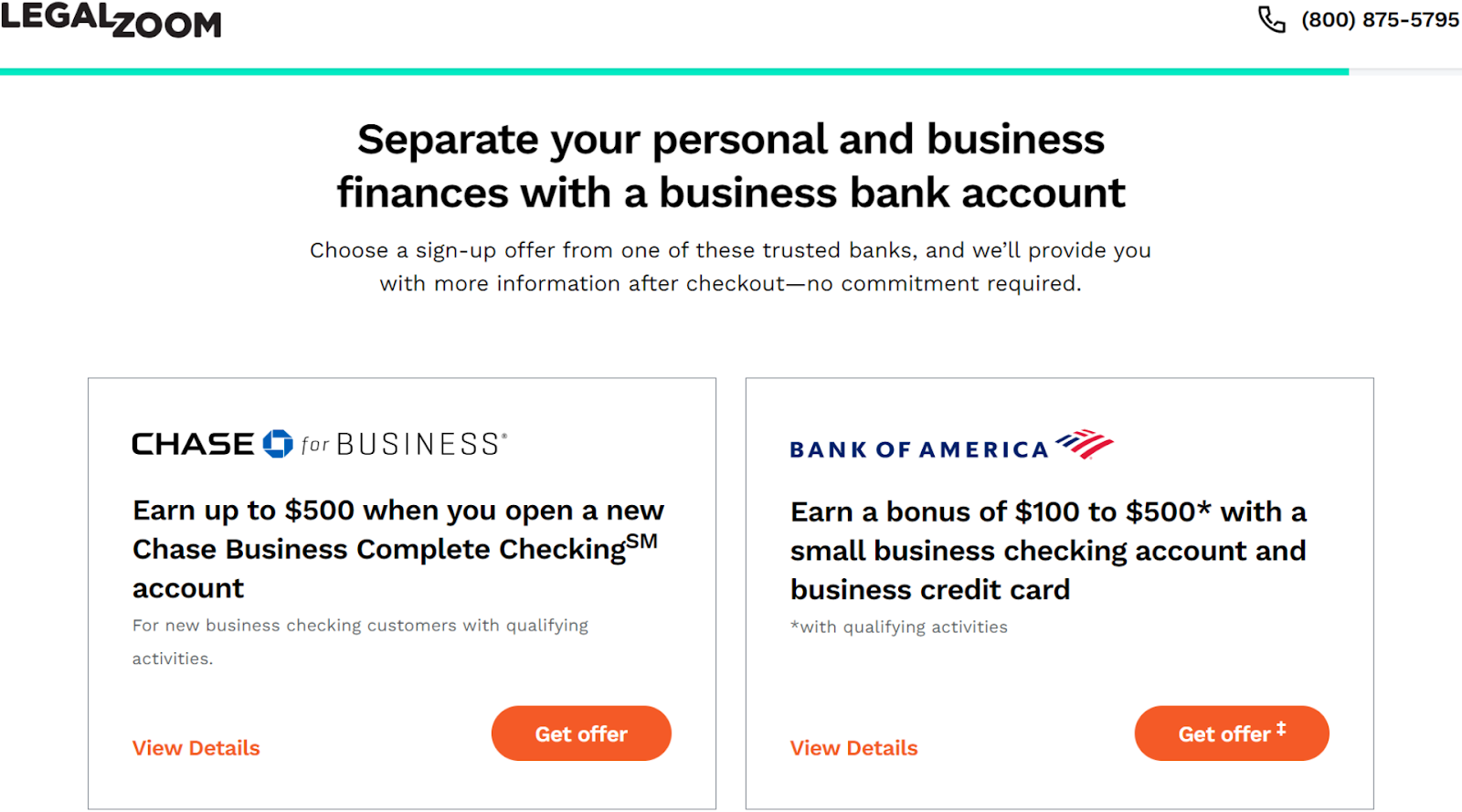 There are two notable things LegalZoom does to maximize your convenience. The first is giving you the option to open a business bank account alongside your LLC registration. While it's far from the only service that does this,
LegalZoom can earn you some money back if you open your account with select banks.
It also gives you options to pay in installments at checkout. That way, whichever plan you choose, you won't have to face the brunt of filing costs all at once. However, it's hard to overestimate how convenient it is that Northwest Registered Agent holds a physical presence in every state. Besides just helping make the formation process go smoothly (and ensuring your privacy),
Northwest Registered Agent can offer state-specific add-ons during the registration process.
Depending on the state in which you want to form your LLC, Northwest Registered Agent provides convenient options to tailor the registration experience to your specific needs. For instance, in California, you can select a compliance package that includes initial report filing and compliance alerts, or you can get publication compliance assistance if you want to register in New York. If that wasn't enough,
Northwest Registered Agent also provides free document templates on its website.
So you don't even have to be a customer to access useful templates for important papers such as Articles of Organization, an Operating Agreement, meeting minutes, and more.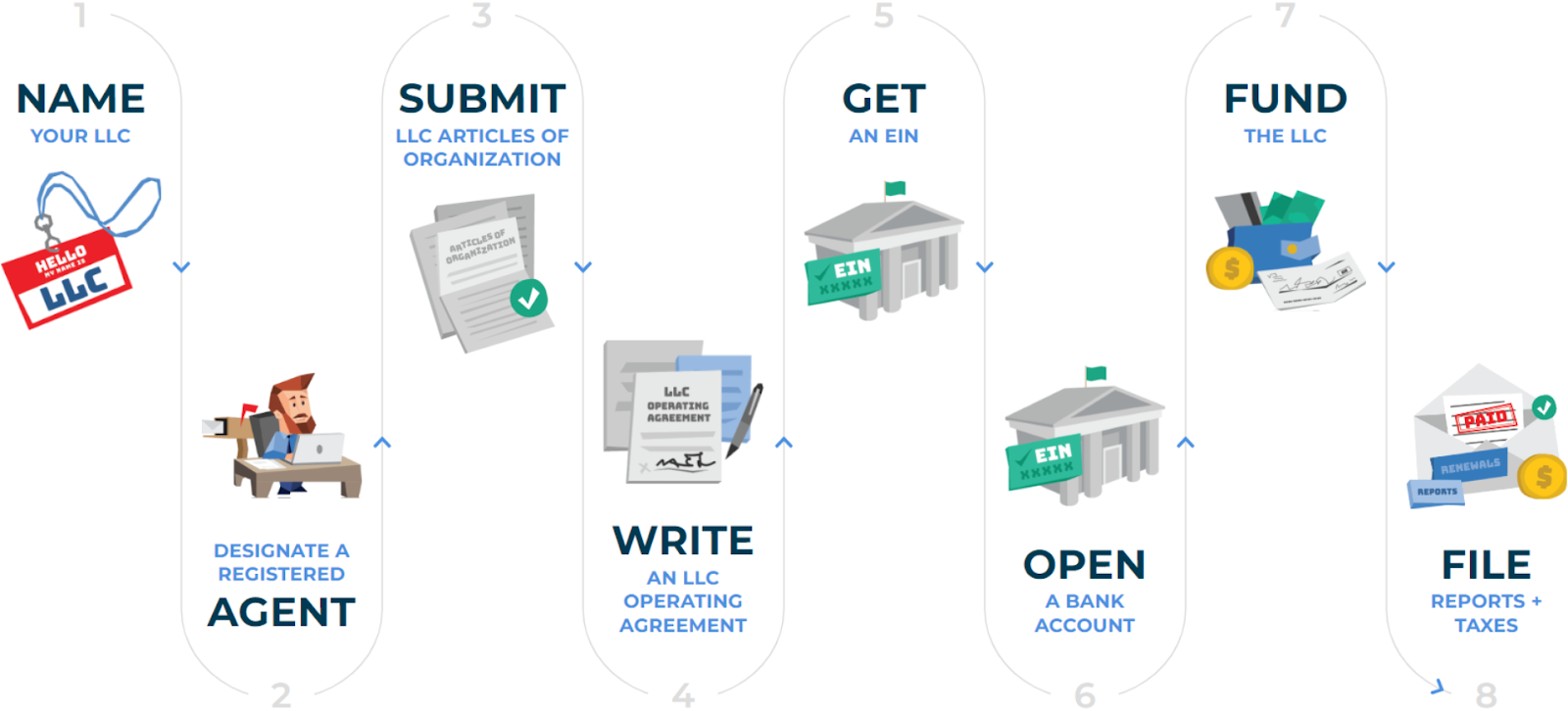 Caption: Northwest Registered Agent provides a clear path for forming an LLC in any state In the end, LegalZoom and Northwest Registered Agent both offer user-friendly interfaces and efficient processes for LLC formation.
But Northwest Registered Agent's state-specific approach and the convenience it provides with its add-ons give it an edge in the ease-of-use category.
Pricing
Northwest Registered Agent Is Somewhat More Affordable
LegalZoom and Northwest Registered Agent follow different pricing models, which makes a one-to-one comparison a little more complicated.
For LLC registration, LegalZoom offers its service through differently priced packages.
LegalZoom's entry-level package is free
(not counting state filing fees) and offers the bare minimum you need to start an LLC. If you want a more well-rounded option, for
$
249.00
, its Pro package includes features like Operating Agreement drafting, EIN application, and small business consultation. Finally, the Premium (
$
299.00
plus state fees) package includes everything in Pro, plus custom professional advice from an experienced business attorney.
Northwest Registered Agent, on the other hand, offers a single base LLC registration package and gives you the option of selecting which extras you want to add
, instead of bundling them together. Both pricing approaches have their unique advantages and disadvantages. The bundled approach to pricing simplifies the checkout process, and it ensures that you'll have everything you need for LLC formation to go smoothly. But it doesn't give you the same freedom to select exactly what you want to pay for and what you don't that Northwest Registered Agent's approach does. One thing to note is that both companies offer a Registered Agent service for an extra recurring cost. Keep in mind, however, that if you want to appoint your Registered Agent through LegalZoom, it'll cost about twice of what Northwest Registered Agent charges for the same service. You should also be aware that while Northwest Registered Agent usually charges the hefty price of
$
225.00
for its LLC formation services, it currently has a limited-time offer of that same service for just
$
39.00
.
Considering that discounted offer and the fact that both services charge a fee for most of their best services anyway,
I'd say that Northwest Registered Agent offers a better price-to-quality ratio.
LegalZoom
Northwest Registered Agent
Price of the most comparable plan (minus state fees)

$

249.00

$

39.00

Stated filing time/range (minus state processing time)
5–14 business days
Same business day
EIN application

✔

For an extra fee
Registered agent service
For an extra fee
For an extra fee, but free the first year
Tax consultations

✔

✘

Legal assistance
For an extra fee
For an extra fee
Operating Agreement drafting

✔

✔
Support
LegalZoom's Customer Service Is by Far the Better of the Two
Customer support might be the only category with a cut-and-dried winner. While both services provide similar channels of customer support – phone, live chat, and email or ticket –
LegalZoom's support quality, response times, and hours of availability are by far better than Northwest Registered Agent's.
In their in-depth review of Northwest Registered Agent, my colleague found it outright impossible to contact its phone or live chat support. And while they managed to get in touch via email, the response was adequate, but nothing out of this world.

LegalZoom, on the other hand, delivered outstanding-quality responses
, and it's way easier to reach. The live chat agent was clear and thorough, and though they didn't have every answer immediately ready, they took the time to conduct in-depth research to provide accurate information.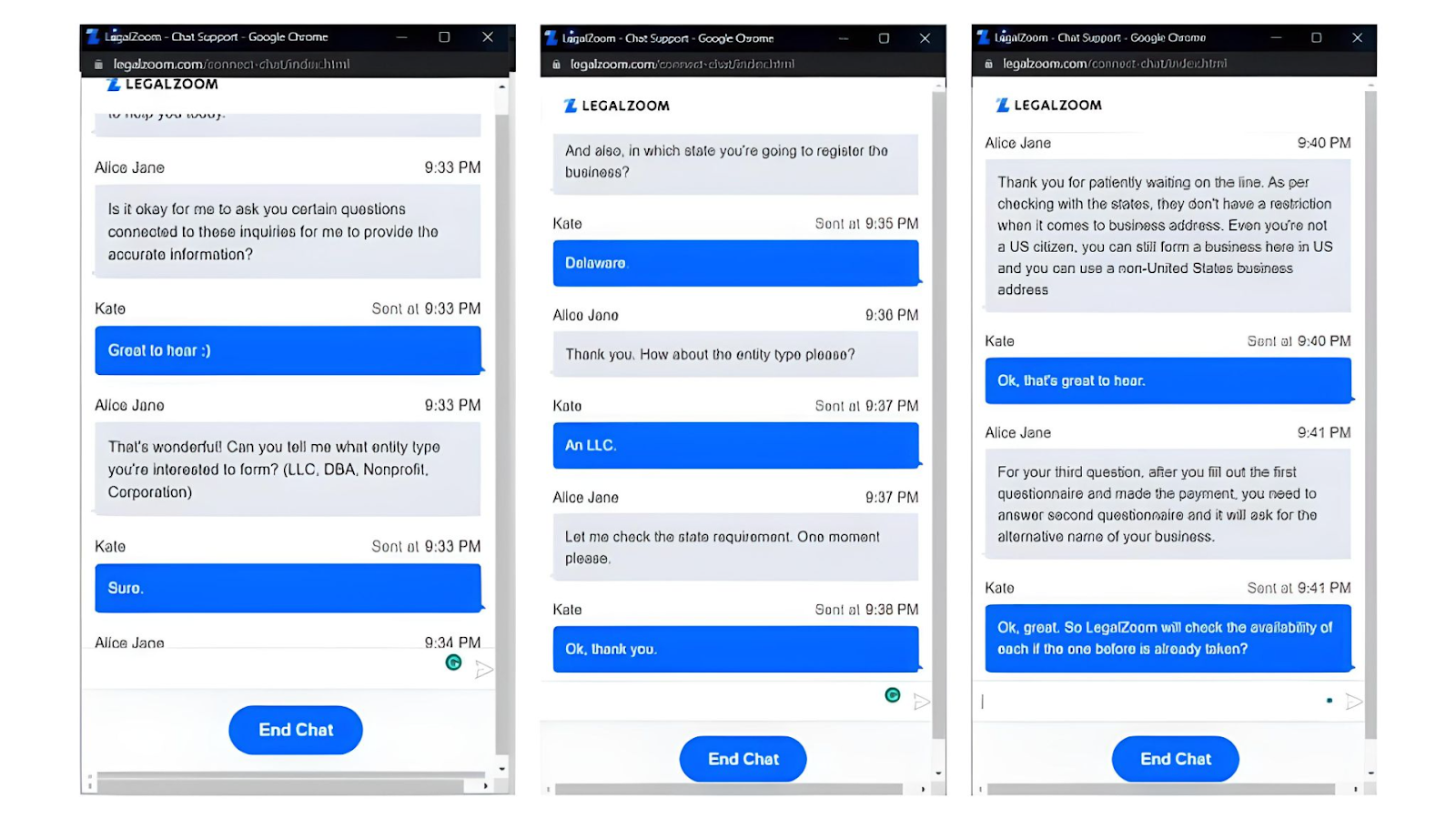 LegalZoom also offers way better hours of availability. Phone support is available from 5 a.m. to 7 p.m. PST from Monday to Friday, and 7 a.m. to 4 p.m. PST on weekends. While it's restricted to customers of the Pro or Premium packages, there are plenty of user reviews that can vouch for its quality. To be fair, LegalZoom was also unresponsive when my colleague tried contacting it through an email ticket, and Northwest Registered Agent does provide a useful catalog of form templates.
Still, LegalZoom is undeniably the winner of this category.
It All Comes Down to What You Need
If I had to name a winner between LegalZoom and Northwest Registered Agent, I'd say that
LegalZoom offers just slightly better features
in aggregate. However, it's by no means an absolute win.
Both companies offer outstanding, easy-to-use, and complete LLC formation services.
In reality, the one
you
should choose comes down entirely to your preferences and needs. Are you looking for a more affordable service with state-by-state considerations and a strong focus on privacy? Then Northwest Registered Agent is the best option for you. Are you looking for a professional team that can assist with various legal aspects and provide top-notch support? Then LegalZoom is the way to go.
LegalZoom
Northwest Registered Agent
Features
BBB Accredited, a wide variety of additional legal features
Not BBB Accredited but incredibly privacy-conscious, offers state-specific features and some additional legal features
Ease of Use
Easy LLC registration with bank account setup assistance
Easy LLC registration with state-specific add-ons included
Pricing
Higher prices for a complete package
A more modular pricing model
Support
Easy-to-reach and efficient customer support
Support can be hard to reach and not as thorough as necessary
FAQ
Should I use LegalZoom for my Registered Agent?
LegalZoom can act as your Registered Agent on behalf of your LLC. It has a stellar reputation among previous customers, and its Registered Agent service is hailed for its quality and efficiency. That said, it's not the cheapest Registered Agent service on the market. If you're planning on handling your LLC formation through LegalZoom, then I'd recommend using its Registered Agent service. If you're still on the fence, however, you might want to check out if LegalZoom is your best option, or if you'd be better off with a service like Northwest Registered Agent.
Is Northwest Registered Agent worth its price?
Northwest Registered Agent is one of the few LLC formation services that doesn't offer a free option, and its pricing model can vary a lot depending on which add-ons you select. However, its Privacy by Default policy, state-specific add-ons, and tons of helpful material make it one of the best LLC formation services out there. I'd say it's definitely worth its price, especially when you consider the limited-time pricing available.
Is Northwest Registered Agent cheaper than LegalZoom for LLC formation?
That depends on what you need. If you're going for just the basics, then LegalZoom offers a free (not counting state filing fees) package while Northwest Registered Agent doesn't. However, you might end up paying less with Northwest Registered Agent depending on which additional features you choose. It will all depend on your particular needs. For more information, check out our full pricing comparison.
Is Northwest Registered Agent better than LegalZoom for LLC formation?
Both offer an incredibly high-quality service for LLC formation. So whichever you end up choosing, you won't be disappointed. That said, which service is
best
depends on which is best
for your business
. If you're on the fence, I recommend checking out
our full comparison of the two services.