FastComet embodies just about everything you'd expect from a traditional web hosting company,
with various types of servers and services for a range of clients, from hobbyists to big companies.
Kinsta has taken a specialized approach, offering cloud VPS-based WordPress hosting only,
at prices that reflect a premium-level service. Still, both want to be your provider of fully-managed cloud-based VPS hosting. Specific business requirements aside,
which one of these two hosting companies delivers the better managed hosting service?
Can
one of them actually
be better, given the differences in services offered? After extensive testing, we can say that yes,
one of them is definitely better: it's Kinsta.
I'll explain why that is in the rest of this article, but you'll ultimately have to make the final call on whether Kinsta or FastComet is the best option for your particular business. Please note that in this review, I'll specifically be comparing FastComet's cloud VPS hosting to that of Kinsta. Other hosting services were not counted in the final score. If you're already convinced, go ahead and
check out Kinsta's latest discounts and deals
.
Otherwise, read on to find out why Kinsta came out on top.
Plans and Pricing
FastComet Costs Less, but Kinsta Gives You More
Here's the absolute truth: Kinsta is usually more expensive, especially if you want to run more than one website.
Kinsta's base plan is actually cheaper
 than FastComet's cheapest VPS plan, but it's limited
in that it only allows you to run one single website. Kinsta's more expensive plans get a
lot
more expensive, but allow you to host more websites, and give you more storage and traffic. It is important to note that Kinsta tracks unique visits per month rather than the transfer of data, so you don't have to worry as much about users downloading images and other media from your site, just the number of individuals visiting.
FastComet's plan are somewhat more flexible,
in that you can host as many sites as you like. You're just paying for the raw server power, storage, and total bandwidth. As such, its most expensive plans do not cost anywhere near as much as Kinsta's. Of course, this means that if you only want to host a few sites on FastComet's entry-level VPS, you'll still be paying for a service that can likely handle 30 or 40 sites.
However
, the "managed" part of FastComet's managed VPS service is not quite as complete. (More on that below.)
Kinsta wins (barely) for having the cheapest individual plan
,
and offering more complete hosting management for the money. What's more, Kinsta's prices go down if paid annually. FastComet's prices do not go down if time is paid for in advance, other than with the waiver of a setup fee. Finally, FastComet only offers a 7-day money-back guarantee on its cloud VPS plans, while Kinsta offers the industry-standard 30 days on all its plans.
Features
Kinsta Wins With Completely Managed Hosting
Kinsta's whole deal is this: as WordPress powers most of the internet,
Kinsta has positioned itself as the expert-level, do-it-all WordPress service
.
It offers heavy WordPress optimization, and a team of experts who maintain the hosting infrastructure and will go so far as to troubleshoot your website for you. Kinsta also specifically supports WooCommerce, WordPress Multisite, membership-based sites, and WordPress as an educational platform.
It offers custom plans for web development agencies and enterprise-level companies, yet also offers discounts for non-profit organizations.
FastComet offers a more traditional hosting experience,
with cPanel, installers for most popular web apps, and control over your server infrastructure except for the OS (AlmaLinux or CloudLinux). The server management team will handle server updates and server-level troubleshooting, while your website is left entirely up to you.
Both
providers offer intuitive control panels, money-back guarantees, a free CDN option, server monitoring, and fully-managed security solutions. Both also offer SSH access for those who want to get direct access to their cloud server's internals.
| | | |
| --- | --- | --- |
| | FastComet | Kinsta |
| Hosting types | Cloud VPS | Cloud VPS |
| CPU | 1-6 cores | 12+ cores |
| RAM | 16 GB | 8+ GB |
| Storage | 50-320 GB | 10-250 GB |
| Bandwidth | 2 – 8 TB | 25,000 – 2,500,000 unique visits |
| Control panel | cPanel/WHM | Proprietary |
| Dedicated IPs | Yes | Yes |
| CDN | Cloudflare free plan | 100 GB – 6000 GB |
| Data center locations | 11 | 34 (Google Cloud) |
| Money-back guarantee | 7 days | 30 days |
Performance
Kinsta Delivers Possibly the Best Performance We've Ever Seen
While FastComet lives up to its name, it's very,
very
difficult to beat the power of Kinsta's WordPress-optimized web hosting software stack on Google Cloud's C2 server instances. FastComet offers 11 data centers, the Cloudflare CDN free plan, guaranteed resources (CPU, RAM, etc.), SSD storage, and a pre-optimized server setup that's designed to load all types of sites promptly.
More advanced WordPress-boosting technology like LiteSpeed, Varnish, and Opcode caching is available on request,
but you have to pay for a LiteSpeed web server license for each site you want to apply this to.
You can find more details in our full review
. Kinsta, on the other hand, offers 34 locations via Google Cloud's network, a custom CDN, SSD storage, and extremely targeted performance optimization for WordPress.
Because it only provides hosting for WordPress, Kinsta optimizes the absolute heck out of its servers by default.
You can find out more in our detailed review
. Let me show you some numbers:
GTmetrix
GTmetrix is what we use to measure page load times and page loading efficiency. Kinsta, for example, fully loaded a bandwidth-heavy WordPress theme in 0.8 seconds: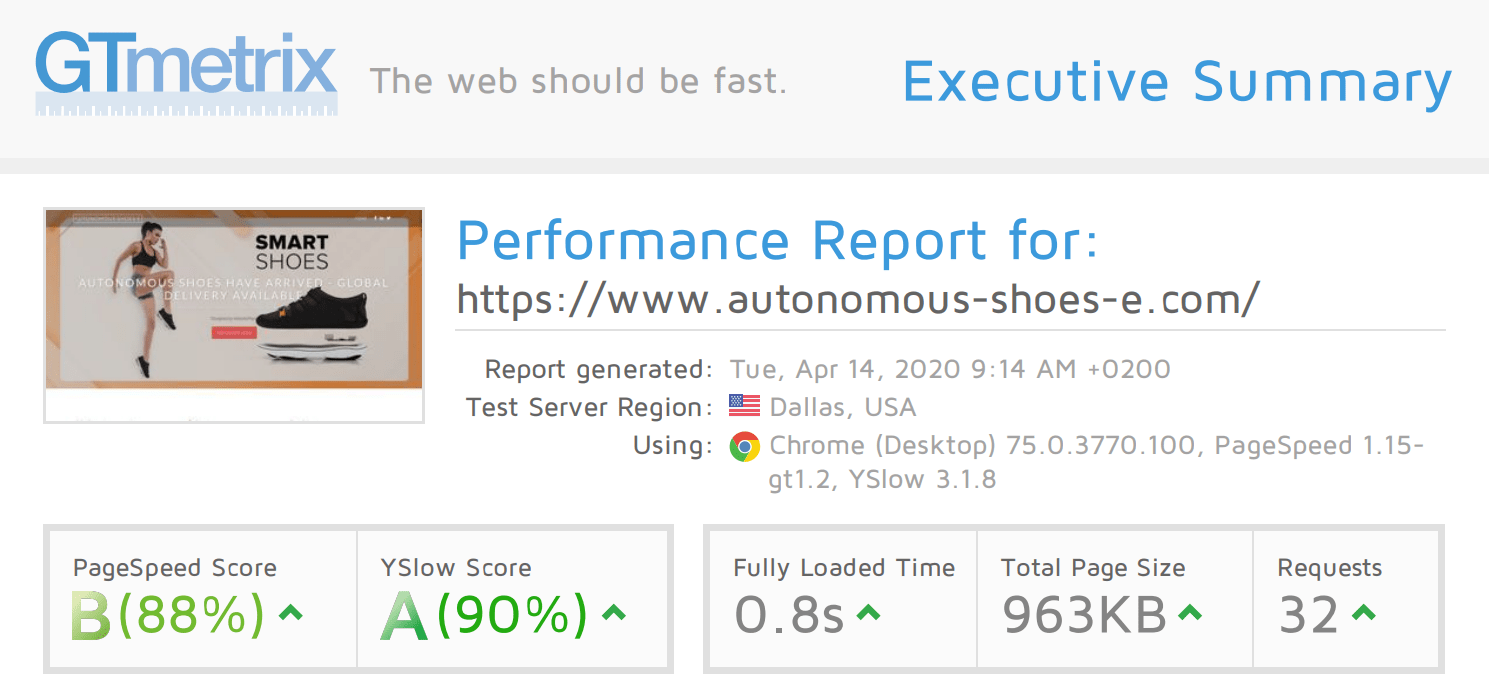 FastComet did okay with a smaller page at 1.4 seconds (the goal is to keep that time under 2 seconds), but that's nearly double the loading time:

UptimeRobot
UptimeRobot is what we use to test server uptime and stability. Kinsta managed 100% uptime over 4 months with a pretty steady ping rate (the time it takes to send a signal to a server and get one back) that mostly stayed under 400 milliseconds: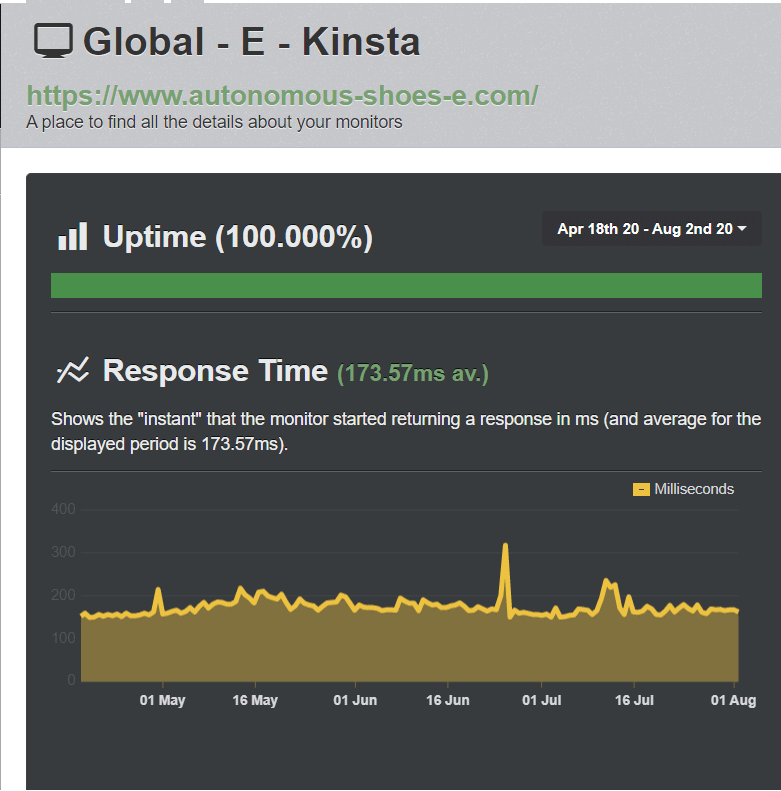 FastComet managed 100% uptime over a shorter testing period, but the ping was pretty erratic and averaged around 750 milliseconds, pointing to slightly less stable servers: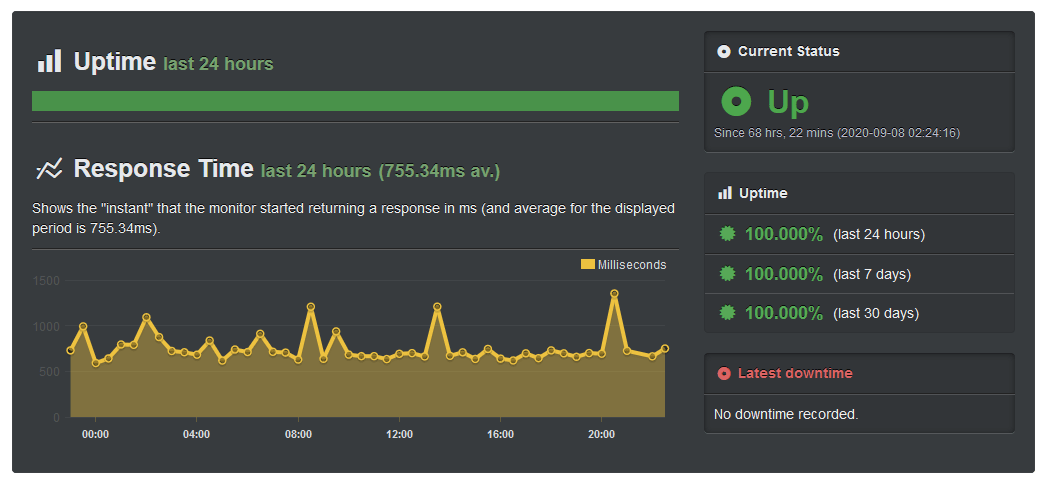 In other words, both of these hosting providers deliver excellent performance, but
Kinsta still manages to be better.
Security
Almost a Tie, but Kinsta's Server Stack Is Safer
FastComet provides a web application firewall, server monitoring, malware scanning, free daily and weekly backups, and brute force hack protection. That is a
solid
lineup which happens to include the ever-popular Imunify360 security suite.
Kinsta offers DDoS protection, a Cloudflare-provided firewall, a dedicated anti-malware team,
hack prevention, monitoring, and free automatic backups. Plus, you get every security measure provided by Google Cloud's Premium Tier. [Insert your favorite deity here] knows that I occasionally have a beef with this megacorporation… but it does have great servers. Kinsta wins because its setup is so specific that it can be protected a bit more easily. The nature of the entire service essentially narrows down the number of weak spots that can be exploited. Specialization might make for a less flexible feature set, but that just means the servers are that much more secure.
Support
Both Offer Good Support, but FastComet Is a Little More Helpful
In all of our testing, we've had generally decent support experiences with both, but FastComet's team does a little more to help. Given that FastComet's hosting service is more flexible, the support team can dig in and root around to help you more easily. Oh, and
FastComet's support team is available 24/7 via live chat and a ticket system.
Here's an example of the live ticket team helping me out.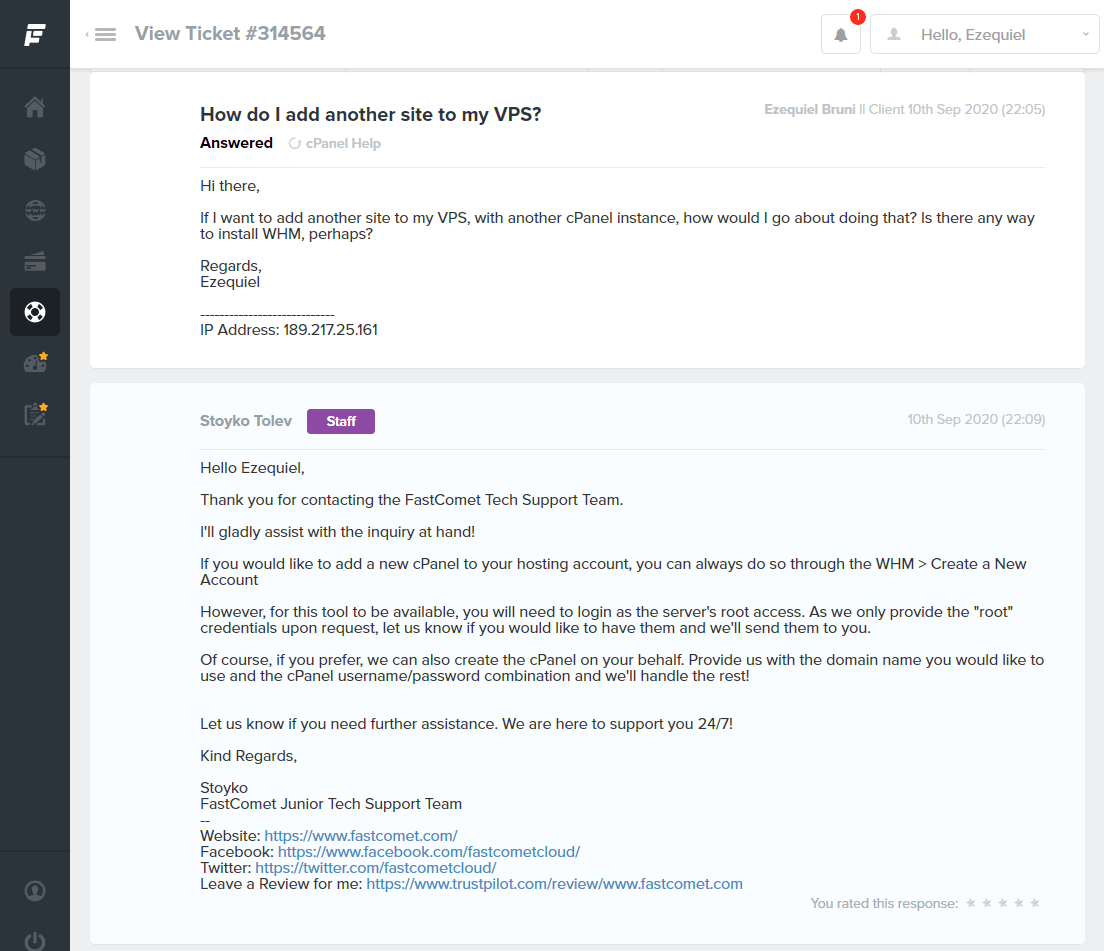 Personal
note: I still have a beef with the
sales
department for trying to tell me CentOS 8 wasn't safe (back when it was still supported). Incidentally, FastComet now supports AlmaLinux 8, which is almost the exact same OS. My point is that
the FastComet support team is great
, but take what the sales team says with a grain of salt. Or a whole pretzel's worth of salt.
Kinsta's support is also 24/7, and available through live chat.
Now, if you have a problem with your site, or need some help customizing it a little, this team is fantastic. We're talking about responding in five minutes with solutions, the value of which cannot be underestimated. However, since the service has been optimized within an inch of its life, answers to more open-ended questions like, "How do I make my website faster?" will be met with stock answers such as, "Activate your Kinsta CDN." Even so, here's an example of Kinsta's support helping out a fellow author: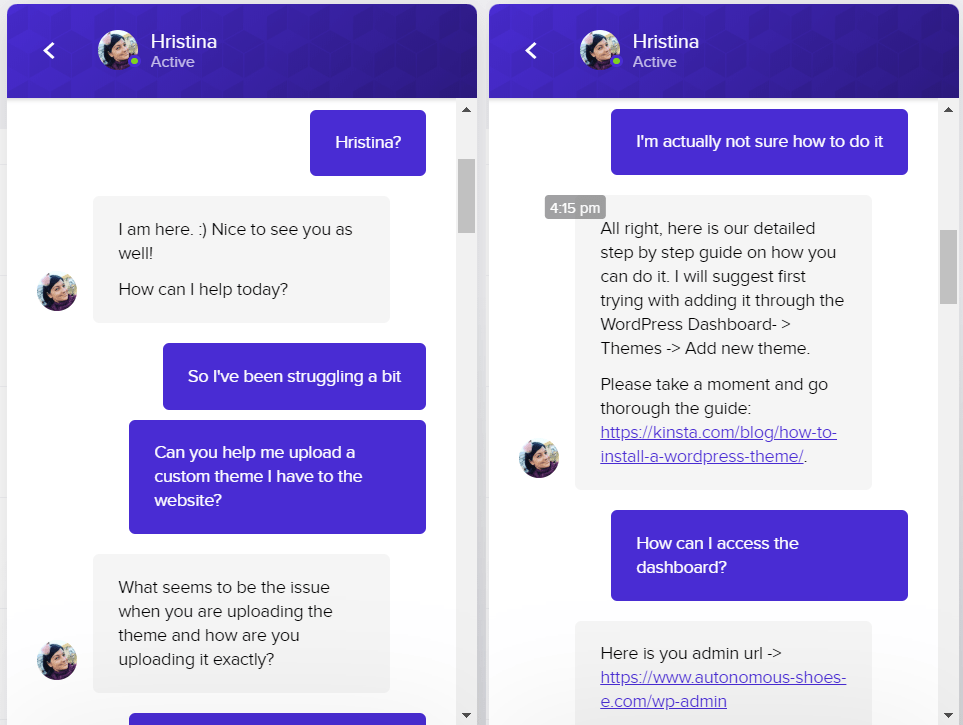 Conclusion: Kinsta Takes the Lead With Speed (and Full Service)
Kinsta provides a better-optimized, carefully-crafted service
in which everything is taken care of for you. When you want a WordPress site to go up and
stay
up, the Kinsta support team will handle that for you. It's like hiring a WordPress-specific IT team. FastComet isn't a bad service by any stretch, though. If you want something that's not WordPress-based, or a server to resell hosting on with a great team backing you up, FastComet can do that. Of course, these are only two of the hosts on our top 10 list. If you'd like to see the other options, see
our list of the best web hosts in 2023
.
Plans and pricing
A fair bit cheaper at the high end.
Cheaper at the low end, best service for your buck.
Key features
Classic cPanel hosting experience on powerful managed servers
Highly-optimized WordPress experience
Performance
Pretty good with 11 data centers, Cloudflare CDN, guaranteed resources, SSD, pre-optimized server setup
The absolute best with 34 data centers based on Google Cloud, proprietary CDN, SSD storage, extremely specialized performance optimization
Security
Web app firewall, server monitoring, malware scanning, free daily and weekly backups, brute force protection
DDoS protection, Cloudflare firewall, dedicated malware team, hack prevention, monitoring, free automatic and manual backups
Support
Live chat and ticket
Live Chat
FAQ
Which is better overall, FastComet or Kinsta?
Kinsta straight-up wins this competition. While FastComet does provide some great features, Kinsta provides a highly-optimized hosting experience devoted exclusively to WordPress-based sites. This allows Kinsta to more easily make its servers faster and more secure while employing a team of trained professionals that can troubleshoot just about any WordPress problem. Kinsta will help you optimize your site, not just the web server.
Should I get managed VPS hosting?
If you're not aspiring to be a total nerd like I am, then probably yes. As someone who started learning to manage his own web server for fun, I can tell you it's a long road to any sort of expertise. And then, even an expert may want to have a team of experts available for backup. Servers are still computers, and computers are the pseudo-living embodiment of Murphy's Law. Other options for beginners, of course, are shared hosting and site builders. Check out our guide to building your first website for several easy ways to get started.
Is Kinsta's VPS hosting secure?
Kinsta is one of the most secure options you're likely to find. Kinsta's focus on supporting only one CMS allows it to narrow down the points of failure in its security systems. Kinsta also offers DDoS protection, two firewalls, a dedicated malware team, hack prevention, monitoring, free automatic and manual backups, and every security measure provided by Google Cloud's Premium Tier.
Is FastComet ever a good choice for hosting?
It sure is! In fact, it's featured on our list of the top 10 best web hosts in 2023. While Kinsta won in this particular comparison, FastComet is absolutely a great option for anyone who wants a powerful, managed cloud VPS with lots of bells and whistles. FastComet also has shared hosting and dedicated servers for those interested in other services. It has more options in general, really.