Negar Shakernia
of
IP Server One
 tells us how their wide range of services has turned what was initially a one-man-show company providing basic web hosting and operated from a small office lot into a company that now manages over 5,000 physical servers for more than 50,000 customers across the globe.
What are your primary services and what kind of clientele do you serve?
IPServerOne offers a comprehensive series of hosting solutions so customers can achieve operational success on the Internet. We offer wide range of services such as Web Hosting, Email Hosting, Cloud Hosting, Database Management, DDoS Protection, Private Cloud Hosting, and other professional services that require customized hosting infrastructure. Our company's key strength is demonstrated through our proven technical expertise to seamlessly integrate systems, network and software applications as a complete solution for today's competitive environment.
What are your hosting plans, and do they include SSL?
Yes, our customers have the option to add on a control panel (cPanel, DirectAdmin or Plesk) which come with "Let's Encrypt SSL" by default. They can also directly add on an SSL certificate such as Alpha SSL or Wildcard to their domain name/hosting.
How does your Private Cloud Hosting benefit businesses?
Our Private Cloud Hosting is built using Hyperconverged Infrastructure which enables businesses to gain higher levels of control and security customization on top of public cloud's scalable, elastic and agile features. Our platform integrates computer, networking, virtualization and storage resources through structured software-centric architecture. Our team of skilled experts would understand customers' Cloud Hosting requirements and architect the Hyperconverged server to meet their specific needs. It also enables peak performance and is more suitable for resource-intensive applications with high power and memory provisioning.
What is Hybrid Cloud hosting and what are its advantages?
Our Hybrid Cloud offers the flexibility and scalability of Private, Public and On-Premise Cloud. Although Hybrid Cloud has a complex infrastructure, we will help you throughout the whole process of planning, migrating, and optimizing your business to the cloud. Some of the advantages of our Hybrid Cloud are:
Enhanced Security: Our Hybrid Cloud gives you full control over data storage and segregation within the public, private and on-premise cloud while ensuring the data security.
Flexible and Scalable: Not only can you align the architecture according to the best suitable need, but also configure resources based on changing demands.
Encourages Innovation: Make applications and data readily available to the key players in your business. Hybrid cloud helps speed up the decision-making process which contributes to better productivity and innovation.
Greater Performance: Our Hybrid Cloud improves load times and data transfer speeds to accommodate for mission-critical applications.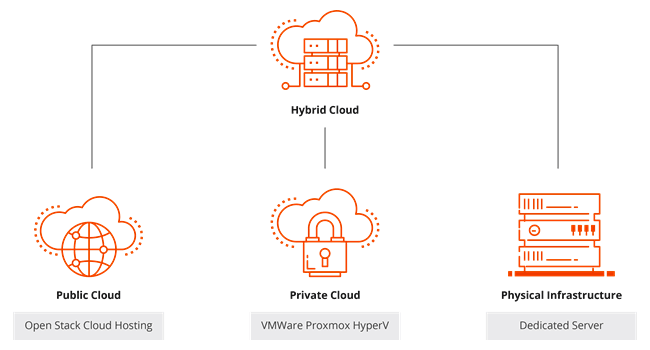 What managed services do you offer?
We oversee operating, managing and controlling the security and compliance from the foundation level, such as our infrastructure, physical hardware, network connectivity up to the host's operating system. This means that we are responsible to deliver uptime reliability of all our hosting services on a consistent basis. Our managed services come in three separate plans which are Essential, Pro and Premium. Using our Premium Managed Services plan, customers get full-fledged IT support which includes 30 control panel technical support tickets per month and access to WhatsApp (group and private) with our support team. Our hosting plans come with basic support. However, we offer Managed Services packages for customers who require different levels or more extensive technical support.
Do you have solutions for database management?
We offer Linux and Windows based (MySQL, SQL Server, MariaDB, and PostgreSQL) relational database engine with secure, flexible and optimized performance. We make it effortless for our users to deploy, manage and scale their database in the cloud. Our database solution comes with full capabilities to help you in database operation and maintenance. It is capable to free you up from time-consuming database management tasks and allow you to focus on your core business.
Are your servers optimized for gaming and streaming services?
Yes, our servers are housed in a Tier III Certified Data Center with Network Border Gateway Protocol (BGP) that ranks number 1 in Malaysia. This makes our Dedicated servers fully equipped and optimized for gaming and streaming. Our servers have redundant multiple uplinks and optimum routing to ensure that you have the flexibility to upgrade in accordance with your workload requirements. In addition, our newest Anti-DDoS technology helps mitigate any kind of DDoS Attack without causing any trouble to your server performance by automatically blocking the attack with "ALWAYS ON" feature.
Do you have backup and recovery services?
IPServerOne's remote backup service utilizes the robust R1 Soft Backup that offers continuous data protection to make sure that your data is fully stored and up to date in another server rather than your productive one. You can shorten your regular backup routine that could take even hours to complete. Not to mention the server stress and unpredictability that you have to endure as your data expands along with your business. Remote backup service can also help your Business Continuity Planning process as your data will be remotely safe in case casualty happens. It also offers you the ability to track data changes in real-time and perform backups throughout the day without burdening your server performance. We have remote backup plans for 100GB, 200GB, 400GB, 600GB, 800GB, 1TB, 2TB.
How are your servers protected from hackers and other cyber threats?
Our servers are hosted at CJ1 data centre in Cyberjaya, Malaysia. All servers are protected with Anti-DDoS protection and 24×7 continuous threat and network monitoring. They are fully protected with Anti-DDoS mitigation where we deploy a smart and high-performance DDoS mitigation device which monitors all incoming traffic to our network and as soon as suspicious traffic hits, it will be flagged and sent to our own Anti-DDoS infrastructure directly with reporting data and analytics. The process of detecting and filtering the traffic is completely automated and in real-time.

How can user access your support services?
Our 24×7 Support Ticketing Platform is provided for all our active customers and is available through our customer portal. In addition, we have phone call support throughout the day, regardless of public holidays.
Please tell us about your network connectivity to other countries across the globe.
We have been ranked in the number ONE spot for Network Border Gateway Protocol (BGP) in Malaysia from the past few years consecutively until the present. Our global Internet backbone provides low latency IP transit, access to thousands of networks and dual-stack (IPv4 and IPv6) solutions.