SiteGround might be more popular than InterServer, but I like to base my conclusions on results, rather than reputation. To properly compare InterServer and SiteGround, I've extensively tested both services in terms of value for money, features, performance, security, and customer support.
InterServer has come out on top in most instances.
SiteGround offers managed WordPress plans that are particularly attractive for developers.
However, InterServer gives you more resources and most of the same features for almost half the cost.
 For a small business, agency, or freelancer, InterServer just makes more sense.
Click here to see InterServer's latest deals
 or keep reading to see what makes InterServer the winner of this battle.
1. Plans and Pricing
SiteGround Is More Expensive than InterServer, Especially in the Long Term
Both SiteGround and Interserver offer a broad selection of hosting services, from shared hosting to cloud solutions and dedicated servers.
That said, InterServer is significantly cheaper than SiteGround across the board.
Take shared hosting, for example. InterServer has a single, Standard plan that comes with unlimited websites, storage space, bandwidth, and email. By comparison, SiteGround's entry-level StartUp plan includes unmetered bandwidth and unlimited email, but just one website and 10GB of storage. At a glance, SiteGround's StartUp costs just slightly more than InterServer's Standard plan. However, you have to keep an eye out for steep renewal fees.
Once the initial term is over with SiteGround, you have to pay more than double the initial price for the same service.
A free domain name is included with some hosting plans from SiteGround
While InterServer's shared hosting also renews at a higher price, the increase in cost isn't nearly as severe as it is with SiteGround.
Looking at the renewal fees of each host, InterServer is 50% cheaper than SiteGround in the long run.
The advantage with SiteGround is that its managed WordPress hosting costs the same as regular shared hosting.
 That said, InterServer includes many of the same WordPress hosting features on its Standard shared hosting plan. Even if you opt for InterServer's WordPress VPS solution, which comes with dedicated resources and more processing power, you're still going to pay less than you would with SiteGround.
2. Features
SiteGround Has Great Advanced Tools, but You Might Not Need Them
SiteGround gives you several developer-friendly features like one-click staging, but these don't come cheap. Most tools are locked behind the GrowBig and GoGeek plans, which are more than four times the cost of InterServer's Standard package.
If you just want to build a website for yourself or your business, InterServer gives you all the tools you need at a more affordable price.
 You get the same one-click installer for WordPress, automatic WordPress updates, automatic website backups, free website transfers, and more resources to boot. And while neither SiteGround nor InterServer offers a free domain, registration is heavily discounted with InterServer for the first year. SiteGround does have its proprietary, super easy-to-use Site Tools control panel in its corner, but InterServer comes with cPanel on all plans. You can use cPanel to carry out most of the same account management tasks. To help you quickly settle this round of the InterServer vs SiteGround matchup, I've included their most relevant features in the table below:
| | | |
| --- | --- | --- |
| | InterServer | SiteGround |
| Hosting Type | Shared, WordPress, Cloud VPS, Dedicated Servers | Shared, WordPress, Cloud, Dedicated Servers |
| Free Domain | No, but domain names are heavily discounted | No |
| Free SSL Certificate | Yes | Yes |
| Disk Space | Unlimited | 10GB to 40GB |
| Bandwidth | Unmetered | Unmetered |
| Automatic Backups | Yes (Weekly) | Yes (Daily) |
| Control Panel | cPanel | Site Tools |
| Email Accounts | Unlimited | Unlimited |
| Free CDN | Yes | Yes |
| Free Site Migration | Yes | Yes |
| Money-Back Guarantee | 30 Days | 30 Days |
3. Performance
InterServer and SiteGround Achieved Similar Results in Terms of Loading Speeds
InterServer and SiteGround offer SSD storage, which is up to 20 times faster than traditional HDDs. You also get free Cloudflare CDN (content delivery network) with both hosts, so you can expect better loading speeds even for visitors who are far from the server where your website is hosted.
One advantage for SiteGround is that it offers data centers on three continents, including NA, Europe, and Asia,
 whereas InterServer's two data centers are both located in the US. To compare InterServer and SiteGround, I used Sucuri to test both hosts from different locations around the world.
InterServer scored a fairly average C grade, although loading speeds were excellent in most US locations and Western Europe.
For more details, head over to our
expert InterServer review
.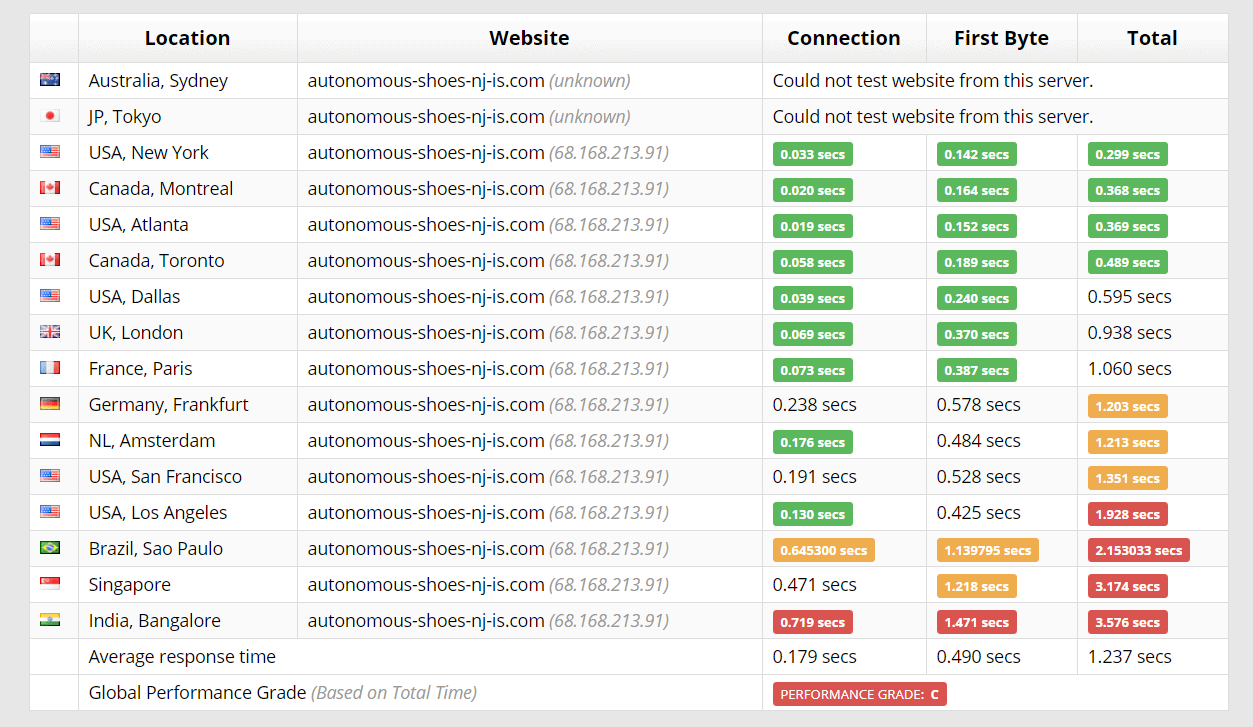 SiteGround got an equally disappointing C, but took even longer to load for some US locations like Atlanta and New York.
Check out
our in-depth SiteGround review
for additional performance tests.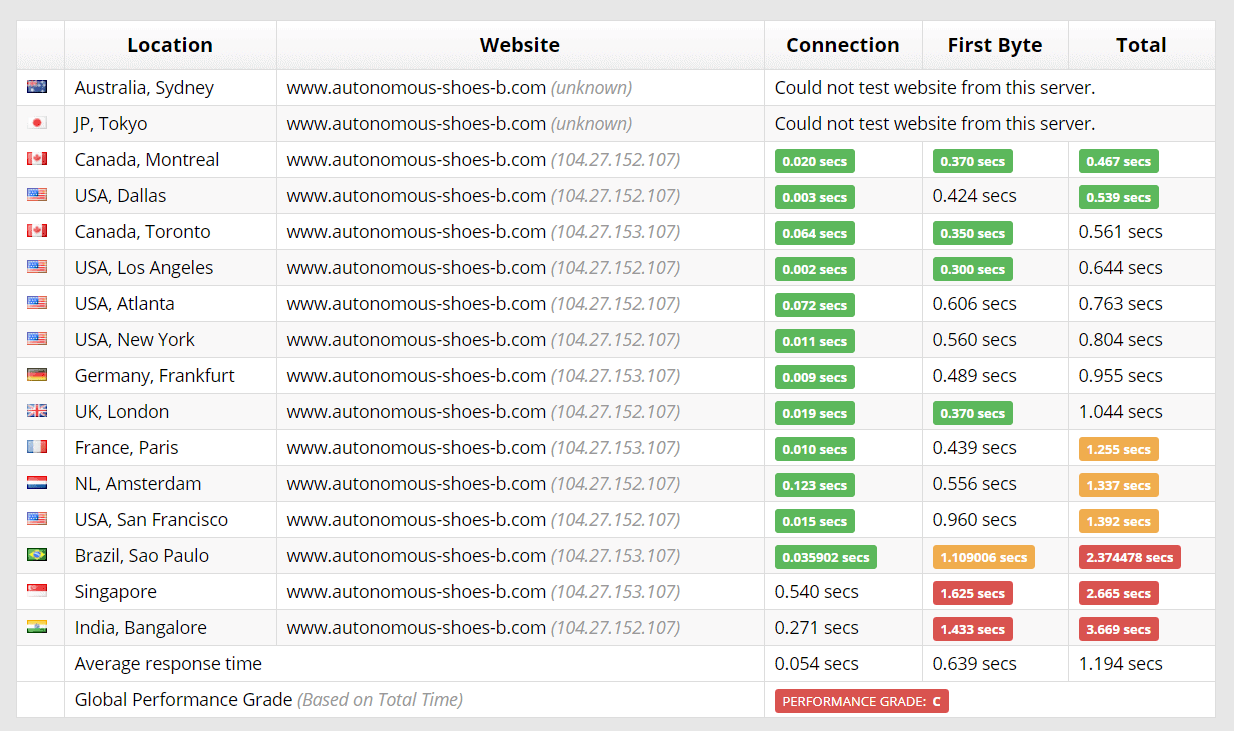 4. Security
InterServer Will Help You Clean Up a Hacked Website for Free
Since both hosts include several security tools for free on all plans, InterServer vs SiteGround is a close call in this category. For example, InterServer offers its proprietary InterShield solution, which includes a machine learning firewall, an automatic malware scanner, and spam protection. On the other hand, SiteGround has a web application firewall and a DevOps team that creates custom security patches for server software when needed.
You also get free SSL certificates with both hosts, so you can rest assured that your website is padlock protected.
That said, InterServer has a slight advantage over SiteGround thanks to its free Inter-Insurance service.
The latter basically guarantees that if your website is ever compromised, InterServer's tech team will clean it up for you.
5. Support
SiteGround Has Better Live Chat Support Compared to InterServer
Both SiteGround and InterServer offer 24/7 customer support through live chat, tickets, and phone.
 However, InterServer's live chat wasn't always available during my tests, and when I did get to talk to an agent, they weren't able to give me any real answers.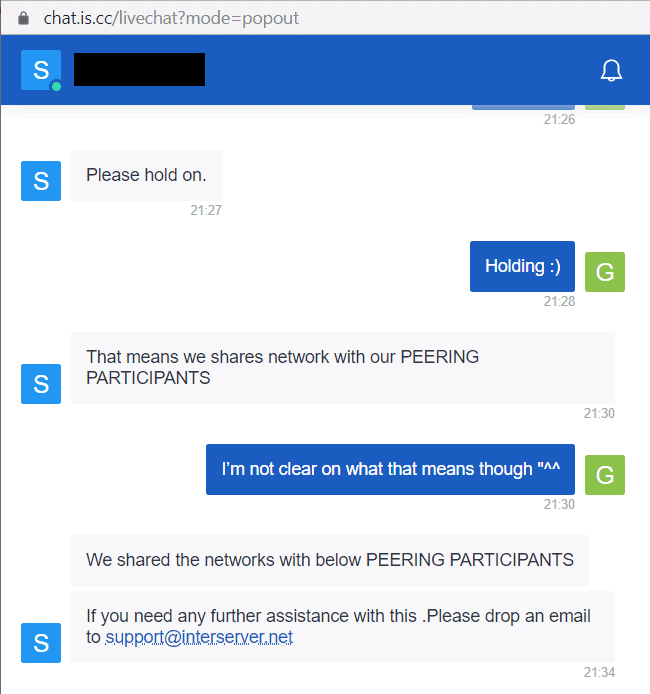 I had a completely different experience with SiteGround, whose customer support team was visibly better prepared, fluent in English, and always helpful, once they actually answered.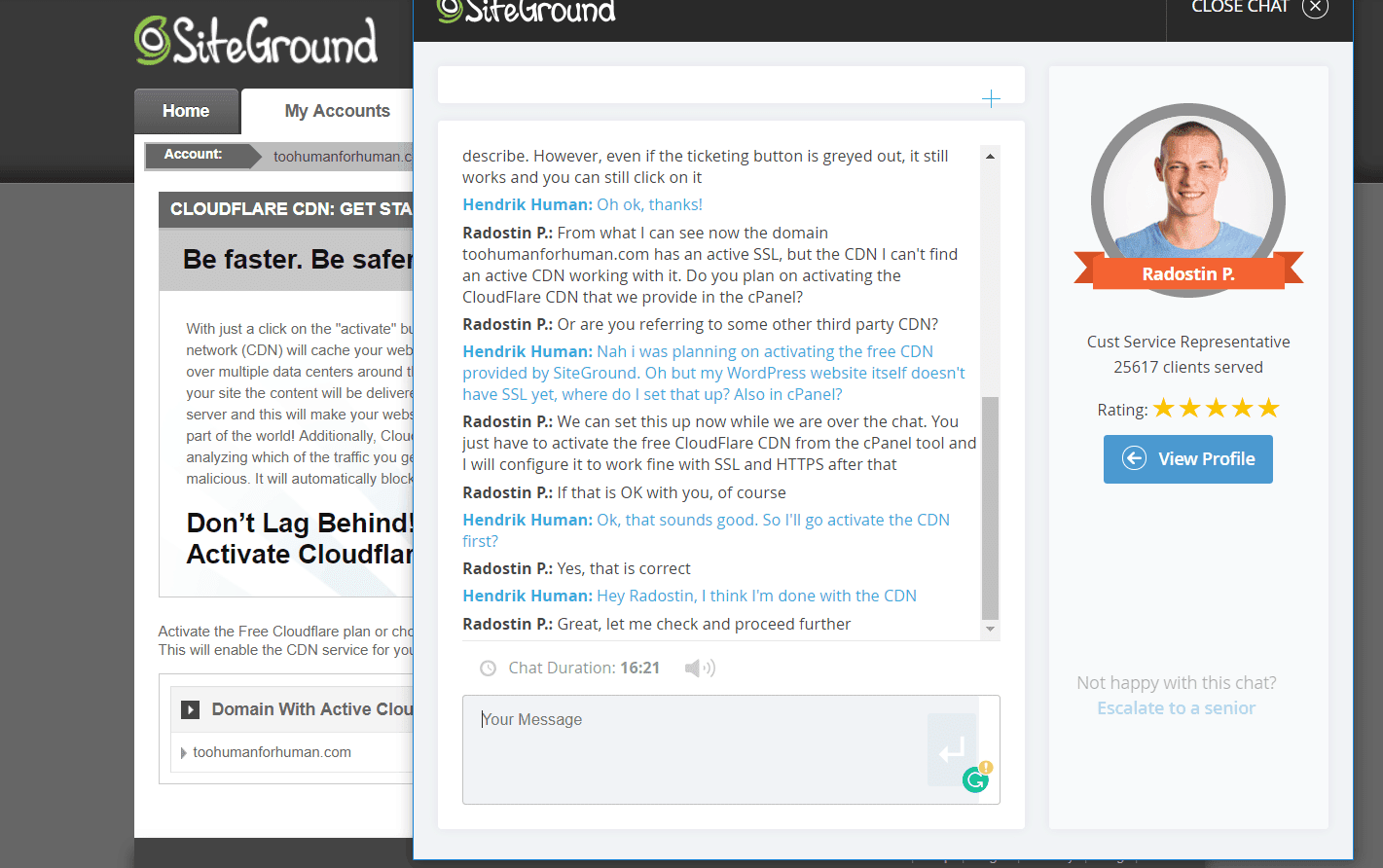 This is not to say that you can't get any help with InterServer if you have a serious issue.
However, my experience taught me that you have to contact the support team through tickets in order to get a response from an actual expert.
Alternatively, both SiteGround and InterServer have extensive knowledge bases for users who prefer to DIY.
Go with InterServer for Fair-Priced, No-Nonsense Hosting
Both SiteGround and InterServer threw their share of punches in this matchup, but at the end of the day,
InterServer offers a cheaper shared hosting plan, transparent pricing, and better features for small websites and businesses.
Certainly, InterServer's live chat support might not be the most optimal among the available options, and its toolset might not match the advanced features offered by SiteGround. However, these factors alone often do not sufficiently warrant the significantly elevated costs associated with choosing SiteGround. That said, both InterServer and SiteGround make a compelling offer, which is why you'll find them both on our list of
the best web hosting services
.
Plans and Pricing
One Standard shared hosting plan, significantly cheaper than SiteGround
Steep renewal fees, best features are only included in higher-tier plans
Features
Unlimited websites and resources, plenty of freebies
Great developer-oriented tools, but fewer resources
Performance
Two US-based data centers, free CloudFlare CDN
Four data centers on three continents, free CloudFlare CDN
Security
Firewall, malware scanner, SSL certificates, free hack fix
Web application firewall, proactive security patches, SSL certificates
Support
24/7 support via live chat, tickets, and phone; extensive knowledge base
24/7 support via live chat, tickets, and phone; extensive knowledge base
FAQ
1. Is InterServer better than SiteGround?
Yes. InterServer's Standard shared hosting plan gives you unlimited websites, domains, storage space, bandwidth, and email, as well as plenty of freebies to boot. It also doesn't hurt that the plan is cheaper than any of the packages you can get with SiteGround. That said, SiteGround's GrowBig and GoGeek plans have several unique features for developers, such as one-click staging and collaborative tools. If you're a developer and you don't mind the steep pricing, SiteGround might be a good choice for you. You can find both InterServer and SiteGround alongside other excellent hosts in our list of the top 10 web hosting services.
2. Does SiteGround offer WordPress hosting?
Yes. All of SiteGround's plans come with managed WordPress hosting. The latter includes a one-click installation of the CMS, automated WordPress core and plugin updates, expert WordPress support, and an optimized server infrastructure. These are just some of the reasons why SiteGround managed to secure a spot in our list of the best managed WordPress hosting services.
3. Is InterServer cheaper than SiteGround?
Yes, by a considerable margin. InterServer's Standard shared hosting plan is far less expensive than any SiteGround plan, especially after renewal. In addition, InterServer is one of our experts' top picks
,
thanks to its great value for money and speedy performance.
4. Does InterServer offer VPS hosting?
InterServer has 16 SSD-powered VPS configurations that are just as affordable as the Standard shared hosting plan. Thanks to the Webuzo tool included on all VPS packages, it's super easy to set up your server, install WordPress, and start working on your website. In fact, InterServer is our number one choice for cheap and reliable VPS hosting services that you can trust.